2019 TAHITI SOLAR ECLIPSE CRUISE on the WIND SPIRIT
11 days/10 nights from June 27-July 7, 2019
---
March 31, 2019:

WAIT LIST ONLY! LAST MINUTE CANCELLATIONS ARE ALWAYS POSSIBLE

 CONTACT ECLIPSE@DT.COM TO VERIFY!
———————————————————————————————————————————————-
Get ready for another cruise to totality!  This is the 2nd tour for the NASA Johnson Space Center Astronomical Society's RING OF FIRE EXPEDITION #48 to see the total eclipse of the Sun on July 2, 2019.  This expedition will be led by Paul D. Maley of the NASA Johnson Space Center Astronomical Society.  It will be his 74th solar eclipse.  We have one sold out land expedition viewing it from near the sunset point in Chile but this cruise will attempt to view it from a late morning perspective in the Pacific Ocean.  We are pleased to welcome all of you, especially first timers who got a taste for what a total eclipse of the Sun looks like from the August 21, 2017 USA eclipse experience.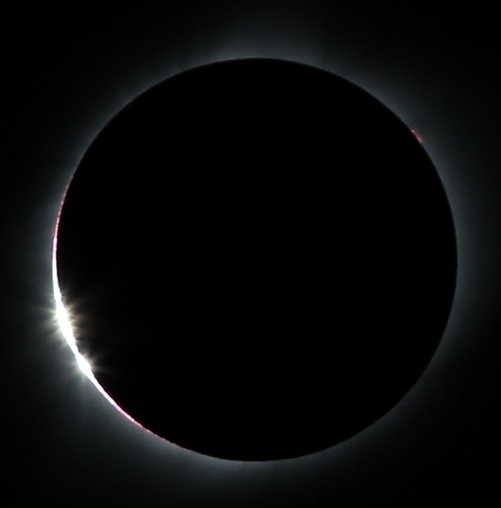 Second contact showing Baily's Beads (lower left) as photographed on Ring of Fire Expedition #47 by Byron Braswell, August 21, 2017
We have contracted with Windstar Cruises to use their motorized sailing ship the Wind Spirit for this eclipse adventure.  The ship we will use appears in the photo below with the following characteristics: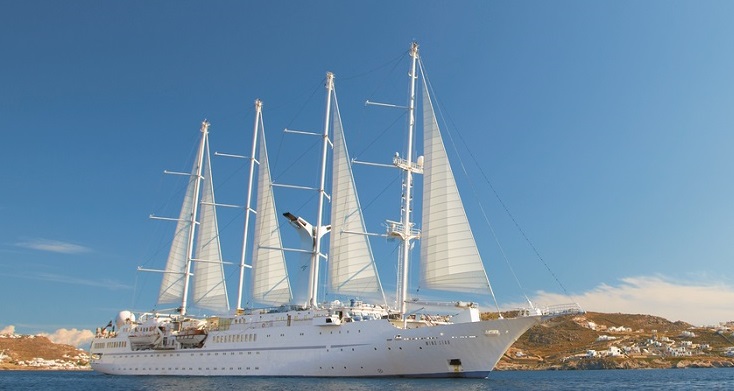 The Wind Spirit
STATEROOM LAYOUT=make a 1st and 2nd choice of CABIN CATEGORY (but not cabin number!) from these charts

Deck 2 (above deck 1) staterooms category A (gray) and AX (pink) cabins. 

Deck 1 (lowest deck) contain the least expensive staterooms in category B  (tan color) and BX (light green). Cabin 107 is the owner's suite. 
CABIN LIMITATIONS: Maximum of 2 persons per cabin, no children under 12.
Staterooms with adjoining private doors: 124/126, 129/131, 132/134, 133/135, 136/138
Staterooms with one Queen Size Bed Only (no twin option): 101, 102
CRUISE ITINERARY OVERVIEW
CRUISE DAY
DATE
DAY OF WEEK
PORT
COUNTRY
ARRIVAL
DEPARTURE
1
27 JUNE 2019
THURSDAY
PAPEETE
FR. POLYNESIA
100PM BOARD SHIP
600PM
2
28 JUNE 2019
FRIDAY
AT SEA
3
29 JUNE 2019
SATURDAY
AT SEA
4
30 JUNE 2019
SUNDAY
AT SEA
5
1 JULY 2019
MONDAY
AHUREI, RAPA ITI
AUSTRAL ISLANDS
800AM
230PM
6
2 JULY 2019
TUESDAY
ECLIPSE!! AT SEA
Path of Totality - 29°43' 34.4"S, 143° 46' 41.1"W
7
3 JULY 2019
WEDNESDAY
AT SEA
8
4 JULY 2019
THURSDAY
AT SEA
9
5 JULY 2019
FRIDAY
AT SEA
10
6 JULY 2019
SATURDAY
COOK'S BAY, MOOREA
FR. POLYNESIA
600AM
1100PM
11
7 JULY 2019
SUNDAY
PAPEETE
FR. POLYNESIA
900AM
For day by day details scroll down to the ITINERARY SECTION.
PRICES
There are four types of cabins based on the deck number and location around the deck.  Deck 1 is the lowest deck and deck 2 is the next one up.  Deck 1 contains staterooms in category B (13 cabins–tan color) and BX (24 cabins–light green color); then there is deck 2 which include category A (12 cabins–gray color) and AX (24 cabins–pink color).  The owner's suite is cabin 107 toward the aft on Deck 1.  All rooms, unless otherwise specified have two beds. Be reminded there are no elevators on the ship, only stairs.
Cruise Price PER PERSON in USD (prices below include $300 fuel surcharge added by Windstar in 2018):
Category B (tan)………………………  $5,117. if paid by credit card (cash discount price is $4,873).
Category BX (light green)……….. $5,562. if paid by credit card (cash discount price is $5,297).
Category A (gray)………………………$6,007.  if paid by credit card (cash discount price is $5,721).
Category AX (pink)……………………$6,675.  if paid by credit card (cash discount price is $6,357).
OWNER'S SUITE (blue)……….…. $18,027. if paid by credit card (cash discount price is $17,169).
IMPORTANT: CRUISE INSURANCE IS MANDATORY and at additional cost. SEE DETAILS BELOW UNDER THE INSURANCE SECTION.
CRUISE-ONLY PRICE INCLUDES:
Accommodations in all-oceanview staterooms for 11 days
All port charges, fees and taxes known at the time of contract signing
All onboard gratuities
All meals aboard ship; special dietary needs should be sent to us so we can confirm with the ship in advance
Captain's welcome aboard reception
Complimentary one hour cocktail party with hot and cold hors d'ouvers
All shipboard entertainment including port talks, talks on astronomical topics and destination briefings
Complimentary meeting refreshment breaks
Rooms with queen beds, flat-screen TV with DVD player, and Bose SoundDock speakers for Apple iPods
Wind Spirit offers two primary dining venues. AmphorA restaurant offers gourmet, course-by-course cuisine in the evenings and Veranda restaurant offers casual buffet and full-service dining for breakfast and lunch. All dining is open seating. And, for dining under the stars, make a reservation for Candles which features steaks and skewers. Each cabin entitled to 2 reservations per cruise.
Beverages including soft drinks, bottled water, coffee, cappuccino, expresso and tea served throughout the ship.
24-hour room service and in-room dining.
In room mini fridge
Unlimited use of all water sports equipment
WindSpa, Watersports Platform, Lounge, Library, Pool, and Hot Tub.
Unlimited use of Fitness Center
Complimentary group transfers and baggage handling if arriving on the day of departure between airport and the ship
Complimentary group transfers and baggage handling on day of arrival back into port between the port and the airport
Deck barbeque under the stars
Complimentary state room deliveries during turn down service
PRICES DOES NOT INCLUDE:
Air travel to and from Tahiti (no air travel at all)
Internet Wi-Fi access throughout your entire cruise (It is available but only at extra cost).
passports & visas; airport luggage handling
cruise fuel surcharges (if they are mandated). Should the global price of oil experience a major uptick due to war or some other extreme condition the cruise company reserves the right to bill us an additional amount.
deluxe shipboard beverages (alcoholic drinks)
shore excursions
items of a personal nature including spa, boutique and laundry services, clothes washing, medical services, etc.
trip cancellation/medical insurance
If you arrive early or stay late, those transfers, accommodations, meals, etc. are not part of the cruise cost unless specified
DEPOSIT SCHEDULE & CANCELLATION FEES
This is a full ship charter so deposits and cancellations fees are based on much stricter requirements than normal cruises.
PAYMENT SCHEDULE
A deposit of 25% of the total per person price and a completed Registration Form are BOTH required.
Deposit per person for category
CATEGORY B:… $1202.  ($1144. cash discount)
CATEGORY BX:  $1312. ($1249. cash discount)
CATEGORY A: …$1424. ($1356. cash discount)
CATEGORY AX:  $1590. ($1514. cash discount)
Owners suite: ….$4428. ($4217. cash discount)
A second payment, equal to 50% of the total per person price is due by April 1, 2018. 
Payment in full is due no later than August 1, 2018. 
ADDITIONAL COST
In December 2017 an additional fuel surcharge was mandated by Windstar of $215. per person. This had to do with the underestimated distance that the ship will be required to travel to get into the eclipse path.  All clients will be billed for this in addition to the cruise prices shown above. 
CANCELLATION SCHEDULE
Cancellations must be in writing by email in order to receive a refund of cruise charges according to this schedule:
Cancellations made from the time of booking through March 31, 2018, will incur a $1,000 USD per person cancellation fee.

Cancellations made between April 1-July 31, 2018, will incur a $2,000 USD per person cancellation fee.

Cancellations received after July 31, 2018, are completely non-refundable. No substitutions are permitted. We are  making arrangements with travel suppliers that require us to incur very substantial costs of operation. Therefore, if you cancel, we will retain all of your payments as liquidated damages
INVOICES: these are done by Future Travel and sent once payment has been made by you.
INSURANCE
Insurance is mandatory on this cruise.  Due to the inherent risks in traveling on a cruise outside US waters, trip cancellation / delay insurance / medical evacuation and repatriation are critical.  This cost is in addition to the cruise cost. It is entirely for your protection since it covers those things that always accompany a cruise: lost luggage, missed connections, last minute trip cancellation or delay, being injured on the cruise, having to undergo emergency medical evacuation.  We have seen every one of these items happen in the past, and if you are an experienced traveler, you know this can be today's reality.
This must be paid with a major credit card.  If you want to add the cost of international air or pre and post tours, this can be done later on by paying an additional premium.
If you live outside the USA you will have to buy insurance in your home country and provide evidence as to the coverages.
Costs of Travel Guard's Gold Policy are based on cabin price and your age. THE FOLLOWING TABLE IS AN EXAMPLE OF POSSIBLE RATES. Prices also vary depending in which state you live. You will receive a quote AFTER you register and submit your deposit.
| BERTH PRICE | AGE 0-34 | 35-59 | 60-69 | 70-74 | 75-79 | 80-84 | 85+ |
| --- | --- | --- | --- | --- | --- | --- | --- |
| $4573 | $182 | $282 | $382 | $494 | $609 | $819 | $1106 |
| $4997 | $182 | $282 | $382 | $494 | $609 | $819 | $1106 |
| $5421 | $206 | $319 | $432 | $558 | $688 | $923 | $1243 |
| $6057 | $277 | $431 | $585 | $752 | $930 | $1236 | $1683 |
| $16869 | $547 | $851 | $1149 | $1450 | $1787 | $2351 | $3188 |
If you want insurance to cover pre-existing medical conditions, you must take out a policy within 15 days of making your deposit.
HOW TO PAY
All prices are quoted in US Dollars and can be paid in the following ways:
PAY BY CREDIT CARD:  Future Travel, Inc. – A Direct Travel Company does accept VISA, Master Card, American Express, and Discover. We will need you to view, complete the Credit Card Authorization form:
https://houstonwebsolutions.formstack.com/forms/ccauth_eclipse
PAY BY ELECTRONIC CHECK (cash discount of 5%): Use our secure electronic payment form. It is faster/safer than going through the regular mail. The web link is: 
https://houstonwebsolutions.formstack.com/forms/ach_auth_eclipse
IF YOU LIVE OUTSIDE THE UNITED STATES you may pay by one of these methods: 1) credit cards, 2) money order; or 3) electronic check transfer from a bank in the United States. Please contact mweller@dt.com  to make arrangements.
REGISTRATION
To join the cruise you must 1) submit one registration form per person AND 2)  one deposit per person (or together). Doing one without the other will invalidate your signup!
Registration form: CLICK HERE.  Note that all cabins are the same and are located on two different decks. There are no balconies on the ship but all staterooms are ocean view.  There is one owner's suite.  See the deck maps above to choose your cabin. Because we open the cruise in waves, we may not be able to honor your request if someone else has grabbed it first but will attempt to put you in the same cabin category. If your preferred cabin category is full, we will notify you so you can decided what to do.
IMPORTANT GUIDELINES FOR JOINING THE CRUISE:
We have had a huge surge of interest in solar eclipse viewing since this year's total eclipse in the USA. Because we have a limited number of cabins on the Wind Spirit, Future Travel has decided to consider registration forms where two people sign up sharing a cabin first. Single cabins are NOT allowed EXCEPT where one person books the entire cabin and pays the same price as two people sharing + an $800 additional premium. This $800 premium is a new contract requirement from the cruise company levied on Future Travel. Two people maximum in one cabin and no children under 12.  Persons who want to join the cruise but do not have a  cabin mate will be considered after cabins with 2 people sharing are filled. We will attempt to match people by gender. It pays for you to have a cabin mate that you already know since you never know how compatible a cabin mate chosen in the blind might turn out.
Trip cancellation/repatriation/evacuation is mandatory on this trip since we will be traveling to the end of the range of the ship's capability quite far from any islands with medical support. If any cruise passenger is in need of evacuation at sea this would be extremely costly and such insurance is vital. See approximate cost of insurance above under the INSURANCE section.
CONFIRMATION THAT YOU ARE ON THE TRIP:
This is actually a three step process. I can confirm each registration form the same day it is submitted. Payments for the cruise and insurance (steps 2 and 3) will take longer and will be confirmed by Judy Shaw with Future Travel.  From the time that you submit your payment (credit card or cash amount) it takes a finite number of days for the payments to be processed by Future Travel. This could be a few does or a week or more. Please do not inquire of me or them as Future Travel will notify you once the cruise payment process is completed.  At that time they will invoice you and inform you about the insurance portion of the payment. Once all three items are completely processed you will be added to the ship's manifest for the cruise. When the ship fills up, I will post a note on the eclipsetours.com web page to that effect. Any registration forms that are received after the ship is full will be held on a wait list (I will contact those people); excess deposits from those who cannot be confirmed will not be cashed unless you are notified by Future Travel.
THE SHIP
CAPACITY: 148 guests
STATEROOMS: 73 deluxe ocean view staterooms
OWNER'S SUITE: 1 ocean view owner's suite
DECKS: 4 decks
CREW: 101 international staff
SHIP'S REGISTRY: Bahamas
LENGTH: 360 feet (110 meters) at waterline; 440 feet (134 meters) including bowsprit
DRAFT: DRAFT: 14 feet (4.1 meters)
TONNAGE: 5,736 gross registered tons (grt)
BEAM: 52.1 feet (15.8 meters)
SAILS: 6 triangular, self-furling, computer-operated sails with 21,500 square feet (or 2,200 square meters) of Dacron surface area
MASTS: 4 at 204 feet (62 meters)
ENGINES: 3 diesel electric generating sets, 1 electrical propulsion motor
SPEED: 10 knots with engines only; up to 15.8 knots with prevailing wind
ALL ACCOMMODATIONS FEATURE:
-Queen Size Bed with Luxurious Linens
-Waffle Weave Robe and Slippers
-Flat Screen TV with DVD player
-Fully-Stocked Mini Bar/Refrigerator
-Safe
-Direct Dial Phone
-L'Occitane Bath Amenities
-Wi-Fi (internet cards can be purchased at reception)
-Fresh Flowers
-Fresh Fruit
-Granite vanity with magnifying mirror and chair
-Mirrored closet with ample drawer space
-Bathroom with granite countertop and shower
-Hair Dryers and 110/220 outlets
SERVICES ON BOARD
THE BRIDGE
Open to all guests while ship is sailing.
ELECTRIC APPLIANCES
Voltage is standard 110/220.  Special converters are needed if your appliances operate on other voltages. Guests are encouraged to bring their own travel adaptors as they are not available on board. For your convenience, there is a hair dryer in each stateroom or suite.
VALUABLES
Each stateroom or suite is equipped with a built-in safe for storing valuables and important documents.
LAUNDRY SERVICES
Laundry service is provided on board at a nominal charge. Dry cleaning is not available. If you need a laundry service package, it must be added by the first day of the cruise and will be priced by the total number of cruise days.  Pricing is inclusive of applicable taxes.
ENTERTAINMENT
Live music in lounge at night.  Library stocked with books, DVDs, CDs and board games.
DRESS CODE
"Eclipse casual". That means, no ties, not sport coats, no formal clothes of any kind. Swimsuits not allowed at dinner but shorts, flip flops are ok any time.  This is a vacation, not a job function!
SPECIAL MEALS
Special request dietary needs include:  alcohol free, celiace, dairy free, diabetic (diet controlled or insulin controlled), food allergy, gluten free, lactose intolerant, low carbohydrate, low cholesterol, low protein, low sodium, other dietary, sugar free, vega, vegetarian, wheat free diet.  The ship is unable to accommodate Kosher or Halal meals.
SMOKING
Smoking is not permitted in any of the staterooms, suites, or public spaces, including all restaurants and corridors. Smoking is permitted on the outside decks in designated smoking areas only.
SHIP ACCESSIBILITY
Unfortunately the ship does not have an elevator and is not wheelchair accessible.
PRE OR POST TOURS
The cruise is optimized to get to/from the eclipse point and it is not possible to add on other major islands like Bora Bora without impacting Windstar's other cruises that occur prior to our cruise or after it. We will likely add a pre and post tour OPTION where you can spend 4 nights in Bora Bora before the cruise or after the cruise.  WE STRONGLY ADVISE EVERYONE TO ARRIVE IN PAPEETE AT LEAST ONE DAY BEFORE THE OFFICIAL CRUISE DEPARTURE due to the possibility of flight misconnections, cancellations, illnesses for yourself or family members, work emergencies. It would be also better to do a pre-cruise (rather than a post-cruise trip) which would bring you in a number of days before the cruise is scheduled to depart.  Future Travel will offer a group airfare on Air Tahiti Nui and also a one pre-night hotel package in addition to the Bora Bora option.
CABIN MATES & NAME CHANGES
If you need a cabin mate, we will endeavor to get one for you but it is in your best interest to find a companion or you may/may not have one. If we/you cannot find a cabin mate you would have to pay the single supplement charges. Where we find a potential cabin mate it will be one of the same gender.  
Name changes are allowed up to March 27, 2019. After that no name changes are permitted.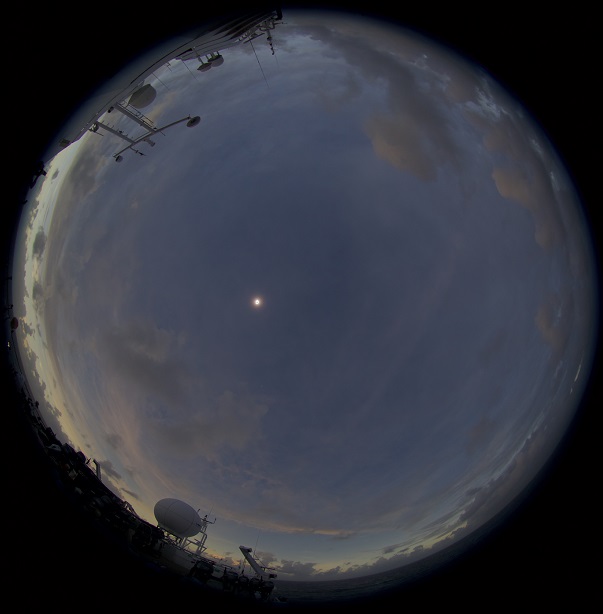 A fish-eye view of a total eclipse as photographed by Bob Hulse on the Silver Discoverer on our  eclipse cruise in 2016.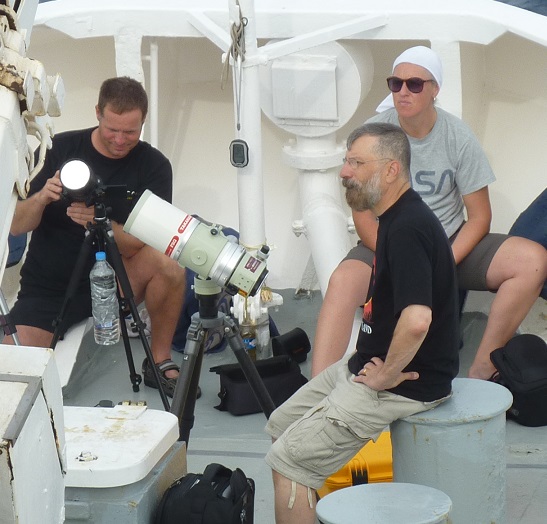 A cruise ship can be a good place to adapt free thinking ideas.  Use of a wind-sheltered crew area, hanging a GPS from a convenient hook, using a water bottle as a counterweight for a tripod, use of onsite tie rope tie downs as substitute chairs.  Stefan Meyer photo.
SPEAKERS
Our speakers will be Dr. Michael Shara of the American Museum of Natural History and Paul D. Maley, NASA Johnson Space Center Astronomical Society.  We will also entertain volunteer talks from cruise members like we did on our previous cruises in 2013 and 2016.  Some, but not all, of the talks (to be confirmed & subject to change) we plan to insert include:
An Eclipse Primer
The Plan for the July 2, 2019 Total Eclipse Intercept
Einstein: His Life and Times
Merging Black Holes and Neutron stars: Probing Spacetime with gravitational waves
Exoplanets and Searches for Extraterrestrial Life
A Tour of the Universe as Seen by Hubble and Chandra
Ring of Fire Expeditions Upcoming Trips
Capturing the Green Flash
Flying Fish, Flying Squid and Other Things to See on Deck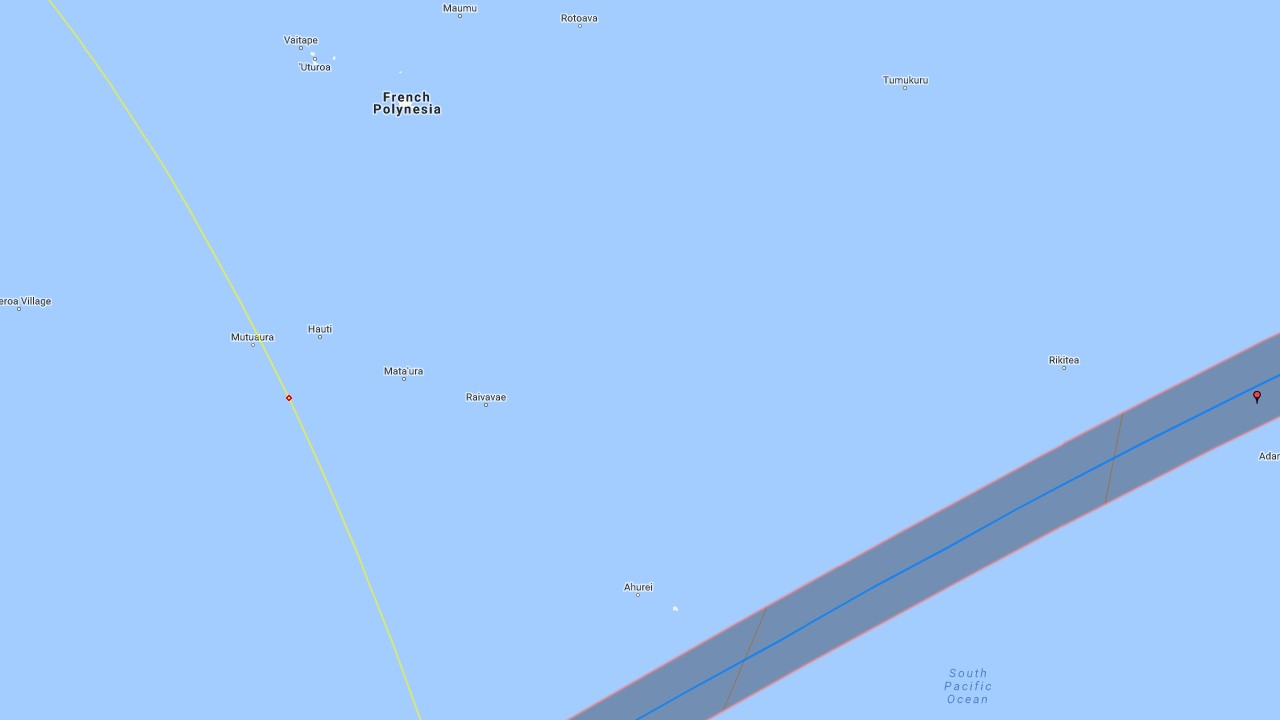 Tahiti is part of French Polynesia and is located about 730 miles to the northwest of the total eclipse path (grayish area in the lower right) as seen in the map above. It will take about 3 + days of sailing to reach the path of totality. Our viewing location will likely be south or east of Ahurei which is the actual name of the town on Rapa Iti island.   Because of fuel limitations (and no place to refuel) we will have a limited radius of travel to move along the blue central eclipse line.  Map courtesy X. Jubier.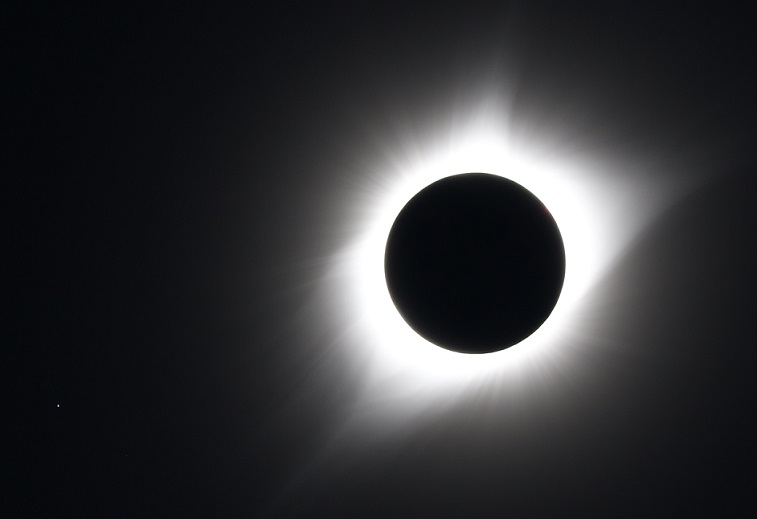 Totality as photographed from Berwyn, Nebraska USA on August 21, 2017 by Jan Hellemans. Note the bright star Regulus in lower left and long coronal streamers.
ITINERARY
The Wind Spirit is permanently based in Tahiti.  The cruise itinerary shown here is that we have established with the best possible sailing schedule and costing.  It will include two port stops after departure from Papeete, Tahiti.  The first one is Rapa island in the Austral Island group.  This is one of many locations never visited by cruise ships because they have no infrastructure for tourism and are quite far from the main tourist islands in French Polynesia.  The second stop is the popular island of Moorea; if you have a great interest to visit one or more of the major islands, we recommend that you do so either as a pre or post tour.  Such a schedule sets the optimum routing that lets us reach and return from the eclipse area.  Most of the 11 day cruise will by necessity be spent at sea.
The itinerary will look something like this with various talks (to be defined later) inserted into the program:
JUNE 27  Thursday: DEPART PAPEETE
If arriving today, transfer from the airport to the pier.  If you planned to arrive today but you missed your connection, it will be impossible to catch up to the ship. If you have arrived the previous day as we recommend, transfer from your hotel to pier.  The ship begins the boarding process at 100pm.  In the evening the ship departs at 600pm from Papeete, Tahiti.
Before sailing there will be a boat drill, followed by a welcome reception on the ship, introduction of key cruise personnel, and a short briefing on the cruise plan.  One of the features will be the observation of overflights of bright artificial Earth satellites assuming clear skies and favorable passes. An example of this is the brilliant Iridium spacecraft such as the one depicted in the image below.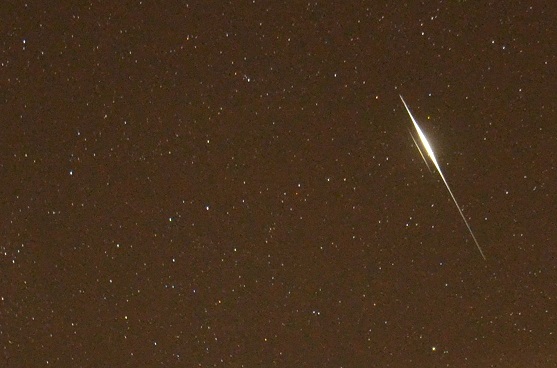 A -8 magnitude Iridium flare photograph by Paul Maley
Tonight dinner will be served. If the sky is good after dinner, it is then we will venture on deck.  Sightings will be posted daily for both predawn and after dinner periods as we have done with all of our trips for the past 30 years.
JUNE 28  Friday: AT SEA.
If you are an early riser, the Moon will be approaching New and if you go out on deck, you will likely see the blanket of stars that is the southern Milky Way as the ship sails to the south east.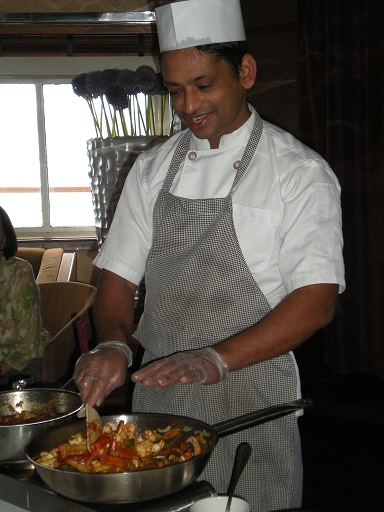 Cooking demo at sea. Richard Westwood photo.
The sunsets at sea can be amazing. This photo is an example of what you might capture under the right conditions. John DuBois image.
JUNE 29 Saturday:  AT SEA. Briefing on the solar eclipse (morning). Discussion of photographic options for the eclipse (afternoon)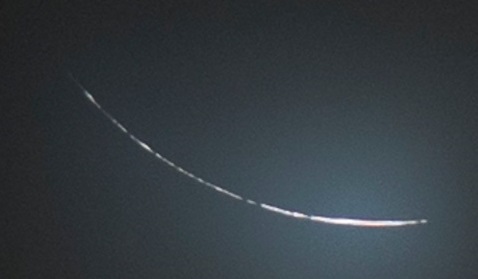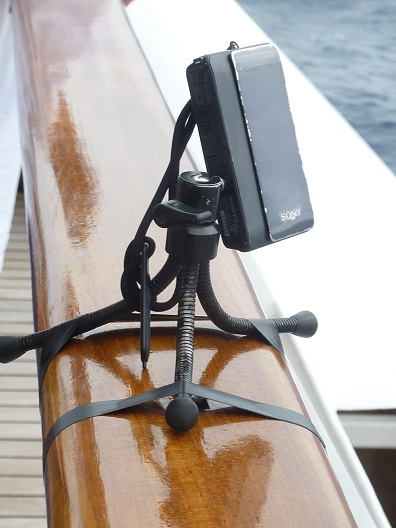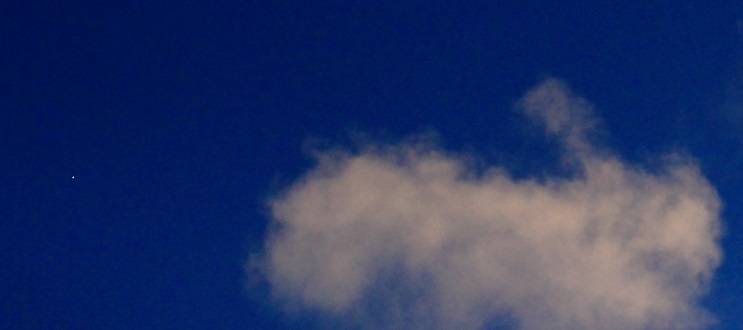 (left above) Baily's Beads, produced by irregular mountains on the edge of the Moon as photographed on our 2013 cruise aboard the Sea Dream
(left below) Venus, the bright dot to the left of the small cloud as seen 20 minutes before totality. Photo by LeRoy Maxfield
(above right) Securing an IPhone and minitripod in order to photograph the eclipse.
JUNE 30  Sunday: AT SEA
Some time today we will have a briefing to discuss the detailed timeline on sights to see before, during and after the total eclipse on July 2.  We will also have an eclipse simulation.
Some of the best skies we have seen occur during an eclipse voyage when there is no Moon in the sky. If the sky is exceptionally clear and Venus dramatically bright, you may be able to see the shadow cast by Venus.
A shadow cast by the planet Venus in the morning sky with the Milky Way in background. Paul Maley photo.
JULY 1  Monday: Rapa Iti, Austral Islands
Today we will stop at Rapa Iti (the capital of Rapa and the rest of the Bass Islands of French Polynesia) near the town of Ahurei; this is the first of the two port stops on this cruise.  If the seas are cooperative today the ship will deploy the water sports platform which can be used for snorkeling and other water sports; the expedition team will assess if it is possible to conduct an island exploration visit from the ship.  This is an island that cruise ships never visit so it will be an adventure.  Rapa, sometimes called Rapa Iti (Little Rapa, to distinguish it from "Rapa Nui", the more popular name for Easter Island), is the largest and only inhabited island of the Bass Islands in French Polynesia.   Its area is 40 km2 with a population of almost 500 and a max elevation of 650 m.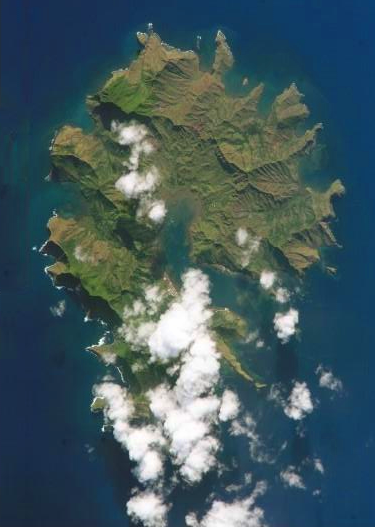 Rapa Iti. Credit: By NASA – http://eol.jsc.nasa.gov/scripts/sseop/photo.pl?mission=ISS004&roll=E&frame=12979, cropepd, Public Domain, https://commons.wikimedia.org/w/index.php?curid=6072577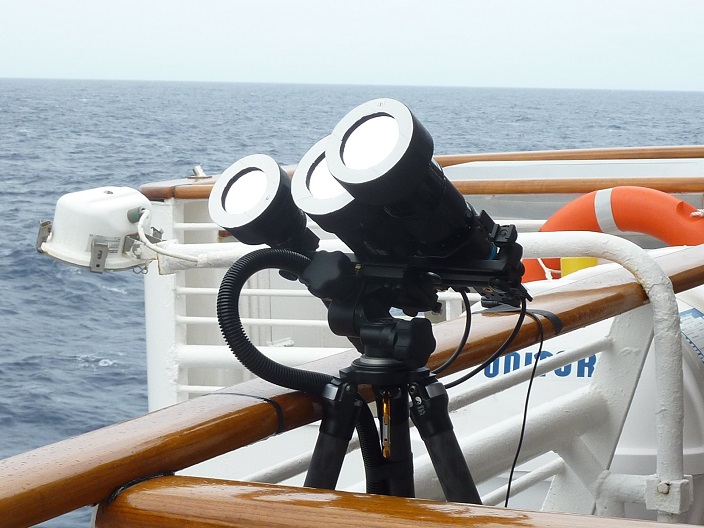 Three cameras mounted on one platform. Photo by Jeff Pohlman.
Since the eclipse is tomorrow, you can make the most of eclipse photographic arrangements. Today is the last time you can thoroughly do a run-through of your equipment and potentially debug any problems.  Some cameras can be automatically controlled by software such as Eclipse Orchestrator or Eclipse Maestro.  Using different focal length instruments can result in unique photo composition and results especially if within a small distance range of your hands.  Having all of your gear on one tripod and bringing along or locating a small deck chair can make a complex task much more comfortable. Note the photo above where the Sun is about 45 degrees elevation above the sea. For our eclipse in 2019 the elevation will only be 18 degrees.
JULY 2 Tuesday: ECLIPSE DAY!
Today will be an early morning breakfast for those planning to spend the next few hours watching the amazing eclipse of the Sun.  Today we plan to be in position to the east or southeast of Ahueri based on the latest weather forecasts.  In this region we can expect up to 2 minutes 43 seconds of total eclipse.  This is a bit more than the 2 minutes 33 seconds of totality from the west coast of Chile.  We are tentatively targeting for these coordinates:   29°43'34.4″S, 143° 46'41.1″W but depending on the weather and sea conditions this location may change.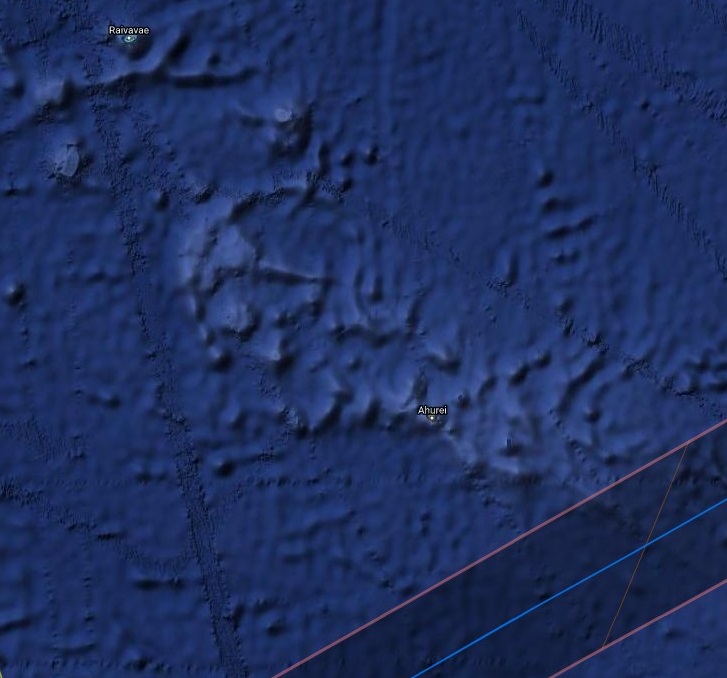 The eclipse observation point is nominally on the blue line.  The island of Rapa Iti (Ahurei) where we will stop is shown above.
If you are nervous about whether or not it is possible to get good eclipse photos from a cruise ship see the imagse below.  If the sky is good and you have good equipment, you too can get photos like these.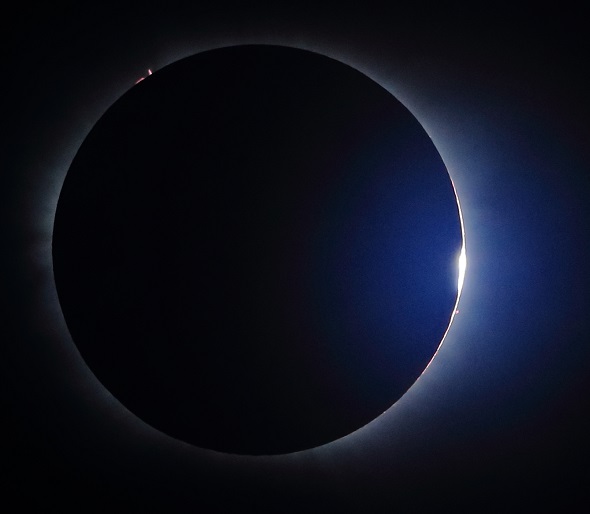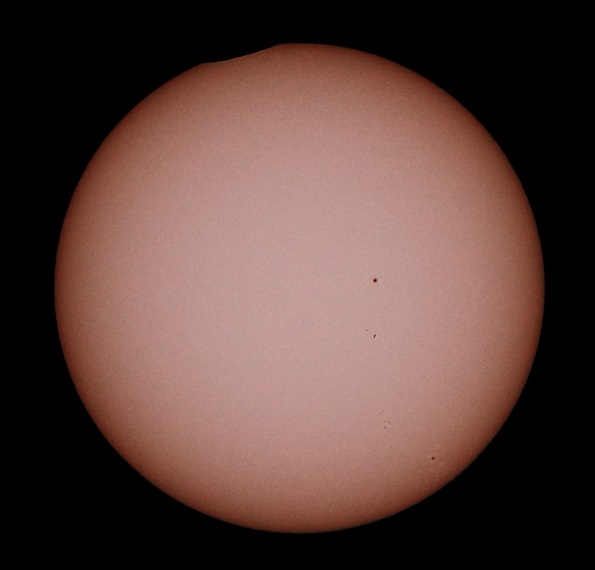 (L) 3rd contact from our Silver Discoverer cruise in 2016. LeRoy Maxfield photo. (R) 1st contact photo by LeRoy Maxfield.
We plan to look for Venus beginning well before totality, shadow bands on white surfaces within the few minutes preceding totality, experience the 'eclipse wind' and sunset colors around the horizon
Key times for the eclipse are:
First contact: 16:59 GMT = 6:59am local time (GMT-10 hours)
Start totality: ~18:07= 8:07am
End totality: ~18:10 = 8:10am
Last contact: 19:28= 9:28am
After the eclipse we will have a traditional group photo with the Texas flag in the background; then enjoy a post eclipse lunch buffet.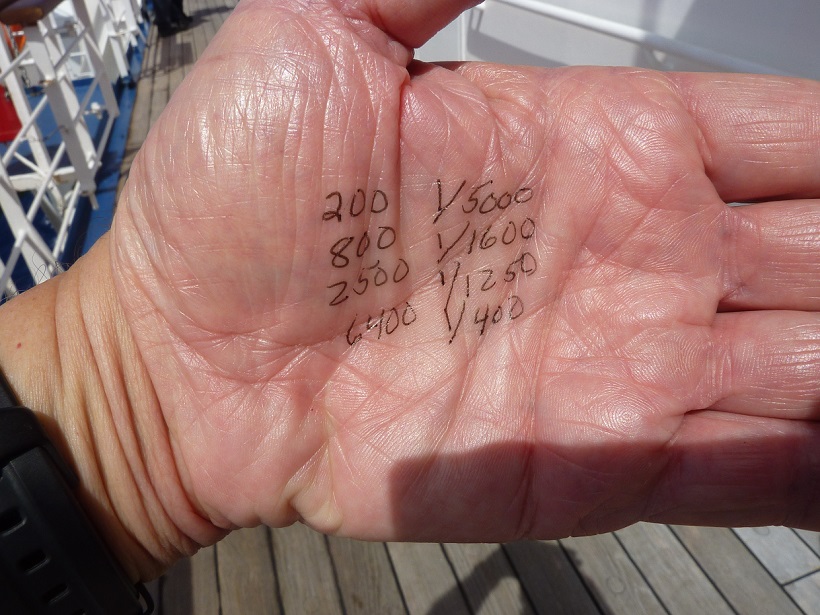 It is not uncommon for some photographers to be undecided about their ISO or exposure times until even the last moment. Photographers should allow time for viewing the eclipse with the naked eye or binoculars but never forget your planned exposure settings!
In the afternoon, a post eclipse discussion on preliminary results and recommendations including ideas like that shown in the photo above.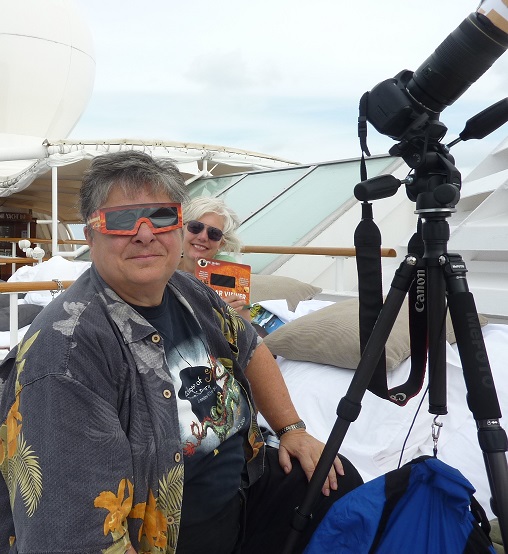 No "dress code" for eclipse day. In fact, this is an example of our normal "eclipse casual" dress code throughout the cruise.  All tripods/cameras on deck including hand held solar viewers.
Paul D. Maley delivering a pre-eclipse briefing. Lynn Palmer photo.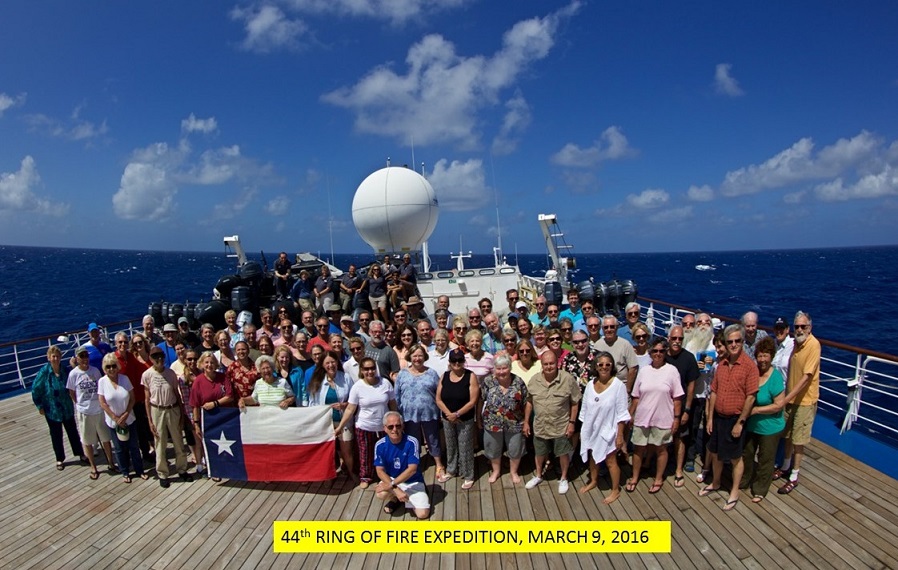 Our 2016 Silver Discoverer cruise eclipse group photo with the Texas flag in the foreground. Bob Hulse photo.
JULY 3 Wednesday: AT SEA
One of the most unusual phenomena to be seen during our cruise is the Green Flash. This brief optical event can sometimes be seen as the Sun sets on a flat sea with no/little cloud; also sometimes at sunrise.  The green flash is the result of looking at the sun through a greater and greater thickness of atmosphere as the Sun descends into the sea. Water vapor in the atmosphere absorbs the yellow and orange colors in white sunlight, and air molecules scatter the violet light. That leaves the red and blue-green light directed to your eyes. Near the horizon, the sun's light is highly bent or refracted. It's as though there are two suns – a red one and a blue-green one – partially covering each other. The red one is always closest to the horizon, so when it sets or before it rises, you see only the blue-green disk – the green flash.  Sometimes a blue flash may be seen as well but this is considerably rarer.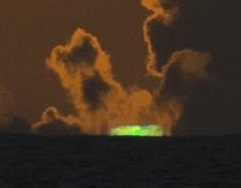 The "green flash" photographed by Karen Hoffman
Green flashes are seen more commonly at lower latitudes and at sea. We will be at such lower latitudes on our cruise. They can be seen over land and in the daytime as well, but the sightings at sea are the best!
JULY 4 Thursday: AT SEA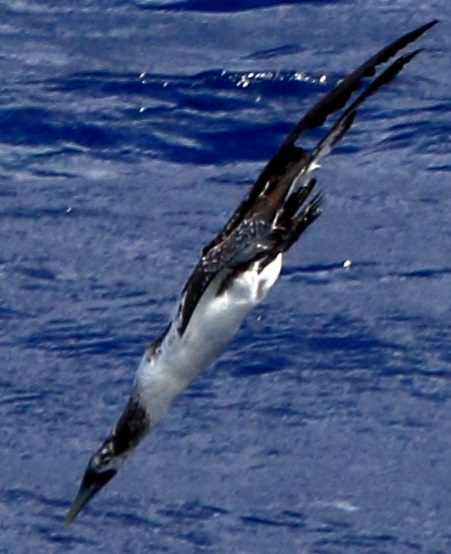 A diving sea bird as photographed by LeRoy Maxfield
Venus and the faint glow of the Zodiacal Light. Photo by Paul Maley.
There are other amazing night sights that may be seen at sea.  A band of dust in the plane of the Earth's orbit is popularly known as the "Zodiacal Light".  This faint cone of illuminated particles can be seen in a dark sky environment just after sunset or just before sunrise. It will be something else to look for on our voyage though July is not the optimum month for viewing it in the southern hemisphere.
JULY 5 Friday: AT SEA 
Our final full day at sea in anticipation of tomorrow's land fall at Moorea.  Today we plan to have one or two talks on various topics to be identified later. One will be on photography of native subjects since in Moorea you can get opportunities to take striking shots of even the most obscure targets such as the flowers and shore landscape below.  Other classic targets include rainbows, clouds, sea birds and fish.
Indigenous flowers. Photo by John DuBois.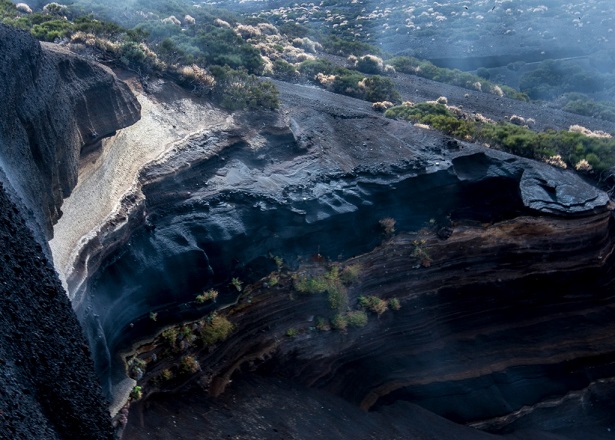 Island topography. Photo by John DuBois.
We will attempt to look for the green flash each day as sunset approaches from the top deck.
JULY 6 Saturday: COOKS BAY, MOOREA
At long last we arrive at our premier French Polynesian island stop of Moorea at about 600am.    Eight voluminous mountain peaks rise from its translucent lagoon, creating a distinctive and rugged silhouette visible from the western coast of Tahiti. Splitting the northern shore are two symmetrical bays: Cook's (Paopao) and Opunohu Bay. The island is roughly shaped like a heart from overhead; and in the theme of love and romance, Moorea is one of the top honeymoon destinations in Tahiti—second only to Bora Bora.
There are a number of optional cost tours that you can take. Believed to have inspired the mythical Bali Hai from James Michener's Tales of the South Pacific, Moorea is one of the most scenically striking islands in French Polynesia.
A wide angle view of Moorea.  Credit: By 100zax – Own work, CC BY-SA 3.0, https://commons.wikimedia.org/w/index.php?curid=5513234
The world's largest coral reef eco-system actually consists of 3,000 separate reefs. The island of Moorea serves as the perfect base camp for snorkelers and scuba divers seeking to come face-to-face with the diversity of life that darts among the coral. Non-swimmers can enjoy the same parade of astounding creatures from the dry perch of a glass-bottomed boat. Formed when half of a monolithic volcano crumbled to the blue-green sea, Moorea is an achingly exquisite heart-shaped island that is simply paradise found.
Below are OPTIONAL COST tours currently offered in Moorea by Windstar but may be modified prior to our sailing in 2019.  Tours will take place during the day today.  Booking for these tours will begin approximately 45 days before sailing and end 7 days before. However, if you have not booked by the time you get on the ship, and the particular tour is not full, then you can book onboard charging it to your shipboard account.
Depart Moorea around 1100pm for Papeete.
JULY 7 Sunday: RETURN TO PAPEETE, TAHITI.
This morning we arrive back into Papeete about 9:00am.   Transfer to the airport for your flight home or extend in Tahiti as you choose.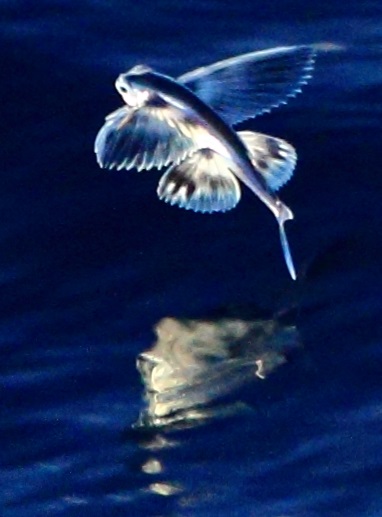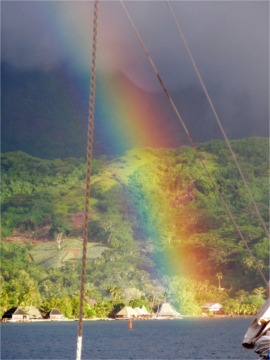 (L) Other things besides the eclipse that we might see from the deck include flying fish. Photo by LeRoy Maxfield. (R) Rainbow. Photo by Lynn Palmer from a ship in Papeete.
TERMS & CONDITIONS
Your signature on our reservation form will signify your agreement with the following terms and conditions. These are the terms and conditions applicable to the Land Expeditions offered by Future Travel, Inc. a Texas corporation ("we", "us" and "our").  The terms "client" "you" and "your" refer to each person who purchases and/or participates in the Cruise.
1. Solar eclipse tour 2019 ITINERARY: The itinerary on the Solar eclipse tour 2019 Website and any other materials is hereby included in this agreement. However, the Tour Operator, reserves the right to make changes to the itinerary as explained in this agreement.  For more information: (281) 480-1988 or (800) 929-9004 or email eclipse@dt.com.
2. Solar eclipse tour 2019 PRICE: Prices are based on two persons sharing accommodations. There is additional cost for a single accommodation (single supplement) or an extra person in the room if either of these features is available.  Prices may be subject to increase as described in this agreement.
3. DEPOSIT AND FINAL PAYMENT REQUIREMENTS: If you sign up before the dates posted on the Solar eclipse tour 2019 webpage, a deposit in the amount stated on the webpage is due along with your signed reservation form in order to secure your reservation, which is subject to availability at the time we receive the form and deposit. Dates and deposit amounts vary depending upon the trip. Failure to meet those deposit dates will result in cancellation of your reservation and loss of deposit as defined under the cancellation penalties portion of the webpage. If the Tour is sold out at the time we receive your reservation form and deposit, we will contact you and ask if you wish to be added to a waiting list. We reserve the right to accept or decline any prospective participant for any nondiscriminatory reason in our sole discretion. All reservations must be paid in full by the date specified. Spaces not paid in full by this date are subject to cancellation without refund and will be charged a $250 late-payment fee.
4. Solar eclipse tour 2019 CANCELLATION BY YOU: We are  making arrangements with travel suppliers that require us to incur very substantial costs of operation. Therefore, if you cancel, we will retain all of your payments as liquidated damages unless otherwise specified. However, if you find a replacement for yourself or any other members of your traveling party, we will charge a change fee of  $250  as specified on the Solar eclipse tour 2019 webpage.   We must receive the written (email is sufficient) notice of the change and a signed/scanned reservation form from the new participant. If we receive notice of the change after specified date, we will not provide a refund. There is no refund for unused portions of Solar eclipse tour 2019 once it has commenced. You are solely responsible for costs incurred by you due to missed, canceled or delayed transportation. Your decision not to participate on Solar eclipse tour 2019 due to State Department/other US or foreign government warnings, fear of travel, illness, or any other reason will be deemed a cancellation.  If a flight or other delay for any reason prevents you from joining Solar eclipse tour 2019 on the departure date and time, you will be considered a no-show, and we cannot provide a full or partial refund or credit toward a future Tour, but you may join Solar eclipse tour 2019 late at your expense. There are NO exceptions to our cancellation policies.
5. OTHER CHANGES: There will be a change fee of $75.00 per person charged for any change in travel arrangements made after ticketing and at least 30 days prior to departure in addition to charges incurred by our suppliers. No changes will be allowed within 30 days of the departure date.
6. INSURANCE: The purchase of a Travel Insurance Policy is mandatory in case of trip cancellation and medical problems, as well as medical evacuation.  Our agents will send you an insurance quote containing the coverage details at time of deposit. However, any questions about what travel insurance does or does not cover should be addressed directly to the travel insurance company.  If you live in another country, you must buy such insurance there and send us a copy of the policy.
7. Solar eclipse tour 2019 PRICE INCREASES:  In the event that the cost of any aspect of Solar eclipse tour 2019 should incur an unexpected cost increase, Future Travel is obliged to pass on these increases. While rare, they can occur and are beyond the control of Future Travel.  When such increase is known, Future Travel will alert all participants and provide the amount and reason for the increase. It will be required that all Tour members provide payment by the date due per communication from Future Travel.  Prices are also subject to increase for currency fluctuations and the cost of supplier services.
8. Solar eclipse tour 2019 AIRFARES:  Airline arrangements are usually optional and not included in the tour price unless specifically stated. Airlines and airfares included in your trip are subject to change without notice.  Please check with us for conditions applicable to your airline ticket. Airfares are subject to price increases until you have paid in full. Even after you have paid in full, airfares are subject to supplemental price increases imposed by governments, and you hereby consent to any such price increases. We will not change your requested seat assignments on commercial aircraft without permission.  However, airlines often change seat assignments to satisfy their loyalty members or because of equipment changes (aircraft type). We are not notified of these changes in advance, and often clients are not made aware of these changes until they arrive at the airport.  We are not responsible for seat assignment changes made by the airline. Frequent flyer programs are private agreements between airlines and passengers, and we cannot be held responsible for mileage discrepancies involving airline loyalty reward programs.    
9. Solar eclipse tour 2019 ECLIPSE (or other astronomical event) VIEWING: We understand that you have decided to participate based on your ability to view the astronomical event advertised as the highlight of Solar eclipse tour 2019. While we will do our best to arrange for the viewing, we cannot guarantee that there will be no cloud cover, that the group will be in the planned position, or that there will not be another reason beyond our control that prevents viewing. Therefore, we will not be liable or responsible for any loss, damage, cost, or expense of any kind in the event that such viewing is not possible for any reason including but not limited to any act of God, war, fire, collision, directions of underwriters, arrest, order or restraint by any government agency or official acting under color of authority, acts of terrorism, labor disturbances or disputes, civil commotion, weather conditions and considerations of the safety of the ground transportation being used, (for which the Ground Operator shall be the sole judge),   breakdowns of or damage to the transport vehicle, requisition of the vehicle by governmental authority, illness, death of a family member or other cause or circumstance beyond our control.
10. Solar eclipse tour 2019 CHANGES OR CANCELLATION BY GROUND OPERATOR OR US: 
The Ground Operator in its sole discretion may cancel, advance, or postpone any part of the tour, change the itinerary, and may (but is not obligated to) substitute another transport vehicle, and we will not be liable for any loss whatsoever to passengers by reason of such cancellation, advancement, postponement, or substitution. If the Solar eclipse tour 2019 is completely canceled by our Ground Operator, we will provide a full refund, or, if the Solar eclipse tour 2019 is partially canceled, we will provide a partial refund depending on any refund provided to us by the Ground Operator. Under such circumstances, Future Travel shall have no further liability for damages or compensation of any kind. We reserve the right to cancel the Tour for inadequate participation, in which case we will provide a full refund of the Solar eclipse tour 2019 price and shall have no further liability for damages or compensation of any kind. Please note that the availability of any refund for travel insurance and/or other travel products (airfare and hotel), even if purchased in conjunction with Solar eclipse tour 2019, will be determined in accordance with the applicable cancellation policies for such other products or services. Sightseeing is subject to change due to weather conditions, accessibility, border crossing limitations, and hours of operation. Sightseeing will be by motor coach or other transportation as stated in the itinerary.
11. OTHER RIGHTS OF Ground Operators: You may request a copy of the Ground Operator's  Passage Contract, which constitutes your agreement with the Ground Operator. The contract provides that the Ground Operator may exercise its rights in a variety of matters. We have no liability for a full or partial refund of the tour fare, or for any lodging or transportation expenses, as a result of the Ground Operator's exercise of its contractual rights.
12. SAFETY WHILE ON Solar eclipse tour 2019: You assume sole responsibility for your own safety during Solar eclipse tour 2019.  We do not guarantee your safety at any time. You acknowledge that all Excursions /Tours, however conducted, airline flights and ground transportation,  are operated by independent contractors. Future Travel neither supervises nor controls their actions, nor makes any representation, either express or implied, as to their suitability. These services are provided only as a convenience for you, and you are free to use or not use them. You agree that Future Travel assumes no responsibility, does not guarantee performance and in no event shall be liable for any negligent or intentional acts or omissions, loss, damage, injury or delay to you and/or your property in connection with these services.
13. PASSPORTS AND VISAS: International travel requires a passport valid 6 months beyond your intended return travel date. In many cases, you will also need to have multiple consecutive blank visa pages within your passport (the number varies depending on the destination(s)). Many destinations also require that visas be obtained prior to travel. Please speak with us if you are unsure about the visa requirements for your travel destination, but you are solely responsible for complying with passport and visa requirements. Your name, as listed on your travel documents, must exactly match your name as listed on tour or airline documents. Citizens of other countries must make their nationalities known to Future Travel at registration and are responsible for obtaining proper documentation to enter the U.S. and any other countries involved.
14. MEDICAL CERTIFICATION AND PASSENGERS WITH SPECIAL NEEDS: By booking the Solar eclipse tour 2019, you certify that: (a) you are in good general health and capable of performing normal activities on the Solar eclipse tour 2019; (b) you are capable of caring for yourself during any expedition and will not impede the progress of the trip or enjoyment of other Solar eclipse tour 2019 participants; (c) you understand that any expedition may take you far from the nearest viable medical facility; and (d) all expedition members must be self-sufficient; and (e) you have not been recently treated for, nor are aware of, any physical, mental or other condition or disability that would create a hazard to yourself or other Solar eclipse tour 2019 participants. Any condition that may require attention or treatment must be reported in writing at the time your reservation is made. Transport may be refused to any person whose state of health or physical conditions render them, in the opinion of the Ground Operator, unfit.  Participation in this or any other Solar eclipse tour 2019 will be denied to any person who will enter her third trimester (twenty-seventh week) of pregnancy by the time of the Solar eclipse tour 2019 or during the Solar eclipse tour 2019 and to children under the age specified on the Solar eclipse tour 2019 Webpage—usually 16. You must notify Future Travel at the time of booking of any disability or other medical or physical condition that may require special assistance during the Solar eclipse tour 2019. Your failure to do so will release Future Travel from any liability for loss, damages or other compensation arising from or related in any way to such disability or condition. Future Travel and our Ground Operator(s) reserve the right to require that any passenger who is not self-sufficient must travel with a companion who takes responsibility for any assistance needed during the Solar eclipse tour 2019 and in case of emergency.  You understand that if you fraudulently represent yourself as fit for this tour, you may be removed prior to or during the Tour at your own expense.
15. CONDITION OR BEHAVIOR: We may exclude you from participating in all or any part of the trip if, in our sole discretion, your condition or behavior renders you unfit for the trip or unfit for continuation once the trip has begun. Unfitness may include, without limitation, any behavior that, regardless of its cause, is inappropriate or offensive or interferes with the delivery of our services, or may constitute a hazard or embarrassment. In such case, our liability shall be strictly limited to a refund of the recoverable cost of any unused portion of the trip.
16. CHILDREN: We normally accept children if they are the age of 16 and older (thought the minimum age may vary by Tour), although some Tours are for adults only and are specified as such. Children must be accompanied and supervised by parents or guardians, who will bear ultimate responsibility for their actions, and are expected to display proper decorum while the group is together, especially at the observation site and on all transport vehicles.
17. LUGGAGE ON BOARD: Each guest may bring on board a reasonable amount of baggage. It is recommended that participants do not bring expensive jewelry or like possessions with them. Telescopes and observation equipment should be securely packed; insurance on expensive items is highly recommended. All luggage must be stored in the passenger's accommodations. Pets, dangerous or illegal items such as weapons, explosives, combustible substances, non-prescription controlled substances, or illegal drugs may not be brought on Solar eclipse tour 2019. Any such items shall be surrendered to security at embarkation and may be disposed of at the sole discretion of the cruise line. All luggage hand-carried or checked, and your person are subject to security inspections that may involve physical search. Curbside porters are available at the pier during embarkation to take luggage to the vessel. Please be sure each piece of luggage is locked and has a tag listing your name, and contact information. We assume no responsibility for checked or carry-on luggage. Any luggage left anywhere on Tour will be forwarded at the guest's expense if discovered. IF YOU ARE BRINGING A TELESCOPE OR ANY UNUSUAL EQUIPMENT, YOU MUST PROVIDE A LIST OF SUCH ITEMS TO FUTURE TRAVEL SO THAT WE CAN DETERMINE THEY ARE ALLOWABLE. WE WILL PROVIDE INSTRUCTIONS RELATED TO CUSTOMS FORMALITIES.
18. TRANSFERS: When transfers between hotels and airports and the pier are included on the Solar eclipse tour 2019 price, transportation of participants and their baggage is provided only when participants travel with the rest of the group. If your schedule is different from this, private transfers are available at extra cost and must be requested in writing. Carry-on bags must be carried by Solar eclipse tour 2019 participants. Porterage may be included AFTER passing through the customs area upon arrival if so indicated in the inclusions. Porterage is generally not included unless otherwise stated in the individual itinerary inclusions. In some situations, porterage may not be possible. Be sure to consult the cruise information to be sure.
19. TAXES AND TIPS: If a land package is involved, tips are not included (unless stated), but taxes for hotel accommodations and airfare are generally included. Departure taxes within foreign countries are NOT included since they vary widely. Each airport departure may require a separate departure tax which will have to be collected from each participant prior to boarding an airline or ship.  Tips are NOT included for guides, or drivers.  Future Travel will provide guidance on tips, when they should be given and how collected.  Although the amounts and timing may differ, this is left to each person's discretion. There will be times when the Tour escort or guide will alert participants as to whom and how much to tip.  These actions are necessary in order to maintain good service and assure that all promised services will occur as scheduled.
20. WHAT ELSE IS NOT INCLUDED ON OUR TOUR: Cost of passports or visas, excess baggage, meals and beverages not specified in the itinerary, phone calls, voluntary changes in  flights or other methods of transport, laundry, insurance costs, and items or services of a personal nature not specified in the cruise itinerary.
21. MEDICAL CARE:  You assume all risks associated with travel and transportation on the Tour. While on the Solar eclipse tour 2019 or along the way to/from the Solar eclipse tour 2019, the availability of medical care may be limited and/or delayed. You acknowledge that all or part of the Solar eclipse tour 2019 may be in areas where medical care and/or evacuation may not be available. You agree to indemnify and reimburse Future Travel and its ground operators in the event that these entities by their sole discretion, advance to you the cost of emergency medical care, including medical evacuation and/or medical care provided ashore, as well as transportation and/or lodging in connection therewith. Future Travel shall have no responsibility to advance any such costs.
22. ROOMMATES:If you are traveling by yourself but wish to share a room with someone else, we will attempt to match men with male roommates and women with female roommates, along with smoking/non-smoking preferences.   However, the ground operator prohibits all smoking on tour. If we cannot find a roommate for whatever reason we will advise you and have to charge you the single supplement fee. You may wish to look for a roommate from your local astronomical society, family or friends. Your decision to accept a roommate for the tour is at your own risk. Future Travel is not responsible or liable for any and all claims or cause of action arising out of or in connection with your acceptance or selection of a roommate for the tour, including, without limitation, any injury or damage to persons or property which may be caused, directly or indirectly, in whole or in part, from such request or selection.
23. SMOKING: Smoking is prohibited on  our Solar eclipse tour 2019 buses, the astronomical event observation site, and in briefing and lecture rooms as well as in hotel rooms and any other places where the group is congregating.
24. INFORMATION: Information that we publish in our Solar eclipse tour 2019 brochures, collateral material and the Solar eclipse tour 2019 Website is believed to be accurate and reliable. We make no representations or warranties regarding such information or any information provided by a third party. Unless expressly stated in writing, we do not endorse the products or services offered by any company or person identified in our brochures, collateral material or Website, nor are we responsible for any content published by a third party.
25. RESPONSIBILITY: We act only in the capacity of agent for the suppliers of the travel services named in your itinerary or otherwise providing services or goods in connection with the tour (the "suppliers"), such as airlines, hotels and other lodging providers, local hosts, sightseeing tour operators, bus lines, car rental companies, driving services, restaurants, and providers of entertainment. We assume no responsibility for any personal injury, property damage, or other loss, accident, delay, inconvenience, or irregularity which may be occasioned by reason of any act or omission of any of the Suppliers.
26. LIMITATION OF LIABILITY: In no event will we be liable for any injury, loss, claim, damage, or any special, punitive, exemplary, direct, indirect, incidental, or consequential damages of any kind, whether based in contract, tort, strict liability, or otherwise, that arise out of or are in any way connected with the tour even if advised of the possibility of such damages. In no event will our aggregate liability exceed the total tour price set forth in the itinerary for any occurrence including, but not limited to: (1) injury, death or delay of passengers, or loss, damage or delay of or to passengers' baggage or other property, which may be caused, directly or indirectly, in whole or in part, from participation in the Solar eclipse tour 2019 including, without limitation, passenger's use of or participation in any excursion, on  concession or athletic or recreational activity; (2) your request for or selection of a roommate for the tour; (3) emotional distress, mental suffering or anguish or psychological injury of any kind under any circumstances (except when such damages were caused by Future Travel's negligence and resulted from the same passenger's sustaining actual physical injury, or having been at risk of actual physical injury, or when such damages are held to have been intentionally inflicted by Future Travel); (4) any change in scheduled Solar eclipse tour 2016 events and/or celebrity appearances; (5) the Tour Operators' exercise of its contractual rights; or (6) or (if you are entering into this agreement on behalf of yourself and your, group, party, or traveling companions) any claim arising out of their assertion that you were not authorized to agree on their behalf.  You further agree that Future Travel shall not be held vicariously liable for the intentional or negligent acts of any persons not employed by Future Travel, nor for any intentional or negligent acts of Future Travel's employees committed while off duty or outside the course and scope of their employment. In the event that a court of competent jurisdiction holds any of the foregoing to be unenforceable, then Future Travel's liability shall be limited to the maximum extent permitted by law. In addition to the restrictions and exemptions from liability provided in these Terms and Conditions, Future Travel shall have the full benefit of any applicable laws providing for limitation and exoneration from liability, and nothing in contained herein is intended to operate to limit or deprive Future Travel of any such statutory limitation of or exoneration from liability.
27. FORCE MAJEURE: We assume no responsibility for any personal injury, property damage, or other loss, accident, delay, inconvenience, or irregularity which may be occasioned by reason of any matter beyond our exclusive control including but not limited to a delay or cancellation that causes you to miss all or any portion of the Solar eclipse tour 2019, acts of God, acts of government, war, terrorist acts, riots, disaster, weather extremes, or strikes. We have no special knowledge regarding the financial condition of the suppliers, unsafe conditions, health hazards, weather hazards, or climate extremes at locations to which you may travel. You understand that health care standards, facilities, and services abroad may be different or even inadequate for treating health conditions.  It is the responsibility of each Tour participant to obtain health and medical certificates, inoculations and vaccinations. For information concerning possible dangers at foreign destinations, we recommend contacting the Travel Warnings Section of the U.S. State Department at (202) 647-5225 or www.travel.state.gov, and click on "Travel Warnings." For medical information, we recommend contacting the Centers for Disease Control at (877) FYI-TRIP or www.cdc.gov/travel.
28. DISPUTES: Except where prohibited by law, you (the Lead Passenger and all members of your party) expressly agree that: (1) any and all disputes, claims and causes of action against Future Travel arising out of or connected with the Tour shall be resolved individually, without resort to any form of class action, and exclusively by the appropriate court located in Houston, Texas, U.S.A. to the exclusion of the courts of any other state, territory or country; (2) you waive any venue or other objection that you may have to any such action or proceeding being brought in any court located in Houston, Texas; (3) any and all claims, judgments and awards shall be limited to actual out-of-pocket costs incurred, including costs associated with the Solar eclipse tour 2019, but in no event attorneys' fees; and (4) you waive the right to claim any other damages whatsoever, including, but not limited to, punitive, consequential, direct or indirect damages. All issues and questions concerning the construction, validity, interpretation and enforceability of these Terms and Conditions shall be governed by and construed in accordance with the laws of the State of Texas, without giving effect to any choice of law or conflict of law rules which would cause the application of the laws of any jurisdiction other than the State of Texas. You agree to present any claims against us within 30 days after the Solar eclipse tour 2019 ends and to file within one year of the incident, and you acknowledge that this expressly limits the applicable statute of limitations to one year. NEITHER PARTY MAY INITIATE OR BE PART OF A CLASS ACTION LAWSUIT OR LEGAL PROCEEDING AGAINST THE OTHER.
29. INDEMNIFICATION: You shall indemnify, defend and hold harmless us and our officers, employees, directors, suppliers and agents, in their individual capacities or otherwise, from and against any losses arising out of: (i) your negligence; (ii) your failure to comply with applicable law; or (iii) your failure to comply with these terms conditions.
30. ASSUMPTION OF RISK:You acknowledge that you have voluntarily applied for the Solar eclipse tour 2019. You understand that you may travel to countries and areas that are inherently risky. You are prepared to assume risks associated with Solar eclipse tour 2019 including forces of nature, terrorism, civil unrest, war, accidents, and transportation including land vehicles, boats, and aircraft that are not operated and maintained to the standards found in North America, and you hereby assume such risks. You also assume risks associated with altitude, illness, disease, physical exertion, and alcohol consumption, knowing that access to evacuation and/or suitable medical supplies and support may not be available. You agree to take full responsibility for your own actions, safety and welfare. You also understand that you will be a member of a group and will conduct myself in a way that will not endanger the group or yourself.
31. MISCELLANEOUS: We may assign our rights and/or delegate all or a portion of its duties under these Terms and Conditions to any third party at any time without the consent or permission of any parties to these Terms and Conditions.  If there is a conflict between these Terms and Conditions and one or more terms contained in another agreement between you and us, these Terms and Conditions will control. No alteration, cancellation, variation of, or addition to these terms and conditions shall be of any force or effect unless reduced to writing and signed by us. If there is a conflict between any part of these terms and conditions and any present or future law, the part that is affected shall be curtailed only to the extent necessary to bring it within the requirements of that law.You hereby consent to our use of pictures or video of you in our marketing materials without compensation.Facsimile or scanned transmission of any signed document shall be deemed delivery of an original.