RESULTS FROM THE ANNULAR SOLAR ECLIPSE EXPEDITION TO SPRINGDALE, UTAH, USA MAY 20, 2012 and a separate expedition to NARITA JAPAN MAY 21, 2012
The above photo was shot with an Olympus Pen camera, ISO 200, with a M.Zuiko ED 14-150mm lens at f/7.1. It is a composite of separate images integrated into a single photo.
The objective of the 2012 annular solar eclipse was to attempt to observe it from the sunset side in the USA and also the sunrise side in Japan.   A principal group of our 39th solar eclipse tour from RING OF FIRE EXPEDITIONS traveled to Utah to watch this ring eclipse under completely clear skies.  Led by Dr. Jacques Guertin, the team observed from a location along the highway west of Zion National Park.  The following is a brief summary of the trip by J.Guertin:
"This annular eclipse began at sunrise a bit west of Japan, crossing the Pacific Ocean, hitting northern California late afternoon, and ended at sunset in northern Texas.  Weather prospects were not good for the start of the eclipse over Japan but were very good over western United States with a 90% chance of clear skies at our chosen viewing location a bit west-southwest of Zion, Utah. 
The Adventure
May 14–May 15.  Huguette and I take 2 days to drive to Las Vegas, Nevada.  What a relief to not have to hassle the airlines with my equipment.  In Las Vegas, we meet our Ring of Fire (ROFE) group for this one week tour organized by Paul Maley.  For the following week, I would be the ROFE escort, especially focused on viewing and photographing the eclipse. 
May 16–May 19.  The group departs Las Vegas on a comfortable 40-passenger bus.  The next few days are a bit hectic as we visit Grand Canyon (south rim), Meteor Crater, Lowell Observatory, Monument Valley, Lake Powell (Glen Canyon Dam & Colorado River), Navajo Reservation, Antelope Canyon Slot, and Bryce Canyon.  Simply wonderful! 
May 20.  Eclipse day.  Early a.m., we depart from Bryce and arrive at Zion National Park late morning.  While the group is enjoying the wonderful sights of Zion, Huguette and I, Janaki Jensen (who asked to come along), along with our tour leader, Andrew Moran, our bus driver, Oscar Montegranario, head out to find a suitable site for viewing the eclipse.  Viewing the centrally eclipsed sun [at an altitude of 11°] inside the Park is essentially impossible owing to high mountains on all sides and the logistics of parking a large bus.  Therefore, we drive out of the Park, heading mostly west and a bit south, doing our best to stay close to center line.  Finding a suitable viewing site (clear view to the west, northwest and parking for the bus) turns out to be difficult.  Finally, after driving for hours, our bus driver (who knows this region well), helps us find the "perfect" spot—vast flat open land with no residents and no obstruction.  It's about 27 km (17 mi) from Zion.  With our mission accomplished, we return to Zion to meet the group at the Lodge.  It's 3:30 p.m. 
We are told that the Lodge rooms would be ready at 4:00.  Since First Contact is at 6:23 p.m. (local time), Andrew and I decide to not let the group into their rooms at this time because it would risk arriving at the eclipse site late and perhaps having no place to park the bus!  (The group would get their rooms and have dinner when we return from the eclipse at about 9:00 p.m.)  With everyone on board, we leave Zion at 3:45 p.m. and arrive at the eclipse site at 4:20.  Already, there are 2 carloads nearby setting up equipment.  Thank goodness there are no buses.  We all welcome the extra time for exploring the site, setting up equipment, and socializing.  With excitement building up, no one seems to mind the 105 °F. 
My Photo Story
Choosing a spot where no one would block my view, over the next hour I set up a 6-inch Maksutov (Quantum 6) on a 900 GTO Astro-Physics mount, including a Hasselblad camera with film!  My first look at the sun reveals numerous sunspots.  With little wind and little atmospheric turbulence, details are exquisite.  But, . . .  my first problem occurs when I notice that the system is not tracking.  So, I switch to the backup battery.  This does not work either!  (I had tested both batteries at home and they provided 6 h of tracking.)  Nevertheless, I observe First Contact at 6:25 p.m., about 2 minutes after the predicted time.  How do I solve this problem?  I considered using the bus battery but it delivers 48 V.  At that moment, a car pulls up near us.  It's my eclipse-chasing friends from Scottsdale, Arizona!  They knew I was leading a ROFE group to Bryce and Zion for the annular eclipse and amazingly found our site.  I told them of my problem and they offered their car battery.  But, we did not have the tools to remove the battery and they could not bring the car close enough to the setup.  So, we would need to move the setup next to the car. 
Thus, I remove the camera, the telescope, and the counter weights, and with much appreciated help from Andrew Gouzoulis, the remaining heavy equipment is moved next to the car.  After reassembling everything and connecting to the car battery — it still does not track!  But, now everyone wants to look through the telescope as the eclipsed sun is now a half crescent.  So, I resign myself to adjusting the telescope every few minutes.  At some point I decide to check the connections to the battery.  Good grief!  I have the positive clip on the red paint of the battery terminal, a well insulated connection.  After scraping off the paint and reconnecting, the telescope is now tracking well — finally, with about 10 minutes before Second Contact.  The sun's cusps are really coming into each other, typical of a "fat" annular type eclipse. 
7:31 p.m.  One minute before Second Contact.  I begin my planned photography of 12 shots surrounding maximum central eclipse (at 7:34.3 p.m.).  My sequence ends at about 7:38 p.m.  I do take about 1 minute for simply viewing the eclipse through the telescope.  Baily's beads are quite obvious at Second and Third Contact.  At mid central eclipse, the ring is very close to a symmetric circle, as expected from our location, being only a bit off center line.  I did notice a peculiarity during my photography.  The Hasselblad had made a different sound during its mirror lockup and shutter opening sequence.  In the excitement, I did not make much of it.  But, this would prove to be a critical happenstance.  While I took down the equipment and packed it up into the bus, my group continued to watch and photograph the eclipse until the eclipsed sun set near a slight elevation on the horizon.  Our group's Greg Shanos, obtained an excellent video of the setting sun, showing its 2 "horns" just above the horizon and finally, a single remaining "shark fin"!  Everyone was elated as headed back to our lodge in Zion with no complaints about the late dinner.  The next day, the group heads back to Las Vegas, stopping on the way to visit the beautiful St. George's Mormon temple.
What about my eclipse shots?  Well, I anxiously take a first look at my processed film.  Horrors.  The whole film is blank.  Now I recall that odd shutter sound that my camera had made.  So, I remove the camera from its bag and then I see what had happened.  During the removal and reinstallation of the camera at the eclipse site, I must have moved the shutter exposure timing dial about 2 mm so that it was no longer on the correct position for locking up the mirror and the shutter (open), like the "T" position in some 35 mm cameras.  I simply had not noticed this.  (In 25 eclipses, this had never happened.)  So, when I thought I was taking a picture, the Hasselblad shutter was closed rather than remaining open.  That is why I was hearing a different sound when operating the camera. "
Baily's Beads are typically seen for just a few seconds at both 2nd and 3rd contacts. Unless the camera has enough resolution and the photos are being taken during this very narrow window, it is unlikely Beads will be captured. Above, you can see the start of Baily's Beads but none of the other images revealed any more of them.
TRAVELS ALONG THE WAY
Our group traveled from Las Vegas, Nevada to Arizona, Utah and back to Las Vegas on a week long bus tour. The following are images from this trip as shared by some of the team.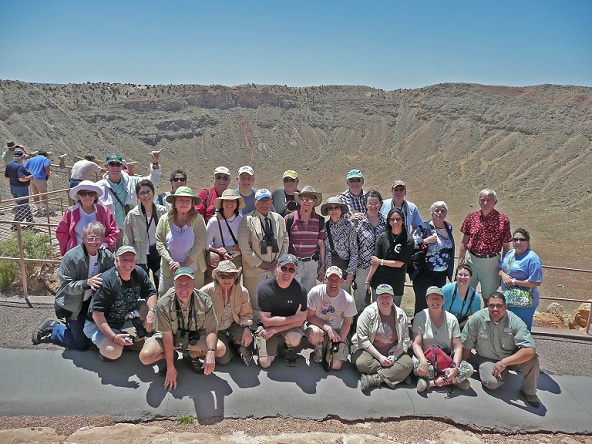 RING OF FIRE EXPEDITIONS team at Meteor Crater. Photo by J. Guertin
Bottom Row (left to right)
Jacques Guertin, Andrew Gouzoulis, Fred Isberner, Candis Isberner, George Gates, Lincoln Boykin, Stacey Johnson, Alyson Callaway, Christine Faser (slightly behind Alyson), and Andrew Moran
Second Row (left to right)
Huguette Guertin, Donna Yamada, Bronici Gouzoulis, Gizelle Faser, Bhanu Pratap Sharma, Sukyoun « Robert » Paik, Minsook Paik, Karen Ilika, Janika Jensen, Jenny Stegeman, Rolf Jorgensen, and Denise Shanos (Greg Shanos is missing)
Third Row (left to right)
Peter McNally, Mary Ellen Davidson, Richard Davidson, Steve Faser, George Willingmyre, James Ilika, and John Huibregtse
EXPEDITION TO NARITA JAPAN
I undertook a separate solo trip to Japan in order to observe the annular solar eclipse which occurred on my 65th birthday (in Japan, not the US). Realizing that the weather risks were such that I could easily be clouded out, I proceeded anyway and set up a site at the Narita Hilton Hotel.
Ring of Fire Expeditions (ROFE) is the longest consecutive astronomical tour organization in the United States. ROFE specializes in astro-tourism since 1970 with expeditions organized and led by Paul D. Maley of the NASA Johnson Space Center Astronomical Society and arranged by Future Travel in Houston, Texas USA. These include tours to observe such events as Halley's Comet, the Leonid meteor shower, transit of Venus, spacecraft reentries, solar eclipses, grazing occultations, and occultations of stars by minor planets.
We are a public outreach effort of the NASA Johnson Space Center Astronomical Society led by amateur astronomers and welcome all persons who are interested in astronomy and the natural sciences. You do not need to have a science background or any prior experience to join us! Contact us to set up your perfect astronomical tour and/or cruise today!