AURORA VIEWING TOUR#23: TO ALASKA
ANOTHER SMALL GROUP TOUR FROM RING OF FIRE EXPEDITIONS
  FOR QUESTIONS, SEND AN EMAIL TO:  eclipse@dt.com
IF YOU NEED TO FIND A ROOMMATE WE WILL ADVERTISE FOR YOU.
SEPTEMBER 24-28, 2022
TOUR CLOSES JULY 22, 2022
If you are lucky, you may be able to see sights like this! From our October 2018 trip.  Paul D. Maley photo.
Join Paul D. Maley of the NASA Johnson Space Center Astronomical Society for his next aurora viewing tour, this time to one of our favorite spots near Fairbanks, Alaska where we will spend four nights at the aurora viewing lodge with all meals included.  We will also include a trip into Fairbanks to visit the
World Ice Art Championships

where an international team of cold weather artists construct amazing shapes out of blocks of ice (details to be provided later).
This trip is a continuation of public outreach expeditions on land (13 to Alaska, 2 to Svalbard), sea (2 to Norway), and air (2 trips) to watch the Northern Lights.   So far, every time we have ventured to Alaska we have seen aurora on at least one of the four nights!  This adventure will be another small group tour limited to a maximum of 12 to 16 participants.  We have attempted to make the basic tour as affordable as possible by inserting optional cost tours that you might wish to book separately. Everyone has thoroughly enjoyed staying at the lodge in the past and we trust you will find this a great spot for sky viewing. 
September 24 is one day before New Moon and the night sky should be dark during our trip. March is also the month with statistically more auroras than any other; in addition, during weeks around equinoxes, the interplanetary magnetic field connects to the Earth's magnetic field prying open cracks where the solar wind can penetrate and thus create auroras. The First Quarter Moon should offer minimal impact to viewing.
How amazing is it? From this recent description, here is why we stay at a fixed location.
LEARN HOW TO TAKE AURORA PHOTOS! We will work with you to help you plan and capture good Northern Lights images.  Contact me for assistance prior to the trip and also consult our AURORA INFORMATION page which has extensive information that I have accumulated over the last years.
Why Alaska?  Weather systems generally blow in and out fairly quickly. Even though temperatures are cold and generally with remarkably low winds, the area offers a great deal of visual beauty.  Properly dressed in winter garb you will find yourself well protected and able to walk about, photograph or just sit and view.  A yurt is now on the property and serves as a refuge from the cold with chairs that can be used outside as well and access to a/c power. We have always had great response from people on our winter Alaska trips  indicating that they enjoy it very much!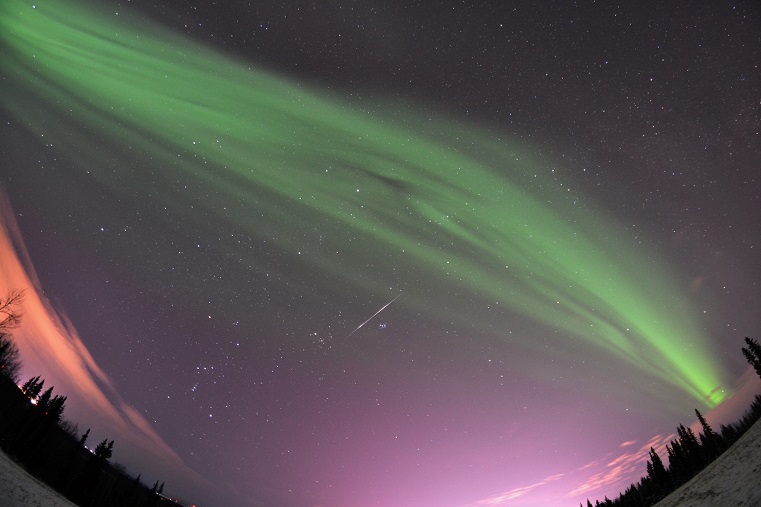 An example of aurora seen on our October 2017 Alaska land expedition.  It is a huge Northern Lights band stretching 180 degrees across the sky from east to west.  Constellations such as Orion, Gemini, Cassiopeia and Taurus are captured here.   A brilliant Iridium satellite flare is also seen as the linear streak.  Paul D. Maley photo.
Seeing the Northern Lights up close and personal is a bucket list objective of many people who are interested in the world's most mind-blowing experiences.  Over the past few years we have ventured northward to attempt to capture these phenomena from air, sea and land as they light up the night sky.  It has been relatively easy to capture aurora if you are patient, are willing to brave cold temperatures and have the proper equipment.  As an alternative, the easiest way to enjoy the experience is to simply sit and watch!  Unlike a solar eclipse which only lasts on average a minute or two, auroras come and go and can last for hours depending on the level of solar activity and influx of high energy particles into the Earth's magnetic field.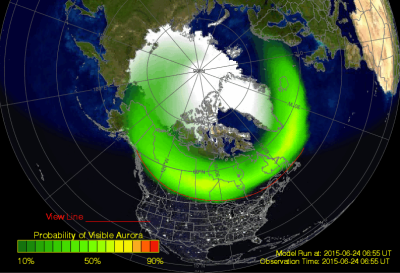 Aurora activity prediction model snapshot enables us to get a good idea of the likelihood and timing of aurora on a particular night and region. Credit: NOAA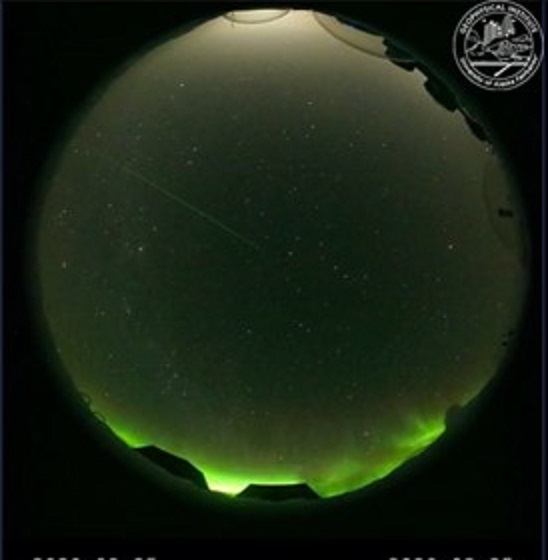 One can also watch the aurora cam shown online from your room on your smart phone operated by the University of Alaska Geophysical Institute that gives you a near real-time view of what is happening in the sky.  The minute you start to see the green glow on the north horizon as seen from Poker Flats, Alaska you can likely expect to see aurora at our lodge.
Aurora from a planned airborne viewing trip as seen out the window of a Boeing 787 from Shanghai to Chicago after a trip to North Korea in 2015.  The constellation of Ophiuchus is visible in this image.  Paul D. Maley photo.
Aurora viewing at sea from the deck of a ship off the coast of Norway in 2015. During the middle of the night with a full Moon, nobody else was on deck I was able to see a great deal of action all the way up until sunrise. The constellations of Cassiopeia and Perseus are recognizable.  Paul D. Maley photo.
ITINERARY AS OF DECEMBER 5, 2020
Times of meals will be arranged as necessary and optional tour dates may be moved around as required.  Photographers are advised to read the aurora information web page provided in advance of the trip. Photos below may contain snow; the first snow in Fairbanks does not usually begin until late October.
SEPTEMBER 24 (Saturday): DAY 1  – Arrive Fairbanks
A private transfer will be provided from the airport to our group lodge (one transfer for the group), about a 40 minute drive from the Fairbanks airport. The van transfer departs generally in the late afternoon from the baggage claim area but the time will be announced within a few months of the trip.  You will need to coordinate your flight to arrive prior to the group transfer unless you wish to take your own independent taxi (optional cost) to the lodge from the airport.  Once at the lodge, dinner will be at the provided.  The lodge has excellent reviews; there is a guest refrigerator and freezer in the main area and linens are changed daily except on Sunday.  Sometimes you can sight a moose from the dining room windows wandering the grounds.  From each of the 6 ground floor rooms you can step out and check the sky for aurora. Rooms feature floor heating, adequate lighting, a/c outlets, carpet, phone, adequate drawer space and bathroom amenities. There is no safe in the room.  Some cold weather gear can be rented there. The two suites are located on the main floor and you can walk out the front door and then down to the aurora viewing area.
AURORA BRIEFING 1: After arrival we will have the first of 3 aurora briefings by Paul Maley prior to the initial night's Northern Lights viewing. It will focus on basic steps for photography and protocols used at the lodge. 
After dinner this will be your first opportunity (weather permitting) to look for aurora from the lodge grounds.  It will be cold at night during most winter trips and you should be prepared for temperatures ranging from +15 to -10 deg F (but higher and much lower temperatures can occur!) with little wind. In winter snow up to 2 feet is likely so prepare clothing accordingly.   Bring a tripod, camera and shutter release or just sit in one of the lodge chairs and watch with the unaided eye.  If you have night vision binoculars, you will be amazed at what they can reveal.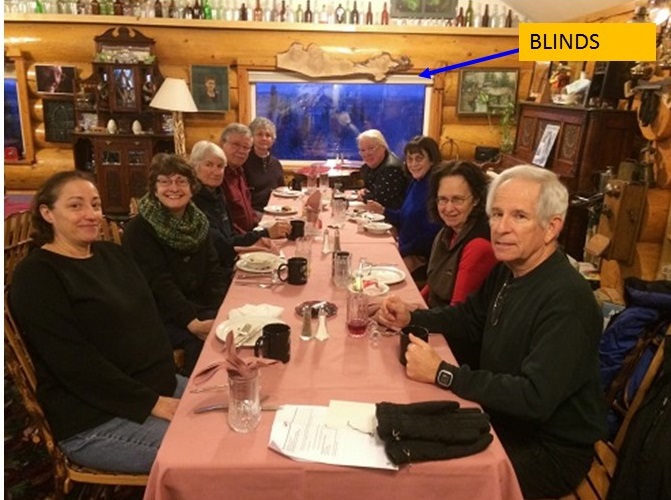 Meals are really good here! They are taken in a common dining area. NOTE THE BLINDS. THESE ARE ROLLED DOWN EACH NIGHT TO PREVENT LIGHT FROM SPILLING OUT AND RUINING AURORA PHOTOS. 
 Shrimp scampi is just one of the dinner choices. Lynn Palmer photo.
Overnight Fairbanks: (D)
Brilliant aurora curtains seen during our March 2017 Alaska trip.  The Big Dipper is visible behind the aurora as is the North Star upper left.  Jeff Pohlman photo.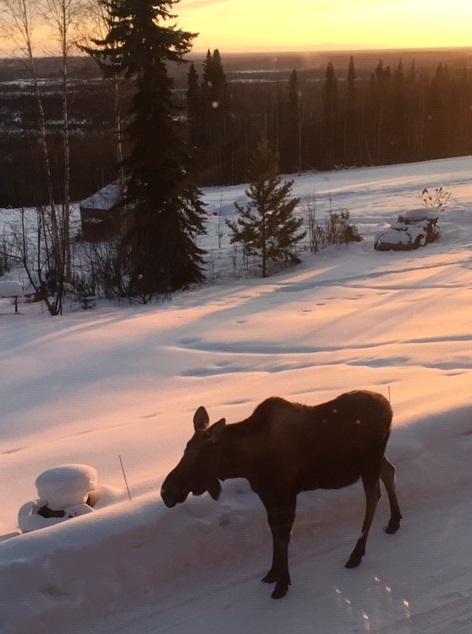 A moose calf seen at the lodge in February 2020. Peggy Bechtell photo.
SEPTEMBER 25 (Sunday):  DAY 2– Fairbanks
Breakfast, lunch, and dinner will be included for you at the lodge today unless you book the optional Arctic Circle tour below.  You will have the day free to participate in optional activities at the lodge (not included).
AURORA BRIEFING 2: This morning you will have a second PowerPoint presentation by Paul D. Maley on aurora viewing and photography. We will go over some representative photos taken as well as do's and don'ts for visual watching and capturing of aurora images.  This will be your chance to ask questions and figure out workarounds for any problems you might encounter. Before arrival into Alaska we request that each of you who want to take decent photos look at our online aurora photography information which summarizes lessons learned over past expeditions.  In particular, this will apply to those going on the Arctic Circle Aurora Drive departing later this morning. On this tour you generally have the best chance to see aurora over a wide variety of terrain away from the Fairbanks vicinity.
Lynn Palmer mushing her own dog team. Paul D. Maley photo.
Dog mushing lessons can be obtained from a location within easy walking distance of the lodge in winter at extra cost.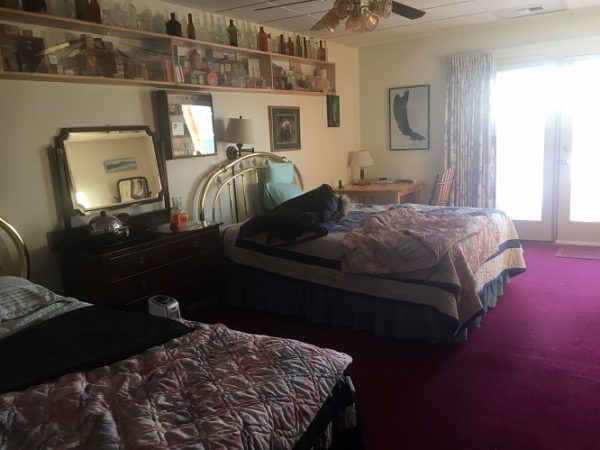 Standard room interior view.
One of the quirky lodge rooms with door access to the outside for night viewing. There are 6 standard rooms and 2 suites. All standard rooms have walk-out access. If you are in a suite you need to walk out the main front door and down the side of the main building.  NOTE THE DRAPES.  ALL GUESTS MUST CLOSE BOTH THE DRAPES AND SHADES WHEN IT GETS DARK IN ORDER NOT TO RUIN AURORA PHOTOS! Lynn Palmer photo.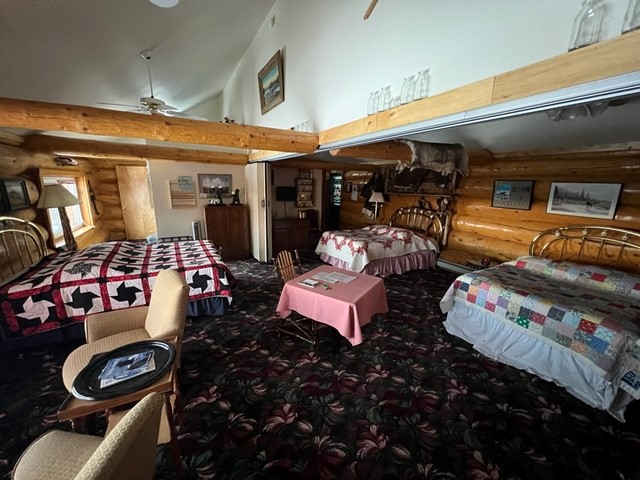 One of two "suites". The suites are really one very large room, one with 2 queen beds, the other with three.
FAIRBANKS CITY TOUR
Today you will enjoy a tour of the city of Fairbanks which will include a visit to the Morris Thompson Cultural Visitor Center as well as the University of Alaska Museum of the North.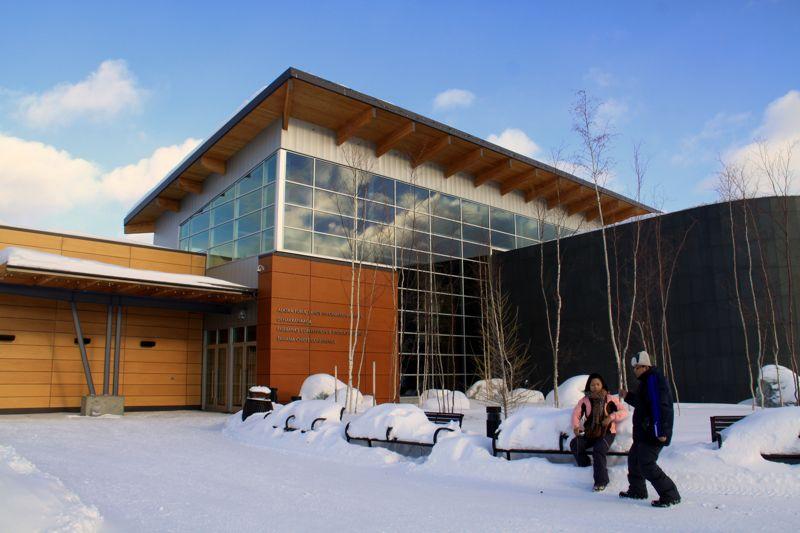 Entrance to Morris-Thompson Cultural and Visitor Center.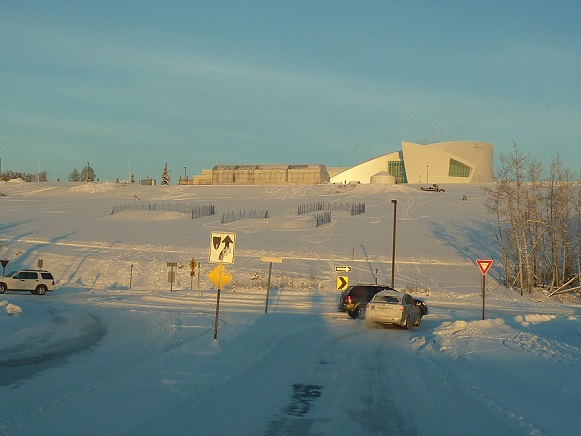 University of Alaska Fairbanks Museum of the North and an 'almost' traffic accident on snowy roads. Paul D. Maley photo.
The Morris-Thompson Cultural and Visitors Center contains a 9,000-square-foot exhibit hall which features outstanding displays and dioramas showcasing interior Alaska's people, wildlife, landscapes and seasons. Enjoy free films and programs on Alaska's natural and cultural history.
The University of Alaska Museum of the North is a thriving visitor attraction, a vital component of the University of Alaska Fairbanks, and the only research and teaching museum in Alaska. The museum's research collections –  2.5 million artifacts and specimens – represent millions of years of biological diversity and thousands of years of cultural traditions in the state. The collections are organized into 10 disciplines (archaeology, birds, documentary film, earth sciences, ethnology/history, fine arts, fishes/marine invertebrates, insects, mammals, and plants) and serve as a valuable resource for research on climate change, genetics, contaminants and other issues facing Alaska and the circumpolar North. The museum is also the premier repository for artifacts and specimens collected on public lands in Alaska and a leader in northern natural and cultural history research.
Tonight after dinner will be our second attempt to view aurora. Note that viewing typically takes place beginning after 1030pm and it pays to stay up most of the night or to set your alarm for a specific time that would work for you.  If you want to sleep and be called if aurora are spotted, we can do that also.  However, we normally assign times throughout the night for each person to wake up, check the sky, and then alert the group if aurora are sighted to make it easier.  The key to capturing an aurora if you don't know when it is going to appear is to remain outside all night and/or programming your camera to automatically take exposures with an intervalometer over a long period of time.
Overnight Fairbanks:  (B, L, D)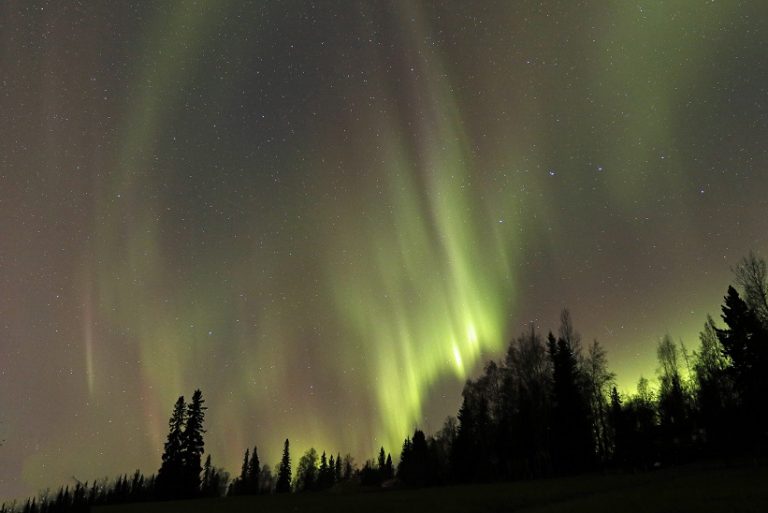 Group stop near the Arctic Circle for awesome aurora viewing during our November 2013 Alaska aurora trip. The optional cost Arctic Circle tour can often give the darkest sky views of the Northern Lights since they drive far from a big city.  Paul D. Maley photo.
AURORA VIEWING LOCATIONS AT THE LODGE
In 2019 a new system was initiated to minimize having to stay out in the cold all night. Wireless devices were installed with a trigger in the yurt that allows anyone to send a signal to all the lodge rooms. The photo below shows the plugged in alarm that will go off when someone outside sees Northern Lights activity
The aurora alarm in each lodge room.  Paul D. Maley photo.
WINTER: The aurora viewing area behind the lodge also looks into the valley toward both Fairbanks and the town of North Pole.  You need snow boots to navigate down and around this area.  Paul D. Maley photos.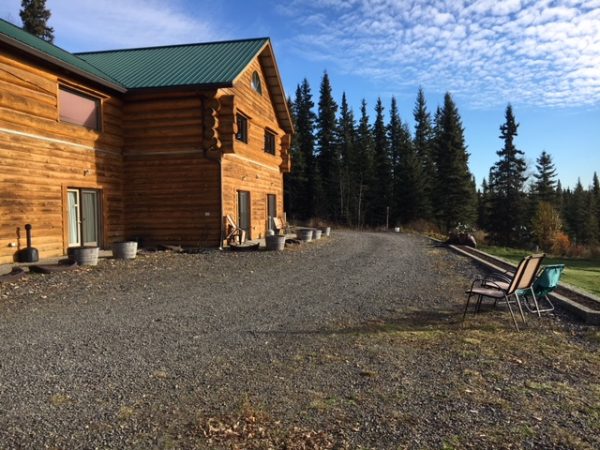 FALL: Though this and the photo that follows were taken in the fall, all the standard rooms at the lodge allow you to walk out your door onto the driveway.  If you have mobility issues you can watch from here with easy access to your room even when there is snow on the ground.  There it is possible to see aurora, though the area with less blockage (from trees and the main building) requires you to walk down the slope in the following image.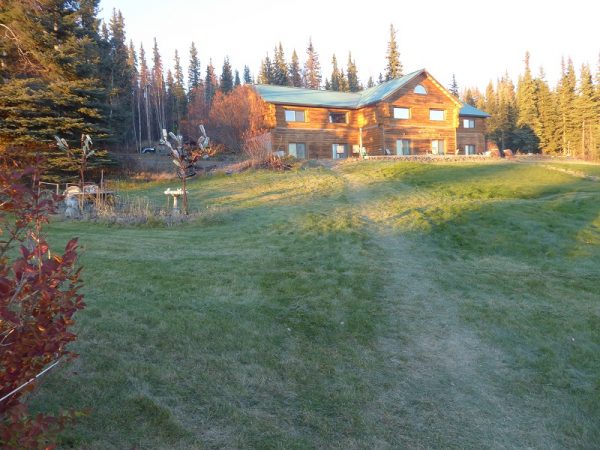 FALL: This is a view of the slope leading to the aurora viewing area with chairs and a yurt about 50 yards down from the main building.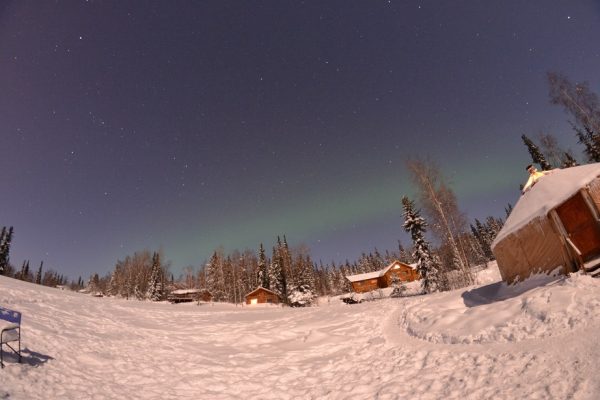 WINTER: After you walk down the slope, the yurt is on the right (chairs left) and you can see the main building on the right side. There is a relatively unobstructed 360 degree view of the sky from this area. Note the snow in winter.
SEPTEMBER 26 (Monday): DAY 3 – Fairbanks
——————————————————————————————————————————
OPTIONAL 18 hour longArctic Circle Aurora Drive Adventure
Today, you will drive up the Dalton Highway into the Alaskan Arctic. As you depart Fairbanks, you will pass gold mines and drive alongside the Trans-Alaska Pipeline. Walking on the arctic tundra will give you a sense of the vast scale of Alaska's arctic regions. Drive all the way north to the Arctic Circle, where you will receive an official Arctic Circle certificate. On the way back south to Fairbanks, stop and marvel at the majestic beauty of the northland's most famous waterway, the Yukon River. The Aurora Driving Tour returns at night (between 3:00am and 4:00am). At least half of the tour will be in the dark to look for the Northern Lights.  In the past this has generally proven to be the best opportunity to see aurora due to the large geographic distance covered.  Tour includes round trip private transportation from A Taste of Alaska Lodge to tour departure point. This is an approximately 18 hour long tour.  It departs the lodge at 10:00am today, returns between 3-4am the following day.
The Alaska pipeline up close as seen on the Arctic Circle drive.  Gordon Lamb photo.
Hoarfrost as seen on the Arctic Circle trip. Diane Birnbaumer photo.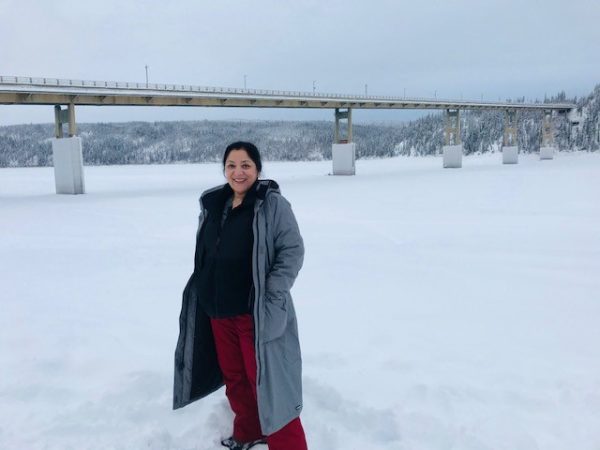 You can also walk on the frozen Yukon river. Ken Biba photo.
COST of this optional tour DEPENDS ON THE NUMBER OF PEOPLE GOING ON THE TOUR: PRICE TO BE ANNOUNCED LATER
Includes:
• Round trip private transfers from hotel to tour departure point
• Arctic Circle bus tour with guide
• Boxed lunch
• Boxed dinner (though if a restaurant is open that night it may be possible to get other food there)
Does not include:
• Excursion Guide gratuities (recommend: $10 – $20 per person/activity)
• Driver gratuities for round trip private transfers (recommend: $3 – $5 per person/transfer)
---
Note: those going on the Arctic Circle tour will take lunch and dinner on the road and not at the lodge.  After dinner at the lodge, those staying will have your 3rd night to view the aurora and any other astronomical phenomena on our calendar.
AURORA BRIEFING 3: This morning the last briefing on observing auroras from the air and ship and new phenomena discovered from Northern Lights observations over the years.
Breakfast, lunch, and dinner will be included for you at the lodge today.   OPTIONAL COST LOCAL ACTIVITIES: You can choose to walk do to a nearby dog mushing outfit where, for a fee, you can learn to drive your own dog team.  Paws for Adventure is a great place to get familiar with sled dogs up close and get a real thrill out of being in control of a team of amazing canines.  Reservations should be made ahead of time but sometimes it is possible to book the same day.  You can also take a short ride, one hour tour or the mushing school option (all extra cost activities). Last year's ride costs were between $70 (30 minutes)  and $100 (1 hour).
Tonight after dinner will be our third aurora viewing attempt.
Overnight Fairbanks:  (B, L, D)
Aurora during our February 2014 Alaska tour. Paul Lobert photo.

Aurora seen in February 2020. Peggy Bechtell photo.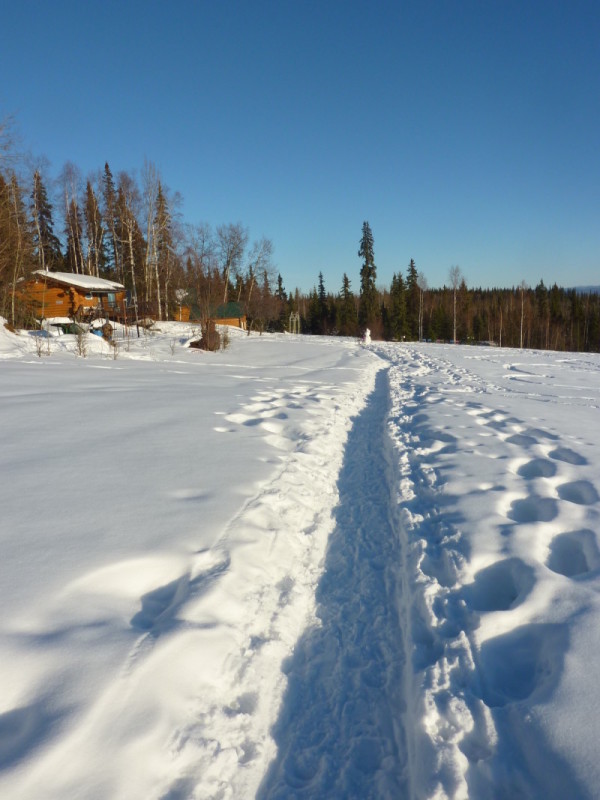 One of the hiking trails on the lodge property as seen in winter. Paul D. Maley photo.
SEPTEMBER 27  (Tuesday) DAY 4– Fairbanks
Breakfast, lunch, and dinner will be included for you at the lodge today.  You will have the day free to participate in optional activities at the lodge (not included).
BRIEFING 4: Paul Maley will describe his plans for future expeditions he will lead for solar eclipses, Northern Lights and other astronomical phenomena through 2031.
Also an optional cost tour to consider that has had great reviews is the Reindeer walk at Running Reindeer Ranch.  This one-of-a-kind tour will be the highlight of your trip to Alaska.  The reindeer (and Candy, their dog) take you through a guided nature walk in the boreal forest. There you will learn about the natural history of the forest as well as the reindeer themselves. Enjoy the frolicking and leaping reindeer as they run free through the woods. Each walk is a unique experience depending on season, trail conditions and the mood of the reindeer. After the walk, depending upon the season, you can tour their organically grown perennial and vegetable gardens and enjoy light refreshments and carry on the conversation. This nature walk has uneven terrain so good walking shoes and weather appropriate clothing are required. The reindeer are tame but not trained so sometimes they decide to take a route not planned for. Bring your cameras and expect the unexpected!  In November 2019 the Reindeer Walk cost was $100.  and van transport is extra split among participants.  Otherwise the day is free at your disposal.
——————————————————————————————————————————
OPTIONAL Fairbanks city tour and Half-day trip to Chena Hot Springs
This morning, you will embark on a private sightseeing tour of Alaska's second largest city, Fairbanks. During this narrated tour, you will visit the Morris Thompson Cultural Center where you will great exhibits about Interior Alaska. You will also spend some time at the University of Alaska Museum of the North with its dramatic architecture and new exhibit galleries. You will stop for lunch in Fairbanks at the Cookie Jar restaurant before continuing north to Chena Hot Springs. Spend the afternoon at Chena soaking in the natural mineral water or visit the indoor swimming pool. You will tour the Aurora Ice Museum, which features amazing ice sculptures created by 16 time world champion ice carver Steve Brice, and his wife Heather. Within the museum, there is a two-story observation tower with a circular staircase, and various ice sculptures made by Alaska Diamond and Alaska Marble ice. You may relax at the Aurora Ice Bar and enjoy an appletini served in an ice carved martini glass (not included), or warm your hands by the ice fireplace. Return to A Taste of Alaska Lodge this evening. Pick up from the lodge at 10am, return at 7pm.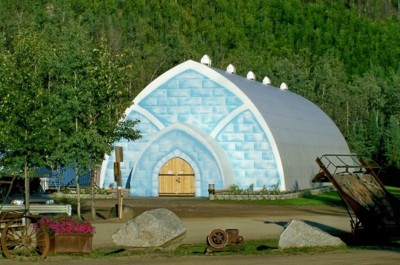 Aurora Ice Museum at Chena Lodge
COST of this optional tour DEPENDS ON THE NUMBER OF PEOPLE GOING ON THE TOUR:  PRICE TO BE ANNOUNCED LATER.
Includes:
• Private transportation in a Sprinter Vehicle, including driver gratuities
• 2 hour Fairbanks City Tour
• Lunch at the Cookie Jar Restaurant
• Chena Hot Springs pool pass and towel rental
• Chena Hot Springs Ice Museum Tour
Does not include:
• Excursion Guide gratuities (recommend: $10 – $20 per person/activity)
• Activities not mentioned in the "Includes" section
Tonight after dinner you will have your 4th and final opportunity to view the aurora.
——————————————————————————————————————————
This evening will be our fourth and final opportunity for aurora viewing and photography.  Overnight Fairbanks: (B, L, D)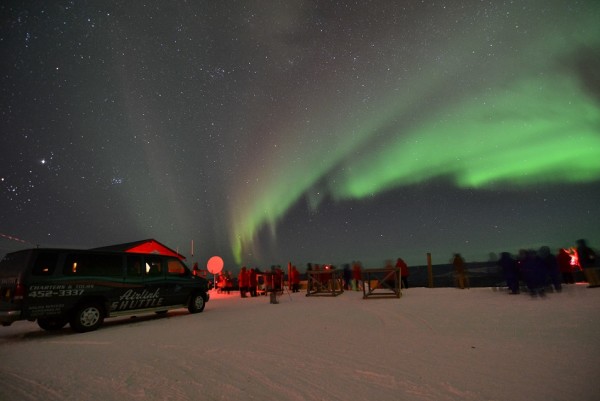 Aurora during our November 2014 Alaska tour. Lynn Palmer photo.
SEPTEMBER 28  (Wednesday)DAY 5–Fairbanks Departure
Breakfast will be served early at the lodge.  In late morning our van will then transport you and your luggage to the airport where you can catch your return flight home (one group transfer only). Van transfer usually occurs after 10am. If your flight departs earlier than this, you will need to make your own transfer arrangements at extra cost.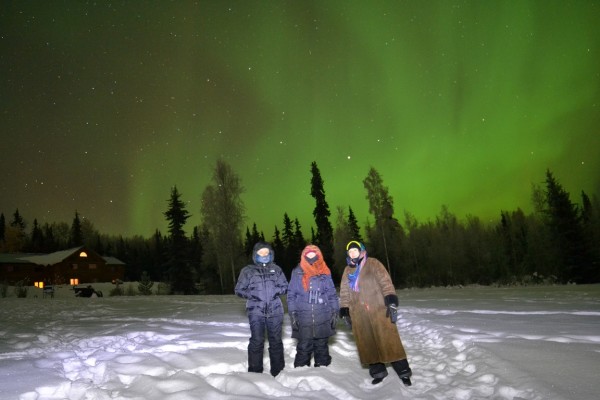 Aurora viewing during our January 2015 Alaska tour can allow times for portraits.  Paul D. Maley photo.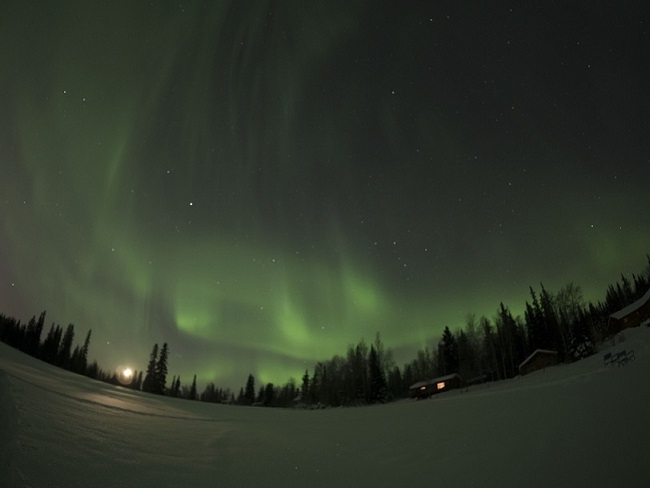 Aurora on our February 2017 expedition. Jeff Pohlman photo.
COST OF THE TOUR
TO JOIN THE TOUR,
SUBMIT 1) REGISTRATION FORM AND 2) DEPOSIT AT THE SAME TIME for each person.
STANDARD ROOMS (6)
$2460.  PER PERSON DOUBLE OCCUPANCY (
STANDARD ROOM

).
$3172. ( for single occupancy if available).
SUITES (2)
$2701.  PER PERSON FOR A
SUITE

(2 PERSONS MINIMUM). 2 ROOMS MAX. No singles permitted.
Package includes:
• 4 Nights' Accommodations as listed or similar
• Private roundtrip transportation from Fairbanks airport to our lodge as specified above with an English-speaking driver.  All participants must travel together.  If you arrive/depart before or after the majority of the group arrives you will need an independent transfer at extra cost.
• Meals: Daily breakfast, 3 lunches, 4 dinners
• round trip viewing excursion from the lodge to Fairbanks for the city tour
• All applicable taxes and fees
Package does not include:
• Driver gratuities (recommend: $3 – $5 per person/transfer)
• Meals, unless specified above
• Drinks (alcoholic, non-alcoholic such as soda); however, meals do include table water; breakfast also includes tea, coffee, juice
• Excursions and admissions
• Airfare of any kind
• Trip cancellation/interruption insurance
• Anything else of a personal nature not mentioned in the "Package includes" section
• Porterage
• Optional tours listed above
• Transfer between airport and lodge or lodge and airport ONLY if you are unable to make the single group transfer
==========================================
ALASKA AURORA VIEWING tour ONLINE REGISTRATION AND PAYMENT
To sign up for the trip, follow these steps.
1. Read and understand the deposit schedule and significant cancellation penalties.
2. Click on the Terms & Conditions tab. Review prior to starting your registration.
3.   CLICK HERE to complete

the registration form AND submit payment as required

.  If you have trouble seeing the form, refresh your page or use a different internet browser. Some versions may not support this form!
===========================================
Direct Travel only accepts the following forms of payment: credit card or debit.
IF YOU LIVE OUTSIDE THE UNITED STATES you may pay by one of these methods: 1) credit cards 2) wire transfer. A USD$50 fee is charged if a wire transfer is used.  No checks or money orders can be accepted! Please contact spolley@dt.com  to make arrangements.
PAYMENT SCHEDULE
BEFORE April 1, 2022…………………………..USD$525. DEPOSIT per person double
April 1, 2022…………………………………………..Balance due
CANCELLATION FEES (per person)
BEFORE April 1, 2021…………………………..USD$250. + any service fees (if applicable) up to that point
April 1, 2021………………………………………100% OF THE TOTAL TOUR COST 
OTHER KEY DATES
The last day to make a name change to avoid change fees is 46-days prior to arrival.
The last day to sign up for optional tours is 61-days. 
The last day to join this tour is typically 61-days before departure but may be cut off earlier.
Clients should be aware that we cannot guarantee the weather for this astronomical event or any other.