AURORA VIEWING TOUR#23: TO ALASKA
ANOTHER SMALL GROUP TOUR FROM RING OF FIRE EXPEDITIONS
  FOR QUESTIONS, SEND AN EMAIL TO:  eclipse@dt.com
IF YOU NEED TO FIND A ROOMMATE WE WILL ADVERTISE FOR YOU.
SEPTEMBER 24-28, 2022
TOUR CLOSES JULY 22, 2022
If you are lucky, you may be able to see sights like this! From our October 2018 trip.  Paul D. Maley photo.
Join Paul D. Maley of the NASA Johnson Space Center Astronomical Society for his next aurora viewing tour, this time to one of our favorite spots near Fairbanks, Alaska where we will spend four nights at the aurora viewing lodge with all meals included.  We will also include a trip into Fairbanks to visit the
World Ice Art Championships

where an international team of cold weather artists construct amazing shapes out of blocks of ice (details to be provided later).
This trip is a continuation of public outreach expeditions on land (13 to Alaska, 2 to Svalbard), sea (2 to Norway), and air (2 trips) to watch the Northern Lights.   So far, every time we have ventured to Alaska we have seen aurora on at least one of the four nights!  This adventure will be another small group tour limited to a maximum of 12 to 16 participants.  We have attempted to make the basic tour as affordable as possible by inserting optional cost tours that you might wish to book separately. Everyone has thoroughly enjoyed staying at the lodge in the past and we trust you will find this a great spot for sky viewing. 
March 21 is First Quarter Moon and is also the spring equinox. March is also the month with statistically more auroras than any other; in addition, during weeks around equinoxes, the interplanetary magnetic field connects to the Earth's magnetic field prying open cracks where the solar wind can penetrate and thus create auroras. The First Quarter Moon should offer minimal impact to viewing.
How amazing is it? From this recent description, here is why we stay at a fixed location.
LEARN HOW TO TAKE AURORA PHOTOS! We will work with you to help you plan and capture good Northern Lights images.  Contact me for assistance prior to the trip and also consult our AURORA INFORMATION page which has extensive information that I have accumulated over the last years.
Why Alaska?  Weather systems generally blow in and out fairly quickly. Even though temperatures are cold and generally with remarkably low winds, the area offers a great deal of visual beauty.  Properly dressed in winter garb you will find yourself well protected and able to walk about, photograph or just sit and view.  A yurt is now on the property and serves as a refuge from the cold with chairs that can be used outside as well and access to a/c power. We have always had great response from people on our winter Alaska trips  indicating that they enjoy it very much!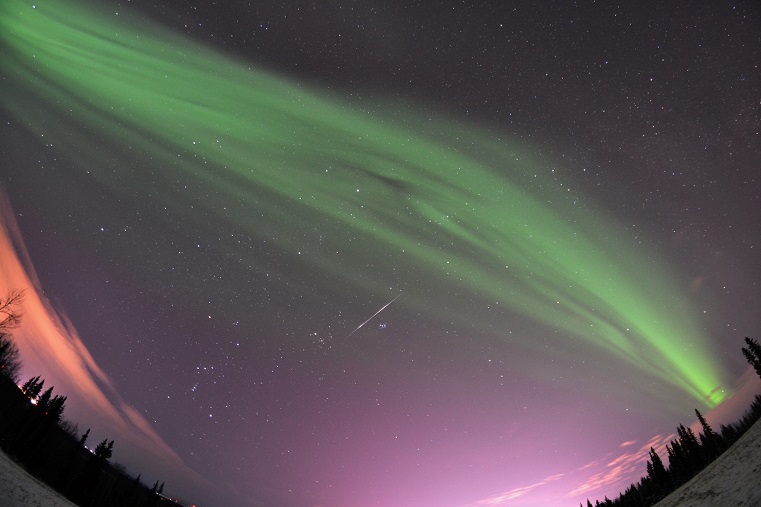 An example of aurora seen on our October 2017 Alaska land expedition.  It is a huge Northern Lights band stretching 180 degrees across the sky from east to west.  Constellations such as Orion, Gemini, Cassiopeia and Taurus are captured here.   A brilliant Iridium satellite flare is also seen as the linear streak.  Paul D. Maley photo.
Seeing the Northern Lights up close and personal is a bucket list objective of many people who are interested in the world's most mind-blowing experiences.  Over the past few years we have ventured northward to attempt to capture these phenomena from air, sea and land as they light up the night sky.  It has been relatively easy to capture aurora if you are patient, are willing to brave cold temperatures and have the proper equipment.  As an alternative, the easiest way to enjoy the experience is to simply sit and watch!  Unlike a solar eclipse which only lasts on average a minute or two, auroras come and go and can last for hours depending on the level of solar activity and influx of high energy particles into the Earth's magnetic field.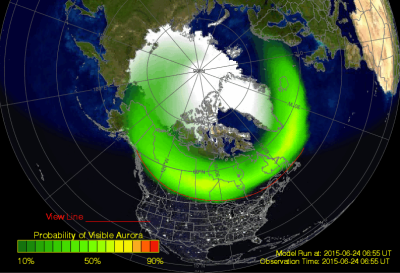 Aurora activity prediction model snapshot enables us to get a good idea of the likelihood and timing of aurora on a particular night and region. Credit: NOAA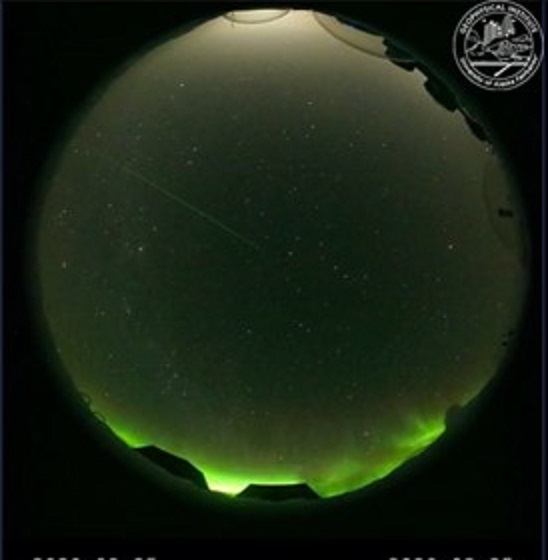 One can also watch the aurora cam shown online from your room on your smart phone operated by the University of Alaska Geophysical Institute that gives you a near real-time view of what is happening in the sky.  The minute you start to see the green glow on the north horizon as seen from Poker Flats, Alaska you can likely expect to see aurora at our lodge.
Aurora from a planned airborne viewing trip as seen out the window of a Boeing 787 from Shanghai to Chicago after a trip to North Korea in 2015.  The constellation of Ophiuchus is visible in this image.  Paul D. Maley photo.
Aurora viewing at sea from the deck of a ship off the coast of Norway in 2015. During the middle of the night with a full Moon, nobody else was on deck I was able to see a great deal of action all the way up until sunrise. The constellations of Cassiopeia and Perseus are recognizable.  Paul D. Maley photo.