2024 TOTAL SOLAR ECLIPSE OF THE SUN CRUISE – MEXICO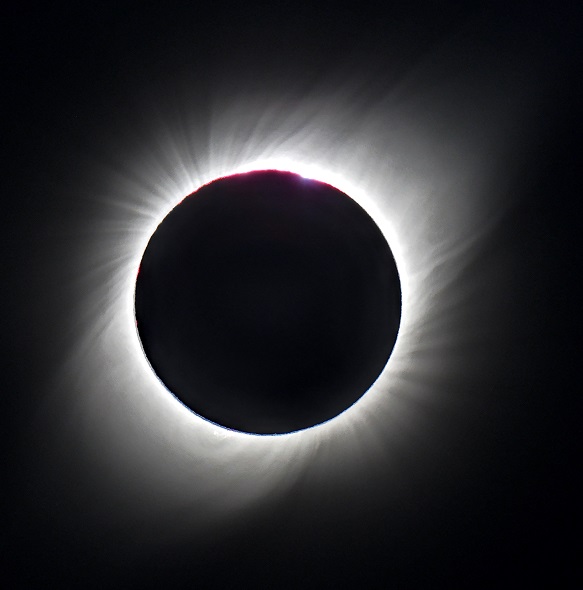 The outer atmosphere of the Sun is seen during the total eclipse!

A pair of humpback whales spouting in the distance–an example of what to see in the Sea of Cortez. Called a "blow", these are clouds or columns of moist air forcefully expelled through the blowhole when a whale surfaces to breathe.  For some species of whale this can be seen from a number of miles away. Photo by Paul Maley.
WELCOME TO OUR 51ST SOLAR ECLIPSE TRIP!
APRIL 1 – 10, 2024
SORRY, ALL SINGLE CABINS HAVE BEEN SOLD. ONLY 2 PERSONS PER CABIN ARE PERMITTED.
8 Oceanview on Deck 4 – $8150 per person based on double occupancy
2 Balcony on Deck 6 – $16,500 per person based on double occupancy
Prices shown are per person with 2 sharing a cabin.  All cabins/suites will be limited to two persons.  

As of 3/15/23 there are no single cabins permitted as all have been booked.
---
All included—accommodations, food and premium beverages, Wi-Fi, gratuities, and complimentary excursions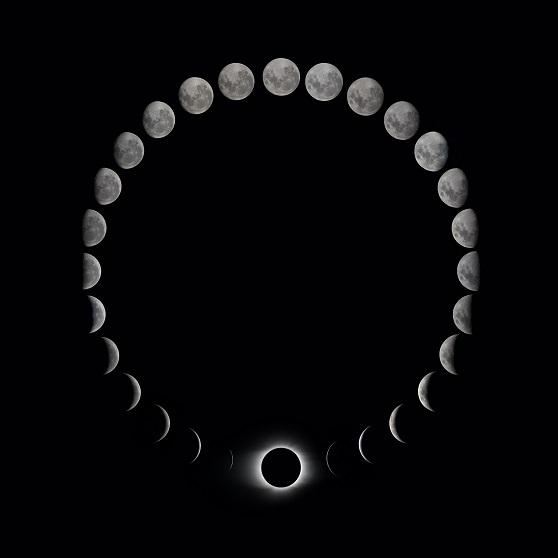 The Moon's 28 day journey leading up to the total eclipse of July 2019. Outstanding creative montage created from his images by Lawrence Tulissi. 
NEED A ROOMMATE?

   CONTACT  eclipse@dt.com AND WE WILL TRY TO MATCH YOU WITH SOMEONE OF THE SAME GENDER.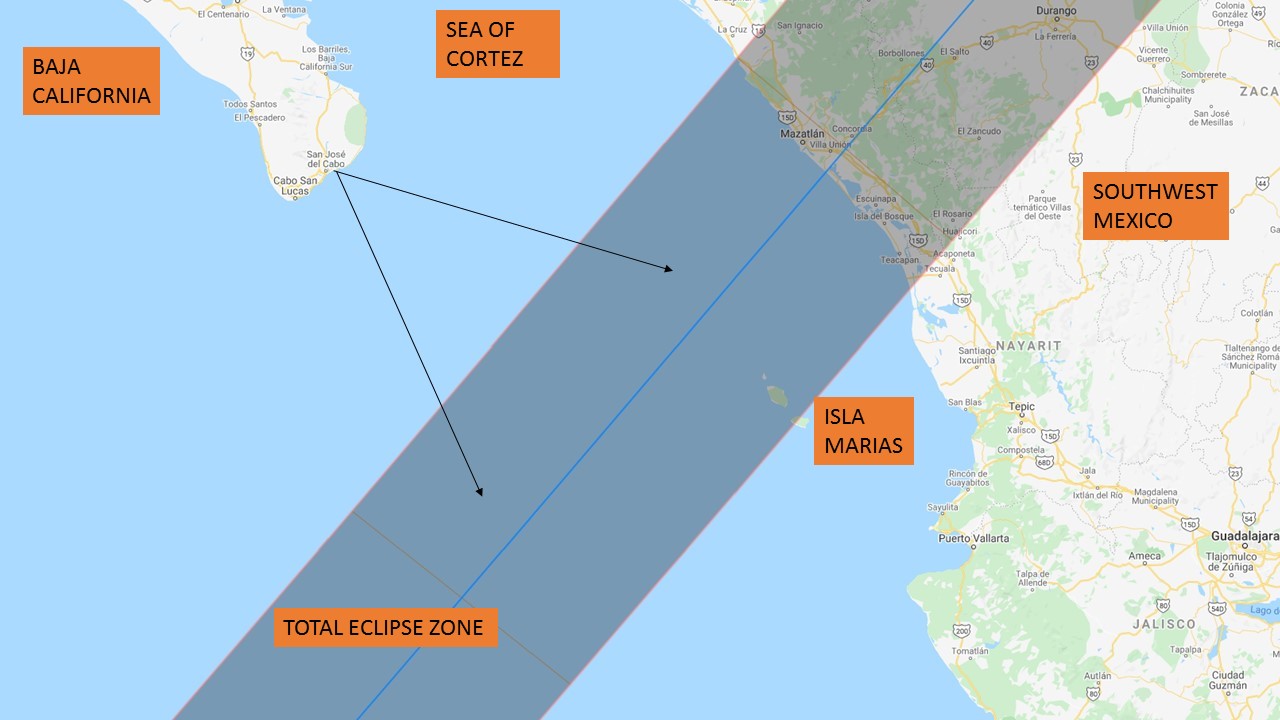 The path of totality for the April 8, 2024 eclipse is shown in gray with the blue line indicating the center of the eclipse experience.  The arrows point to the range of options to where we plan to see the eclipse.   Map courtesy X. Jubier.
---
Join

Paul D. Maley

of the NASA Johnson Space Center Astronomical Society on what will be his 84th trip to see an eclipse of the Sun!  If the weather in the above zone  cooperates, the Sun will be blacked out for approximately

4 minutes 25 seconds

from our vantage point southeast of Baja, Mexico. * We at RING OF FIRE EXPEDITIONS have exclusively chartered a new ship introduced in 2023 by Swan Hellenic Cruises—the Diana. This cruise ship will carry a maximum of 196 passengers in 96 staterooms to the Pacific Ocean for our solar eclipse. 

Dr. Michael Shara

of the American Museum of Natural History, a veteran of  4 total solar eclipses and an outstanding scientific speaker will be the highlighted lecturer on this trip.
Here are some clear advantages of cruising to the solar eclipse:
Unpack just once on the ship and repack 9 days later

You don't have to drive to the eclipse location and fight the traffic

You don't have to prepare any meals

The observing location at sea experiences a long total eclipse, more than over the US

You don't have to worry about overbooked hotels or crowds!

You do not have to be concerned about security issues such as those going into Mexico proper

You have free access to wi-fi onboard so if you want to maintain contact with friends you can do so without extra charge

You get to sleep at night while your cruise ship takes you to your destinations

Access to free food and drinks, all day long including evenings and night bars

Cruise takes away the burden of planning your vacation. All is set out for you to relax and enjoy the trip.

No need to tip anyone onboard as gratuities are included

Although the cruise is mostly all-inclusive, if you have to pay for an optional service such as laundry or spa, you don't need to deal with cash or credit cards since you will be given a cruise card which permits charging purchases on the ship

Cruise ships are inherently safe environments

More than 80% of cruisers return for a second voyage – far higher than the percentage of people who choose to revisit a land-based resort or attraction
If you are new to eclipse-watching and are not sure which company has the most experience,

 Ring of Fire Expeditions has the longest track record of eclipse expeditions in the US–almost 50 years.

To see the results of some past trips, go to our main page  www.eclipsetours.com and look at the horizontal bar showing various options. Click on

PAST TRIPS and you can look at summaries of each trip as far back as 1991

.
Onboard our Solar Eclipse cruise will also be certain naturalists assigned by Swan Hellenic Cruises to be named at a later date.
THE SEA LIFE ADVANTAGES DURING OUR CRUISE

 
The Sea of Cortez was dubbed the "world's aquarium" by underwater explorer, Jacques Cousteau. He coined this term because the Sea of Cortez boasts over 900 species of fish and almost 35 species of marine mammals—all located in the zone between Baja California and the Mexican mainland.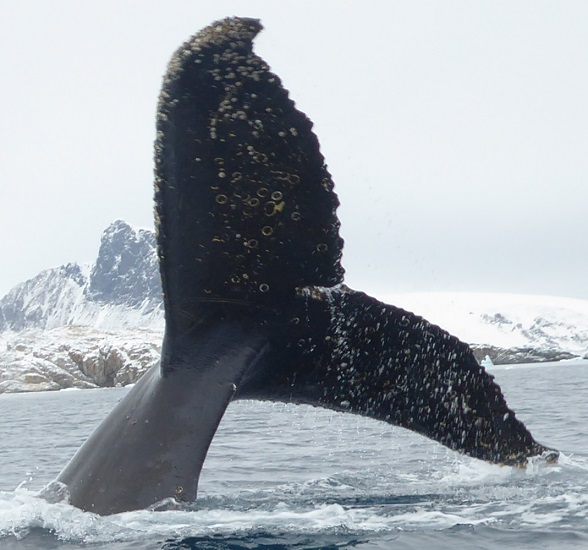 One of the most impressive sights of all is to see a whale tail in full view. Photo by Paul Maley.
Baja cruises in the Sea of Cortez mainly operate in the months of November to and including April, taking advantage of pleasant weather and sailing conditions. The advantages of sailing in the sea in April are as follows:
Humpback, minke, sperm, Bryde's and pilot whales can be spotted
Whale watching lagoons are less crowded with people
April is a great time to see huge clusters of mobula rays which are known for leaping out of the water
A great time to view blue and fin whales with the season running through October
Chances to view sea turtles
Birders may enjoy opportunities to view blue-footed boobies, red-billed tropicbirds, pelicans, frigate birds, cormorants, terns, great blue herons, ibis, whimbrels and willets 
Water temperatures are in the upper 70s with air temperatures in the high 80s getting hotter as spring progresses.   
The night sky is embedded with billions of stars that you can see unhindered by city light pollution
You avoid the hottest months and hurricane season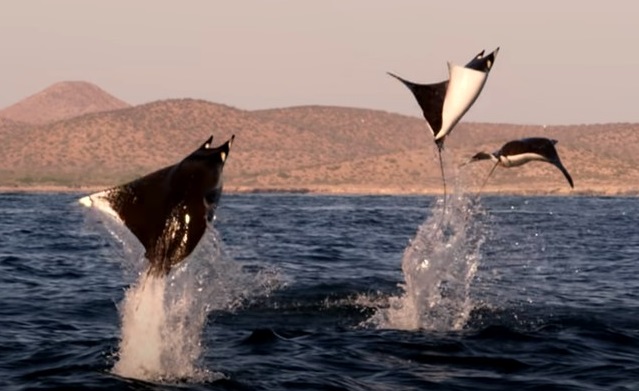 Mobula rays jumping out of the sea. Courtesy BBC.
THE WEATHER ADVANTAGE OF OUR CRUISE*
To choose the area with the lowest chance of cloud AND the most maneuverability in the 24 hours prior to the eclipse, we have selected the Pacific Ocean area located in the ITINERARY section following this graphic.  However, you can clearly see from this image that data over the past years taken on April 8 (eclipse day) reveals the likelihood that US land locations from Texas to Newfoundland will be more than twice as likely to have clouds than we will on the ocean between Baja California and the southwest Mexican coast!!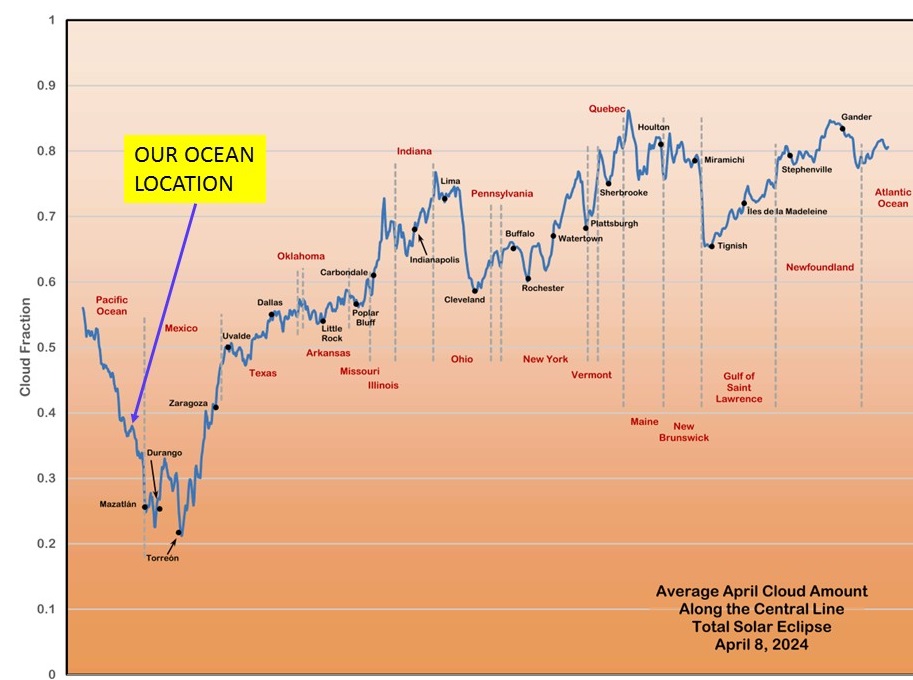 Cloud cover over the US, Mexico and Pacific Ocean southwest of Mexico. Highest chances of cloud cover are in the USA.  Courtesy Jay Anderson.
*IMPORTANT NOTE: we, nor anyone else, can guarantee the weather will be clear for this or any other solar eclipse; however, we use weather models and our past expertise to make every reasonable effort to get everyone into the best sky possible.
---
ITINERARY
The following itinerary is as of December 16, 2022 subject to change. Detail to be added in the coming months. "Days at sea" are opportunities to look for sea life. The operator reserves the right to modify itinerary details for navigational and operational reasons. Please wait for specifics on excursions until the cruise company is able to define them.
 We leave from Acapulco, go north to Puerto Vallarta, then to Mazatlan, see the eclipse, then to the Isla Marias islands, finally ending in La Paz, Baja California.  IMPORTANT: This is a very rough route map for the Mexico Solar Eclipse Cruise. We will navigate into the clearest part of the totality zone. This figure will be updated later.
| DAY NUMBER | DAY OF WEEK | DATE | LOCATION |
| --- | --- | --- | --- |
| PRE-CRUISE DAY | SUNDAY | APRIL 1, 2024 | ACAPULCO |
| 1 | MONDAY | APRIL 2 | BOARDING MS SWAN HELLENIC DIANA |
| 2 | TUESDAY | APRIL 3 | DAY AT SEA |
| 3 | WEDNESDAY | APRIL 4 | DAY AT SEA (POSSIBLE STOP PUERTO VALLARTA) |
| 4 | THURSDAY | APRIL 5 | ISLAS MARIAS - BIOSPHERE AND MUSEUM |
| 5 | FRIDAY | APRIL 6 | MAZATLAN |
| 6 | SATURDAY | APRIL 7 | DAY AT SEA |
| 7 | SUNDAY | APRIL 8 | ECLIPSE |
| 8 | MONDAY | APRIL 9 | ISLA PARTIDA |
| 9 | TUESDAY | APRIL 10 | LA PAZ- DISEMBARK MS SWAN HELLENIC DIANA |
APRIL 1 (Sunday) ………All guests arrive on their own into Acapulco, Mexico. Transfer to your hotel for overnight. Dinner tonight included at the hotel.
Dreams Resort Acapulco overview
APRIL 2 (Monday) ………….Breakfast and lunch at the hotel. Transfer and board the ship in the afternoon. 
APRIL 3 (Tuesday) ……….. Day at sea.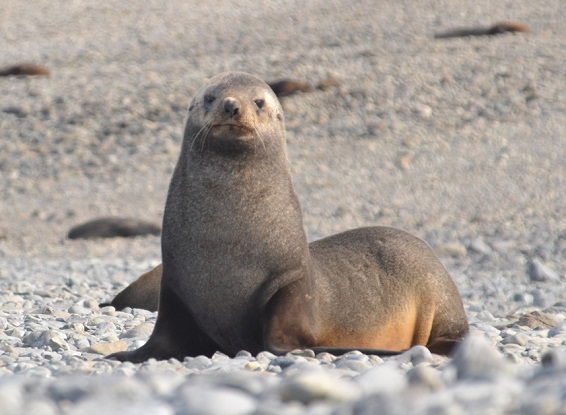 A sea lion posing. Photo by Paul Maley
APRIL 4 (Wednesday) ………….Day at Sea. Possible stop at Puerto Vallarta

Puerto Vallarta town
Stopping here is still under review. A decision will be made this summer. Puerto Vallarta is a city located between the Western Sierra Madre mountain range and the Mexican Pacific, so its weather is a combination of tropical forests bathed by rivers and waterfalls, plus warm beach temperatures and fresh ocean breeze.
APRIL 5 (Thursday) …….Isla Marias Biosphere and Museum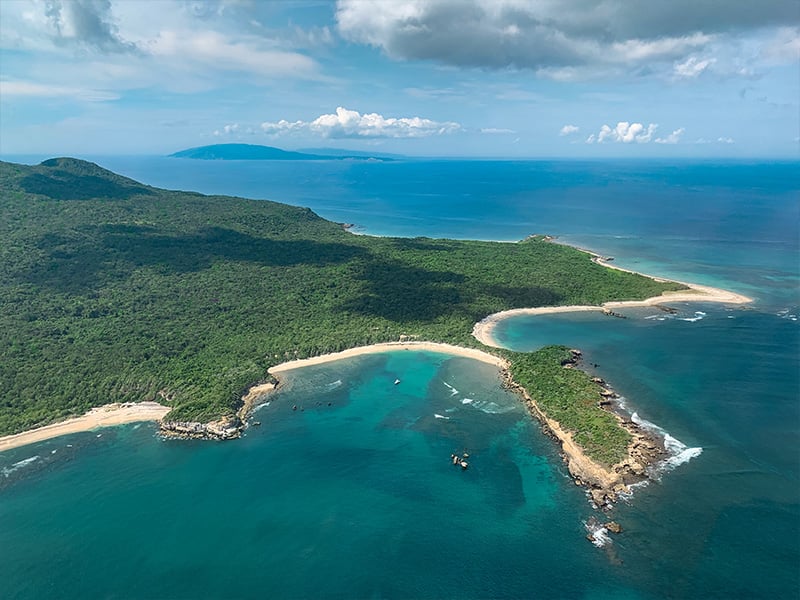 Isla Marias
This area was declared a biosphere reserve by UNESCO in 2010.  An archipelago of four small islands located 100 kilometers off the coast of Nayarit and about 370 kilometers southeast of the Baja Peninsula was home to prison inmates for 114 years. But since President Lopez Obrador announced the closing of the Islas Marías penal colony in 2019, biologists are discovering that the tiny archipelago is also home to a vast array of marine life.  Researchers have identified 21 species of sharks, 10 different rays, three species of sea turtles and healthy coral reefs bursting with life.  The endangered whale shark swims in the waters off the Marías, as do 114 species of commercial fish, such as sardines, tuna and red snapper.  Little is known about marine mammals in the area, but scientists believe that due to the islands' location, humpback whales, gray whales, orcas and dolphins should make their way to the reserve, which has been a protected area for the last 20 years. In 2010, the archipelago was also declared a biosphere reserve by UNESCO.
APRIL 6 (Friday) ……….Mazatlan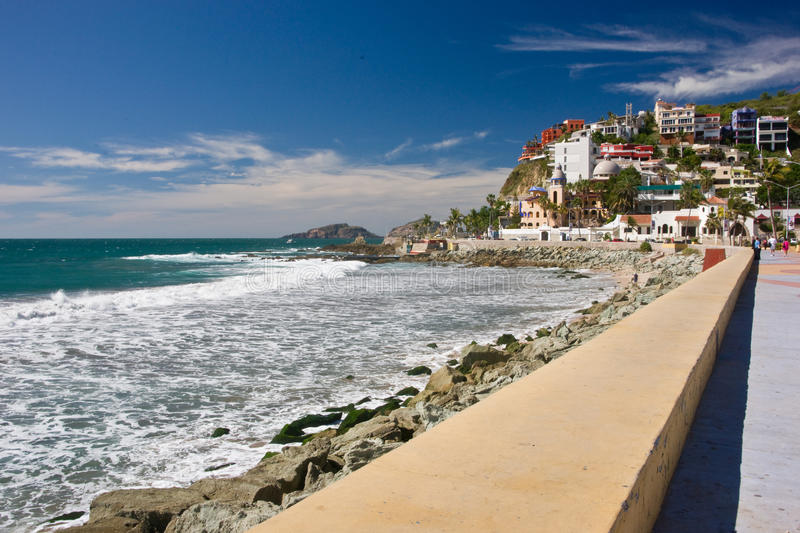 The shore at Mazatlan, Mexico
This is the site of our land eclipse expedition. We may make a stop here on the way to the Sea of Cortez. Mazatlán is a Mexican resort town along the Pacific shoreline. Sandy beaches line its 21km-long malecón (boardwalk), and it's renowned for big-game fishing. In its Centro Histórico, or Old Mazatlán, 19th-century landmarks include the performance hall Teatro Ángela Peralta and the towering Immaculate Conception basilica.
APRIL 7 (Saturday) …………….Day at Sea
Solar Eclipse Briefing at sea
This will be our traditional briefings for new eclipse watchers on what to look for and when, safety precautions to take before totality and after and examples of images that can be taken and how best to make that happen. For the more experienced observers we will discuss the timeline leading up to and following each phase.
Eclipse briefing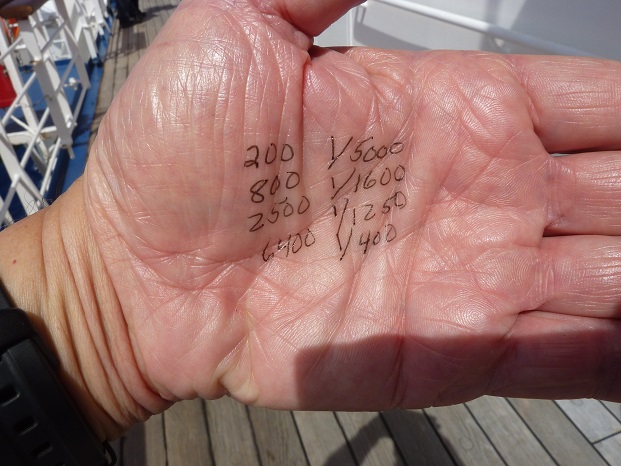 One way to remind yourself about ISO and exposure times for photographers
APRIL 8 (Sunday) ….ECLIPSE DAY!
Overnight we will have traveled to the center of the path of totality. The partial eclipse begins at 946am with the total eclipse occurring between 1102 and 1107am. The partial portion of the solar eclipse ends at 1227pm.  The Sun will be at an elevation of 68 degrees above the southeast horizon at maximum eclipse time.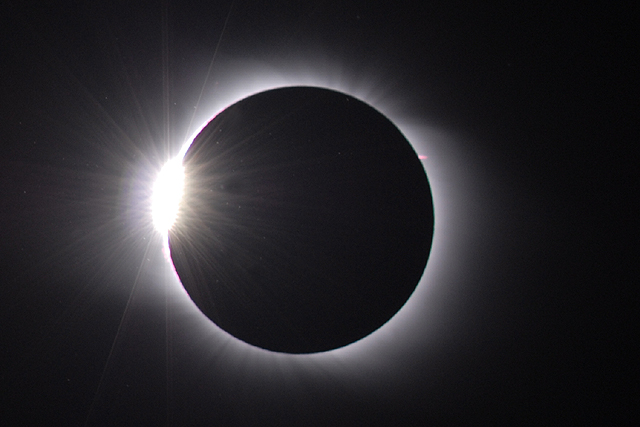 Get ready for the most amazing spectacle on April 8 as the Moon blocks out 100% of the Sun's light. This is a phenomenon called the Diamond Ring. Byron Braswell photo.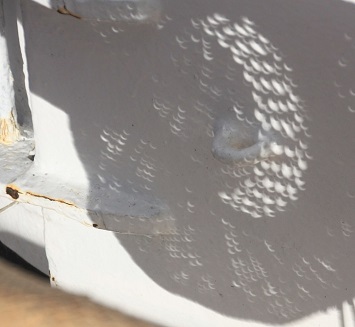 Projecting crescent Sun images on the side of the ship using a straw hat. Tamara Ledley photo.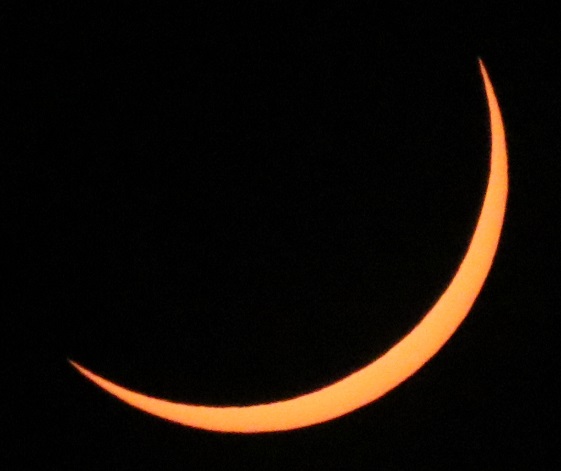 The partial phases leading up to totality and after are great to photograph too! Phil West photo.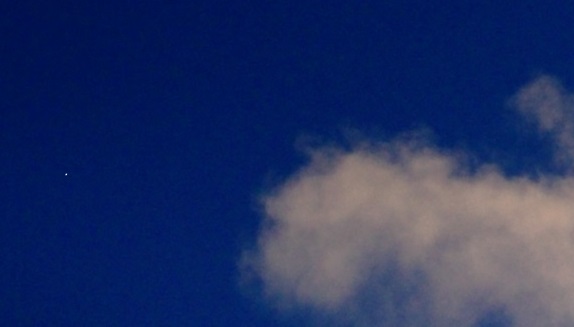 Venus appears to the naked eye about 45 minutes before totality in this photo (above) taken in 2013 by LeRoy Maxfield on one of our previous eclipse cruises. It is often seen many minutes before and after the Sun goes dark due to its brightness. Venus is the dot on the left side of the frame.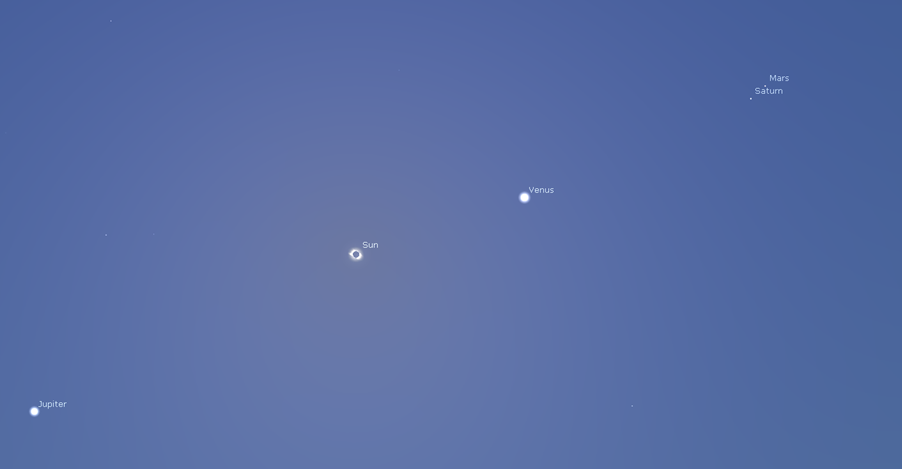 Planets that may be seen during totality include Jupiter (left of Sun), Venus and perhaps Saturn and Mars (right of Sun) as they appear very high above the southeastern horizon. Courtesy Stellarium.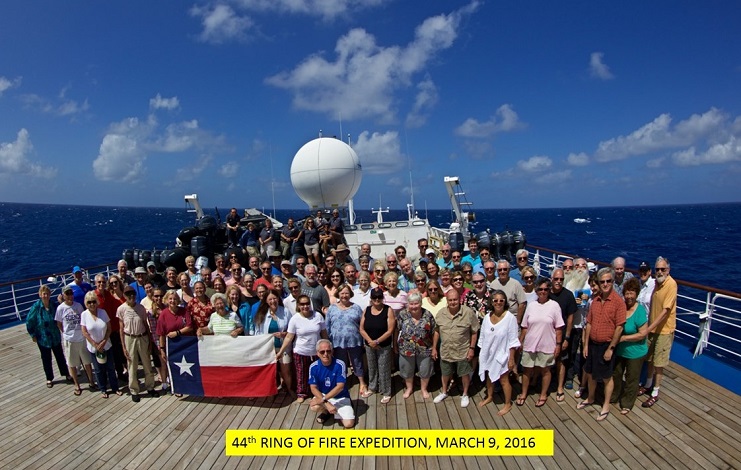 After the eclipse we will have a group photo on deck. Bob Hulse photo.
APRIL 9 ( Monday) ……….  Isla Partida and wildlife viewing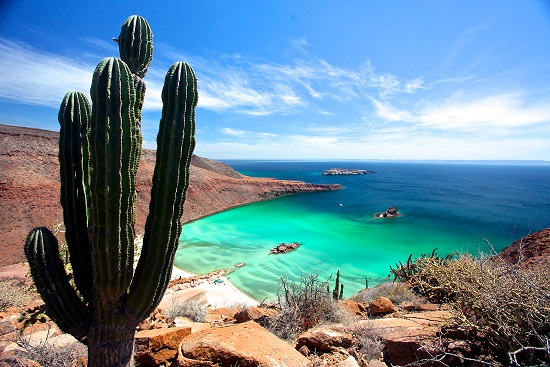 In the Sea of Cortez, 45 minutes by boat from the busy hub of La Paz, you will find the enchanting islands of Espíritu Santo and Isla Partida: a fascinating 80.763 km/31.183 square-mile rock formation whose origins can be explained by a series of cataclysmic earthquakes shaking its minerals to the surface. A geologic rainbow of pink, brown and beige rows reveal the secrets of its birth as volcanic ash and lava residing in its ancient walls.
A shallow channel separates Espíritu and Isla Partida and this is sometimes, in the right tide, shallow enough to wade across. Espíritu Santo is the twelfth largest island in Mexico. Nobody inhabits the island. The area is protected as part of the Area de Protection de Flora y Fauna – Islas del Golfo de California and is an important eco tourism destination. UNESCO declared the island a protected biosphere reserve and Ensenada Grande beach, on Isla partida, was voted the most beautiful beach in Mexico by The Travel Magazine. With its white sand, turquoise waters and rustic back-drop you can really see why. One of the largest blue-footed booby colonies is located here.  In addition, you may see pods of dolphins, rays swimming around near the surface and sea lions out and about looking for fish to eat. There is also a plethora of sea lions in the area.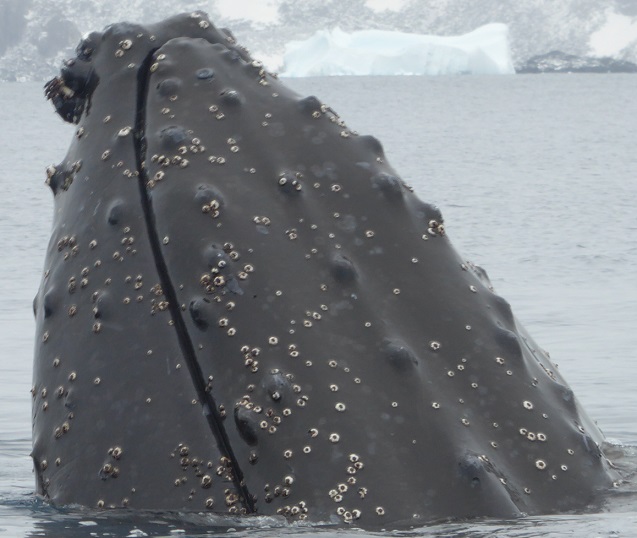 Closeup of humpback whale spy hopping. Photo by Paul Maley.
APRIL 10 (Tuesday) ……… Disembark in La Paza, Baja California. Disembark in the morning.
OUR SHIP
Swan Hellenic "Diana" upper deck view courtesy Swan Hellenic cruises.
This brand new ship, the Diana,  is to be launched in 2023; it has 96 staterooms and suites. The vast majority will have large balconies.  Diana's 96 staterooms , including 11 suites, are each a superbly comfortable home away from home and all feature panoramic sea views, a flame-effect fireplace, original works of art, plush couches, premium pocket sprung mattresses, en-suite bathrooms with glass-enclosed rain showers, and Egyptian cotton towels, bathrobes and sheets. A pillow menu offers customised head and neck comfort during rest, while a large flat screen TV, espresso machine with Illy premium coffee, tea making facilities with the finest Kusmi teas, and a minibar with refreshments enhance relaxation at any time. In-room dining is of course available at all hours.
Designed for immersive experiences and extensive open views, the on-board amenities include a swimming pool, spa, panoramic sauna, gym, library, expedition laboratory and observation lounge for lectures by seasoned expedition leaders and leading experts from a wide range of disciplines. World-class gourmet cuisine, local specialties and healthy dining will be offered in the panoramic restaurant, club lounge and pool bar, as well as through full room service.
In addition, Diana builds on the outstanding facilities of her sister ships, offering a dedicated Multifunctional Room next to the Observation Lounge, a Private Dining Room for special occasions, more suites and 2 tenders, which bring guests a comfortable alternative to Zodiacs for expedition landings.
CRUISE SHIP FEATURES
All ocean view staterooms and suites with balconies
Complimentary Butler service for all suite guests
Sun deck and multiple outer deck observation areas
Outside heated pool
Library with an extensive selection of books and reading areas to relax
Two restaurants offering exquisite dining experiences
Panoramic lounge & terrace
Three bars plus a ship's boutique
2 passenger elevators
Fitness center with state-of-the-art equipment
Sea Spa by l'Occitane (including steam room)**
Hairdresser offering full-service hair styling, manicures, and pedicures**
24-hour on-board medical facilities with certified doctor**
24-hour room service
The Club lounge for live music and dancing
A theater with unobstructed seating for more than 200 guests
Wireless internet access throughout the ship
Electricity 110/220 volts
**Services at cost based on treatment selected
SHIP SPECIFICATIONS
CRUISING SPEED   14.5 knots
PROPULSION HYBRID DIESEL ELECTRIC   4x Medium speed, Polar Class PC6
LIFEBOATS  2 fully enclosed
TENDER BOATS  2 (48 pax each)
CABIN LOCATIONS
DECK 6
DECK 5
DECK 4
CABIN DESCRIPTIONS/SIZES



SOLAR ECLIPSE CRUISE 2024 PRICE INCLUDES

:
One pre-night at Dreams Acapulco All-inclusive Resort & SPA
Arrival transfer from Acapulco airport to Dreams Acapulco Resort & SPA *
Transfer from the Dreams Acapulco Resort & Spa to the cruise ship pier
Transfer from the cruise ship pier in  La Paz Baja California to the San Jose Del Cabo airport at end of cruise *
Welcome dinner at the hotel the first night and breakfast/lunch the next day
Complementary WIFI
Open Bar at Dreams Acapulco Resort & SPA
Non-motorized watersports included at Dreams Acapulco Resort & SPA
All meals on the ship
access to eclipse images contributed by participants to be posted on our post trip web page
cruise landings and wildlife viewings
* Airport transfer included when flights purchased with Eclipse Tours/Direct Travel.  For guests booking their own air, transfers will be offered at cost.
All excursions
Open bar
Kayaking
Paddle boarding
Snorkeling
You have free access to wi-fi onboard so if you want to maintain contact with friends you can do so without extra charge.  This is for email and uploading images, not streaming.  For enhanced capabilities, an upgraded package is offered at an additional cost.
You get to sleep at night while your cruise ship takes you to your destinations
Access to free food and drinks, all day long including evenings and night bars. This applies to all alcoholic beverages, coffees, teas, sodas, etc. of the premium category.  Top-shelf brands will be offered at additional cost.
No need to tip anyone onboard as gratuities are included
Although the cruise is mostly all-inclusive, if you have to pay for an optional service such as laundry or spa, you don't need to deal with cash or credit cards since you will be given a cruise card that permits charging purchases on the ship.  Note that the ship features self-service laundry machines and dryers free of charge.  Full-service laundry at cost is also available for those not wishing to spend their time doing laundry.
*at scheduled dates and times specified by Future Travel for group arrival/departure
SOLAR ECLIPSE CRUISE 2024 PRICE DOES NOT INCLUDE:
airfare to Acapulco and return flight from La Paz
pre or post-hotel expenses including any hotel services, meals not included, incidental expenses, etc. for which payment is required prior to checkout.
pre or post-cruise packages (unless specified)
additional onboard services such as spa, etc.
a washing and ironing service for laundry
cost of passports and any visas (if required)
medical services and fees related to this
use of jet skis on the ship at extra cost
tours in Acapulco, Puerto Vallarta and Mazatlan (if offered)
SCUBA diving equipment
passports/visas
anything else not mentioned in the SOLAR ECLIPSE CRUISE 2024 PRICE INCLUDES section above
trip cancellation and delay, medical evacuation insurance which is

mandatory

(passengers are required to secure this from Future Travel or Future Travel must approve your own insurance (or international insurance if you are a foreign national)
FUEL ADJUSTMENT
IMPORTANT NOTICE: As is typical for every cruise charter in advance, Swan Hellenic has also provided a caveat to the cost.  Should fuel prices increase beyond a specific index value by more than 5% up to 30 days prior to the start of the cruise, Swan Hellenic will increase prices to Direct Travel (and to you). Such a last-minute increase could be caused by such things as a huge spike in oil futures or refinery shutdowns.   We do not anticipate this will happen, but Swan Hellenic is protecting itself in case it does.  Direct Travel will be forced to notify all passengers of a cost increase should this happen.  
---
REGISTRATION AND PAYMENT
Click HERE to complete one registration form AND submit payment for each person in your party.
We cannot confirm you unless the registration form [one for each person] and payment are all received.
IF YOU LIVE OUTSIDE THE UNITED STATES you may pay by one of these methods: 1) credit cards, or 2) wire transfer. A USD$75 fee is charged if a wire transfer is used for each payment.  No checks or money orders can be accepted! Please contact spolley@dt.com  to make arrangements.
DEPOSIT AND PAYMENT SCHEDULE
DEPOSIT SCHEDULE
From time of booking before April 1, 2022:  $2,500 per person
April 1, 2022: 35% of cruise price
November 1, 2022: 50% of cruise price
June 30, 2023: 100% of the total cruise price
CANCELLATION PENALTIES
25% penalty of total paid if cancelled by April 1, 2022
50% penalty of total paid if cancelled between April 1 and November 1, 2022
75% penalty of total paid if cancelled between November 1, 2022 and June 30, 2023
After June 30, 2023: 100% penalty
TRIP PROTECTION / TRAVEL INSURANCE
Based on the remoteness of the region, extended advance purchase and the requirements of the Cruise Line, all passengers are required to purchase travel insurance / trip protection at an additional cost at the time of deposit. Future Travel will provide you with a quote upon registration (unless you live outside the US you will be required to purchase your own within 14 days of deposit).  You may buy your own insurance or supply an existing policy, but coverage will need to be approved prior to deposit.  The minimum travel insurance coverage you will need to provide from an in-country travel agent, will be $50,000 USD Emergency Medical per person and $1,000,000 USD Emergency Medical Evacuation Repatriation per person.  You must also have a pre-existing conditions waiver (usually standard if insurance is purchased within 14 days of deposit) .  TRAVEL INSURANCE PRICES WILL VARY BY AGE, STATE OF RESIDENCE AND TOTAL TRIP COST. INSURANCE WILL BE QUOTED AND MUST BE PAID UPON DEPOSIT.  INSURANCE PRICES ARE IN ADDITION TO THE ABOVE LISTED CABIN PRICES.  Travel insurance must be paid by Credit Card.   Note: ALL INSURANCE PAYMENTS ARE NONREFUNDABLE.  For more information and a quote on insurance pricing, contact Sandy Polley at: spolley@dt.com
GUESTS WITH DISABILITIES
Prospective participants need to know that the ship has very limited capability for guests with disabilities. Wheel-on and / or wheel-off access is only possible in Acapulco and La Paz; the Zodiacs are not wheelchair accessible. This is an 'expedition ship' which is geared to go into areas larger ships cannot venture.   In certain situations if guests are not physically fit enough to board or disembark Zodiac boats, it may not be possible for them to accomplish wet landings. In all the areas the ship operates it is important to be of a moderate fitness level in order to participate in the activities offered. As they make use of the Zodiacs on a regular basis, it is important guests are physically able to embark and disembark the Zodiacs by means of the gangway which involves a lot of steps at a steep angle in a moving sea. On shore, the Expedition team will be taking guests on guided hikes which can involve moderate to difficult walking on uneven terrain. Also note that if you are 24 weeks pregnant or more, you cannot participate in Solar Eclipse Cruise 2024.
BOARDING THE SHIP
It is important to also point out that all passengers are responsible for being sure they are on board the ship on departure day.  Failure to do so will result in the passenger being left at the port and it will be the passenger's responsibility to catch up to the ship using the passenger's own resources. Neither Swan Hellenic nor Direct Travel can be responsible for any passengers who fail to board the ship prior to the scheduled time of departure.