JOIN OUR 51st "

RING OF FIRE EXPEDITIONS

" MISSION TEAM#2
FOR A 4 NIGHT LAND PACKAGE 

APRIL 5-9, 2024

.
SEE A FABULOUS

4 MINUTES AND 25 SECONDS

OF TOTAL SOLAR ECLIPSE EXCITEMENT FROM OUR ALL-INCLUSIVE BEACH FRONT HOTEL IN MAZATLAN!!

 
NEED A ROOMMATE?

   CONTACT  eclipse@dt.com AND WE WILL TRY TO MATCH YOU WITH SOMEONE OF THE SAME GENDER.
You do not need a science background to enjoy what is probably the number one natural wonder. Due to the fortuitous consequence of the Moon's diameter and location relative to the Earth and Sun, a complete eclipse of the Sun can be seen approximately once every 12-18 months somewhere on Earth. In 2024, although the eclipse crosses the USA and Canada, weather prospects are far better in Mexico than along the US/Canadian portions of the path. We have carefully chosen our location in Mazatlan, Mexico to make accessing the path easy for loyal American guests and eclipse viewers from around the world.
The tour will be led by Dr. Tamara Ledley –a veteran of 11 eclipses and Space Shuttle astronaut candidate–and Dr. David Haviland (NASA Johnson Space Center Astronomical Society)–a veteran of 3 solar eclipses and co-leader for our August 2017 expedition– who will provide briefings on the eclipse and related talks during the program, and Ted Blank, an experienced astronomical observer, cruise ship speaker and co-leader of our August 2017 expedition.  Both are veterans of previous Ring of Fire Expeditions tours.  The NASA Johnson Space Center Astronomical Society in Houston, Texas has been organizing eclipse expeditions since 1970 under the leadership of Paul D. Maley who is tasked with leading a separate solar eclipse cruise from Cabo San Lucas, Mexico.  Talks will be given in the hotel's presentation room and admission will be by badge only.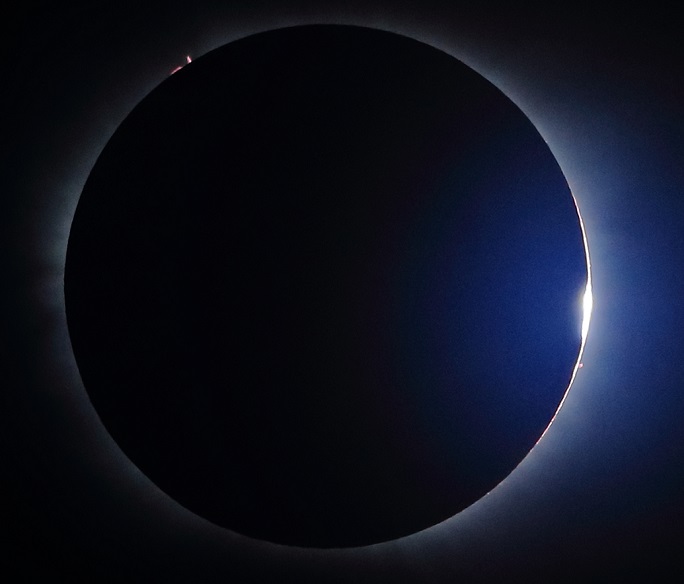 The Sun's atmosphere starts to reveal itself in full eclipse just as the last bits of sunlight begin to vanish. Photo by LeRoy Maxfield on our 2016 expedition.                                           
WHY TRAVEL TO

MEXICO

WHEN THE ECLIPSE PASSES ACROSS MUCH OF THE USA AND CANADA?
Below is a graphic showing that there is generally a preponderance of clouds over the US portion of the track in the month of April.  The blue region below indicates the area of predicted lowest cloudiness. Therefore we are not planning any expeditions in the US for this eclipse and going where the overall weather pattern seems to be most consistently good.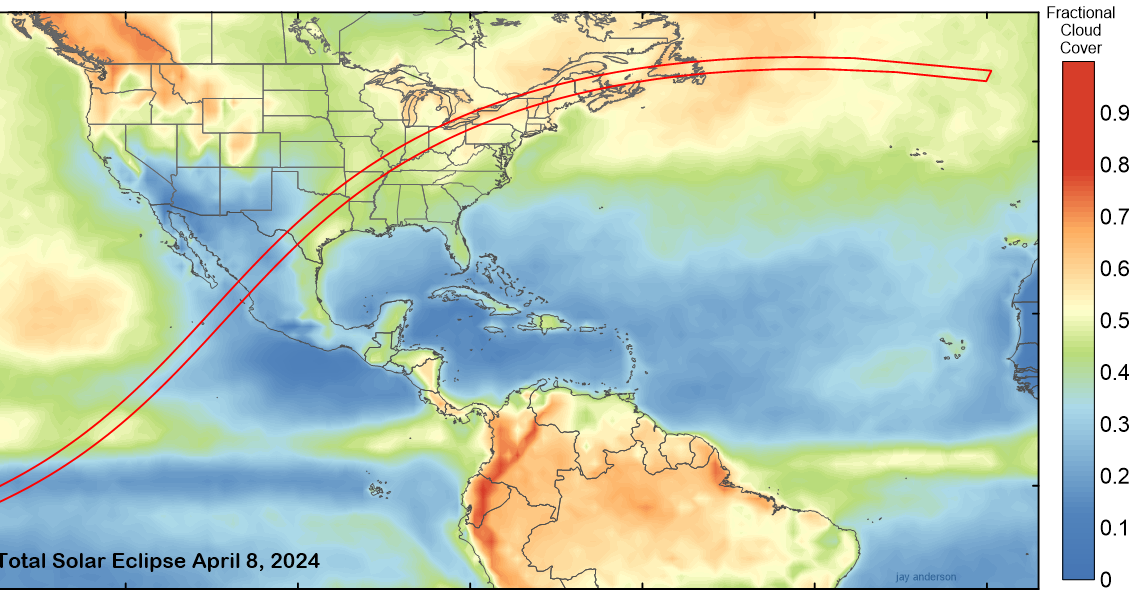 The path of total eclipse lies between the two red curved lines above.  This is a weather graphic showing that Mexico and the Pacific Ocean off the southwest Mexican coast are the projected areas of least cloudiness and therefore the best places from which to see the eclipse! Graphic courtesy of Jay Anderson.
Here are two additional graphics that may help you realize that if you live in the US or Canada chances are that Mexico is far better positioned weather-wise.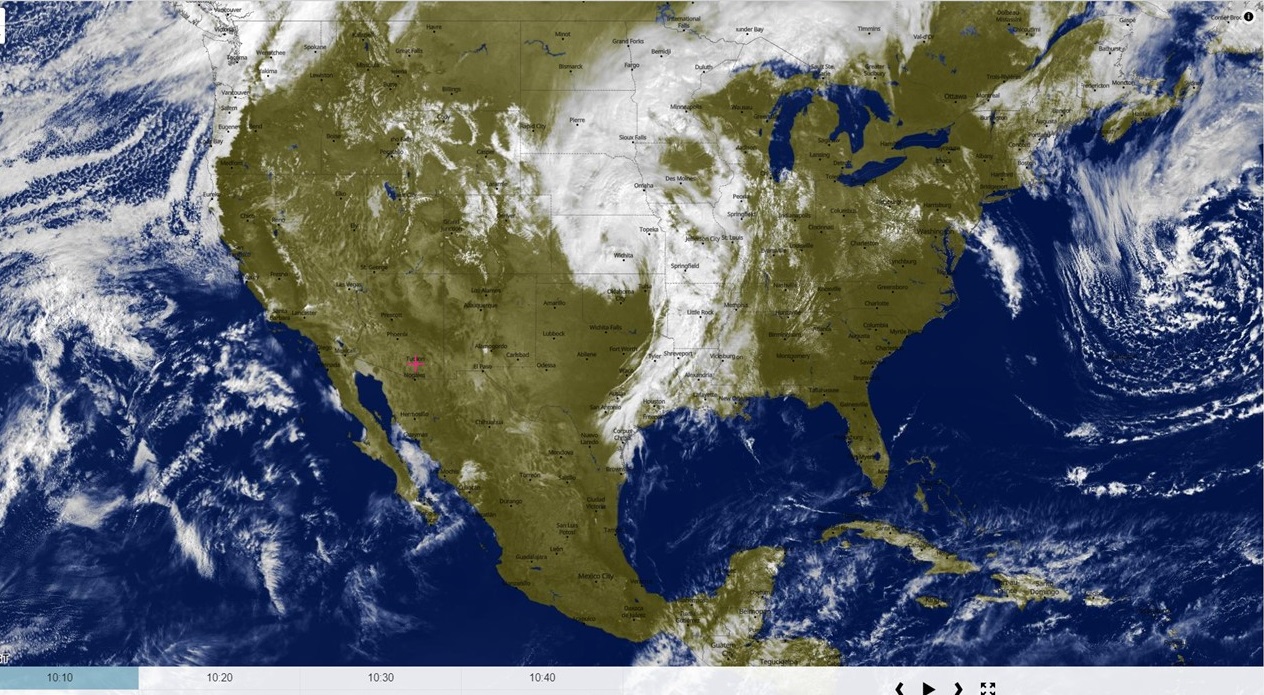 The above shot on April 7, 2021 shows the typical cloudiness during daytime across the continental US and northeast Canada.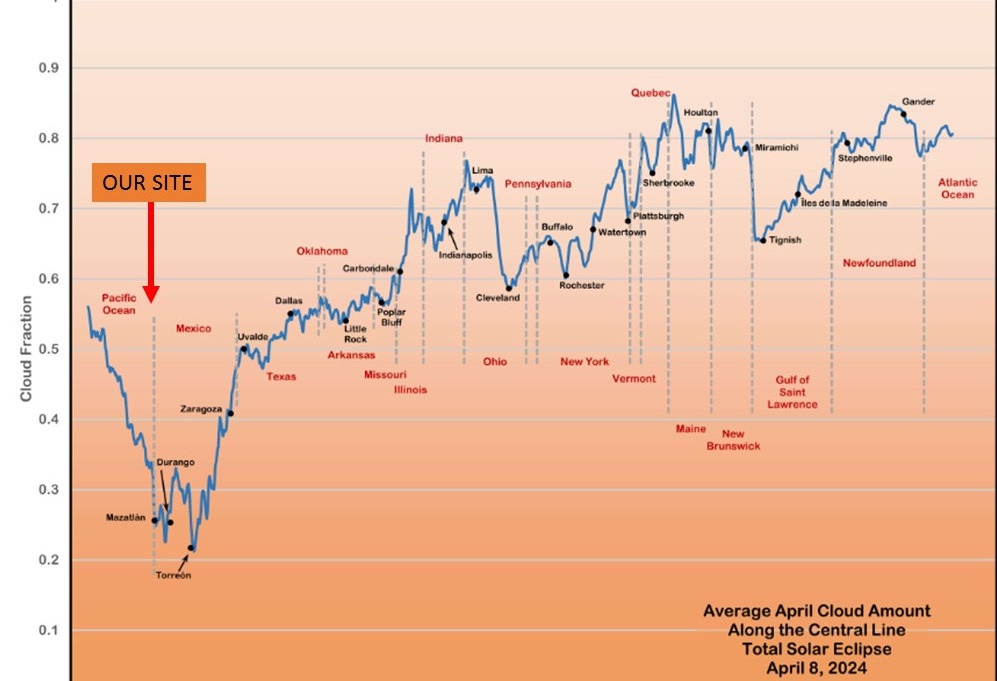 An even better depiction of cloud cover is shown above where our site is projected to have an average of 25% probability of cloud. Courtesy Jay Anderson.
OUR HOTEL:

DREAMS RESORTS MAZATLAN ESTRELLA DEL MAR
This property is brand new and set to open in December 2022 – 1 year and 5 months prior to the eclipse.  Built in the Estrella del Mar Golf Club, a private residential community that extends over an area of ​​374 hectares with 5.6 km/3.5 miles of frontage beach, it is located 9 km/5.6 miles from Mazatlán International Airport.
To read about the golf course click here – https://estrelladelmar.com/en/golf/golf-course
Rated among the best golf courses in Mexico, Estrella del Mar boasts a magnificent 18-hole championship golf course. Designed by the legendary Robert Trent Jones Jr. and built in 1996, it is unsurpassed in terms of play and breathtaking scenery. With a course layout than runs parallel to the pristine beach in the Estrella del Mar gated community, there is simply no comparable course in Mazatlán.  Six of the holes and fairways are situated right off the beach, and the sound of waves lapping on the sand can be heard throughout. Our impeccably-manicured greens are dotted with clusters of palms lining the fairways and strategically-placed bunkers, earning Estrella del Mar a five-star rating by just about every golfer who has played the course. Its challenge and beauty combined with its layout are often cited as reasons why Estrella del Mar is considered one of the top golf courses in Mexico. In the words of our visitors, our course is "Mexico's best kept secret."
Dreams Resorts – UNLIMITED-LUXURY, WHERE ALMOST EVERYTHING IS INCLUDED
Dreams Resorts & Spas are committed to redefining and elevating the all-inclusive experience. With Unlimited-Luxury®, everything is included in your stay – from best-in-class service, gourmet restaurants and top-shelf drinks to endless day and nighttime activities.
Unlimited Dining
International Buffet
Seafood restaurant
Italian with wine cellar
Mexican cuisine
Pan-Asian fusion restaurant
Unlimited Drinks – Premium branded alcoholic and non-alcoholic beverages included
* Optional upgrade to TOP SHELF brands at extra charge
24-hr Room Service
*Limited services due to Covid-19
Pool & Beach Wait Service
Wi-Fi
Endless Entertainment
Nightly entertainment shows (variety type) with local artists, acrobats, musicians etc.
Complimentary sports – snorkeling, pool/beach volleyball, tennis, non-motorized watersports (paddle boarding, kayak, boogie boarding etc.) pools, hot tub,
Sports at EXTRA COST – jet ski, scuba diving, water ski, ATV rides, horseback riding, golf
Rooms:
Choose from the luxurious room options. Enjoy suites and villas, private swim-up pools, gorgeous accommodations with terraces, hot tubs, and amazing views. Family connecting rooms available upon request.  The three main room types (artist conceptions as of 2/12/2022) are: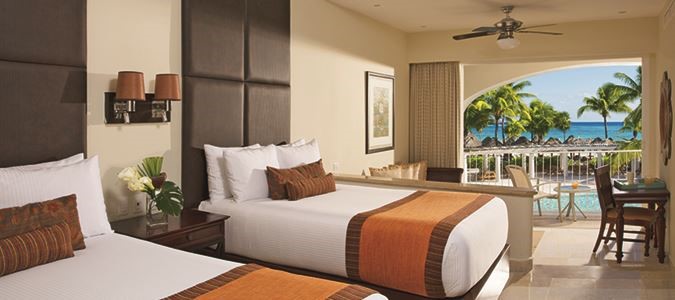 Standard room with twin beds and pool view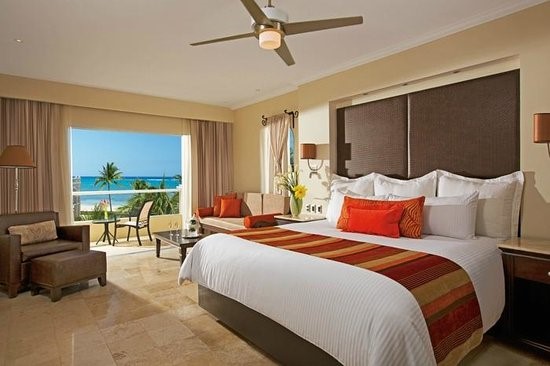 King bed with ocean view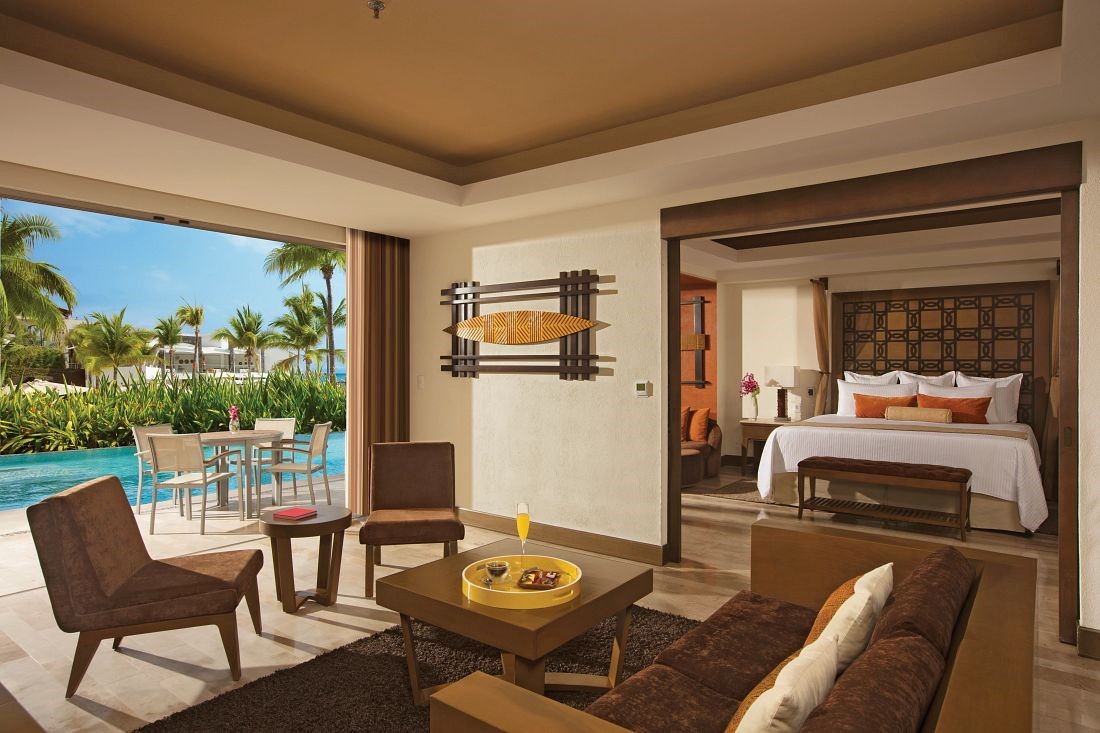 Suite with king bed and separate living room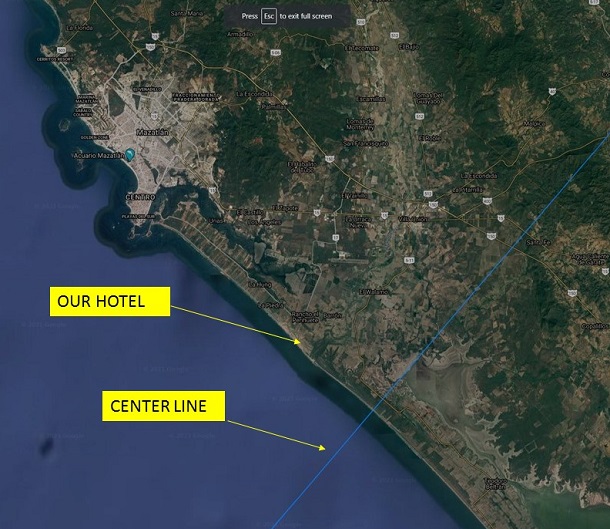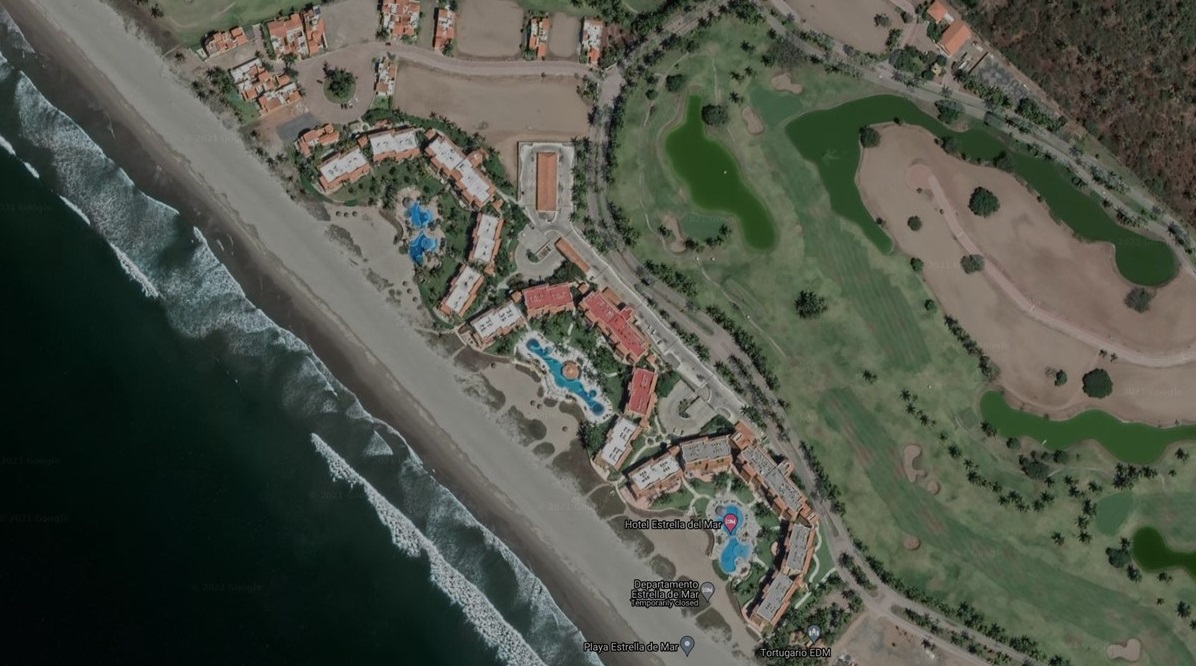 Overview of beach front area near the hotel; golf course is behind.   
LAND PROGRAM COST
LAST ROOMS AVAILABLE AS OF 3/29/23:                     DBL per person – 4 nights            Single per person – 4 nights
0 Standard rooms                                                                           $2866                                                      $3466
0 Junior Suites Swim-out                                                              $3261                                                       $4166
0 Preferred JR Suites Swim-out                                                  $3611                                                       $4611
6 Preferred Ocean Front                                                               $3861                                                       $5211
2 Premium Preferred Ocean Front                                            $4011                                                       $5611
If you wish to extend your stay by arriving early or staying late, contact krowatt@dt.com to see if rooms are available.
– Extend your stay to 7-nights for just $1400. per person with 2 sharing  or $2460. * (standard room only) additional for single occupancy
*extension nights beyond the core 4-night program are offered on a non-hosted basis (meaning that you are on your own during that time). 
PRELIMINARY PROGRAM
April 5 (Friday)……….. Arrive Mazatlan and transfer to your hotel
…………………………………Welcome briefing and dinner
April 6 (Saturday)          Morning lecture
…………………………………Observing of the Sun after breakfast
…………………………………Afternoon Mazatlan excursion
…………………………………Night sky observing
April 7 (Sunday)             Morning lecture
………………………………..Eclipse briefing and simulation in the afternoon
………………………………..Night sky observing
April 8 (Monday)           Eclipse Day. Observe from the hotel grounds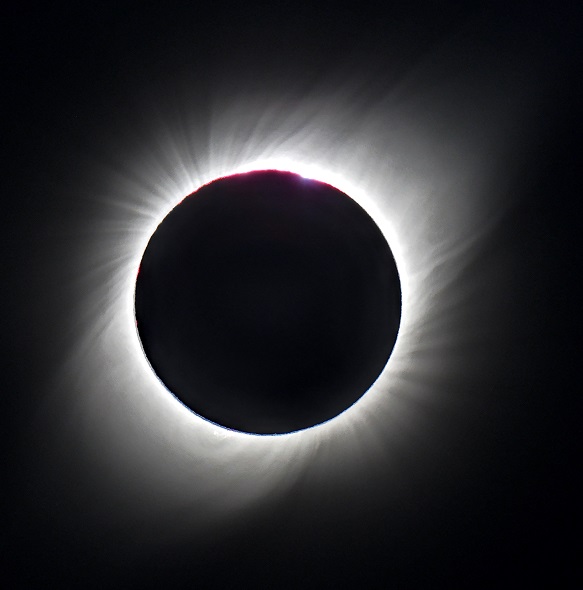 The total eclipse as photographed by Eliot Herman on a Ring of Fire Expedition in 2019.
…………………….LOCAL TIME….SUN ALTITUDE………….SUN AZIMUTH………..EVENT
1ST CONTACT: 10:51:17am………………54 deg………………………110 deg…………….the eclipse begins
2ND CONTACT:12:07:18pm……………69 deg………………………135 deg……………..start of the total eclipse portion
3RD CONTACT:12:11:44pm…………….70 deg………………………137 deg……………..end of the total eclipse portion
4TH CONTACT: 1:32:06pm………….73 deg……………………….202 deg…………….the eclipse ends
.……………………………..Post eclipse wrap up and group photo
April 9 (Tuesday)           Depart hotel for the airport and home
*

NOTE THAT IT IS POSSIBLE TO EXTEND UP TO 7 NIGHTS AT EXTRA COST
PROGRAM INCLUDES:
-4 NIGHTS ACCOMMODATION IN OCEAN VIEW ROOMS (UPGRADE TO MORE PRIVATE OCEAN VIEW AVAILABLE AT EXTRA COST).LIMIT OF 2 PEOPLE PER ROOM!
-ALL MEALS beginning with dinner on April 5 and ending with breakfast April 9!
-ALL DRINKS INCLUDING ALCOHOL, WINE AND BEER!
-ROUNDTRIP (shared) TRANSFERS BETWEEN MAZATLAN INTERNATIONAL AIRPORT AND HOTEL 
-PRESENTATION BY OUR SCIENCE TEAM ON THE ECLIPSE AND HOW TO VIEW IT SAFELY
-PRIVATE SITE AT THE HOTEL FOR ECLIPSE OBSERVATION
-ECLIPSE VIEWING GLASSES for the partial phases of the eclipse
-FREE WIFI IN GUEST ROOMS AND PUBLIC AREAS
-GRATUITIES
-TAXES & FEES
PROGRAM DOES NOT INCLUDE:
-AIRFARE TO/FROM MAZATLAN
-PASSPORT/VISA FEES (IF REQUIRED)
-LAUNDRY, PHONE AND OTHER PERSONAL EXPENSES
-pre or post hotel expenses including any hotel services, meals not included, incidental expenses, etc. for which payment is required prior to checkout.
-TRIP DELAY AND CANCELLATION INSURANCE
–ALL ITEMS NOT SHOWN AS 'INCLUDED' ABOVE
-EXTRA NIGHTS (BEFORE OR AFTER); OPTIONAL TOURS/DAY TRIPS THAT MAY BE OFFERED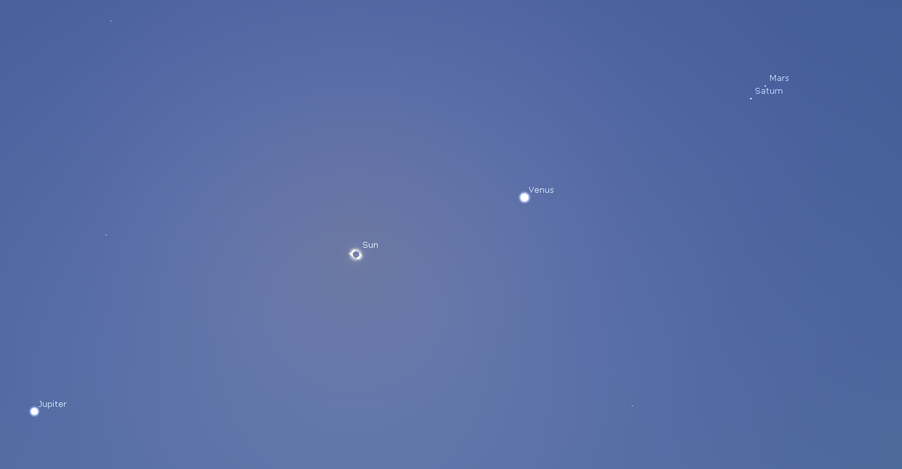 Planets that may be seen during the total eclipse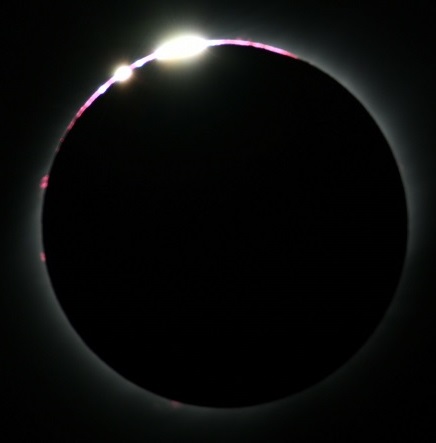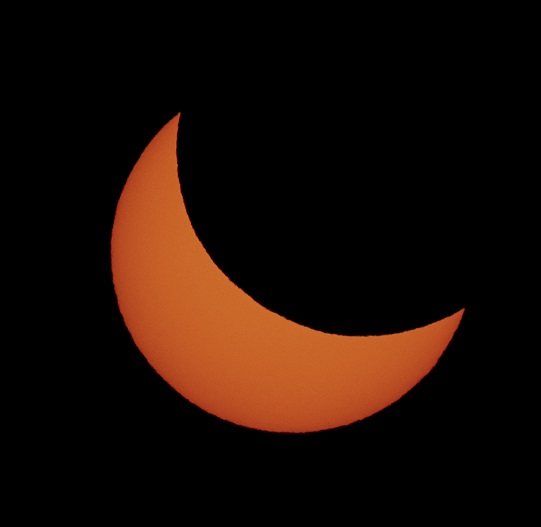 (Left) The remarkable Baily's Beads and chromosphere seen just before and after totality. Photo by Byron Braswell taken at our 2019 eclipse expedition in Chile. (Right) The Sun as the Moon is slowly moving away after totality in 2019. Photo by Eliot Herman.
Our observation site location is 7 hours earlier than GMT.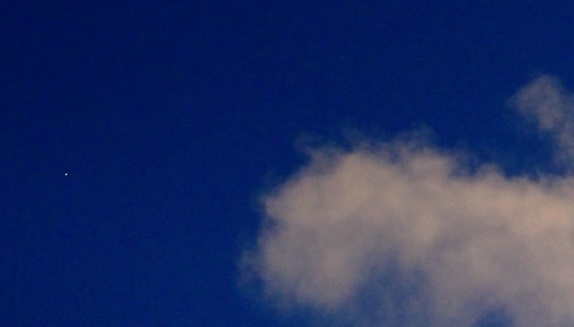 Venus appears to the naked eye about 45 minutes before totality in this photo (above) taken in 2013 by LeRoy Maxfield on one of our previous eclipse expeditions. It is often seen many minutes before and after the Sun goes dark due to its brightness. Venus is the dot on the left side of the frame.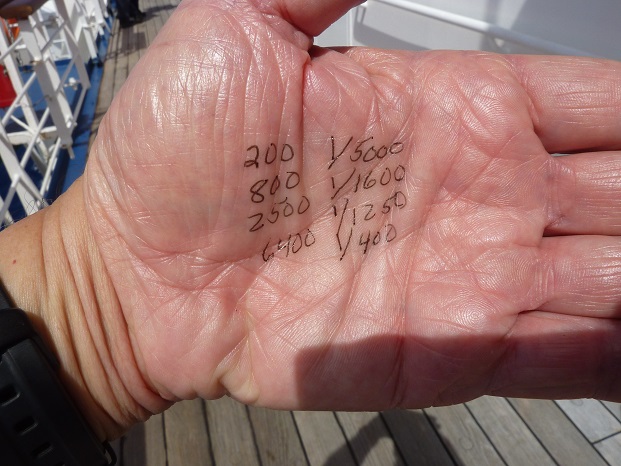 A handy way to remind yourself of exposure changes without needing a piece of paper or other device.
RELEVENT PHOTOS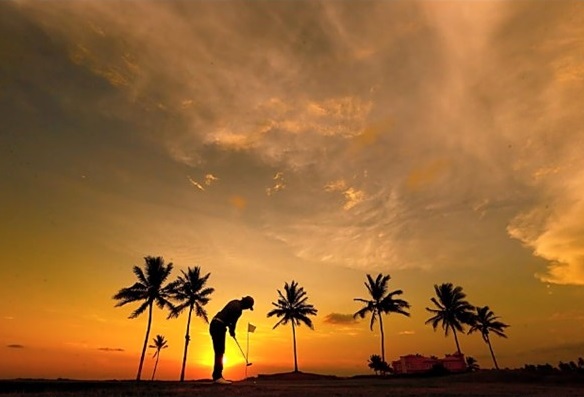 The golf course at the end of the day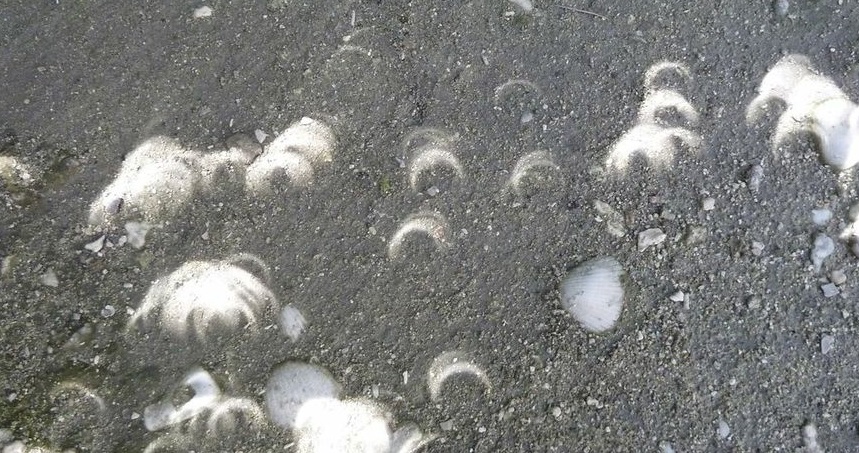 Crescents photographed on the ground during the partial phases of the eclipse. These can be produced by palm trees as in the photo above, so be on the lookout in the hour preceding and following the total phase of the eclipse.  Photo by Byron Braswell during our 2013 eclipse expedition to Tarawa.
REGISTRATION AND PAYMENT SCHEDULE
Click

HERE

 to REGISTER and PAY. One registration form AND deposit must be submitted for each person in your party

.  

You are also given the option for a 24 hour courtesy hold before paying.
IMPORTANT: We cannot confirm you unless the registration form per person AND deposit are received.
Note that the payment and penalty dates below are driven by our contract with the vendor(s).
A deposit of $525 is required per person upon registration. Cancellation fee is $500.00 per person up until January 15, 2023.
January 15, 2023: full payment for the tour is due in full. Cancellation fee is 100% per person after January 15, 2023.
IF YOU LIVE OUTSIDE THE UNITED STATES you may pay by one of these methods: 1) credit cards, or 2) wire transfer. A USD75.00 fee is charged if a wire transfer is used for each payment.  No checks or money orders can be accepted! Please contact spolley@dt.com  to make arrangements.