THE ANNULAR ECLIPSE OF THE SUN OVER EASTER ISLAND
SEPTEMBER 29-OCTOBER 3, 2024
STATUS AS OF December 16, 2021:

3 DOUBLE ROOMS, 1 FEMALE LOOKING FOR A ROOMMATE, and 1 SINGLE ROOM AVAILABLE
———————————————————————————————————————————————————————————————————–

The annular eclipse as photographed in India December 2019 by Paul Maley
Join
Ring of Fire Expeditions 55th solar eclipse expedition

to famed Easter Island and witness a fabulous 6 minute 25 seconds ring eclipse of the Sun.  This expedition will be led by Paul D. Maley of the NASA Johnson Space Center Astronomical Society and will be his  85th solar eclipse.  

What kind of eclipse is this? Just to be clear, this is an annular eclipse.  That is, the Moon is farther away than normal from the Earth and it will not completely cover the Sun. At central eclipse there will be a complete ring of sunlight surrounding the Moon. Some 94% of the Sun's disc will be covered. The eclipse path width is 261km/162miles and we just happen to be lucky enough to get underneath the Moon's shadow on Easter Island. The sky will not get completely dark but don't let that dissuade you. It can be a photographic dream to capture Baily's Beads (lunar mountains interacting with the Sun's limb) at the start and again at the end of the eclipse.  For those engaged in extreme photography it may even be possible capture the inner corona or a prominence, though doing this is not for the faint of heart.  For your safety any photography and visual observation must be carried out at ALL TIMES with a proper neutral density filter. We will be providing 'partial eclipse glasses' to everyone.
PRICE (AS OF 9/29/20  SUBJECT TO CHANGE)
$7303. PER PERSON DOUBLE OCCUPANCY. (CASH DISCOUNT PRICE $6955.)
$8103. PER PERSON SINGLE OCCUPANCY. (CASH DISCOUNT PRICE $7755.).
PROGRAM OVERVIEW
Your adventure will take you first to Santiago, Chile and then on to Easter Island. Located at 3,700 km off the South American continent and surrounded by the clearest, deepest waters on the planet, Easter Island, also called Rapa Nui, has been the cradle of a unique and enigmatic culture that continues to endure today. The island's language, music, and numerous traditions are kept alive by the island's inhabitants, while the enormous carved stone Moai are testimony to their mysterious past.
Rapa Nui would have been occupied around the year 600 AD by a group of settlers believed to have come from the Marquesas Islands in the eastern Pacific. This original colony of the island is sanctified in myth, whose protagonist is Chief Hotu Matu'a, the first king and founding figure of the Rapa Nui culture. The milestones of this prehistoric age are the development of Rongo Rongo, an indecipherable writing system, and a devotion to ancestors symbolized by the Moai, whose construction would have started around the year 1000 AD, and would eventually total more than 900. Constructed of volcanic stone and located in large ceremonial altars, named Ahu, they allegedly possessed mana (supernatural power), and were a fountain of well-being, prestige, and legitimacy of the ruling class.
Date
Day
Program
29 Sep 2024
Sunday

You will be greeted at the gate as you exit the plane, and assisted at immigration and customs, to then proceed on to baggage claim. This process limits the time you will spend in the airport on formalities and waiting in queues.

Private transfer from Santiago International Airport to The Ritz Carlton Santiago Hotel

Included activities: City tour

Overnight: The Ritz-Carlton Santiago

(D)

30 Sep 2024
Monday
Private transfer from The Ritz Carlton Santiago to Santiago Airport

Scheduled flight from Comodoro Arturo Merino Benitez International Airport to Mataveri International Airport (Easter Island)

Transfer from Mataveri Airport to Hanga Roa Eco Village & Spa

Included activities: PM – Half-day excursion "The Bird man Legend":

Overnight: Hangaroa Eco Village & Spa

(B, L, D)

1 Oct 2024
Tuesday
Included activities: Full-day excursion

"Arrival of Hotu Matua"

Overnight: Hangaroa Eco Village & Spa

(B, L, D)

2 Oct 2024
Wednesday
Included activities: Day at leisure for Eclipse Event.

Transfer to Moai location for viewing.

Overnight: Hangaroa Eco Village & Spa

(B, L, D)

3 Oct 2024
Thursday
Transfer from Hanga Roa Eco Village & Spa to Mataveri International Airport

Scheduled flight from Mataveri International Airport to Comodoro Arturo Merino Benitez International Airport (Santiago)

Meet & assist: You will be met and assisted when disembarking your flight, you will be escorted to baggage claim to transfer your luggage and assisted with check in for your connecting flight

(B)
DETAILED PROGRAM (
subject to change between now and the eclipse date

)
29 September (SUNDAY) Day 1
Arrival and transfer to hotel
You will be greeted at the gate as you exit the plane, and assisted at immigration and customs, to then proceed on to baggage claim. This process limits the time you will spend in the airport on formalities and waiting in queues.
Upon your arrival at Santiago International Airport, you will be met by a representative from our ground operator and transferred to your hotel in, the Ritz-Carlton in Santiago city. Your driver will assist with check-in. NOTE: CHECK-IN TIME IS NOT UNTIL 3:00PM. If you wish an earlier check-in you will need to pay for an additional pre-night. 
The Ritz-Carlton in Santiago offers a luxury hotel experience in the heart of El Golf, one of the city's prestigious neighborhoods. Nestled between sandy Pacific beaches and snow capped Andes Mountains, the Ritz-Carlton, is a sophisticated retreat delivering personalized service.
Grand in size and style, the lobby at the Ritz-Carlton reflects the elegant details and the decor that throughout the property highlights local Chilean culture. Hotel amenities include soothing spa services, the pool at the Santiago hotel's rooftop Health and Fitness Center that overlooks magnificent views of the city and Andes Mountains, as well as exquisite dining at one of four distinctive restaurants.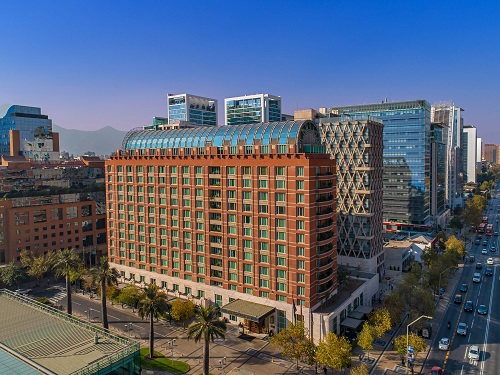 Ritz-Carlton Santiago. Photo courtesy of Ritz-Carlton Hotels.
Afternoon sightseeing tour "Barrios"
This fascinating tour is an exploration of Santiago's thriving barrios. In Chile, the term 'barrio' simply refers to a neighborhood with a character and identity of its own, and Santiago has plenty to choose from.
The downtown barrios of Brasil, Yungay, and Paris-Londres are of huge historical, political, and cultural importance. The revitalized Barrio Lastarria – perhaps the most fashionable area in the city at present – is packed with cafés, boutique hotels, small stores, and a lively restaurant scene. It is also home to the iconic creations of architect Luciano Kulczewski. Across the river, Barrio Bellavista is bohemian, sophisticated, tidy, and chaotic all at once, and is regarded as a seat of political and cultural revolution. Elsewhere, Barrio Italia is one of the true gems of Santiago. Known for its design stores and antiques restorers, it is also home to trendy cafés and a wide variety of restaurants, from full-on vegan, Spanish and Italian, to gourmet soup. Santiago's barrios are not exclusive to the downtown areas however. For example, the elegant Barrio El Golf is home to embassies, multi-national companies, expats, and the country's most expensive real estate. This tour offers contrasts galore and a unique insight into Santiago's barrio life.
Welcome Dinner at the Hotel Restaurante
Day includes:
Private transfer to The Ritz Carlton Santiago
Dinner
Day excludes:
Overnight at The Ritz-Carlton Santiago
EASTER ISLAND
30 September – 03 October 2024
We are flying to Easter Island since that is a really unique place from which to watch the annular solar eclipse!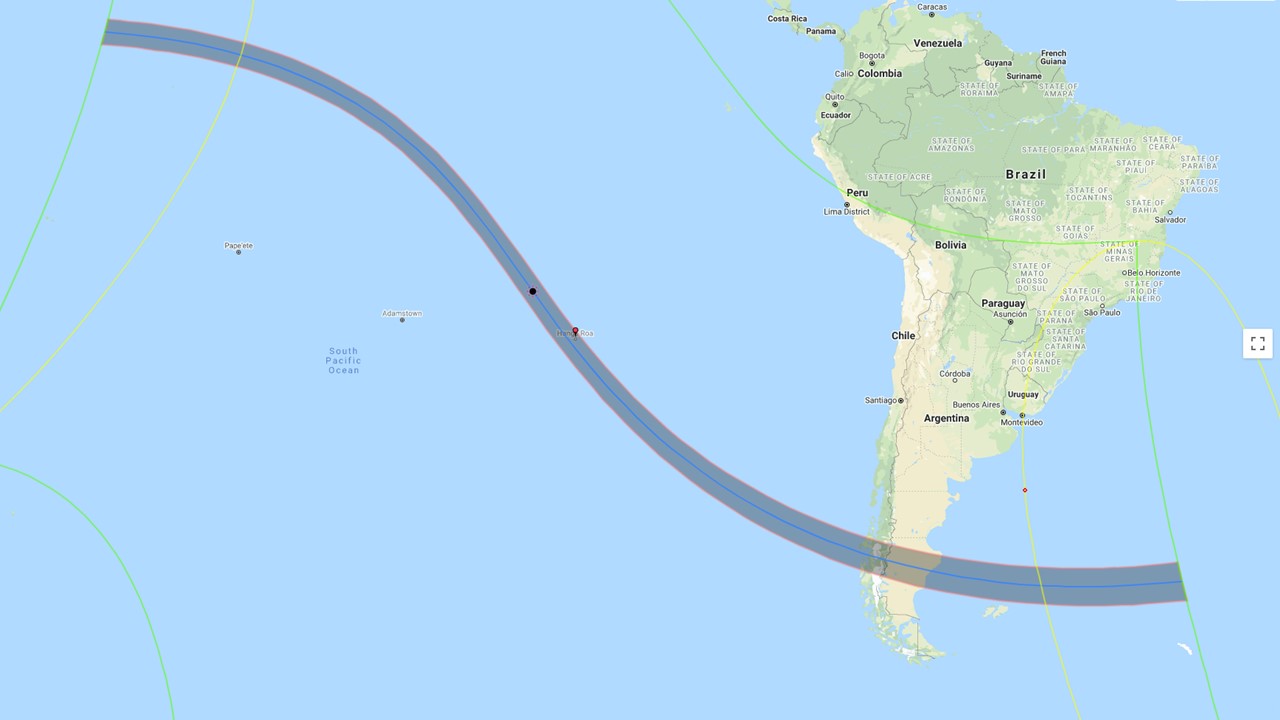 Eclipse track with Easter Island's location being the red dot inside the gray path to left of center. Courtesy X. Jubier.
You will be staying 3 nights at the Hangaroa Eco Village & Spa.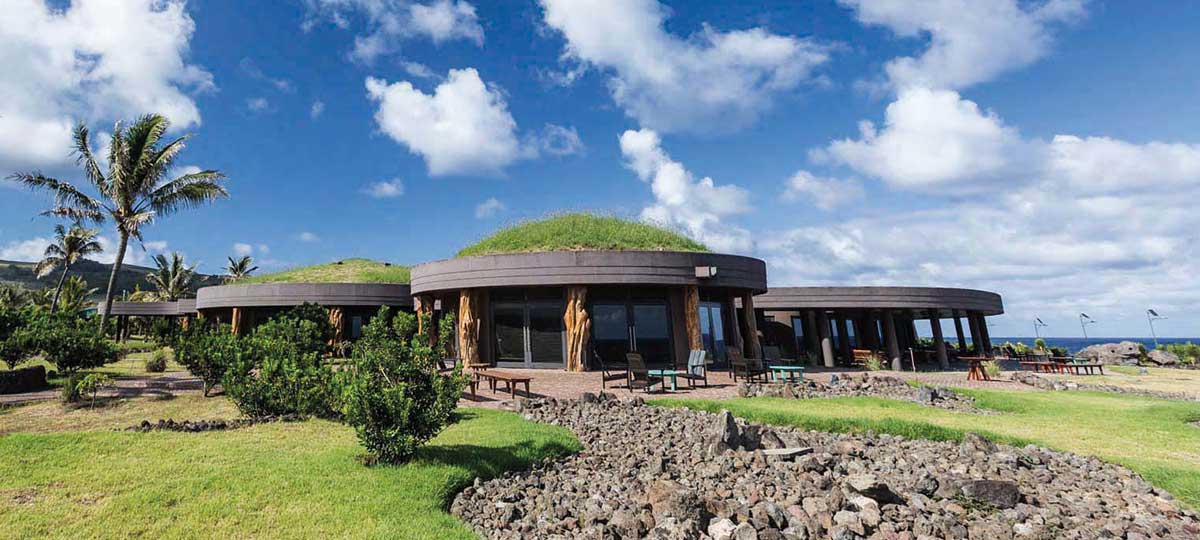 Hanagaroa Hotel exterior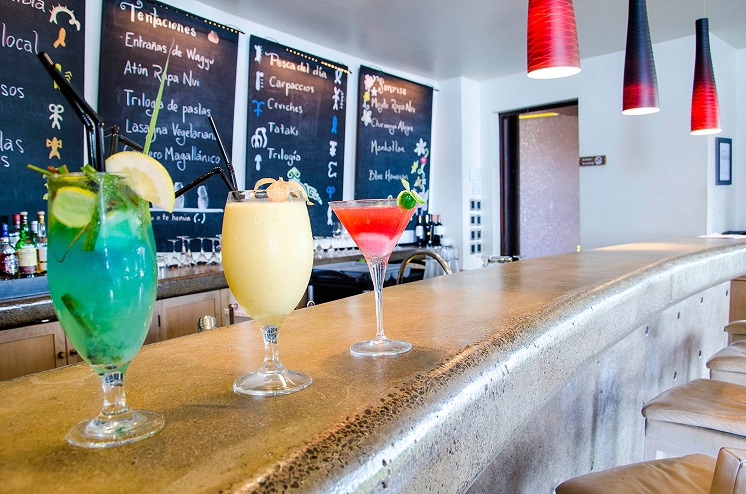 The ever present bar in the Hangaroa Hotel
Hangaroa Hotel is a place where one encounters the simplicity and beauty of nature. It is an invitation to renew the soul and at the same time respecting nature and culture. Made of noble and natural materials, such as cypress logs, clay and volcanic rock, offering visitors a dip in Rapa Nui habitat. The cave inspired guest rooms and organic spaces are equipped with the latest technology that controls the consumption of water and electricity, minimizes noise and electromagnetic fields, ambient tempera taste of each guest. Among the services that the hotel has are three different restaurants, Vaikoa, Poerava and Kaloa, as well as a pool, spa, theater, ballroom, and meeting rooms.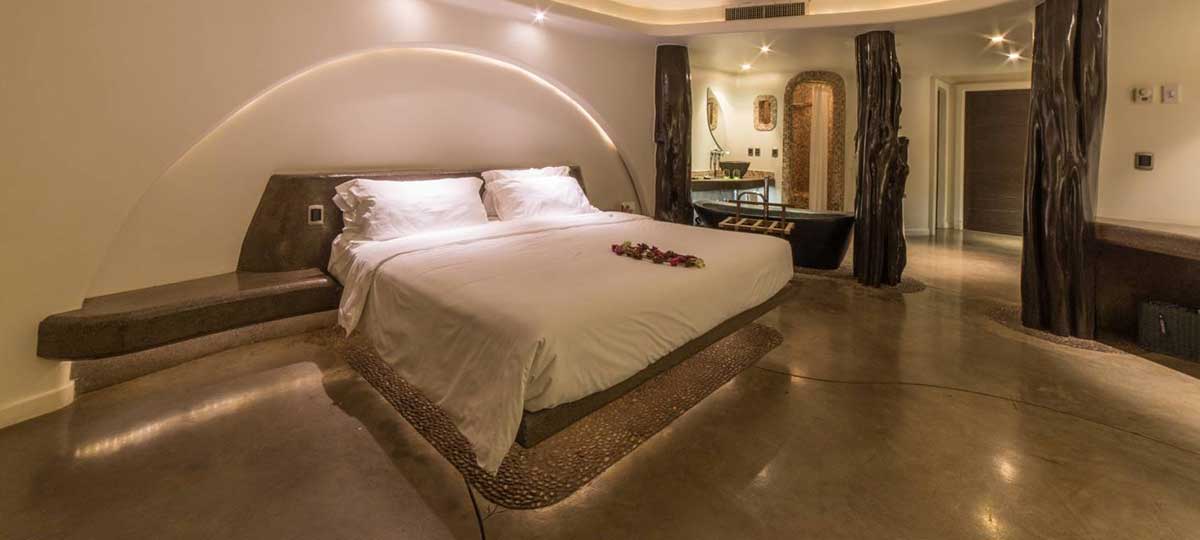 Your accommodations in Kainga type rooms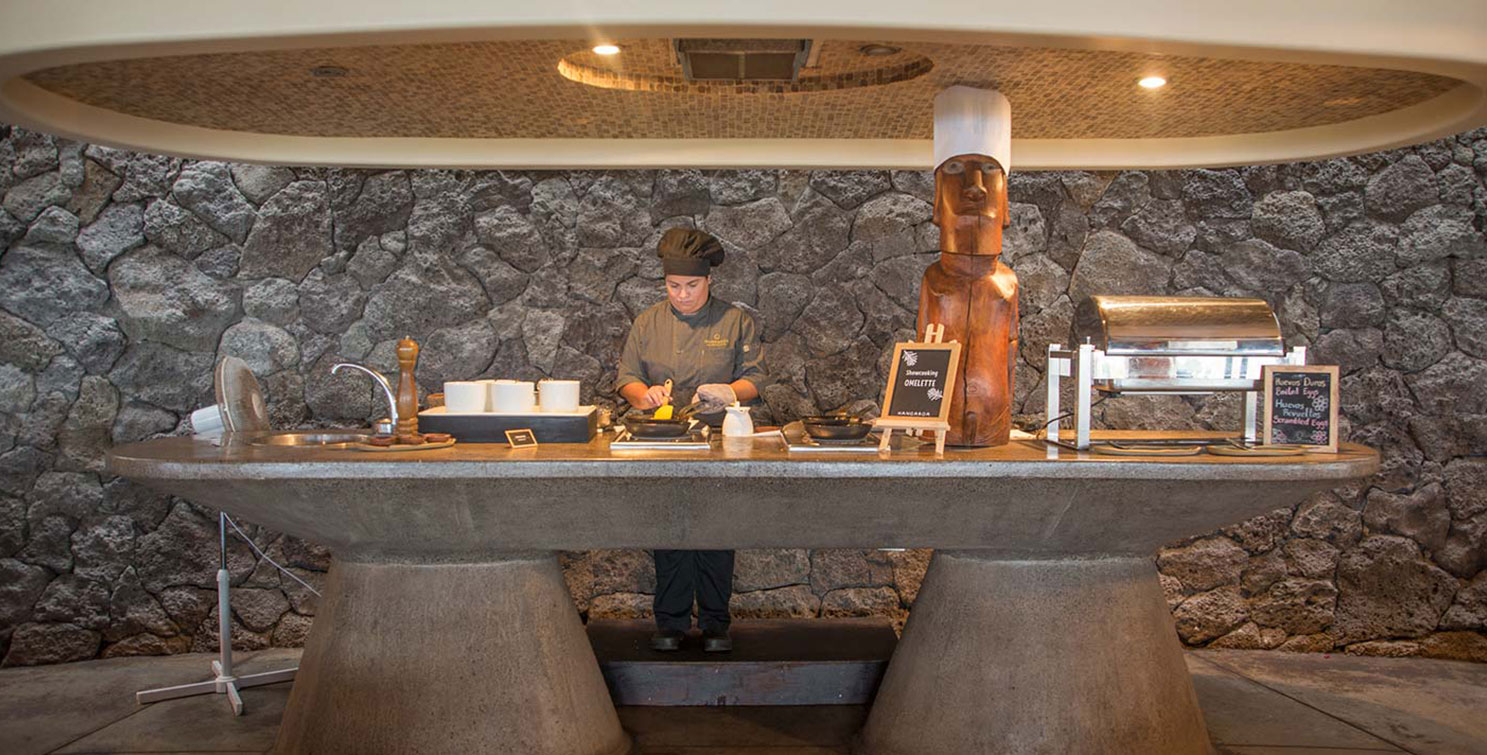 Omelet station at Hangaroa
Tonight and on successive nights you can try to photograph the southern night sky from the hotel property.
30 September (MONDAY) Day 2
After breakfast, you will have a private transfer from your hotel to Santiago Airport for your flight.
Arrival to Easter Island, welcome by your Hotel representative and be transferred to the hotel
Afternoon excursion " The Legend of the Bird Man"
The invitation on this day is to discover the place where the Bird Man competition (Tangata–manu) used to be celebrated.  It took place every year in the spring time on the cliffs of the Rano Kau volcano and the ceremonial village of Orongo.  We cannot forget that history will be present the entire time during our tour, one of the witnesses of that history is Rano Kau. This fresh water crater is one of the main volcanoes (not active) on our island and has a privileged view of the Pacific Ocean. We will be able to see the interior of the volcano. We will also visit the Orongo ceremonial village which is of great importance on a cultural and spiritual level given its relation with the Tangata Manu competition. The village has a total of 54 houses out of which most of them were restored in 1974.   Nowadays, this village has a path that will allow us a direct view to the restored houses along with its cave art and petroglyphs.  Next, we will head out towards Vinapu; this ceremonial center is one of the most important on the island and one of the most mysterious since its big slabs built out of basalt (volcanic rock) fit perfectly on the back of its ahu or platform, which impacts with its similarity to the ancient constructions of the Incan Empire in Cuzco.  In the image below you can see a group of statues set atop an ahu.
Day includes:
Breakfast at the Ritz-Carlton Hotel
Lunch  & dinner at Hotel in Easter Island
Included activities:
PM – Half-day excursion "The Bird Man Legend"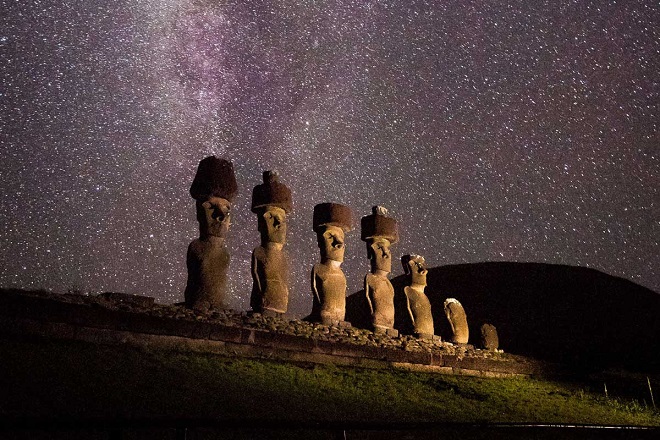 Milky Way as seen against a moai backdrop. Photo courtesy of Hangaroa Eco Village and Spa.
It is New Moon during this period so you should be able to consider setting up a photo like the one above against a dark sky background.
01 October (TUESDAY) Day 3
Our guide will pick you up at your hotel for your full day and start to understand and know the history and colonize process of the island and first inhabitants of the island. On this day you will visit; Ahu Akahanga, Rano Raraku, Ahu Tongariki, Ahu Te Pito Kura and Anakena beach (one possible site for eclipse observation if you wish to go there INDEPENDENTLY).  On this white sand beach, palm trees and crystal blue sea, stands one of the most beautiful ahu (platforms) on the island: the Nau Nau. Its seven moai have endings like tattoos and clothing. In Anakena was where the first inhabitants landed, according to legend, Hotu Matuía. Also here, stands, Ahu Ature Huki, apparently older, with a statue of anthropomorphic aspect.
Day includes:
Breakfast  at the Hotel
Picnic Lunch during tour
Included activities:
Full-day excursion "Arrival of Hotu Matua"
Breakfast, lunch and dinner
Eclipse briefing
02 October (WEDNESDAY) Day 4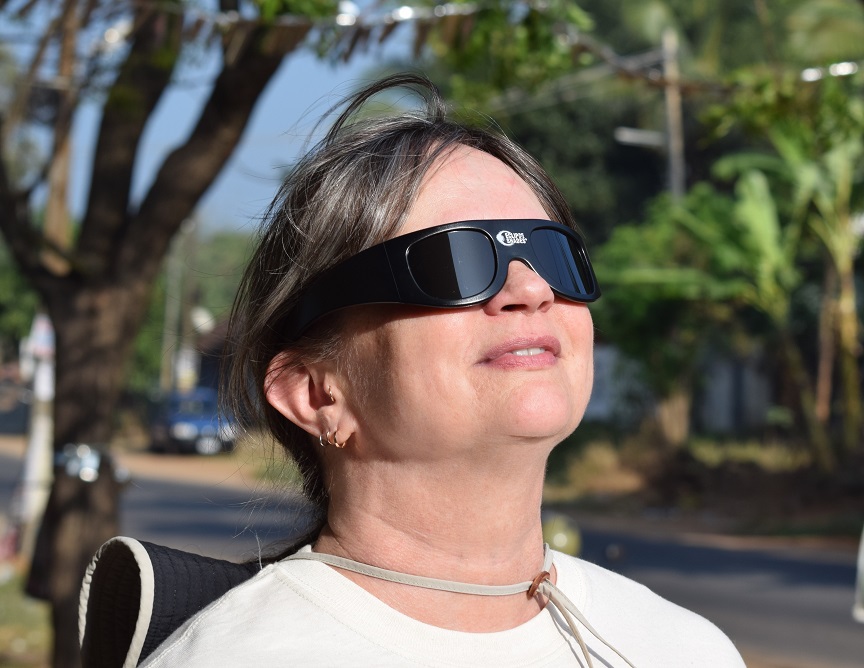 Safe watching of the entire eclipse must be done using a proper filter. Here Mia Lindholm uses 'partial eclipse glasses' to view properly. Debbie Moran photo.
ECLIPSE DAY! We will observe at the hotel where 6 minutes, 23 seconds of annularity can be seen from that location. However, if you wish to go INDEPENDENTLY (on your own) to another location where perhaps moai might be framed along side the Sun, annularity is reducted to 5 minutes 50 seconds.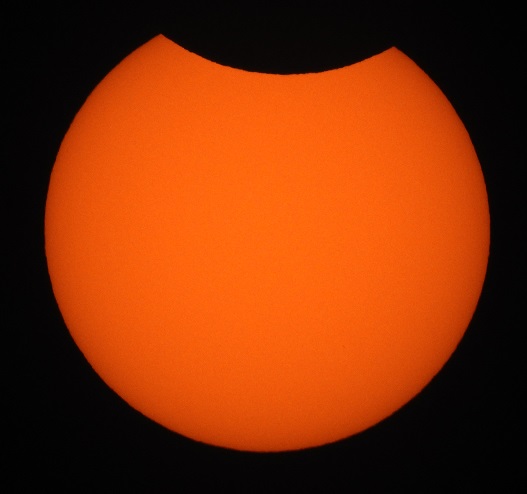 Bob Hammarberg took this impressive shot with a point and shoot camera in December 2019 as partial phases began.
Note that you will have complete access to your hotel room, bathroom, etc. at the hotel. If going to any other location facilities will not be available. Be aware that any moai sites are public and cannot be privately reserved. Therefore there will be other eclipse watchers at these locations. Since this is not a total eclipse there is no real advantage to being near a moai at that time since the sky will not be dark. A maximum of 94% of the Sun will be covered by the Moon during central eclipse.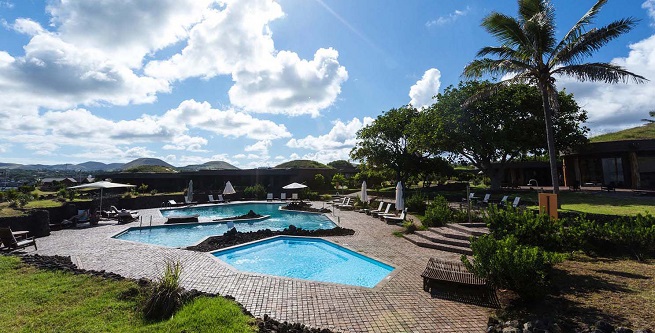 Hotel pool area. Courtesy Hangaroa Eco Village and Spa.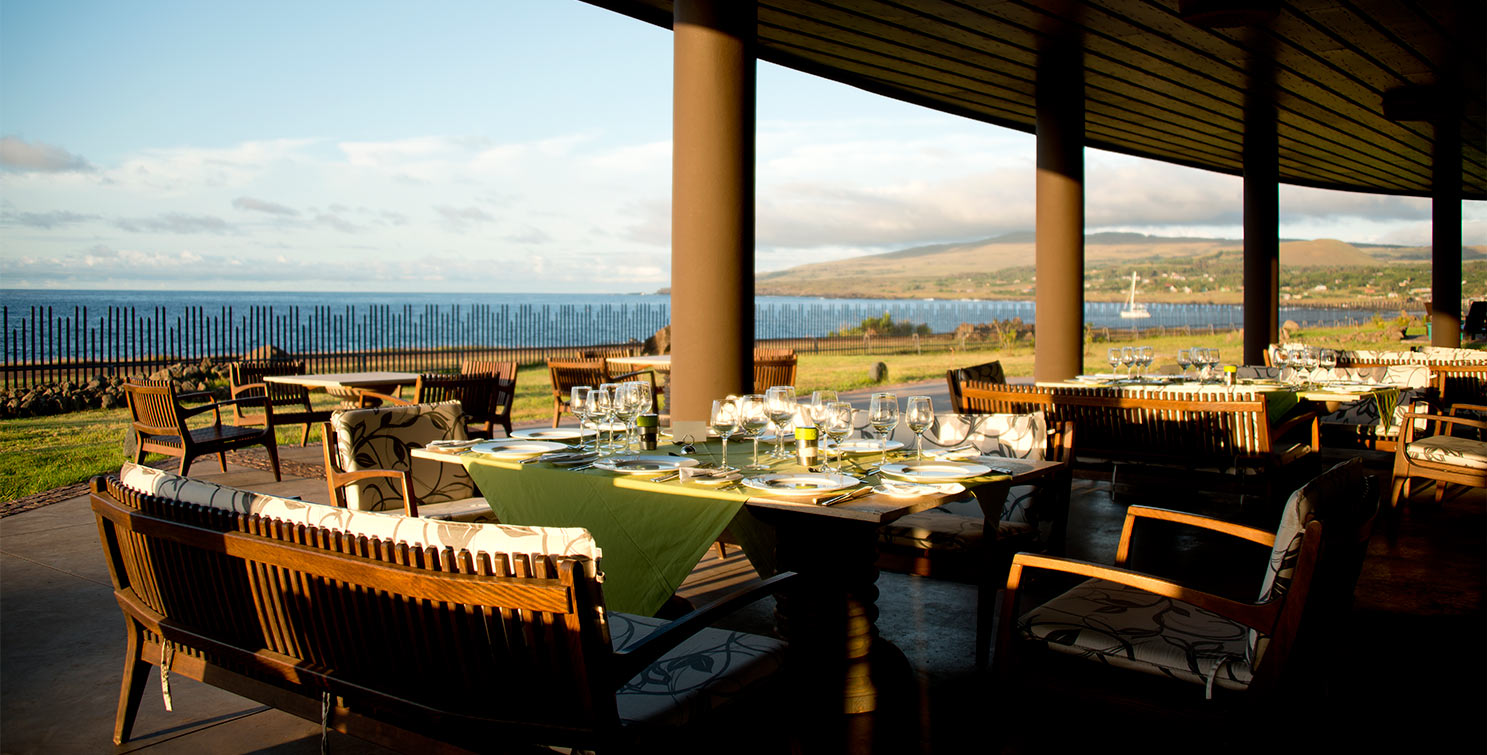 Outside eating area and sea view at Hangaroa
The eclipse begins at 11.23am local time with the Sun at an elevation of 56 degrees above the northeast; maximum eclipse occurs at 1.07pm where the Sun is at 66 degrees elevation above the north. The partial phase ends at 2.52pm with the Sun 55 degrees above the west-northwest horizon. You will have plenty of time to set up in the morning, check exposure times and focus and take test images of the Sun using your neutral density 5 filter. Remember, you cannot look at the Sun without a proper solar filter to protect your eyes.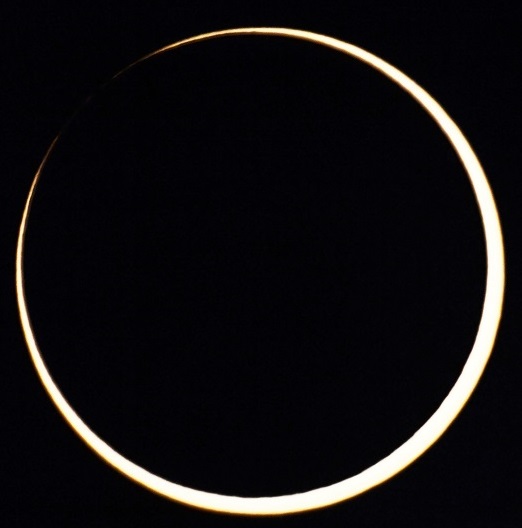 An image as the Moon's limb approaches that of the Sun at tangency. Paul Maley photo.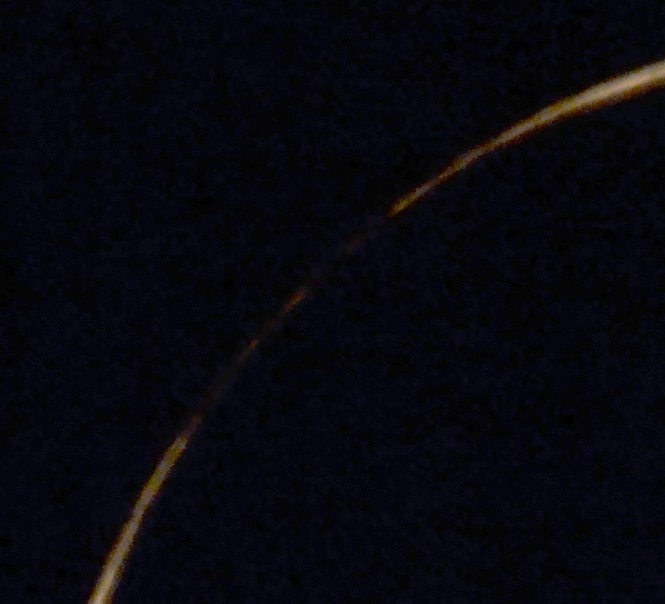 Enlarged image of the two limbs in contact. The gaps in the arc are caused by lunar mountains. When the valleys are deep enough you can capture Baily's Beads at each of two contact points–2nd contact (beginning of the annular phase) and 3rd contact (end of annular phase). Remember that the sky never gets fully dark so you must observe properly and with a safe filter at any time.  Although it is often possible to notice the sky lowering slightly in brightness as annularity approaches.  Paul Maley photo. 
Day includes:
Included activities:
Day at leisure for Eclipse to observe the entire eclipse process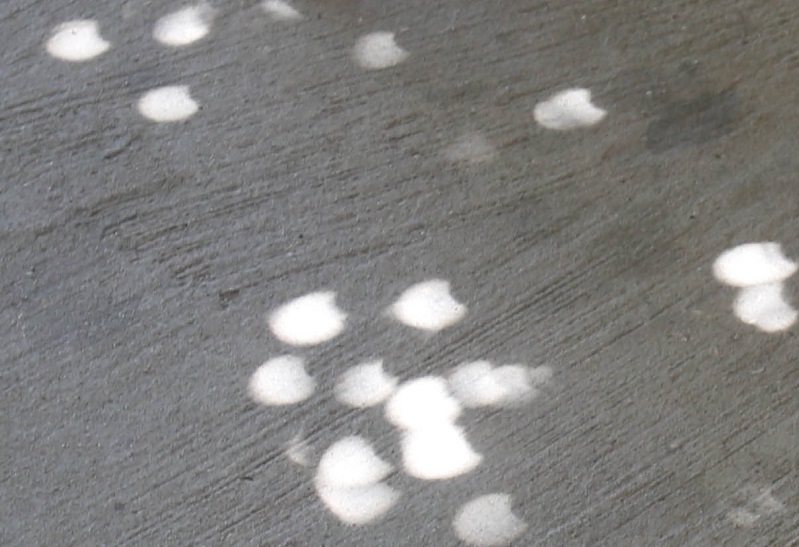 During the entire eclipse process you can attempt to project the partially eclipsed Sun onto the ground. Jan Hellemans photo.
03 October  (THURSDAY) Day 5
Departure from Hanga Roa, Chile
Morning tour that will introduce you to the connection on the ancient Rapa Nui people with the universe and starts. The excursion include ceremonial centers and tell the history about the last period of the moai construction. This excursion included: Ahu Akivi, Ana Te Pahu and Puna Pau.
At scheduled hour's transfer from your hotel to Mataveri Airport for your domestic flight back to Santiago.
You will be met and assisted when disembarking your flight, you will be escorted to baggage claim to transfer your luggage and assisted with check-in for your connecting flight.    Or continue to Santiago for an extension.
Day includes:
Breakfast
Private transfer to Mataveri Airport
Airport assistance with connecting flight
Day excludes:
Lunch & Dinner

Late check-out
Journey overview
Flights (The flights listed below are for reference only and will likely be changed as we get closer to the trip dates)
| | | | |
| --- | --- | --- | --- |
| Date | Details | Departure | Arrival |
| 30 Sep 24 | Comodoro Arturo Merino Benitez International Airport to Mataveri International Airport | 09:30 am | 01:00 pm |
| 3 Oct 24 | Mataveri International Airport to Comodoro Arturo Merino Benitez International Airport | 03:35 pm | 10:05 pm |
*Not included in program (quoted separately)
Transfers
| | | |
| --- | --- | --- |
| Date | Time | Details |
| 29 Sep 24 | |  Santiago International Airport to The Ritz Carlton Santiago Hotel |
| 30 Sep 24 | |  The Ritz Carlton Santiago to Santiago Airport |
| 30 Sep 24 | |  Mataveri Airport to Hanga Roa Eco Village & Spa |
| 3 Oct 24 | |  Hanga Roa Eco Village & Spa to Mataveri International Airport |
Accommodation
Date
Destination
Accommodation
Details
29 Sep 24 to 30 Sep 24
Las Condes
The Ritz-Carlton Santiago
8x Deluxe Room

12x Deluxe Room

Breakfast

30 Sep 24 to 3 Oct 24
Hanga Roa
Hangaroa Eco Village & Spa
8x Kainga

12x Kainga

Breakfast, Lunch and Dinner
Journey overview
WHAT IS INCLUDED:
Welcome and assistance service at Santiago airport
Accommodation inclusions as per the itinerary
All transport as mentioned on day of arrival and day of departure
Meals as shown in the daily itinerary
Entrance fee to National Parks where required
Eclipse briefing and solar eclipse observation
"Eclipse glasses" for observing the eclipse
No formal dress code: dress code is always 'eclipse casual'
WHAT IS NOT INCLUDED:
Airfare of any kind

—

you will need air to/from Santiago, Chile SCL to your home town; also air from Santiago to Easter island and back; Future Travel (Michelle Weller mweller@dt.com) can assist.

Domestic air tickets between Santiago, Chile and Easter Island- prices to be quoted separately around November 2023

Early check-in or late check-out charges (hotel check-in time is usually 300pm)
Wi-fi charges if not provided free by each hotel
Pre or post night accommodations, tours, and any transfers if you are not specifically informed that they are included
Pre or post hotel expenses including any hotel services, meals not included, incidental expenses, etc. for which payment is required prior to checkout.
Any video or still camera fee being charged at a venue
Passport, visa, personal expenses
Laundry services
Medical services and fees
Trip cancellation and delay, medical evacuation insurance which is mandatory (passengers are required to secure this from Future Travel or approve international insurance if you are a foreign national)
Drinks, tipping, excess baggage charges
Any item not specified in the WHAT IS INCLUDED section
REGISTRATION AND PAYMENT SCHEDULE
Click HERE to REGISTER. One registration form must be submitted for each person in your party.  ON THE REGISTRATION FORM IF YOU LIVE OUTSIDE THE USA ONLY, ENTER ANY 10 DIGIT PHONE NUMBER.
Finally, complete payment by one of the two methods shown below.
IMPORTANT: We cannot confirm you unless the registration form AND deposit are received.
Important: Please note the payment dates below that are driven by the contract with the vendor.
A deposit of $1750 ($1700 CASH DISCOUNT) is required per person upon registration. Cancellation fee is $500.00 per person up until January 1, 2022.
January 2, 2022: second deposit is due of $2000 per person ($1905 CASH DISCOUNT). Cancellation fee is $2000.00 per person up until June 30, 2023.
June 30, 2023: full payment for the tour is due in full. Cancellation fee is 100% per person after June 30, 2023.
All prices are quoted in US Dollars and the deposit can be paid in the following ways:
PAY BY CREDIT CARD:  Future Travel, Inc. – A Direct Travel Company does accept VISA, Master Card, American Express, and Discover. We will need you to view, complete the Credit Card Authorization form:
https://houstonwebsolutions.formstack.com/forms/ccauth_eclipse
      2. FOR CASH DISCOUNT PRICE, PAY BY ELECTRONIC CHECK: Use our secure electronic payment form. It is faster/safer than going through the regular mail. The web link is: 
https://houstonwebsolutions.formstack.com/forms/ach_auth_eclipse
IF YOU LIVE OUTSIDE THE UNITED STATES you may pay by one of these methods: 1) credit cards, 2) electronic check transfer from a bank in the United States, or 3) wire transfer. A USD75.00 fee is charged if a wire transfer is used for each payment.  No checks or money orders can be accepted! Please contact mweller@dt.com  to make arrangements.
PASSENGER HEALTH AND RESPONSIBILITY
Passengers when signing up for the tour confirms that
that they are in good health and well able to undertake the trip and the contemplated activities;

that they will effect travel insurance sufficient to cover any limitation of liability against them

that they accept the risk that they may suffer from travel

that they have disclosed any physical or mental disability requiring special attention (including the use of a wheelchair) or treatment at the time when the reservation for thetrip was made;

that no passenger will be permitted to embark or continue on a voyage while their mental or physical condition is, in the opinion of any representative of Future Travel, such as to render them incapable of caring for themselves, or whereby they become objectionable to other passengers, or they become a hazard to themselves or others. Neither Future Travel nor our ground operator will not be responsible for any expenses resulting in such persons being precluded from completing the trip;

that the passenger accepts that a medical certificate certifying fitness for travel may be required at the carrier's request and if any passenger has had surgery less than twelve (12) months prior to sailing that passenger must submit a letter from a qualified physician stating that he or she is fit to travel and the carrier reserves the right to deny passage if a passenger requires care and attention which the carrier cannot adequately provide and this decision may be made by the carrier in its sole discretion;

The carrier reserves the right to refuse or deny participation in activities or programs either aboard the Ship or off Ship which are sponsored or promoted by the carrier to any passenger who has a past or present medical condition that may present risks if the passenger participates in those activities and any decision in this respect may be made by the carrier in its sole discretion;

Any charges incurred by passengers for medical reasons including but not limited to physicians, surgeons, hospitals, off Ship accommodation, medication, diagnostic facilities, air ambulance evacuation or ground ambulance shall be the sole responsibility of the passenger;

for the safety and comfort of passengers smoking is not permitted on the tour

and the passenger agrees to indemnify the carrier from and against all claims, costs, charges, fines or penalties arising as a result of any claim made against the carrier in this respect.
FUTURE TRAVEL TERMS AND CONDITIONS
ANY TOUR MEMBER WHO ENGAGES IN EXTREMELY RUDE/OFFENSIVE/REPETITIVE/ILLEGAL BEHAVIOR OR INTERFERES WITH TOUR REPRESENTATIVES ABILITY TO FUNCTION WILL BE EJECTED FROM THE TOUR ON THE SPOT AND WILL BE BANNED FROM PARTICIPATING IN FUTURE TOURS. SUCH BEHAVIOR IS NOT PERMITTED AT ANY TIME.
Participant signature on the registration form will signify your agreement with the following terms and conditions.
In consideration for providing tour operating and planning services for 2024 Annular Eclipse Tour Easter Island ("Program"), Future Travel, Inc. d/b/a Direct Travel and tour participant, on behalf of himself or herself and all other persons traveling under this Program Participant Agreement (including any accompanying persons for whom the Program was purchased), ("Participant") agree to the following terms and conditions outlined below for this Program Participant Agreement (the "Agreement"). As used below, the term "Tour Operator" refers to Future Travel, Inc. d/b/a Direct Travel and any companies that control, are controlled by or are under common control with Future Travel, Inc. d/b/a Direct Travel, and the term "Ground Operator" refers to the individual(s) or service provider(s) contracted to deliver elements of the Program based on experience and expertise at destination.
PROGRAM ITINERARY: The itinerary on the Program web page and any other materials are hereby included in this agreement. However, Tour Operator, reserves the right to make changes to the itinerary as explained further in this Agreement.  For more information, please call (281) 480-1988 or (800) 929-9004 or email eclipse@dt.com.
PROGRAM PRICE:Prices are based on two (2) persons sharing accommodations. There is additional cost for a single accommodation (single supplement) or an extra person in the room if either of these features is available.  Prices may be subject to increase as described in this Agreement and due under terms and conditions relating to third-party service providers, including but not limited to airlines, hotels and other lodging providers, local hosts, sightseeing tour operators, bus lines, car rental companies, driving services, restaurants, and providers of entertainment (the "third-party suppliers").
DEPOSIT AND FINAL PAYMENT REQUIREMENTS:If Participant signs up before the dates posted on the Program web page, a deposit in the amount stated on the webpage is due along with the signed reservation form in order to secure the reservation, which is subject to availability at the time Tour Operator receives the form and deposit. Dates and deposit amounts vary depending upon the specific Program. Failure to meet those deposit dates will result in cancellation of the reservation and loss of deposit as defined under the cancellation penalties portion of the web page. If the Program is sold out at the time Tour Operator receives the reservation form and deposit, Tour Operator will contact the Participant and ask if the Participant wishes to be added to a waiting list. Tour Operator reserves the right to accept or decline any prospective Participant for any nondiscriminatory reason in its sole discretion. All reservations must be paid in full by the date specified on the Program Spaces not paid in full by that date are subject to cancellation without refund and will be charged a $250 late-payment fee.  Participant agrees it will not initiate a credit card dispute, such as a charge back, except in the instance of actual fraud.  In the event Tour Operator must respond and settle a credit card dispute, absent an incident of actual fraud, Tour Operator reserves the right to charge for any related expenses, including reasonable attorneys' fees and interest charges at the highest rate allowed by law, which Participant will be responsible for. Participant agrees to work with Tour Operator to find resolution to the best of its ability, prior to initiating any charge backs.
PROGRAM CANCELLATION BY PARTICIPANT:  Due to the substantial costs of operation associated with the travel management of the Program and loss of anticipated revenue, in the event the Participant cancels, Tour Operator will retain the total of payments, which Participant agrees represents properly due liquidated damages and not a penalty. However, if Participant finds a replacement traveler or any other members of the traveling party, Tour Operator will instead charge a change fee of $250.00 as specified on the Program Tour Operator must receive the written (email is sufficient) notice of the change and a signed/scanned reservation form from the new participant at least ninety (90) days prior to the date of departure in order to be eligible for a partial refund in accordance with the rules specified on each specific tour page.  If Tour Operator receives notice of the change less than ninety (90) days prior to the departure date, Tour Operator will not provide a refund. There is no refund for unused portions of the Program once the Program has commenced. The Participant is solely responsible for costs incurred due to missed, canceled or delayed transportation. Participant's decision not to participate on the Program due to State Department/other US or foreign government warnings, fear of travel, illness, or any other reason will be deemed a cancellation.  If a flight or other delay for any reason prevents the Participant from joining the Program on the departure date and time, the Participant will be considered a no-show, and Tour Operator will not provide a full or partial refund or credit toward a future Program, but the Participant may join the Program late at his or her expense. There are no exceptions to the cancellation policies.
OTHER CHANGES TO TRAVEL ARRANGEMENTS:There will be a change fee of $75.00 per Participant charged for any change in travel arrangements made after ticketing and at least thirty (30) days prior to the date of departure in addition to charges incurred by third-party suppliers. No changes will be allowed within thirty (30) days of the departure date.
TRAVEL PROTECTION PLAN (INSURANCE): Travel Protection Plan coverage is required for all participants. Such protection must include sufficient coverage (as defined by Tour Operator) for medical expenses, potential medical emergency evacuation if required to receive medical care due to location; and is highly recommended to include trip cancellation coverage. Tour Operator will provide insurance information prior to processing deposit. However, any questions whatsoever regarding Travel Protection Plan coverage should be addressed directly to the issuing Travel Protection Plan company.  Tour Operator offers Allianz Global Assistance Travel Protection Plan coverage to United States and Canadian residents and will provide costs associated with insuring the trip if Participant elects to purchase Allianz Global Assistance, both at time of deposit and final payment. If Participant is a resident to a country other than the United States or Canada, Participant will be obligated to purchase insurance in his or her home country. Participant will be required to purchase this insurance or produce a compatible coverage policy approved by Tour Operator.
PROGRAM PRICE INCREASES:  In the event that the cost of any aspect of the Program, including but not limited to currency fluctuations and the cost of third-party supplier services, should incur an unexpected cost increase, Tour Operator is obligated to pass on these increases to Participant. While rare, they can occur and are beyond the control of Tour Operator.  If an increase occurs, Tour Operator will provide the amount and reason for such an increase to Participant, and Participant is required to provide payment by the date due per communication from Tour Operator or cancel Program in accordance with Section 4 of this Agreement.
PROGRAM AIRFARES:  Programs are generally based on land or sea only, and do not include airfare. Airline arrangements are usually optional and not included in the Program price unless specifically stated. In the event airline arrangements are included, specific terms and conditions applicable to the ticketing carrier (airline) will apply. Terms and conditions are subject to the specific airlines' terms and policies in place which are governed solely by the airlines. Airlines and airfares included in the Program are subject to change without notice.
ECLIPSE (or other astronomical event) VIEWING: Tour Operator has no control over any astronomical events. While the Tour Operator will use best reasonable efforts to arrange for the viewing, there is no guarantee that there will not be cloud cover, or that there will not be another reason beyond Tour Operator's control or influence over other factors that affect the Participant's ability to view an astronomical event. Therefore, Tour Operator will not be liable or responsible for any loss, damage, cost, or expense of any kind in the event that such viewing is not possible for any reason including but not limited to any act of God, war, fire, collision, directions of underwriters, arrest, order or restraint by any government agency or official acting under color of authority, acts of terrorism, labor disturbances or disputes, civil commotion, weather conditions and considerations of the safety of the ground transportation being used, (for which the Ground Operator shall be the sole judge),  breakdowns of or damage to the transport vehicle, requisition of the vehicle by governmental authority, illness, death of a family member or other cause or circumstance beyond the control of Tour Operator.
PROGRAM CHANGES OR CANCELLATION BY THIRD-PARTY SUPPLIER, PROGRAM, OR GROUND OPERATOR: The Ground Operator in its sole discretion may cancel, advance, or postpone any part of the Program, change the itinerary, and may (but is not obligated to) substitute another transport vehicle, and Tour Operator will not be liable for any loss whatsoever to passengers by reason of such cancellation, advancement, postponement, or substitution. If the Program is fully or partially canceled by the Ground Operator, the Tour Operator will provide a proportional refund in the event the Tour Operator receives a refund from the Ground Operator. Under such circumstances, Tour Operator shall have no further liability for damages or compensation of any kind, and Participant understands that any refund is contingent on Tour Operator receiving a refund from Ground Operator. Participant agrees that the availability of any refund from the travel protection plan and/or other travel products (airfare, lodging, transfers), even if purchased in conjunction with the Program, will be determined in accordance with the applicable third-party supplier cancellation policies for such other products or services.
MINIMUM PARTICIPATION. Tour Operator reserves the right to cancel the Program for inadequate participation, in which case the Tour Operator will provide a full refund minus any non-refundable portion, or a full travel credit of the Program price, at the Tour Operator's sole discretion, and shall have no further liability for damages or compensation of any kind. Notification regarding cancellation due to minimum participation will be provided as soon as reasonably possible, but typically at least one hundred (120) days prior to departure date. Sightseeing is subject to change due to weather conditions, accessibility, border crossing limitations, and hours of operation.
GROUND OPERATOR'S PASSAGE CONTRACT: The Ground Operator's Passage Contract shall govern the terms and conditions of such services. You may request a copy of the Ground Operator's Passage Contract, which constitutes the agreement between the Ground Operator and Participant. The Passage Contract provides that the Ground Operator may exercise its rights in a variety of matters. The Tour Operator shall have no liability for a full or partial refund of the tour fare, or for any lodging or transportation expenses, as a result of the Ground Operator's exercise of its contractual rights.
PASSPORTS AND VISAS: International travel requires a passport valid six (6) months beyond the intended return travel date. In many cases, Participant will also need to have multiple consecutive blank visa pages within his or her passport, depending on the countries involved in the itinerary. Many countries also require that visas be obtained prior to travel. Please speak with Tour Operator if unsure about the visa requirements for the travel destination, but Participant is solely responsible for complying with all passport and visa requirements. Citizens of other countries must make their nationalities known to Tour Operator at registration and are responsible for obtaining proper documentation to enter the United States and any other countries involved in the Program.
MEDICAL CERTIFICATION/UNAVAILABILITY AND PASSENGERS REQUIRING SPECIAL ASSISTANCE: By booking the Program, Participant certifies and represents that: (a) Participant is in good general health and physically capable of performing all activities in the Program; (b) Participant is capable of caring for himself/herself during any expedition and will not impede the progress of the trip or enjoyment of other Program participants; (c) Participant understands that any expedition may take him or her far from the nearest viable medical facility and the availability of medical care may be limited, delayed or unavailable; and (d) all expedition members must be self-sufficient; and (e) Participant has not been recently treated for, or is aware of, any physical, mental or other condition or disability, including but not limited to COVID-19 that would create a hazard to himself/herself or other Program Transport may be refused to any Participant whose state of health or physical conditions renders the Participant, in the opinion of the Tour or Ground Operator, unfit.  Participant must notify Tour Operator in writing at the time of booking of any disability or other medical or physical condition that may require special assistance or treatment during the Program. Participant's failure to do so will release Tour Operator from any liability for loss, damages or other compensation arising from or related in any way to such disability or condition. Tour Operator and Ground Operator(s) reserve the right to require that any Participant who is not self-sufficient must travel with a companion who takes responsibility for any assistance needed during the Program and in case of emergency.  Participant understands that if he or she fraudulently represents himself/herself as fit for the Program, Participant may be removed prior to or during the Program at his or her own expense. Participant agrees to indemnify and reimburse Tour Operator and its Ground Operator(s) in the event that these entities by their sole discretion, advance to Participant the cost of emergency medical care, including medical evacuation and/or medical care provided ashore, as well as transportation and/or lodging in connection therewith. Tour Operator shall have no responsibility to advance any such costs.
CHILDREN: Programs are formulated specifically for adults, and any children under the age of 18 must be accepted on a special approval basis in writing. Any approved children must be accompanied and supervised by parents or guardians, who will bear ultimate responsibility for their actions, and are expected to display proper decorum while the group is together, especially at the observation site and on all transport vehicles.
LUGGAGE: Each Participant may bring no more than (2) pieces of luggage on the Program unless specified otherwise in the Program It is recommended that Participants do not bring expensive jewelry or like possessions. Telescopes and observation equipment should be securely packed; insurance protection for high-value items (such as cameras, computers, etc.) is highly recommended. Pets, dangerous or illegal items such as weapons, explosives, combustible substances, non-prescription controlled substances, or illegal drugs may not be brought on the Program. Any such items shall be surrendered to security at embarkation and may be disposed of at the sole discretion of the Ground Operator. Tour Operator assumes no responsibility for checked or carry-on luggage. IF PARTICIPANT CHOOSES TO BRING A TELESCOPE OR ANY UNUSUAL EQUIPMENT, PARTICIPANT MUST PROVIDE A LIST OF SUCH ITEMS TO TOUR OPERATOR. TOUR OPERATOR WILL PROVIDE INSTRUCTIONS RELATED TO CUSTOMS FORMALITIES.
TRANSFERS:When transfers between hotels and airports are included in the Program price, transportation of participants and their baggage is provided only when participant(s) travel with the rest of the group (or language in the tour terms indicates that participant(s) can arrive at any time). If the participant(s) schedule is different from this, private transfers are available at extra cost and must be requested in writing. Carry-on bags must be carried by porterage may be included after passing through the customs area upon arrival if so indicated in the inclusions. Porterage is generally not included unless otherwise stated in the individual itinerary inclusions. In some situations, porterage may not be possible or available.
TAXES: The Program price paid includes all taxes Tour Operator has knowledge of for included services such as lodging, transportation, meals, entry fees, permits, and any other services delivered as part of the Any newly enacted taxes imposed by local authorities' unknown to Tour Operator as well as any applicable airport departure taxes will have to be collected from each participant during the Program.
GRATUITIES: There are generally two types of applicable gratuities which are defined as: 1) Gratuity associated with Tour Operator provided services such as group meals; porterage; facilities; etc.; and 2) Gratuity which may be payable to Tour Director(s)/local guide(s) and/or driver(s) at participant' sole discretion.  The Program price paid generally includes type 1 gratuities, while type 2 gratuities are at the participant' expense.  Tour Operator makes every effort to advise participant ahead of time about type 2 gratuities which are customary in many cultures.
MISCELLANEOUS ADDITIONAL COSTS: There are other associated costs that are not included in the Program price including but not limited to: cost of passports or visas, excess luggage, meals and beverages not specified in the itinerary, phone calls, voluntary changes in flights or other methods of transport, laundry, insurance costs, and items or services of a personal nature not specified in the cruise itinerary, and any additional gratuities.
ROOMMATES/CABINMATES: If Participant is traveling alone, but wishes to share occupancy of a room/cabin, Tour Operator will use reasonable efforts to match same-gender roommates, along with smoking/non-smoking preferences.   If Tour Operator cannot find a roommate for any reason, Tour Operator will advise Participant and charge the single supplement fee. Participant may wish to look for a roommate from a local astronomical society, family or friends. Participant's decision to accept a roommate for the Program is at his or her own risk. Tour Operator is not responsible or liable for any and all claims or cause of action arising out of or in connection with Participant's acceptance or selection of a roommate for the Program, including, without limitation, any injury or damage to persons or property which may be caused, directly or indirectly, in whole or in part, from such request or selection.
SMOKING: Smoking is prohibited on Program buses, the astronomical event observation site, and in briefing and lecture rooms as well as in hotel rooms and any other places where the group is congregating.
INFORMATION: The information Tour Operator publishes on the Program Website is believed to be accurate and reliable. Tour Operator makes no representations or warranties regarding such information or any information provided by a third party. Unless expressly stated in writing, the Tour Operator does not endorse products or services offered by any company or person identified in brochures, collateral materials or Websites, nor is the Tour Operator responsible for any content published by a third party.
DISCLAIMER AND LIMITATION OF LIABILITY: In no event will Tour Operator be liable for any injury, loss, claim, damage, or any special, punitive, exemplary, direct, indirect, incidental, or consequential damages of any kind, whether based in contract, tort, strict liability, or otherwise, that arise out of or are in any way connected with the Program even if advised of the possibility of such damages. In no event will Tour Operator's aggregate liability exceed the total Program price set forth in the itinerary for any occurrence including, but not limited to: (1) injury, death or delay of Participant, or loss, damage or delay of or to Participant's luggage or other property, which may be caused, directly or indirectly, in whole or in part, from participation in the Program including, without limitation, Participant's use of or participation in any excursion, on concession or athletic or recreational activity; (2) Participant's request for or selection of a roommate/cabin mate for the Program; (3) emotional distress, mental suffering or anguish or psychological injury of any kind under any circumstances (except when such damages were directly caused by Tour Operator's negligence and resulted from the same Participant sustaining actual physical injury, or having been at risk of actual physical injury, or when such damages are held to have been intentionally inflicted by Tour Operator); (4) any change in scheduled Program events and/or celebrity appearances; (5) the Ground Operators' exercise of its contractual rights; or (6) or (if Participant is entering into this Agreement on behalf of itself and its group, party, or traveling companions) any claim arising out of their assertion that Participant was not authorized to agree on their behalf.  Participant further agrees that Tour Operator shall not be held vicariously liable for the intentional or negligent acts of any persons not employed or engaged by Tour Operator, nor for any intentional or negligent acts of Tour Operator's employees committed while off duty or outside the course and scope of their employment. In the event that a court of competent jurisdiction holds any of the foregoing to be unenforceable, then Tour Operator's liability shall be limited to the maximum extent permitted by law. In addition to the restrictions and exemptions from liability provided in these terms and conditions, Tour Operator shall have the full benefit of any applicable laws providing for limitation and exoneration from liability, and nothing contained herein is intended to operate to limit or deprive Tour Operator of any such statutory limitation of or exoneration from liability.
FORCE MAJEURE: Tour Operator assumes no responsibility for any personal injury, property damage, or other loss, accident, delay, inconvenience, or irregularity which may be occasioned by reason of any matter beyond Tour Operator control including but not limited to a delay or cancellation that causes Participant(s) to miss all or any portion of the Program, acts of God, acts of government, acts by controlling or regulating bodies, war, terrorist acts, riots, disaster, fires, civil disturbance, disease epidemics, public utility failure, restraints or delays affecting carriers or inability in obtaining suppliers or adequate materials, hurricanes, earthquakes, weather extremes, strikes/labor disputes/labor unrest, or any other comparable condition beyond the reasonable control of the Tour Operator. has no special knowledge regarding the financial condition of third-party suppliers, unsafe conditions, health hazards, weather hazards, or climate extremes at locations to which Participant(s) may travel. Participant understands that health care standards, facilities, and services abroad may be different or even inadequate for treating health conditions.  It is the responsibility of each Participant to obtain health and medical certificates, inoculations and vaccinations that may be required.
DISPUTES: Except where prohibited by law, Participant and all members of Participant's party expressly agree that: (1) any and all disputes, claims and causes of action against Tour Operator arising out of or connected with the Program shall be resolved individually, without resort to any form of class action, and exclusively by the appropriate court located in Houston, Texas, U.S.A. to the exclusion of the courts of any other state, territory or country; (2) Participant waives any venue or other objection that Participant may have to any such action or proceeding being brought in any court located in Houston, Texas; (3) any and all claims, judgments and awards shall be limited to actual out-of-pocket costs incurred, including costs associated with the Program, but in no event attorneys' fees; and (4) Participant waives the right to claim any other damages whatsoever, including, but not limited to, punitive, special, consequential, direct or indirect damages. All issues and questions concerning the construction, validity, interpretation and enforceability of these terms and conditions shall be governed by and construed in accordance with the laws of the State of Texas, without giving effect to any choice of law or conflict of law rules which would cause the application of the laws of any jurisdiction other than the State of Texas. Participant agrees to present any claims against Tour Operator within 30 days after the Program ends and to file within one year of the incident, and Participant acknowledges that this expressly limits the applicable statute of limitations to one year. NEITHER PARTY MAY INITIATE OR BE PART OF A CLASS ACTION LAWSUIT OR LEGAL PROCEEDING AGAINST THE OTHER.
INDEMNIFICATION: Participant shall indemnify, defend and hold harmless Tour Operator and its officers, employees, directors, third-party suppliers and agents, in their individual capacities or otherwise, from and against any losses arising out of: (i) Participant's negligence; (ii) Participant's failure to comply with applicable law; or (iii) Participant's failure to comply with this Agreement.
ASSUMPTION OF RISK AND DISCHARGE: Participant acknowledges that he or she has voluntarily applied for the Program. Participant understands that he or she may travel to countries and areas that are inherently risky. Participant agrees to assume all risks associated with the Program including forces of nature, terrorism, civil unrest, war, accidents, and transportation including land vehicles, boats, and aircraft that are not operated and maintained to the standards found in North America, and Participant hereby assumes such risks. Participant also assumes risks associated with altitude, illness, disease, physical exertion, and alcohol consumption, knowing that access to evacuation and/or suitable medical supplies and support may not be available. Participant further assumes full responsibility for personal injury to himself or herself and further releases and discharges Program and its affiliates, managers, agents, representatives and assigns, for injury, loss, delay, or damage, all claims or causes of action related to Participant or Participant's property arising out of Participant's use of or presence upon the facilities arranged by or of any activities arranged by Program whether caused by the negligent or intentional acts or omissions of Participant or other third parties. Participant agrees that in the event he or she shall require medical care or treatment, Participant will be financially responsible for any costs incurred as a result of such care or treatment. Participant acknowledges that all activities associated with the Program, however conducted, including airline flights and ground transportation, are operated by independent contractors and third parties. Tour Operator neither supervises nor controls their actions, nor makes any representation, either expressed or implied, as to their suitability and safety. These services are provided only as a convenience for Participant, and Participant is choosing to use the services.
MISCELLANEOUS: Tour Operator may assign its rights and/or delegate all or a portion of its duties under this Agreement to any third party at any time without the consent or permission of any parties to this Agreement.  If there is a conflict between this Agreement and one or more terms contained in another agreement between Participant and Tour Operator, this Agreement will control. No alteration, cancellation, variation of, or addition to this Agreement shall be of any force or effect unless reduced to writing and signed by Tour Operator. If there is a conflict between any part of this Agreement and any present or future law, the part that is affected shall be curtailed only to the extent necessary to bring it within the requirements of that law.  The Parties agree and intend an electronic or facsimile version of this Agreement shall be considered an original if signed by both Parties via an authorized digitally scanned signature or original signature.
BY SUBMITTING A REGISTRATION FORM HERE, I CERTIFY THAT I HAVE DIGITALLY SIGNED THIS AGREEMENT, AND I UNDERSTAND AND ACCEPT THE FOLLOWING TERMS AND CONDITIONS, INCLUDING BUT NOT LIMITED TO ALL REFUND AND CANCELLATION POLICIES.