2023 "RING OF FIRE" SOLAR ECLIPSE IN THE SOUTHWEST USA
WELCOME TO OUR 50TH SOLAR ECLIPSE TRIP!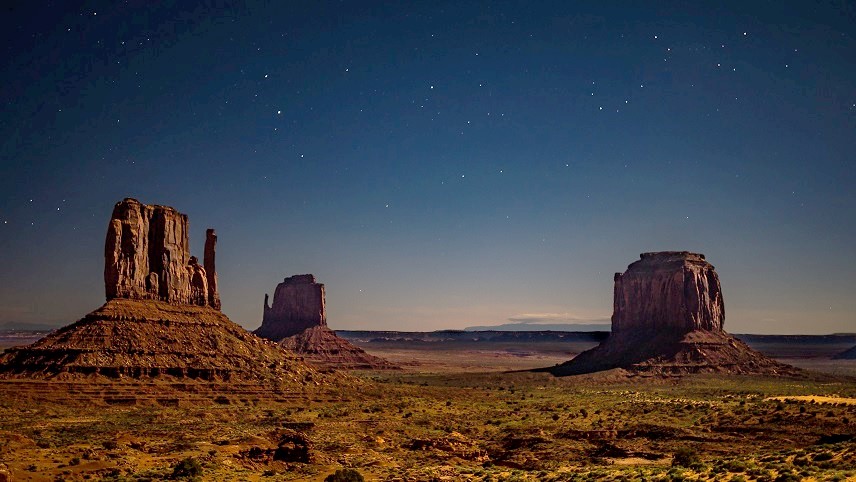 Monument Valley at night during a New Moon period just like we will experience on our trip.
OCTOBER 11-17, 2023
===================================================================================================================
STATUS as of June 5, 2022: some space is still available
===================================================================================================================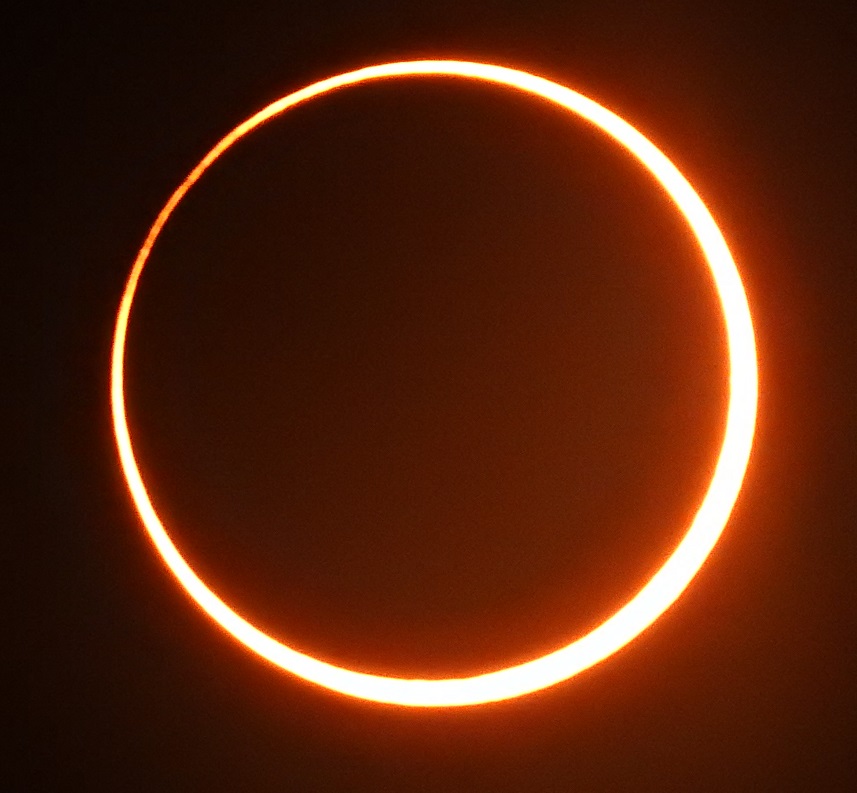 A "ring of fire eclipse" (annular or ring eclipse) as seen on our 2019 expedition to India. Nikon Coolpix P900, ND5 filter, f/5.6, 1/30 sec, ISO 1400.  Certain "point and shoot" camera types such as the Nikon Coolpix equipped with a neutral density 5 solar filter in front of the lens can capture great views as in this Bob Hammarberg photo.
NEED A ROOMMATE?

   CONTACT  eclipse@dt.com AND WE WILL TRY TO MATCH YOU WITH SOMEONE OF THE SAME GENDER.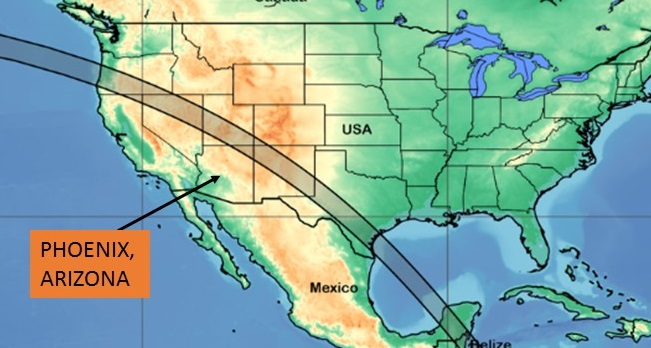 The path of "ring of fire" annular solar eclipse is shown in gray. The green areas are those most likely to experience CLOUDS. The light colors identify the places most likely to see clear skies.  Our trip should be in a very GOOD WEATHER ZONE!  Map courtesy J.Anderson.
================================================================================
Join

Paul D. Maley

of the NASA Johnson Space Center Astronomical Society on what will be his 82nd trip to see an eclipse of the Sun!  If the weather in the above zone  cooperates, you should be able to see the Moon inside the disc of the Sun for about 

4 minutes 46 seconds

from our vantage point*.  Some 95% of the Sun will be completely blocked by the Moon.  The trip will be by motor coach beginning from and ending at Phoenix Sky Harbor Airport in Phoenix, Arizona USA. Participants are asked to make their own way to Phoenix (airport code PHX) arriving Tuesday October 10 to be sure they do not miss the motor coach departure set for Wednesday October 11 and plan a return flight no earlier than 1:00pm on Tuesday October 17.  However if you are in easy driving range of Phoenix you could arrive on the morning of October 11.
Are you new to eclipse watching and not sure which company has experience?

Ring of Fire Expeditions has the longest track record of eclipse expeditions in the US–almost 50 years.

To see the results of some past trips, go to our main page 

www.eclipsetours.com

and look at the horizontal bar showing various options. Click on PAST TRIPS and check out the pages of your choice.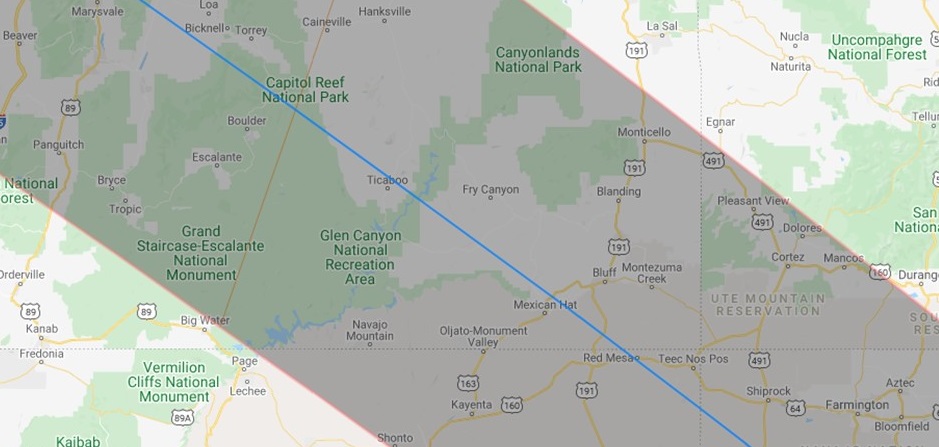 The above small cutout map shows some of many roads that can be taken across the path of this eclipse as it passes from Oregon to Nevada to Utah to Arizona. Although passing also over New Mexico and Texas those locations are not within our tour range. Inside the shaded area you will be able to see the complete annular eclipse but the duration of annularity will shorten as you approach the edges. Outside this area the eclipse will be a partial eclipse. However, there are many locations where there are few services and if your vehicle breaks down this could present a problem.
*NOTE: THERE IS NO WAY TO GUARANTEE CLEAR SKIES AT ANY ECLIPSE VENUE BUT WE DO OUR BEST TO MAXIMIZE YOUR CHANCES. WEATHER PROSPECTS FOR THIS PART OF THE ECLIPSE TRACK LOOK QUITE PROMISING!
THE WEATHER ADVANTAGE OF OUR OBSERVING AREA
The graphic below provides insight into the predicted weather on eclipse day due to averaging observations made over a 19 year period. We will be observing from an area accessible from the Utah  and Arizona region depending on actual conditions.  This places us in the lowest cloud area which should be 30% or less.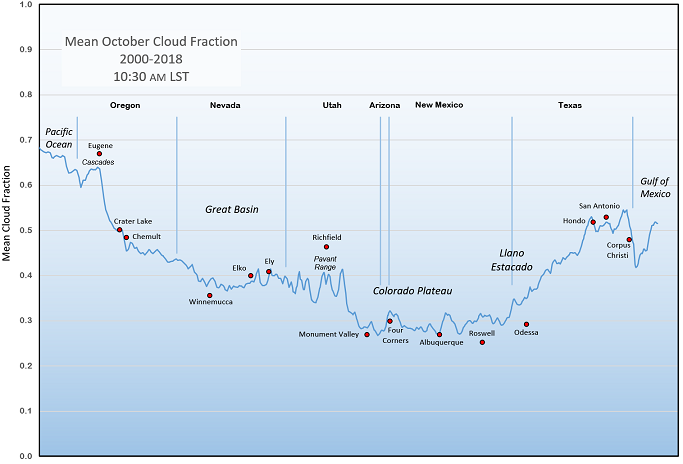 Predicted cloud cover over the entire path through the USA. Courtesy Jay Anderson.
===========================================================================================================================
ITINERARY
This is the itinerary as of October 25, 2021 subject to change.  The descriptions we have been provided by the vendors for various highlights may experience modifications over which we have no control. In addition unforeseen situations involving road access could cause deviations or delays along the way causing alteration of visits.)  The motor coach has an emergency bathroom onboard but bathroom stops are planned. Also due to the remote areas it is possible to cater most, but not all, meals as shown below.
WATER: All participants should plan to bring a refillable water bottle with them or plan to purchase water along the way. 
How to dress: temperatures can get into the 90 deg F/32 C range in Phoenix but can also drop below freezing 32 deg F/0 deg. C in northern Arizona, so you should be prepared for a large range of temperatures. In the Sedona area 50 deg/10 deg C – 80 deg / 27  deg C is common.
[B, L, D indicate breakfast, lunch and dinner]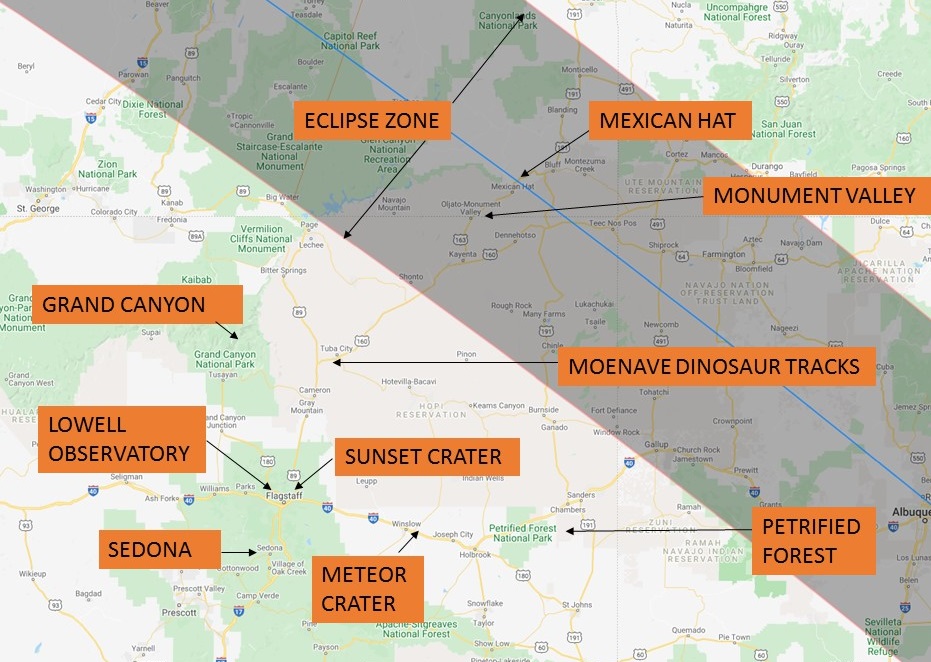 Location of trip features
Day 1 – 11 Oct (Wed) – ARRIVE PHOENIX, ARIZONA – FLAGSTAFF (D)
We recommend if you do not live within easy driving distance of Phoenix to fly in to Phoenix Sky Harbor Airport the previous day (hotel/meals prior to motor coach departure are NOT included).
Welcome to Phoenix!  Meet your Tour Director at the Phoenix Airport before traveling north. After passing through Flagstaff proper, arrive at SUNSET CRATER VOLCANO NATIONAL MONUMENT. Time to explore this fascinating landscape – one which was molded to what it is today after a volcanic eruption in the early 1800's. Return to Flagstaff for a welcome dinner and tour orientation. (D)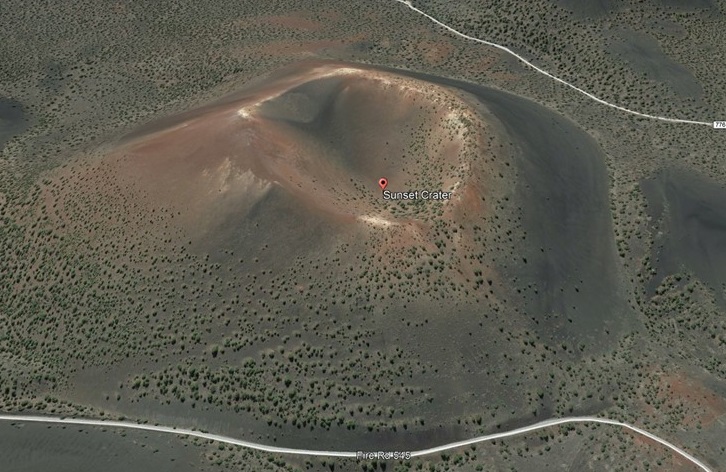 Aerial view of Sunset Crater northeast of Flagstaff, Arizona. Courtesy Google Earth.
Note: The motor coach will depart the Phoenix airport at 01:30PM (travelers should have lunch on own before). Any flights arriving later than this window are not eligible for the group transfer to Flagstaff and guests on those flights must make their own way in order to catch up to the motor coach.
Overnight at Drury Inn and Suites, Flagstaff.
Day 2 – 12 Oct (Thu) – FLAGSTAFF – CHINLE (B,D)
This morning visit the LOWELL OBSERVATORY for a Mars Hill Guided Tour. The tour takes you back to the founding of Lowell Observatory by Percival Lowell in 1894. This guided tour is led by an observatory educator and includes stops at the historic 9cm/24" Clark Refractor, the Pluto Discovery Telescope, and the  Giovale Open Deck Observatory for solar observing. (There is no nighttime viewing offered). Please note that this tour includes steep grades and a one mile/1.6 km walk outdoors.
After checking in at the Steele Visitor Center, you will see the 124-year-old, 9.6m / 32-foot-long Clark refractor which was custom made for the observatory by Alvan Clark & Sons. This 61cm/24 inch diameter telescope was used by Percival Lowell to study Mars and other planets, by Vesto Slipher to find the first evidence that our universe is expanding, and by scientists in the 1960's to create detailed maps of the Moon in preparation for the Apollo Moon landings. Doors and dome shutters are kept open at the Clark Dome in fair weather to facilitate fresh airflow while guests are inside.
Next, the tour takes you to 1930 when amateur astronomer Clyde Tombaugh discovered the dwarf planet Pluto. You will pass by the building that housed Tombaugh's office and living quarters as you head up the Pluto Walk toward the Pluto Dome, which houses the 33cm/13 inch Lawrence Lowell Astrograph, which was used to image Pluto. Because of the small size of the Pluto Dome, guests will tour the interior in groups of five.
The Mars Hill Guided Tour finishes up at the Giovale Open Deck Observatory plaza. Here, you'll get to search the sun for any sunspots or prominences with a hydrogen-alpha solar telescope.  In the event of cloudy weather, your educator will lead you on a tour of the Giovale Open Deck Observatory.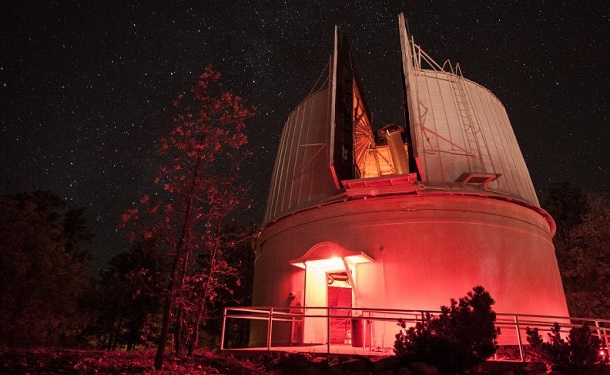 The Clark dome at Lowell Observatory at night. (Note nighttime viewing is not possible here on this trip)
Then, continue to the Barringer METEOR CRATER NATIONAL LANDMARK for a guided tour. Forty-nine thousand years ago, a large 30 to 50 meter/99 to 165 ft diameter iron asteroid impacted the Colorado Plateau in northern Arizona which resulted in a massive explosion that excavated 175 million tons of rock forming a crater nearly a 1500m/ 5200 ft wide and 170 m / 570 ft deep.
Learn how Arizona's dry climate has helped preserve the crater, keeping it almost unchanged since its formation. Get acquainted with the different kinds of creatures and flora that surround the impact site and get up close and personal to this natural wonder while hiking on the edge of the rim.
You will also learn about impact processes that played a prominent role in the development of our planets, satellites, asteroids, and comets. The geologic and planetary records are clear, collisions ranging in size from microscopic to gigantic events have occurred since the beginning of the solar system and this is your chance to walk on the rim of the best-preserved meteorite impact site on earth! It's an easy 30-40 minute hike and will give you a great perspective on how the earth was forever changed after impact.

Meteor Crater, near Winslow Arizona
Travel through the PETRIFIED FOREST NATIONAL PARK. The park is in  in northeastern Arizona and named for its large deposits of  petrified wood; the park covers about 346 square miles (900 square kilometers), encompassing semi-desert shrub steppe as well as highly eroded and colorful badlands.   More than 400 species of plants, dominated by grasses such as bunchgrass, blue grama, and sacaton are found in the park. Fauna include larger animals such as pronghorn sheep, bobcats, coyotes and many smaller animals, such as deer mice, snakes, lizards, seven kinds of amphibians, and more than 200 species of birds.   The Petrified Forest is known for its fossils, especially fallen trees that lived about 225 million years ago. End your day in Chinle.  Chinle  is best known as the gateway to Canyon de Chelly National Monument, an 84,000-acre site that preserves large collections of significant Ancestral Pueblo, Hopi, and Navajo ruins.  (B,D)
Note: The park closes at 5pm. Due to timing and the day's schedule, the Petrified Forest visit will likely be a drive through with stops at scenic overlooks. There likely will not be enough time to hike.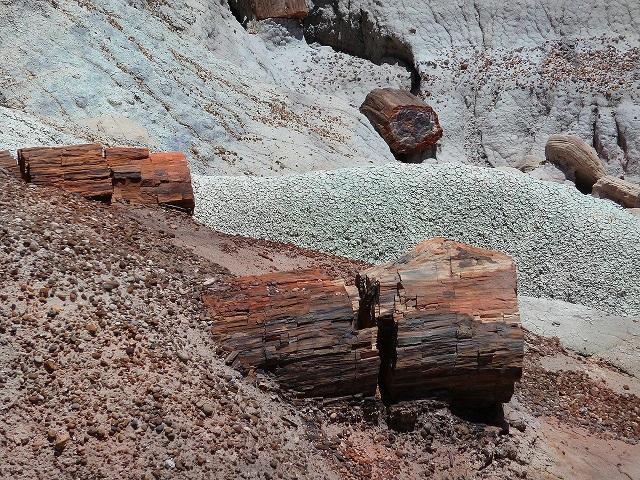 Petrified wood
NOTE: LUNCH IS NOT INCLUDED SINCE THIS IS AN ALL DAY TRIP INTO RURAL AREAS. WE WILL STOP SOMEWHERE ALONG THE WAY WHERE YOU CAN PURCHASE LUNCH.
Overnight at Holiday Inn Chinle.
Day 3 – 13 Oct (Fri) – CHINLE – KAYENTA (MEXICAN HAT, UT AREA) (B,L,D)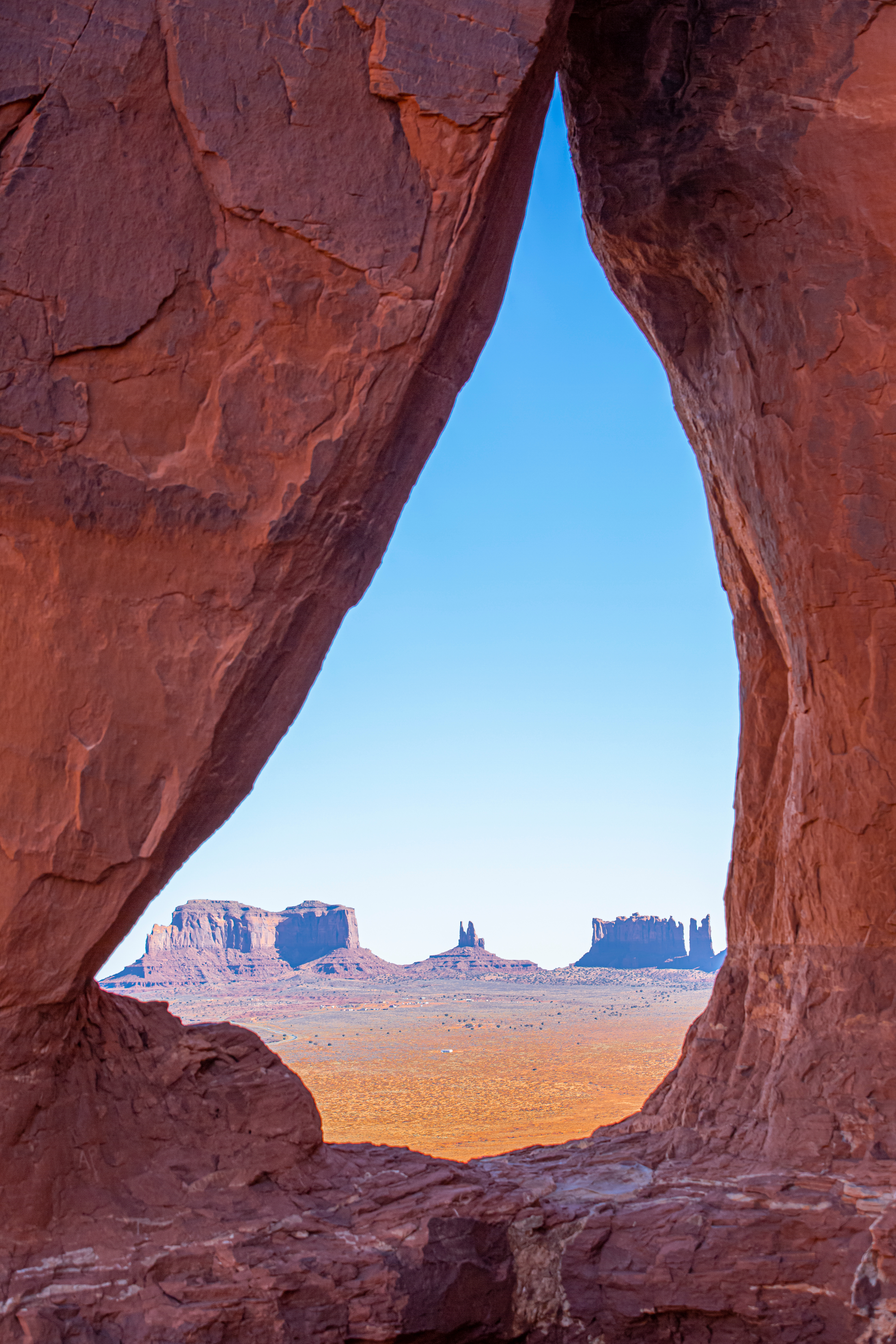 Majestic Monument Valley
Depart Chinle and visit MONUMENT VALLEY, home of some of the most majestic natural landmarks on earth. Visit Goulding's Lodge for regional lunch including Navajo Fry Bread.
Goulding's Lodge has been synonymous with Monument Valley for nearly a century. Harry and Leone Goulding purchased land and started Goulding's Trading Post in the 1920s. During the Great Depression, they saw an opportunity to bolster the local Navajo economy by bringing in movie production companies looking to film in the Southwest. Harry met with director John Ford, the wheels were immediately set in motion, and the film Stagecoach started production in Monument Valley soon after.
Since then, Goulding's has hosted films crews, photographers, artists and tourists from around the world. The trading post has expanded to include a lodge, campsite, tour operation, restaurant, convenience store, and a private airstrip. The LaFont family bought Goulding's Lodge in 1981 and continues to keep the amenities modern while honoring the rich American and Navajo history surrounded by iconic landmarks.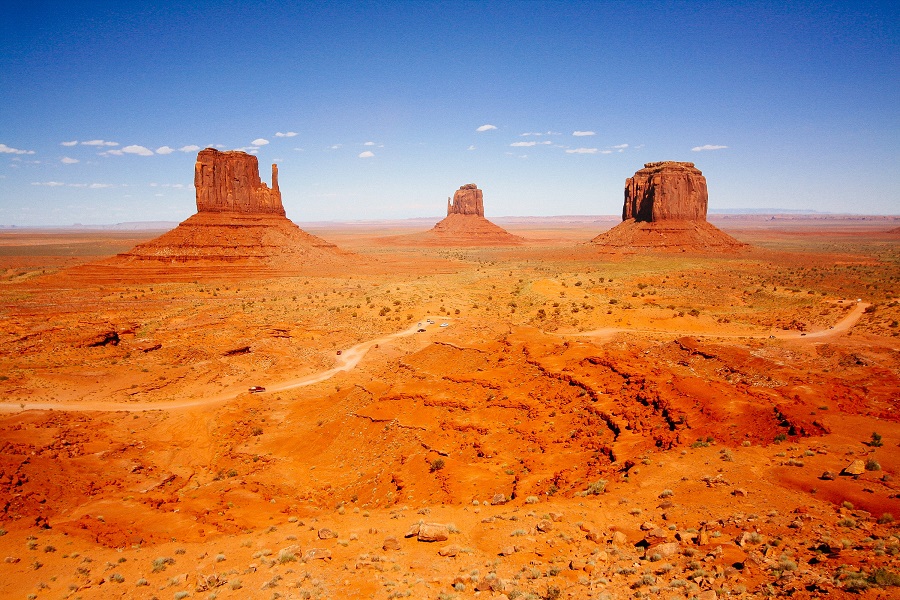 Some views of Monument Valley are just incredible
Overnight at Kayenta Monument Valley Inn so as to be near Mexican Hat, UT to position within the eclipse path for tomorrow's natural phenomenon. This curiously named town draws its moniker from a rock formation that, from some angles, resembles a sombrero, or a "Mexican Hat." The formation is about two and a half miles northeast of town. Mexican Hat is on Hwy 163, 20 miles southwest of Bluff where a bridge passes over the San Juan River. It is about a 45 minute drive from the hotel. Your Group Leader will have a short briefing on the eclipse upon arrival at your hotel (B,L,D)
Day 4 – 14 Oct (Sat) – KAYENTA – EXCURSION TO MEXICAN HAT, UT –

ANNULAR ECLIPSE DAY

! (B,L,D)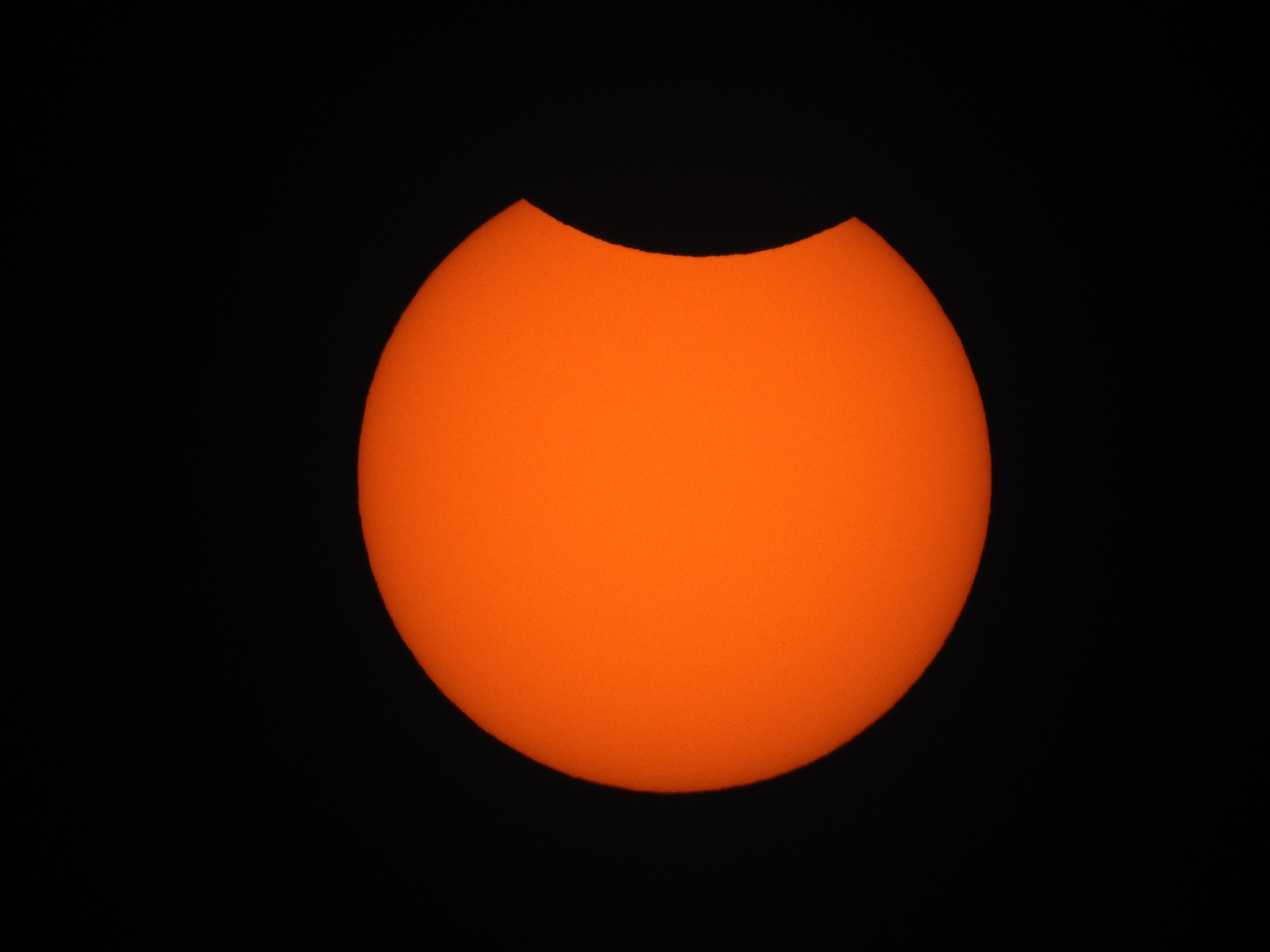 The "ring of fire" annular solar eclipses commences as the Moon begins to take a bite out of the Sun. This will be a 2 hour 51 minute process.  Different solar filters will produce a different color Sun image (white, orange, light blue, yellow are examples). Bob Hammarberg photo.
ECLIPSE CIRCUMSTANCES
Time in Arizona is always Mountain Standard Time (UT-7hours); Utah is on Mountain Daylight Savings Time (UT-6hours) during the trip.
Partial eclipse begins: ……………………..~9:10am MDT. Sun is 18 deg above azimuth 116 deg.
Maximum of the "ring of fire eclipse": ~10:31am MDT. Sun is  32 deg above azimuth 133 deg.
Partial eclipse ends:……………………….. ~12:01pm MDT. Sun is 42 deg above azimuth 158 deg.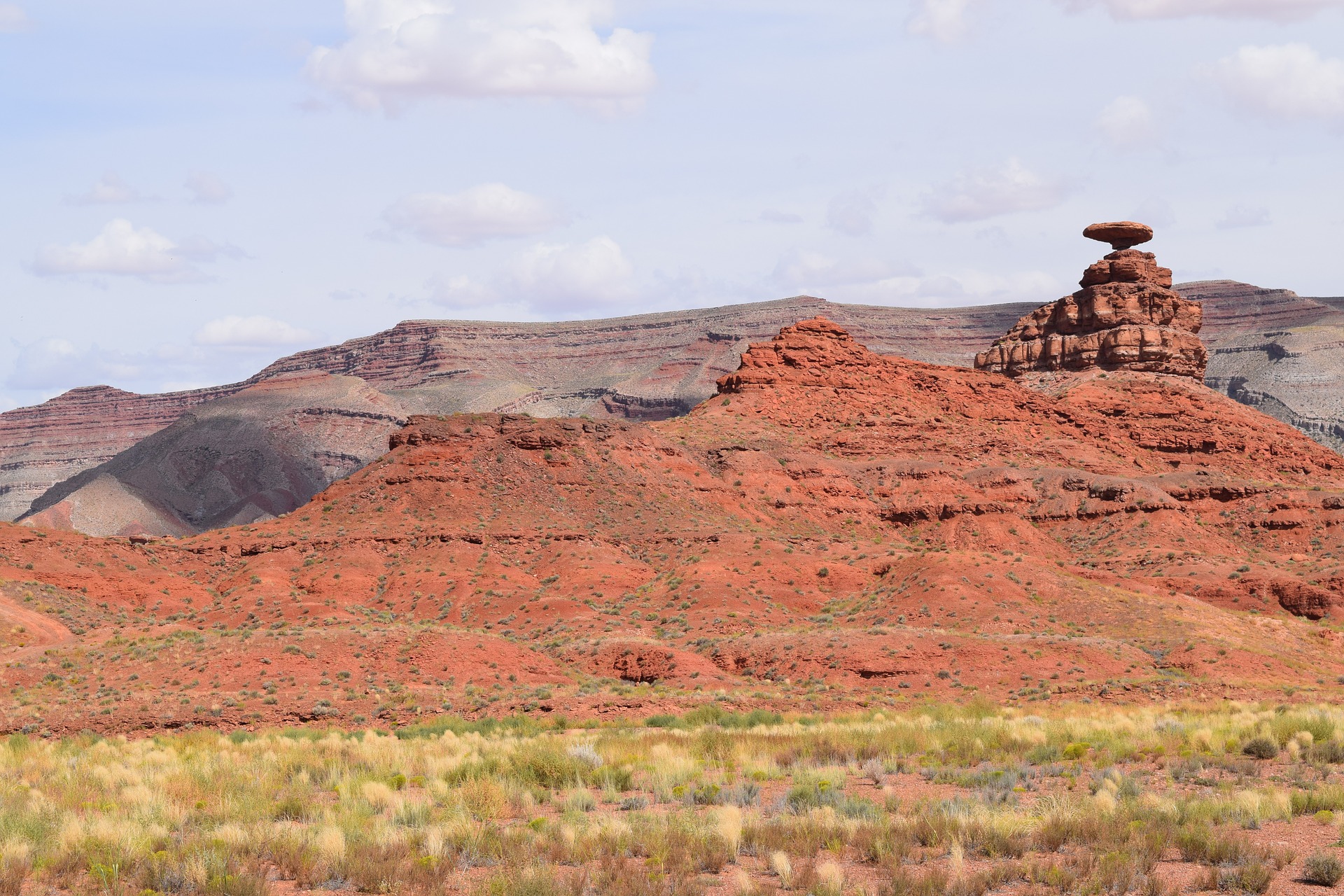 The Mexican Hat rock formation that resembles a sombrero
Today is the day – view the amazing annular eclipse! Depart early morning to set up at a photo location. The eclipse is estimated to end around noon. Afterwards, we will see the Mexican Hat Rock Formation and stop at Forrest Gump Hill before we return to your hotel for an afternoon at your leisure. The location is known most notably as the spot where Forrest Gump ended his cross-country run in the movie. It's also simply an unbelievable view especially at sunrise or sunset.
Forrest Gump — the protagonist of the 1994 Oscar-winning movie of the same name starring Tom Hanks — had run for three years, two months, 14 days, and 16 hours when he reached the hill that looks toward Monument Valley Navajo Tribal Park.  After crossing the country several times, Forrest figured out why he was running so much, and that it was something that his mama had told him, "Put the past behind you before you move on."
Realization struck around mile marker 13 on U.S. 163, and Forrest proclaimed to his followers that he was done running. Now known as "Forrest Gump Point," this spot offers a most spectacular view, and is visited by gobs of movie fans and tourists on their own trek to the iconic Mittens formations — those conspicuous 1,000-foot / 300 m buttes — and tours within Monument Valley.For fans of the movie who are driving this road, realization will sneak in that you're in a familiar place. It's fair to theorize that something intrinsic to this vast, iconic and sacred place, enabled Forrest Gump to finally come to terms with his past and find a way forward.  Please be aware this photo stop is located along a highly-trafficked road. Due to the road's traffic leading to past injuries and fatalities, we urge you to take your safety seriously and refrain from taking photos from the middle of the road and take photos from the shoulder only.
(B,L,D)
NOTE: Today's lunch will be a boxed lunch.  Average temperatures are expected to be comfortable in the eclipse area. During October they range from 46 to 71 deg F/8 – 22 deg C.  We will be in a remote area (where we cannot get chairs) for eclipse observation so the interior of the bus is the best place for seating prior to/after the main part of the eclipse. Otherwise we will be on hard ground so consider that in your eclipse view planning. The Sun will be at moderate elevation similar to the photo below. A pillow or folded towel may be useful for placement of knees if you are photographing.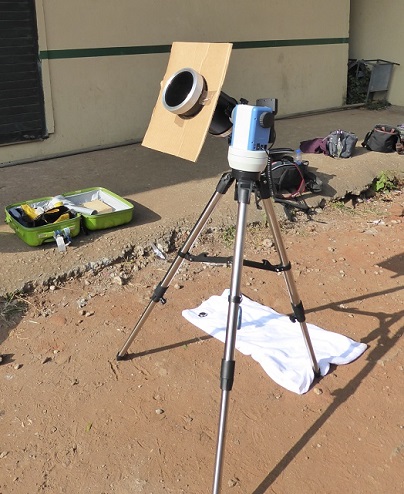 A typical solar eclipse photo arrangement. In the photo above, a Celestron 5 telephoto lens is mounted on a IOptron Cube mount set on a tripod. The IOptron device is an excellent lightweight portable tracking platform that can follow the Sun's motion over time. There is a GPS receiver built in which can identify your position on the Earth's surface.  A piece of cardboard is mounted to fit around the lens tube to make it easier for the photographer to point. A neutral density 5 filter is placed in front of the lens.  This specific mount may not be available but any mount that can locate itself and track the Sun automatically will be suitable. Paul Maley photo from our Ring of Fire Expeditions site in India December 2019.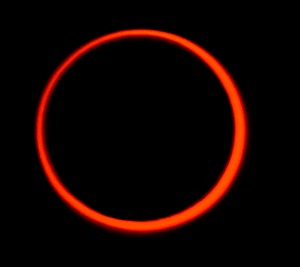 The "ring of fire" eclipse as seen from 12,000m / 40,000 ft. altitude on June 10, 2021. Nikon D859, f/5.6, 1/500sec, ISO 640 (hand held). Photo by Byron Braswell.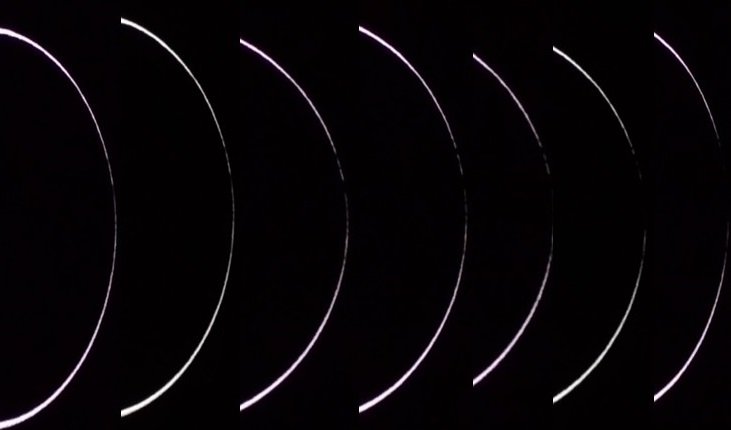 Above is a composite view of a series of quick exposures taken at the edge of the path of the annular solar eclipse in Tanzania taken on our Ring of Fire Expeditions 2016 trip.  You can see Baily's Beads as they form and disappear from left to right as the Moon moves across the Sun's disc.  Paul Maley photos. 
How amazing is an annular (ring eclipse)? We flew in a chartered jet over Ontario to see one. We were able to get above all the clouds and got some good images (2nd one above this text) as well as a great view.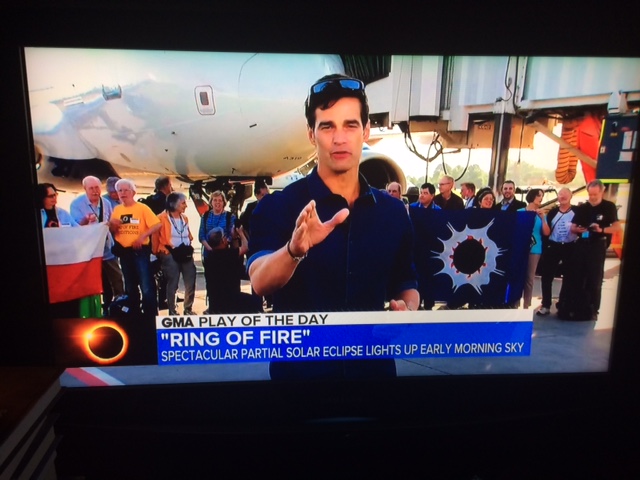 After we saw the June 10, 2021 annular solar eclipse on a chartered flight, our group appeared on ABC's "Good Morning America" on the tarmac. Left to right: Lynn Palmer, Byron Braswell, Paul Maley and in the blue shirt Sharon Braswell.
Note 2: The eclipse viewing site is subject to change based on real-time weather assessment.  
*Note that we cannot guarantee the weather will be clear for this or any other solar eclipse
Overnight Kayenta Monument Valley Inn.
Day 5 – 15 Oct (Sun) – KAYENTA – GRAND CANYON NATIONAL PARK (B,L,D)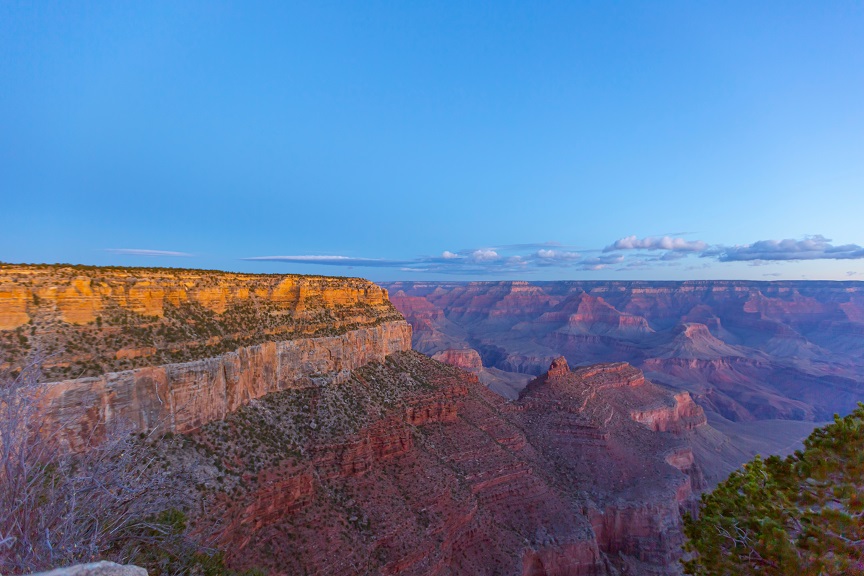 An early morning view of a portion of the Grand Canyon.
Travel along the Navajo Trail to see the MOENAVE DINOSAUR TRACKS. The Tuba City Dinosaur Track Site is one of the most famous well-known dinosaur trackways along Hamblin Ridge's bench. First discovered around the beginning of the 20th century, it has lived on to this day as a neat window into the past. The tracks you will see were made 135 million years before T. rex ever walked the earth – more than double the amount time since Tyrannosaurus rex has gone extinct! The hike is relatively easy and mostly flat, and winds around several stone spires and past hundreds of tracks.  Regardless of the guides' knowledge, the hike itself is painless and beautiful, with fabulous views of the Hamblin Ridge, Tuba Butte, and the vast bench lands that stretch to the south. You can walk where dinosaurs once roamed, putting your feet in their prints. That's an experience that's beyond cool.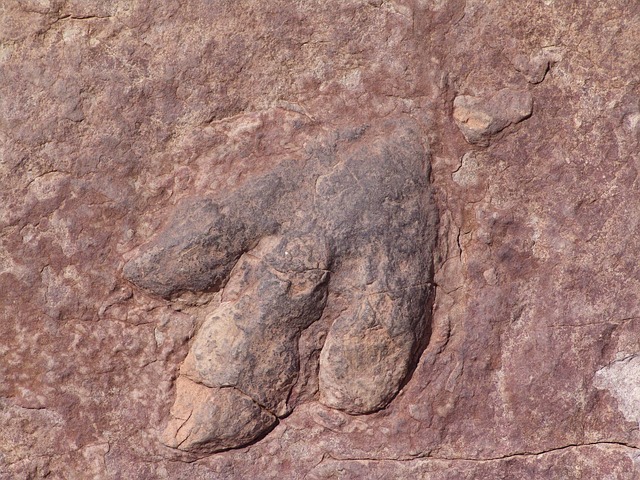 Dinosaur footprint
Continue to the CAMERON TRADING POST for lunch and time to shop. Later arrive at the east gate of the GRAND CANYON NATIONAL PARK, one of the Seven Natural Wonders of the World. The spectacular beauty of this famous attraction draws more than 5 million visitors a year from around the globe.  You'll make several stops along the route such as Desert View, Tusayan Ruins and Mather Point, before arriving in the village area of the park. (B,L,D) Overnight at Thunderbird Lodge.
Day 6 – 16 Oct (Mon) – GRAND CANYON NATIONAL PARK – SEDONA (B,L,D)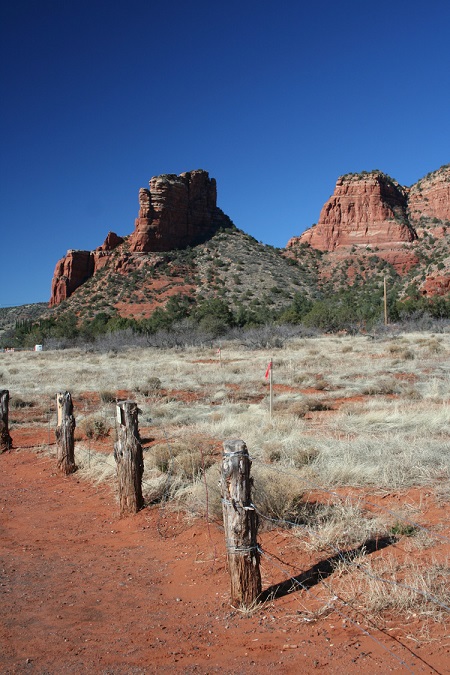 An example of the red rocks of Sedona
Marvel as you experience breathtaking views of Grand Canyon National Park. Continue to overnight in Sedona, a center for Southwestern and New Age arts to enjoy a guided 4 WHEEL DRIVE JEEP TOUR. This tour does travel on rocky, bumpy local forest roads, and therefore is not recommended for those that have neck or back problems.  As the perfect introduction to Sedona's red rock trails, the Scenic Rim Tour is 90 minutes of winding, unpaved back roads. Hold on tight during this adventurous journey for a ride to remember in one of the most incredible settings on Earth. Hairpin turns, steep cliffs and blind curves await as your Jeep climbs 606m / 2,000 feet through canyons and washes. You'll also see Munds Wagon Trail, a main "highway" between Sedona and Flagstaff that was completed in 1902; it was one of the state's first and most popular cattle trails. The Mogollon Rim rises above you, while the city of Sedona sits below. Photo ops are plentiful on this tour, with many chances to use Arizona's most stunning scenery as your backdrop. This evening enjoy a farewell dinner. Overnight at Sky Rock Sedona. (B,L,D)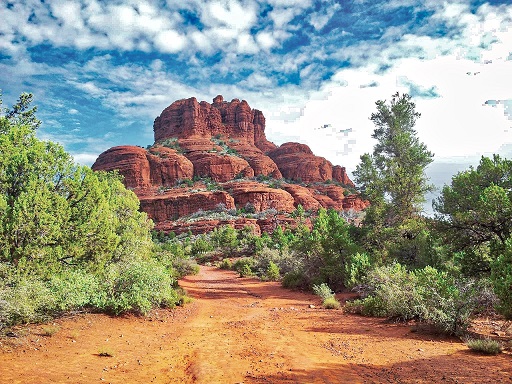 Bell Rock, one of the classic sights to see in Sedona
Day 7 – 17 Oct (Tue) – SEDONA – PHOENIX (B)
After breakfast your custom tour comes to an end with a group transfer to the Phoenix Sky Harbor Airport for your departure. (B)
Note: Please schedule your departure flights out of Phoenix no earlier than 1:00 pm.
SOLAR ECLIPSE PRICE INCLUDES

:
roundtrip Phoenix-Phoenix air-conditioned motor coach transport. Note: there is an emergency bathroom on the bus but bathroom stops are planned along the way.
meals as shown in the itinerary (where B=breakfast, L=lunch, D=dinner)
sightseeing as outlined in the itinerary with inside visits (including admission charges)
sightseeing with local guides where applicable.
headsets throughout tour
free Wi-Fi available on your motor coach
services of a professional tour director
eclipse glasses for viewing
*at scheduled dates and times specified by Future Travel for group arrival/departure
Motorcoach with the following features:
panoramic tinted windows for an unobstructed view
emergency washroom
upholstery or leather, reclining seats
complimentary Wi-Fi onboard (availability of this service depends on location and access to satellite services)
PA system & audio/video equipment
USB ports and electric outlets (typical, but not guaranteed)
climate-controlled air conditioning & heating systems
overhead storage
large water-proof luggage storage space underneath that complies with our requirement of one piece of full size luggage per passenger. (Guests will not be accessing this area. The driver will handle all luggage loading and unloading.)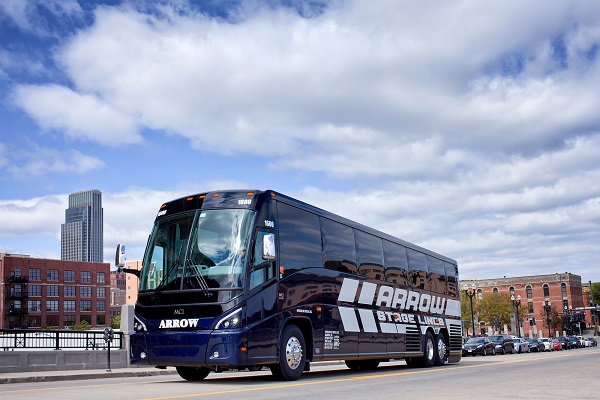 Example of exterior of motorcoach that might be used on this trip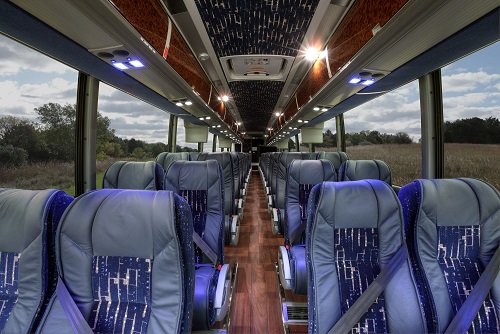 Example of interior of motorcoach that might be used on this trip
SOLAR ECLIPSE PRICE DOES NOT INCLUDE

:
airfare to/from Phoenix
in any accommodation, incidental expenses are not included. These include such things as mini bar, meals not listed as included, any extra cost services.
gratuities to tour director/driver $84 for entire trip
water aboard the bus: participants should be prepared to bring a refillable water bottle or can purchase water along the way.
cost of passports and any visas (if required)
medical services and fees related to this
anything else not mentioned in the SOLAR ECLIPSE PRICE INCLUDES section above
trip cancellation and delay, medical evacuation insurance.

 This is highly recommended but not required. P

assengers are suggested to secure this from Future Travel or international insurance if you are a foreign national
====================================================================================================================
PRICE
$3622.

 PER PERSON DOUBLE OCCUPANCY. Max of 2 in a room.
Single rooms may be available  upon request. Price for a single room: 
$4410.

 
BEFORE YOU SIGN UP
All persons must be capable of boarding the motor coach without assistance. In addition some venues will require walking over uneven ground.
No science background is necessary to participate.
HOW TO SIGN UP FOR THE EXPEDITION
Click HERE to complete one registration form AND payment for each person in your party. .
We cannot confirm you unless both the registration form [one for each person] and payment are all received.
DEPOSIT AND PAYMENT SCHEDULE
DEPOSIT SCHEDULE
From time of booking before April 1, 2022:  $1,000. per person
from April 1, 2022: 50% of price.
February 1, 2023: 100% of the total price.
CANCELLATION PENALTIES
25% penalty of total paid if cancelled by April 1, 2022
50% penalty of total paid if cancelled between April 1, 2022 and February 1, 2023
After February 1, 2023: 100% penalty
PAYMENT METHODS
IF YOU LIVE OUTSIDE THE UNITED STATES you may pay by one of these methods: 1) credit cards, or 2) wire transfer. A USD$50 fee is charged if a wire transfer is used for each payment.  No checks or money orders can be accepted! Please contact spolley@dt.com  to make arrangements.
=========================================================================================
GUESTS WITH DISABILITIES
There is no provision for guests with disabilities in that everyone must be ambulatory and able to walk on their own.