2023 "RING OF FIRE" SOLAR ECLIPSE IN THE SOUTHWEST USA
WELCOME TO OUR 50TH SOLAR ECLIPSE TRIP!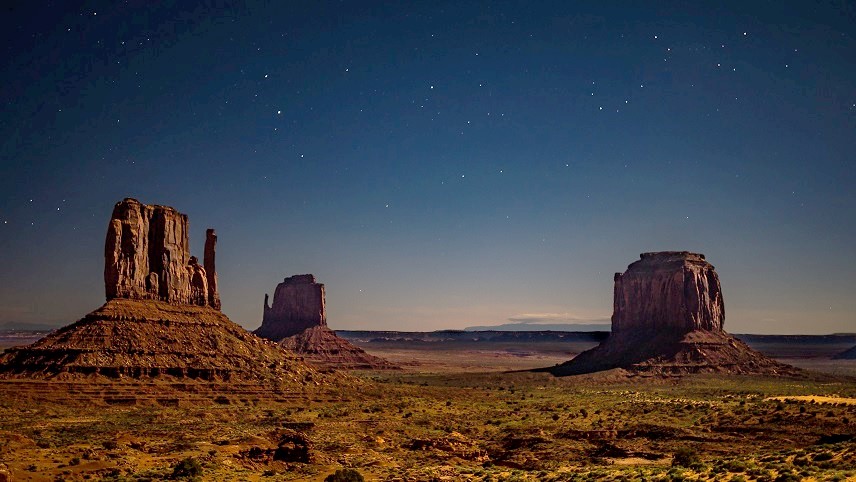 Monument Valley at night during a New Moon period just like we will experience on our trip.
OCTOBER 11-17, 2023
===================================================================================================================
STATUS as of JANUARY 3, 2022: this tour is now open
===================================================================================================================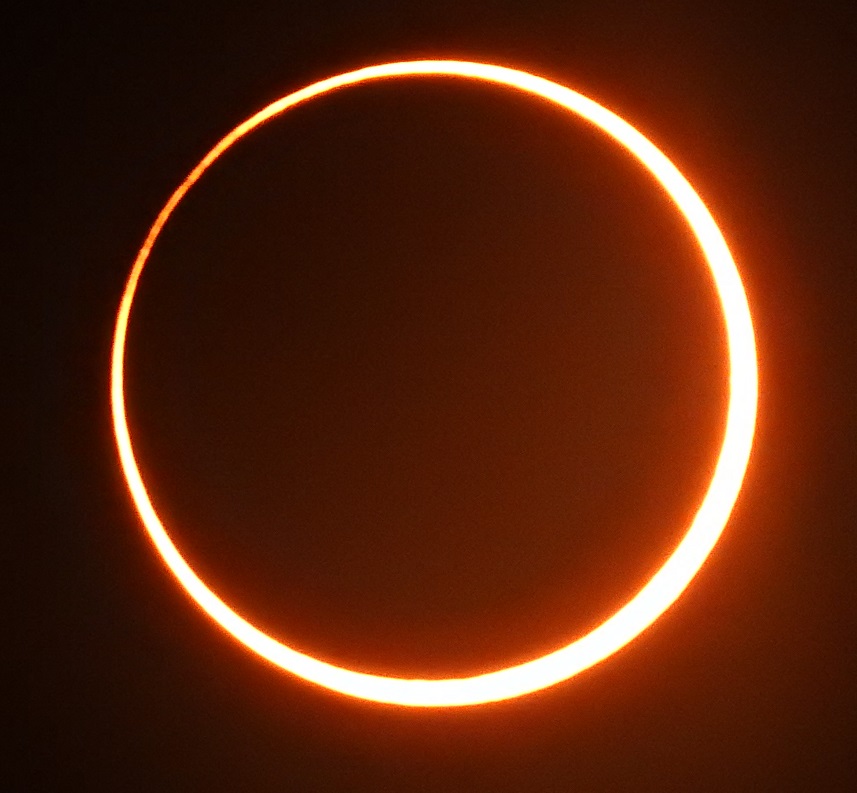 A "ring of fire eclipse" (annular or ring eclipse) as seen on our 2019 expedition to India. Nikon Coolpix P900, ND5 filter, f/5.6, 1/30 sec, ISO 1400.  Certain "point and shoot" camera types such as the Nikon Coolpix equipped with a neutral density 5 solar filter in front of the lens can capture great views as in this Bob Hammarberg photo.
NEED A ROOMMATE?

   CONTACT  eclipse@dt.com AND WE WILL TRY TO MATCH YOU WITH SOMEONE OF THE SAME GENDER.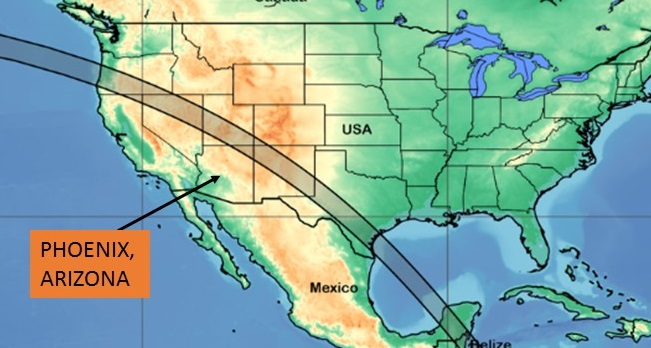 The path of "ring of fire" annular solar eclipse is shown in gray. The green areas are those most likely to experience CLOUDS. The light colors identify the places most likely to see clear skies.  Our trip should be in a very GOOD WEATHER ZONE!  Map courtesy J.Anderson.
================================================================================
Join

Paul D. Maley

of the NASA Johnson Space Center Astronomical Society on what will be his 82nd trip to see an eclipse of the Sun!  If the weather in the above zone  cooperates, you should be able to see the Moon inside the disc of the Sun for about 

4 minutes 46 seconds

from our vantage point*.  Some 95% of the Sun will be completely blocked by the Moon.  The trip will be by motor coach beginning from and ending at Phoenix Sky Harbor Airport in Phoenix, Arizona USA. Participants are asked to make their own way to Phoenix (airport code PHX) arriving Tuesday October 10 to be sure they do not miss the motor coach departure set for Wednesday October 11 and plan a return flight no earlier than 1:00pm on Tuesday October 17.  However if you are in easy driving range of Phoenix you could arrive on the morning of October 11.
Are you new to eclipse watching and not sure which company has experience?

Ring of Fire Expeditions has the longest track record of eclipse expeditions in the US–almost 50 years.

To see the results of some past trips, go to our main page 

www.eclipsetours.com

and look at the horizontal bar showing various options. Click on PAST TRIPS and check out the pages of your choice.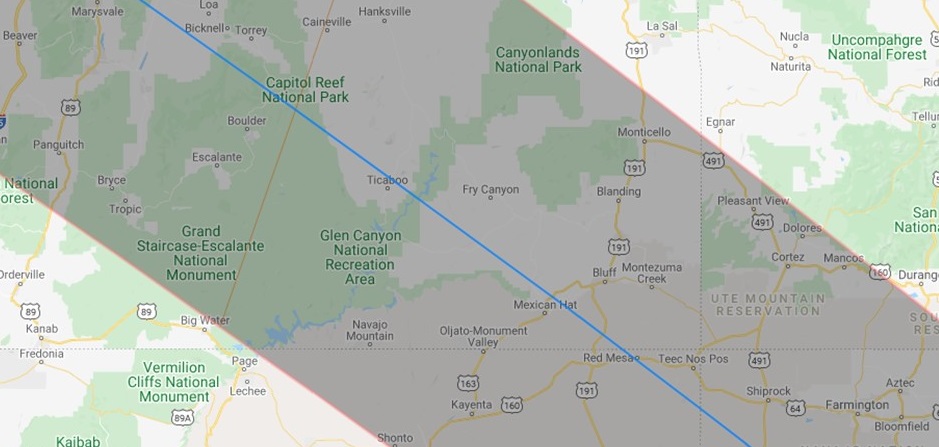 The above small cutout map shows some of many roads that can be taken across the path of this eclipse as it passes from Oregon to Nevada to Utah to Arizona. Although passing also over New Mexico and Texas those locations are not within our tour range. Inside the shaded area you will be able to see the complete annular eclipse but the duration of annularity will shorten as you approach the edges. Outside this area the eclipse will be a partial eclipse. However, there are many locations where there are few services and if your vehicle breaks down this could present a problem.
*NOTE: THERE IS NO WAY TO GUARANTEE CLEAR SKIES AT ANY ECLIPSE VENUE BUT WE DO OUR BEST TO MAXIMIZE YOUR CHANCES. WEATHER PROSPECTS FOR THIS PART OF THE ECLIPSE TRACK LOOK QUITE PROMISING!
THE WEATHER ADVANTAGE OF OUR OBSERVING AREA
The graphic below provides insight into the predicted weather on eclipse day due to averaging observations made over a 19 year period. We will be observing from an area accessible from the Utah  and Arizona region depending on actual conditions.  This places us in the lowest cloud area which should be 30% or less.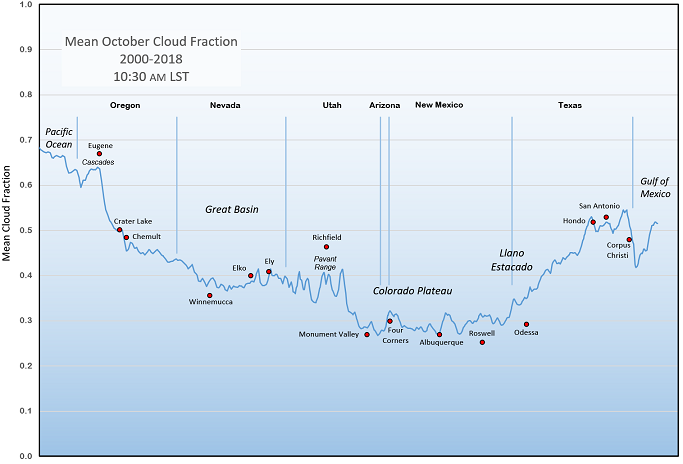 Predicted cloud cover over the entire path through the USA. Courtesy Jay Anderson.
===========================================================================================================================
ITINERARY
This is the itinerary as of October 25, 2021 subject to change.  The descriptions we have been provided by the vendors for various highlights may experience modifications over which we have no control. In addition unforeseen situations involving road access could cause deviations or delays along the way causing alteration of visits.)  The motor coach has an emergency bathroom onboard but bathroom stops are planned. Also due to the remote areas it is possible to cater most, but not all, meals as shown below.
WATER: All participants should plan to bring a refillable water bottle with them or plan to purchase water along the way. 
How to dress: temperatures can get into the 90 deg F/32 C range in Phoenix but can also drop below freezing 32 deg F/0 deg. C in northern Arizona, so you should be prepared for a large range of temperatures. In the Sedona area 50 deg/10 deg C – 80 deg / 27  deg C is common.
AS OF THIS WRITING ACCOMMODATIONS IN SEDONA AND AT THE GRAND CANYON WILL BE ANNOUNCED LATER.
[B, L, D indicate breakfast, lunch and dinner]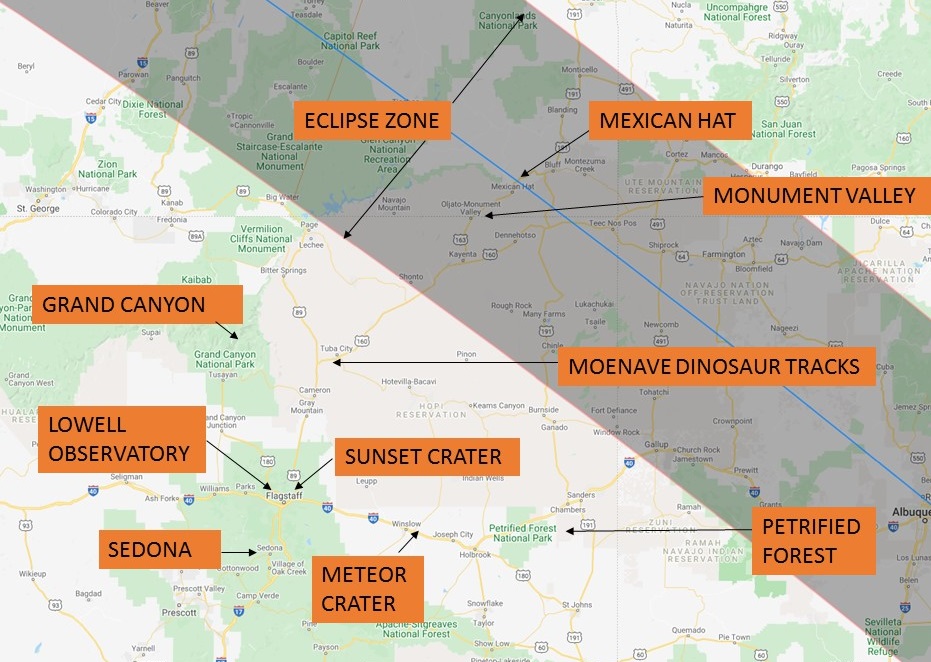 Location of trip features
Day 1 – 11 Oct (Wed) – ARRIVE PHOENIX, ARIZONA – FLAGSTAFF (D)
We recommend if you do not live within easy driving distance of Phoenix to fly in to Phoenix Sky Harbor Airport the previous day (hotel/meals prior to motor coach departure are NOT included).
Welcome to Phoenix!  Meet your Tour Director at the Phoenix Airport before traveling north. After passing through Flagstaff proper, arrive at SUNSET CRATER VOLCANO NATIONAL MONUMENT. Time to explore this fascinating landscape – one which was molded to what it is today after a volcanic eruption in the early 1800's. Return to Flagstaff for a welcome dinner and tour orientation. (D)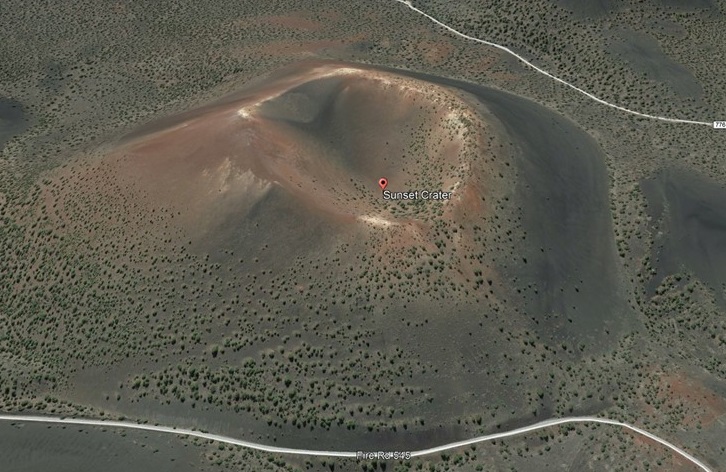 Aerial view of Sunset Crater northeast of Flagstaff, Arizona. Courtesy Google Earth.
Note: The motor coach will depart the Phoenix airport at 01:30PM (travelers should have lunch on own before). Any flights arriving later than this window are not eligible for the group transfer to Flagstaff and guests on those flights must make their own way in order to catch up to the motor coach.
Overnight at Drury Inn and Suites, Flagstaff.
Day 2 – 12 Oct (Thu) – FLAGSTAFF – CHINLE (B,D)
This morning visit the LOWELL OBSERVATORY for a Mars Hill Guided Tour. The tour takes you back to the founding of Lowell Observatory by Percival Lowell in 1894. This guided tour is led by an observatory educator and includes stops at the historic 9cm/24" Clark Refractor, the Pluto Discovery Telescope, and the  Giovale Open Deck Observatory for solar observing. (There is no nighttime viewing offered). Please note that this tour includes steep grades and a one mile/1.6 km walk outdoors.
After checking in at the Steele Visitor Center, you will see the 124-year-old, 9.6m / 32-foot-long Clark refractor which was custom made for the observatory by Alvan Clark & Sons. This 61cm/24 inch diameter telescope was used by Percival Lowell to study Mars and other planets, by Vesto Slipher to find the first evidence that our universe is expanding, and by scientists in the 1960's to create detailed maps of the Moon in preparation for the Apollo Moon landings. Doors and dome shutters are kept open at the Clark Dome in fair weather to facilitate fresh airflow while guests are inside.
Next, the tour takes you to 1930 when amateur astronomer Clyde Tombaugh discovered the dwarf planet Pluto. You will pass by the building that housed Tombaugh's office and living quarters as you head up the Pluto Walk toward the Pluto Dome, which houses the 33cm/13 inch Lawrence Lowell Astrograph, which was used to image Pluto. Because of the small size of the Pluto Dome, guests will tour the interior in groups of five.
The Mars Hill Guided Tour finishes up at the Giovale Open Deck Observatory plaza. Here, you'll get to search the sun for any sunspots or prominences with a hydrogen-alpha solar telescope.  In the event of cloudy weather, your educator will lead you on a tour of the Giovale Open Deck Observatory.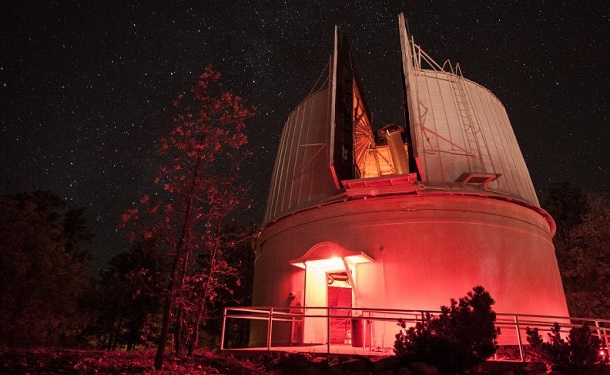 The Clark dome at Lowell Observatory at night. (Note nighttime viewing is not possible here on this trip)
Then, continue to the Barringer METEOR CRATER NATIONAL LANDMARK for a guided tour. Forty-nine thousand years ago, a large 30 to 50 meter/99 to 165 ft diameter iron asteroid impacted the Colorado Plateau in northern Arizona which resulted in a massive explosion that excavated 175 million tons of rock forming a crater nearly a 1500m/ 5200 ft wide and 170 m / 570 ft deep.
Learn how Arizona's dry climate has helped preserve the crater, keeping it almost unchanged since its formation. Get acquainted with the different kinds of creatures and flora that surround the impact site and get up close and personal to this natural wonder while hiking on the edge of the rim.
You will also learn about impact processes that played a prominent role in the development of our planets, satellites, asteroids, and comets. The geologic and planetary records are clear, collisions ranging in size from microscopic to gigantic events have occurred since the beginning of the solar system and this is your chance to walk on the rim of the best-preserved meteorite impact site on earth! It's an easy 30-40 minute hike and will give you a great perspective on how the earth was forever changed after impact.

Meteor Crater, near Winslow Arizona
Travel through the PETRIFIED FOREST NATIONAL PARK. The park is in  in northeastern Arizona and named for its large deposits of  petrified wood; the park covers about 346 square miles (900 square kilometers), encompassing semi-desert shrub steppe as well as highly eroded and colorful badlands.   More than 400 species of plants, dominated by grasses such as bunchgrass, blue grama, and sacaton are found in the park. Fauna include larger animals such as pronghorn sheep, bobcats, coyotes and many smaller animals, such as deer mice, snakes, lizards, seven kinds of amphibians, and more than 200 species of birds.   The Petrified Forest is known for its fossils, especially fallen trees that lived about 225 million years ago. End your day in Chinle.  Chinle  is best known as the gateway to Canyon de Chelly National Monument, an 84,000-acre site that preserves large collections of significant Ancestral Pueblo, Hopi, and Navajo ruins.  (B,D)
Note: The park closes at 5pm. Due to timing and the day's schedule, the Petrified Forest visit will likely be a drive through with stops at scenic overlooks. There likely will not be enough time to hike.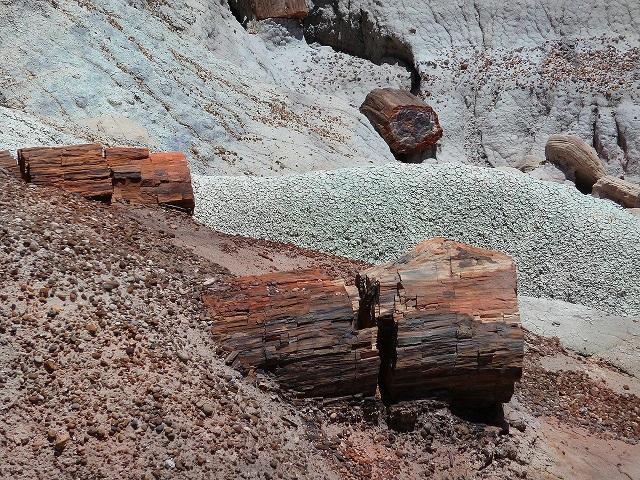 Petrified wood
NOTE: LUNCH IS NOT INCLUDED SINCE THIS IS AN ALL DAY TRIP INTO RURAL AREAS. WE WILL STOP SOMEWHERE ALONG THE WAY WHERE YOU CAN PURCHASE LUNCH.
Overnight at Holiday Inn Chinle.
Day 3 – 13 Oct (Fri) – CHINLE – KAYENTA (MEXICAN HAT, UT AREA) (B,L,D)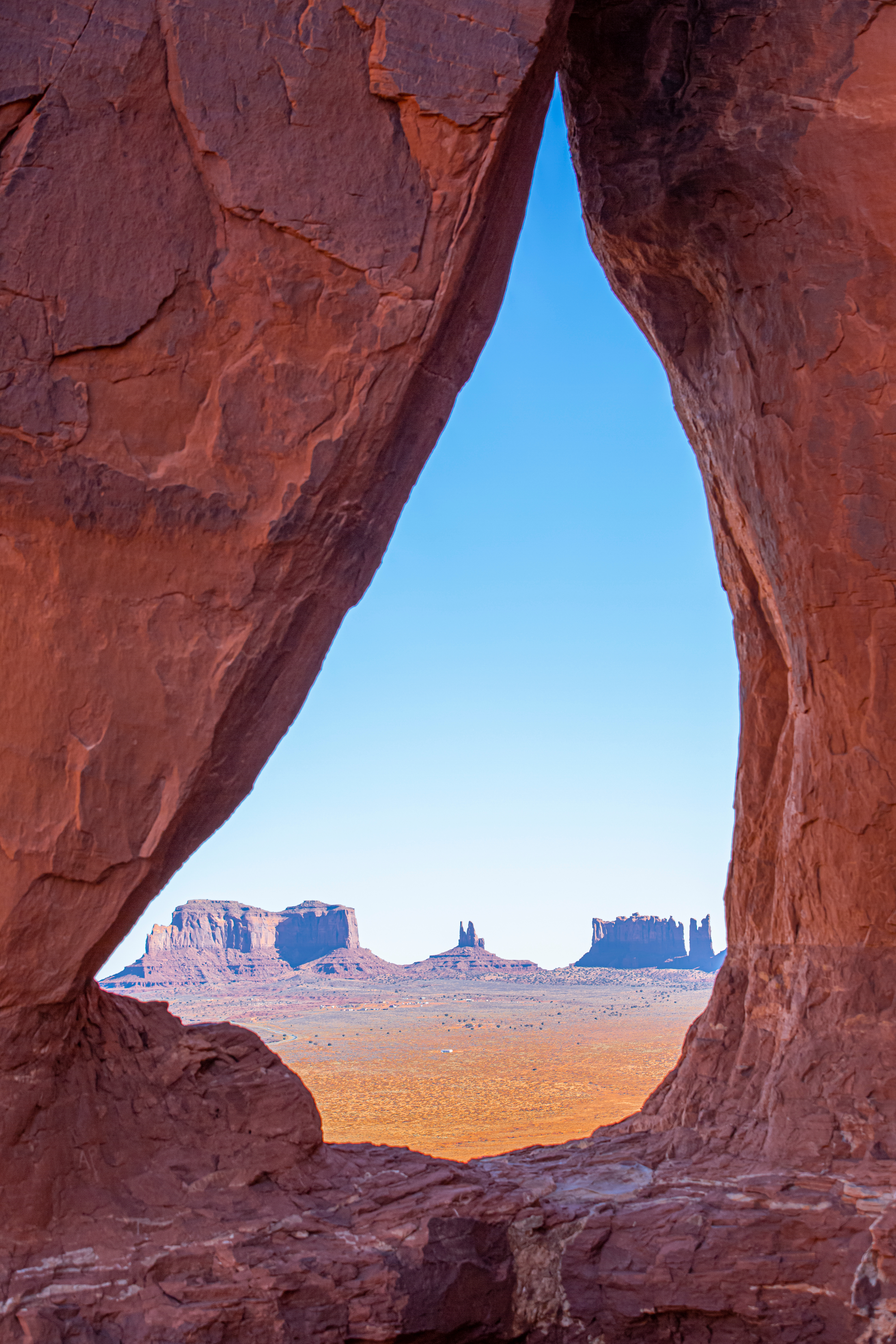 Majestic Monument Valley
Depart Chinle and visit MONUMENT VALLEY, home of some of the most majestic natural landmarks on earth. Visit Goulding's Lodge for regional lunch including Navajo Fry Bread.
Goulding's Lodge has been synonymous with Monument Valley for nearly a century. Harry and Leone Goulding purchased land and started Goulding's Trading Post in the 1920s. During the Great Depression, they saw an opportunity to bolster the local Navajo economy by bringing in movie production companies looking to film in the Southwest. Harry met with director John Ford, the wheels were immediately set in motion, and the film Stagecoach started production in Monument Valley soon after.
Since then, Goulding's has hosted films crews, photographers, artists and tourists from around the world. The trading post has expanded to include a lodge, campsite, tour operation, restaurant, convenience store, and a private airstrip. The LaFont family bought Goulding's Lodge in 1981 and continues to keep the amenities modern while honoring the rich American and Navajo history surrounded by iconic landmarks.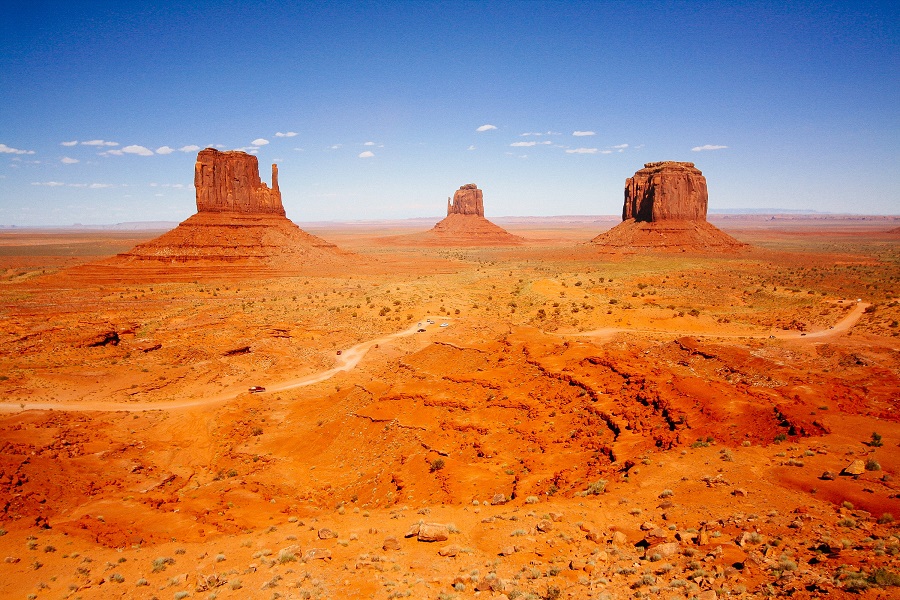 Some views of Monument Valley are just incredible
Overnight at Kayenta Monument Valley Inn so as to be near Mexican Hat, UT to position within the eclipse path for tomorrow's natural phenomenon. This curiously named town draws its moniker from a rock formation that, from some angles, resembles a sombrero, or a "Mexican Hat." The formation is about two and a half miles northeast of town. Mexican Hat is on Hwy 163, 20 miles southwest of Bluff where a bridge passes over the San Juan River. It is about a 45 minute drive from the hotel. Your Group Leader will have a short briefing on the eclipse upon arrival at your hotel (B,L,D)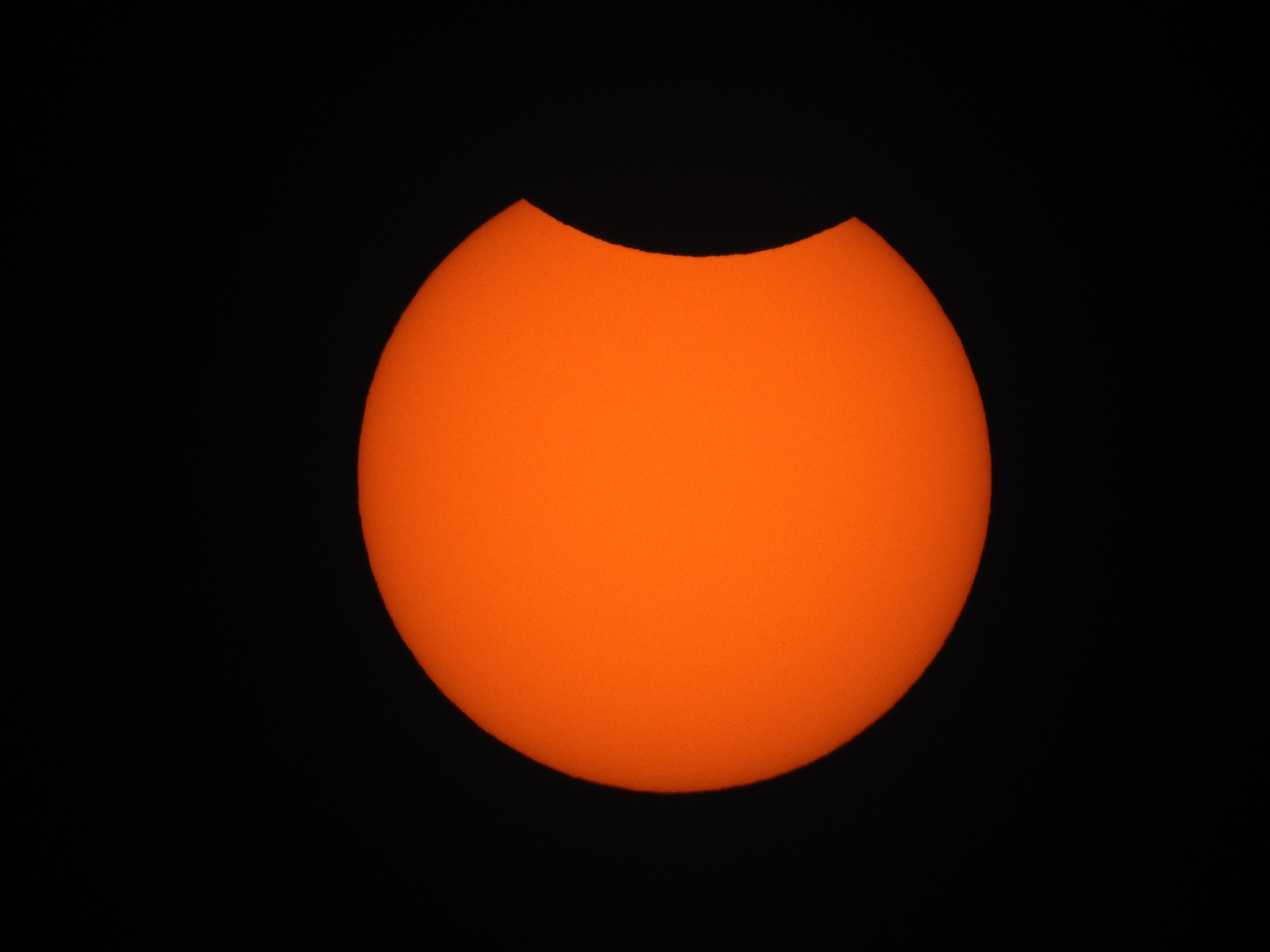 The "ring of fire" annular solar eclipses commences as the Moon begins to take a bite out of the Sun. This will be a 2 hour 51 minute process.  Different solar filters will produce a different color Sun image (white, orange, light blue, yellow are examples). Bob Hammarberg photo.
ECLIPSE CIRCUMSTANCES
Time in Arizona is always Mountain Standard Time (UT-7hours); Utah is on Mountain Daylight Savings Time (UT-6hours) during the trip.
Partial eclipse begins: ……………………..~9:10am MDT. Sun is 18 deg above azimuth 116 deg.
Maximum of the "ring of fire eclipse": ~10:31am MDT. Sun is  32 deg above azimuth 133 deg.
Partial eclipse ends:……………………….. ~12:01pm MDT. Sun is 42 deg above azimuth 158 deg.
Day 4 – 14 Oct (Sat) – KAYENTA – EXCURSION TO MEXICAN HAT, UT –

ANNULAR ECLIPSE DAY

! (B,L,D)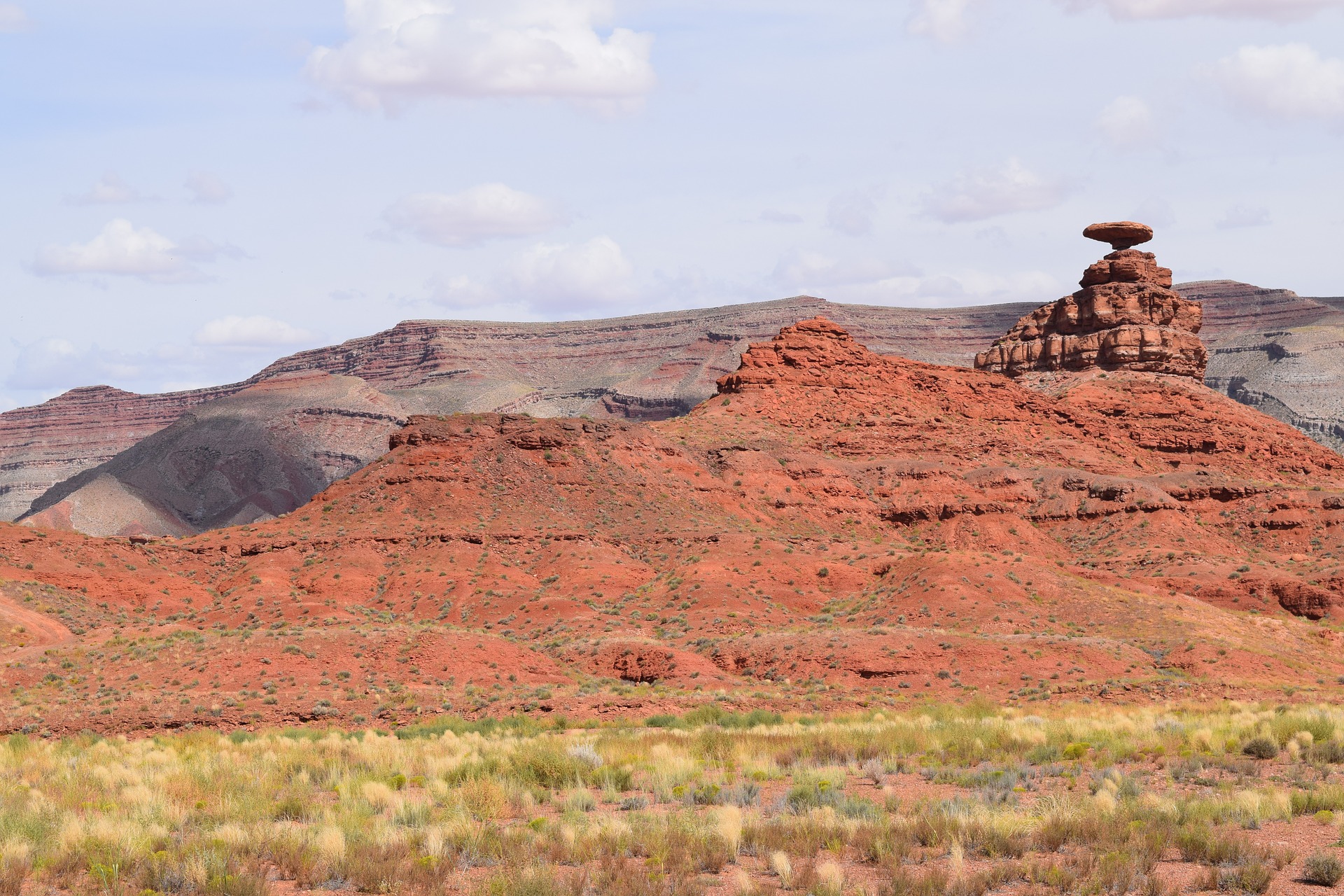 The Mexican Hat rock formation that resembles a sombrero
Today is the day – view the amazing annular eclipse! Depart early morning to set up at a photo location. The eclipse is estimated to end around noon. Afterwards, we will see the Mexican Hat Rock Formation and stop at Forrest Gump Hill before we return to your hotel for an afternoon at your leisure. The location is known most notably as the spot where Forrest Gump ended his cross-country run in the movie. It's also simply an unbelievable view especially at sunrise or sunset.
Forrest Gump — the protagonist of the 1994 Oscar-winning movie of the same name starring Tom Hanks — had run for three years, two months, 14 days, and 16 hours when he reached the hill that looks toward Monument Valley Navajo Tribal Park.  After crossing the country several times, Forrest figured out why he was running so much, and that it was something that his mama had told him, "Put the past behind you before you move on."
Realization struck around mile marker 13 on U.S. 163, and Forrest proclaimed to his followers that he was done running. Now known as "Forrest Gump Point," this spot offers a most spectacular view, and is visited by gobs of movie fans and tourists on their own trek to the iconic Mittens formations — those conspicuous 1,000-foot / 300 m buttes — and tours within Monument Valley.For fans of the movie who are driving this road, realization will sneak in that you're in a familiar place. It's fair to theorize that something intrinsic to this vast, iconic and sacred place, enabled Forrest Gump to finally come to terms with his past and find a way forward.  Please be aware this photo stop is located along a highly-trafficked road. Due to the road's traffic leading to past injuries and fatalities, we urge you to take your safety seriously and refrain from taking photos from the middle of the road and take photos from the shoulder only.
(B,L,D)
NOTE: Today's lunch will be a boxed lunch.  Average temperatures are expected to be comfortable in the eclipse area. During October they range from 46 to 71 deg F/8 – 22 deg C.  We will be in a remote area (where we cannot get chairs) for eclipse observation so the interior of the bus is the best place for seating prior to/after the main part of the eclipse. Otherwise we will be on hard ground so consider that in your eclipse view planning. The Sun will be at moderate elevation similar to the photo below. A pillow or folded towel may be useful for placement of knees if you are photographing.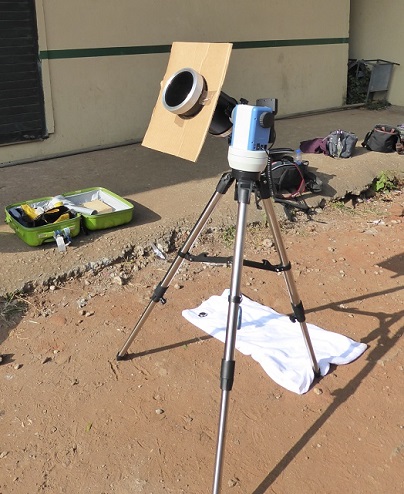 A typical solar eclipse photo arrangement. In the photo above, a Celestron 5 telephoto lens is mounted on a IOptron Cube mount set on a tripod. The IOptron device is an excellent lightweight portable tracking platform that can follow the Sun's motion over time. There is a GPS receiver built in which can identify your position on the Earth's surface.  A piece of cardboard is mounted to fit around the lens tube to make it easier for the photographer to point. A neutral density 5 filter is placed in front of the lens.  This specific mount may not be available but any mount that can locate itself and track the Sun automatically will be suitable. Paul Maley photo from our Ring of Fire Expeditions site in India December 2019.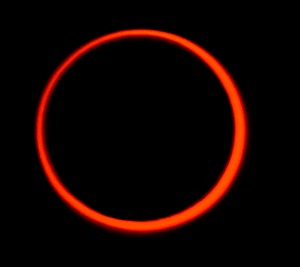 The "ring of fire" eclipse as seen from 12,000m / 40,000 ft. altitude on June 10, 2021. Nikon D859, f/5.6, 1/500sec, ISO 640 (hand held). Photo by Byron Braswell.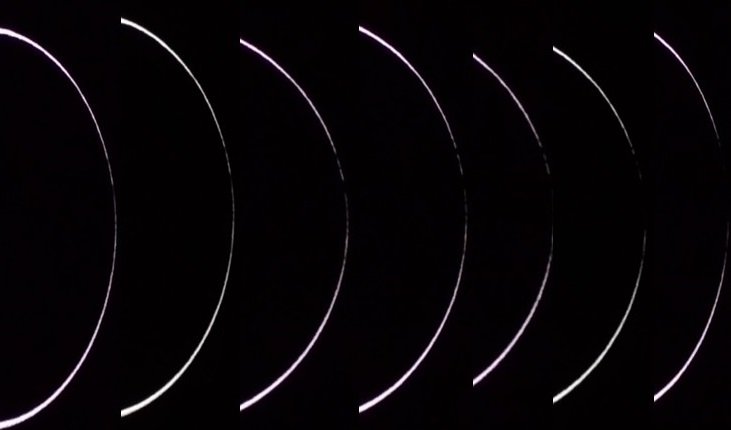 Above is a composite view of a series of quick exposures taken at the edge of the path of the annular solar eclipse in Tanzania taken on our Ring of Fire Expeditions 2016 trip.  You can see Baily's Beads as they form and disappear from left to right as the Moon moves across the Sun's disc.  Paul Maley photos. 
How amazing is an annular (ring eclipse)? We flew in a chartered jet over Ontario to see one. We were able to get above all the clouds and got some good images (2nd one above this text) as well as a great view.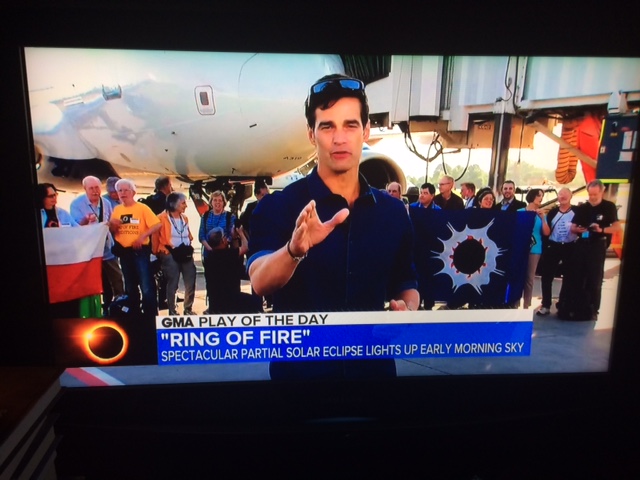 After we saw the June 10, 2021 annular solar eclipse on a chartered flight, our group appeared on ABC's "Good Morning America" on the tarmac. Left to right: Lynn Palmer, Byron Braswell, Paul Maley and in the blue shirt Sharon Braswell.
Note 2: The eclipse viewing site is subject to change based on real-time weather assessment.  
*Note that we cannot guarantee the weather will be clear for this or any other solar eclipse
Overnight Kayenta Monument Valley Inn.
Day 5 – 15 Oct (Sun) – KAYENTA – GRAND CANYON NATIONAL PARK (B,L,D)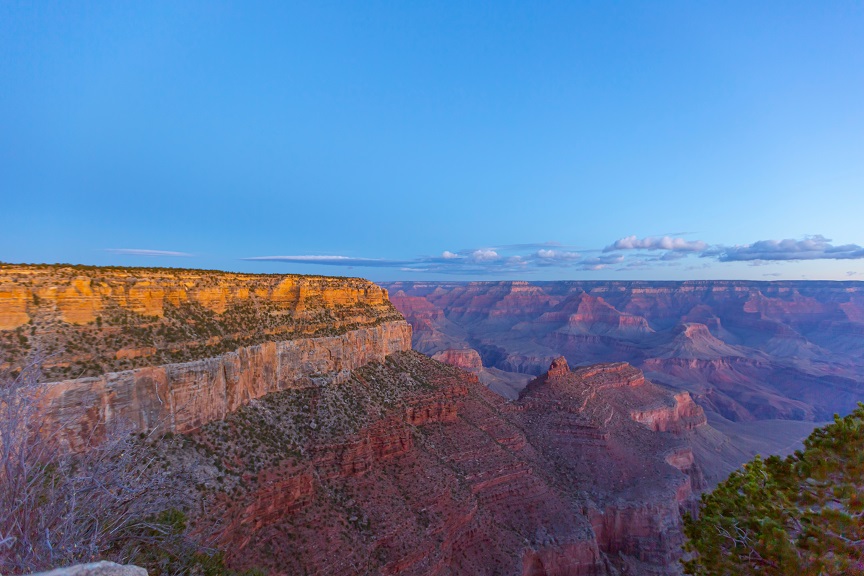 An early morning view of a portion of the Grand Canyon.
Travel along the Navajo Trail to see the MOENAVE DINOSAUR TRACKS. The Tuba City Dinosaur Track Site is one of the most famous well-known dinosaur trackways along Hamblin Ridge's bench. First discovered around the beginning of the 20th century, it has lived on to this day as a neat window into the past. The tracks you will see were made 135 million years before T. rex ever walked the earth – more than double the amount time since Tyrannosaurus rex has gone extinct! The hike is relatively easy and mostly flat, and winds around several stone spires and past hundreds of tracks.  Regardless of the guides' knowledge, the hike itself is painless and beautiful, with fabulous views of the Hamblin Ridge, Tuba Butte, and the vast bench lands that stretch to the south. You can walk where dinosaurs once roamed, putting your feet in their prints. That's an experience that's beyond cool.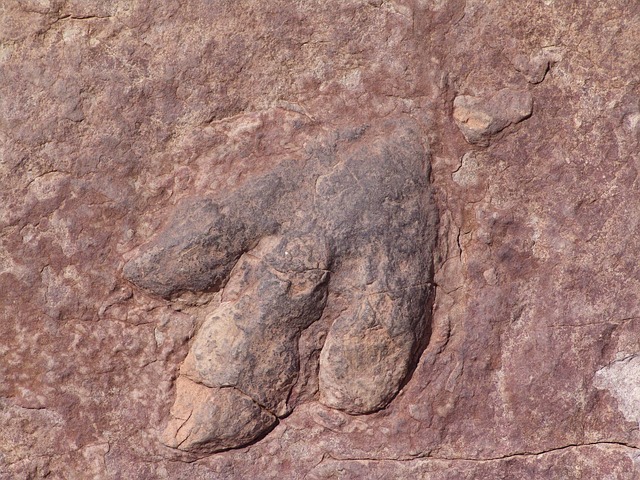 Dinosaur footprint
Continue to the CAMERON TRADING POST for lunch and time to shop. Later arrive at the east gate of the GRAND CANYON NATIONAL PARK, one of the Seven Natural Wonders of the World. The spectacular beauty of this famous attraction draws more than 5 million visitors a year from around the globe.  You'll make several stops along the route such as Desert View, Tusayan Ruins and Mather Point, before arriving in the village area of the park. (B,L,D)
Day 6 – 16 Oct (Mon) – GRAND CANYON NATIONAL PARK – SEDONA (B,L,D)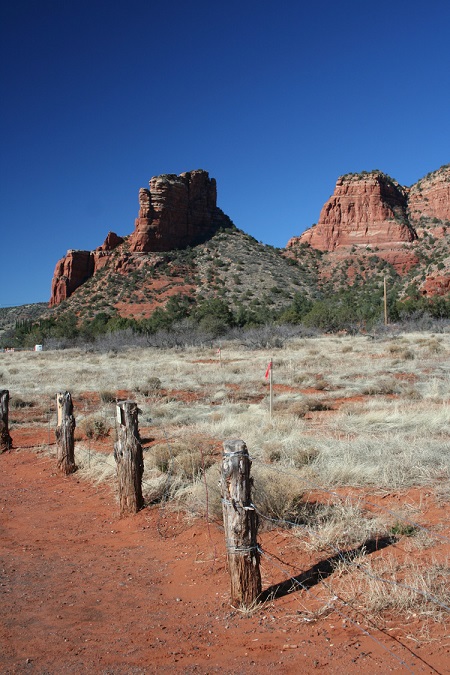 An example of the red rocks of Sedona
Marvel as you experience breathtaking views of Grand Canyon National Park. Continue to overnight in Sedona, a center for Southwestern and New Age arts to enjoy a guided 4 WHEEL DRIVE JEEP TOUR. This tour does travel on rocky, bumpy local forest roads, and therefore is not recommended for those that have neck or back problems.  As the perfect introduction to Sedona's red rock trails, the Scenic Rim Tour is 90 minutes of winding, unpaved back roads. Hold on tight during this adventurous journey for a ride to remember in one of the most incredible settings on Earth. Hairpin turns, steep cliffs and blind curves await as your Jeep climbs 606m / 2,000 feet through canyons and washes. You'll also see Munds Wagon Trail, a main "highway" between Sedona and Flagstaff that was completed in 1902; it was one of the state's first and most popular cattle trails. The Mogollon Rim rises above you, while the city of Sedona sits below. Photo ops are plentiful on this tour, with many chances to use Arizona's most stunning scenery as your backdrop. This evening enjoy a farewell dinner. Overnight in the Sedona area. (B,L,D)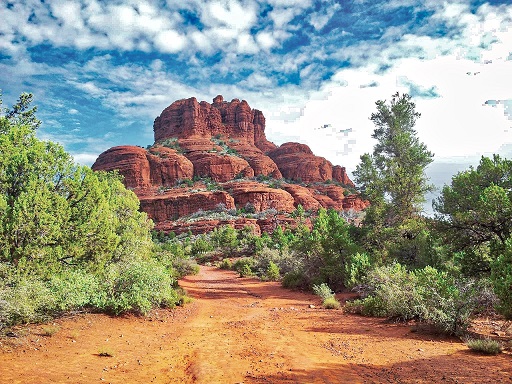 Bell Rock, one of the classic sights to see in Sedona
Day 7 – 17 Oct (Tue) – SEDONA – PHOENIX (B)
After breakfast your custom tour comes to an end with a group transfer to the Phoenix Sky Harbor Airport for your departure. (B)
Note: Please schedule your departure flights out of Phoenix no earlier than 1:00 pm.
SOLAR ECLIPSE PRICE INCLUDES

:
roundtrip Phoenix-Phoenix air-conditioned motor coach transport. Note: there is an emergency bathroom on the bus but bathroom stops are planned along the way.
meals as shown in the itinerary (where B=breakfast, L=lunch, D=dinner)
sightseeing as outlined in the itinerary with inside visits (including admission charges)
sightseeing with local guides where applicable.
headsets throughout tour
free Wi-Fi available on your motor coach
services of a professional tour director
eclipse glasses for viewing
*at scheduled dates and times specified by Future Travel for group arrival/departure
SOLAR ECLIPSE PRICE DOES NOT INCLUDE

:
airfare to/from Phoenix
in any accommodation, incidental expenses are not included. These include such things as mini bar, meals not listed as included, any extra cost services.
gratuities to tour director/driver $84 for entire trip
water aboard the bus: participants should be prepared to bring a refillable water bottle or can purchase water along the way.
cost of passports and any visas (if required)
medical services and fees related to this
anything else not mentioned in the SOLAR ECLIPSE PRICE INCLUDES section above
trip cancellation and delay, medical evacuation insurance.

 This is highly recommended but not required. P

assengers are suggested to secure this from Future Travel or international insurance if you are a foreign national
====================================================================================================================
PRICE
$3622.

(

$3450. CASH DISCOUNT PRICE

) PER PERSON DOUBLE OCCUPANCY. Max of 2 in a room.
Single rooms may be available  upon request. Price for a single room: 
$4410.

($4200. CASH DISCOUNT PRICE)
BEFORE YOU SIGN UP
All persons must be capable of boarding the motor coach without assistance. In addition some venues will require walking over uneven ground.
No science background is necessary to participate.
HOW TO SIGN UP FOR THE EXPEDITION
Click HERE to complete one registration form for each person in your party.

I

F YOU LIVE OUTSIDE THE USA ONLY

,

ENTER ANY 10 DIGIT PHONE NUMBER in the registration form so the fields will accept your entries.

Complete payment by one of the two methods shown below IN THE PAYMENT METHODS SECTION.
We cannot confirm you unless both the registration form [one for each person] and payment are all received.
DEPOSIT AND PAYMENT SCHEDULE
DEPOSIT SCHEDULE
From time of booking before April 1, 2022:  $1,000. per person
by November 30, 2022: 50% of price.
February 1, 2023: 100% of the total price.
CANCELLATION PENALTIES
25% penalty of total paid if cancelled by April 1, 2022
50% penalty of total paid if cancelled by November 30, 2022
After February 1, 2023: 100% penalty
PAYMENT METHODS
All prices are quoted in US Dollars and can be paid in the following ways:
PAY BY CREDIT CARD:  Future Travel, Inc. – A Direct Travel Company does accept VISA, Master Card, American Express, and Discover. We will need you to view, complete the Credit Card Authorization form:
https://houstonwebsolutions.formstack.com/forms/ccauth_eclipse
FOR CASH DISCOUNT PRICE, PAY BY ELECTRONIC CHECK: Use our secure electronic payment form. It is faster/safer than going through the regular mail. The web link is: 
https://houstonwebsolutions.formstack.com/forms/ach_auth_eclipse
IF YOU LIVE OUTSIDE THE UNITED STATES you may pay by one of these methods: 1) credit cards, 2) electronic check transfer from a bank in the United States, or 3) wire transfer. A USD$50 fee is charged if a wire transfer is used for each payment.  No checks or money orders can be accepted! Please contact mweller@dt.com  to make arrangements.
=========================================================================================
GUESTS WITH DISABILITIES
There is no provision for guests with disabilities in that everyone must be ambulatory and able to walk on their own.
FUTURE TRAVEL TERMS AND CONDITIONS
ANY TOUR MEMBER WHO ENGAGES IN EXTREMELY RUDE/OFFENSIVE/REPETITIVE/ILLEGAL BEHAVIOR OR INTERFERES WITH TOUR REPRESENTATIVES ABILITY TO FUNCTION WILL BE EJECTED FROM THE TOUR ON THE SPOT AND WILL BE BANNED FROM PARTICIPATING IN FUTURE TOURS. SUCH BEHAVIOR IS NOT PERMITTED AT ANY TIME.
Participant signature on the registration form will signify your agreement with the following terms and conditions.
In consideration for providing tour operating and planning services for our SOLAR ECLIPSE TRIP ("Program"), Future Travel, Inc. d/b/a Direct Travel and tour participant, on behalf of himself or herself and all other persons traveling under this Program Participant Agreement (including any accompanying persons for whom the Program was purchased), ("Participant") agree to the following terms and conditions outlined below for this Program Participant Agreement (the "Agreement"). As used below, the term "Tour Operator" refers to Future Travel, Inc. d/b/a Direct Travel and any companies that control, are controlled by or are under common control with Future Travel, Inc. d/b/a Direct Travel, and the term "Ground Operator" refers to the individual(s) or service provider(s) contracted to deliver elements of the Program based on experience and expertise at destination. PROGRAM ITINERARY: The itinerary on the Program webpage and any other materials are hereby included in this agreement. However, Tour Operator, reserves the right to make changes to the itinerary as explained further in this Agreement.  For more information, please call (281) 480-1988 or (800) 929-9004 or email eclipse@dt.com.
PROGRAM PRICE: Prices are based on two (2) persons sharing accommodations. There is additional cost for a single accommodation (single supplement) or an extra person in the room if either of these features is available.  Prices may be subject to increase as described in this Agreement and due under terms and conditions relating to third-party service providers, including but not limited to airlines, hotels and other lodging providers, local hosts, sightseeing tour operators, bus lines, car rental companies, driving services, restaurants, and providers of entertainment (the "third-party suppliers").
DEPOSIT AND FINAL PAYMENT REQUIREMENTS: If Participant signs up before the dates posted on the Program webpage, a deposit in the amount stated on the webpage is due along with the signed reservation form in order to secure the reservation, which is subject to availability at the time Tour Operator receives the form and deposit. Dates and deposit amounts vary depending upon the specific Program. Failure to meet those deposit dates will result in cancellation of the reservation and loss of deposit as defined under the cancellation penalties portion of the webpage. If the Program is sold out at the time Tour Operator receives the reservation form and deposit, Tour Operator will contact the Participant and ask if the Participant wishes to be added to a waiting list. Tour Operator reserves the right to accept or decline any prospective Participant for any nondiscriminatory reason in its sole discretion. All reservations must be paid in full by the date specified on the Program Spaces not paid in full by that date are subject to cancellation without refund and will be charged a $250 late-payment fee.  Participant agrees it will not initiate a credit card dispute, such as a chargeback, except in the instance of actual fraud.  In the event Tour Operator must respond and settle a credit card dispute, absent an incident of actual fraud, Tour Operator reserves the right to charge for any related expenses, including reasonable attorneys' fees and interest charges at the highest rate allowed by law, which Participant will be responsible for. Participant agrees to work with Tour Operator to find resolution to the best of its ability, prior to initiating any chargebacks.
PROGRAM CANCELLATION BY PARTICIPANT:  Due to the substantial costs of operation associated with the travel management of the Program and loss of anticipated revenue, in the event the Participant cancels, Tour Operator will retain the total of payments, which Participant agrees represents properly due liquidated damages and not a penalty. However, if Participant finds a replacement traveler or any other members of the traveling party, Tour Operator will instead charge a change fee of $250.00 as specified on the Program Tour Operator must receive the written (email is sufficient) notice of the change and a signed/scanned reservation form from the new participant at least ninety (90) days prior to the date of departure in order to be eligible for a partial refund in accordance with the rules specified on each specific tour page.  If Tour Operator receives notice of the change less than ninety (90) days prior to the departure date, Tour Operator will not provide a refund. There is no refund for unused portions of the Program once the Program has commenced. The Participant is solely responsible for costs incurred due to missed, canceled or delayed transportation. Participant's decision not to participate on the Program due to State Department/other US or foreign government warnings, fear of travel, illness, or any other reason will be deemed a cancellation.  If a flight or other delay for any reason prevents the Participant from joining the Program on the departure date and time, the Participant will be considered a no-show, and Tour Operator will not provide a full or partial refund or credit toward a future Program, but the Participant may join the Program late at his or her expense. There are no exceptions to the cancellation policies.
OTHER CHANGES TO TRAVEL ARRANGEMENTS: There will be a change fee of $75.00 per Participant charged for any change in travel arrangements made after ticketing and at least thirty (30) days prior to the date of departure in addition to charges incurred by third-party suppliers. No changes will be allowed within thirty (30) days of the departure date.
TRAVEL PROTECTON PLAN (INSURANCE): Travel Protection Plan coverage is required for all participants. Such protection must include sufficient coverage (as defined by Tour Operator) for medical expenses, potential medical emergency evacuation if required to receive medical care due to location; and is highly recommended to include trip cancellation coverage. Tour Operator will provide insurance information prior to processing deposit. However, any questions whatsoever regarding Travel Protection Plan coverage should be addressed directly to the issuing Travel Protection Plan company.  Tour Operator offers Allianz Global Assistance Travel Protection Plan coverage to United States and Canadian residents and will provide costs associated with insuring the trip if Participant elects to purchase Allianz Global Assistance, both at time of deposit and final payment. If Participant is a resident to a country other than the United States or Canada, Participant will be obligated to purchase insurance in his or her home country. Participant will be required to purchase this insurance or produce a compatible coverage policy approved by Tour Operator.
PROGRAM PRICE INCREASES:  In the event that the cost of any aspect of the Program, including but not limited to currency fluctuations and the cost of third-party supplier services, should incur an unexpected cost increase, Tour Operator is obligated to pass on these increases to Participant. While rare, they can occur and are beyond the control of Tour Operator.  If an increase occurs, Tour Operator will provide the amount and reason for such an increase to Participant, and Participant is required to provide payment by the date due per communication from Tour Operator or cancel Program in accordance with Section 4 of this Agreement.
PROGRAM AIRFARES:  Programs are generally based on land or sea only, and do not include airfare. Airline arrangements are usually optional and not included in the Program price unless specifically stated. In the event airline arrangements are included, specific terms and conditions applicable to the ticketing carrier (airline) will apply. Terms and conditions are subject to the specific airlines' terms and policies in place which are governed solely by the airlines. Airlines and airfares included in the Program are subject to change without notice.
ECLIPSE (or other astronomical event) VIEWING: Tour Operator has no control over any astronomical events. While the Tour Operator will use best reasonable efforts to arrange for the viewing, there is no guarantee that there will not be cloud cover, or that there will not be another reason beyond Tour Operator's control or influence over other factors that affect the Participant's ability to view an astronomical event. Therefore, Tour Operator will not be liable or responsible for any loss, damage, cost, or expense of any kind in the event that such viewing is not possible for any reason including but not limited to any act of God, war, fire, collision, directions of underwriters, arrest, order or restraint by any government agency or official acting under color of authority, acts of terrorism, labor disturbances or disputes, civil commotion, weather conditions and considerations of the safety of the ground transportation being used, (for which the Ground Operator shall be the sole judge),  breakdowns of or damage to the transport vehicle, requisition of the vehicle by governmental authority, illness, death of a family member or other cause or circumstance beyond the control of Tour Operator.
PROGRAM CHANGES OR CANCELLATION BY THIRD-PARTY SUPPLIER, PROGRAM, OR GROUND OPERATOR: The Ground Operator in its sole discretion may cancel, advance, or postpone any part of the Program, change the itinerary, and may (but is not obligated to) substitute another transport vehicle, and Tour Operator will not be liable for any loss whatsoever to passengers by reason of such cancellation, advancement, postponement, or substitution. If the Program is fully or partially canceled by the Ground Operator, the Tour Operator will provide a proportional refund in the event the Tour Operator receives a refund from the Ground Operator. Under such circumstances, Tour Operator shall have no further liability for damages or compensation of any kind, and Participant understands that any refund is contingent on Tour Operator receiving a refund from Ground Operator. Participant agrees that the availability of any refund from the travel protection plan and/or other travel products (airfare, lodging, transfers), even if purchased in conjunction with the Program, will be determined in accordance with the applicable third-party supplier cancellation policies for such other products or services.
MINIMUM PARTICIPATION. Tour Operator reserves the right to cancel the Program for inadequate participation, in which case the Tour Operator will provide a full refund minus any non-refundable portion, or a full travel credit of the Program price, at the Tour Operator's sole discretion, and shall have no further liability for damages or compensation of any kind. Notification regarding cancellation due to minimum participation will be provided as soon as reasonably possible, but typically at least one hundred (120) days prior to departure date. Sightseeing is subject to change due to weather conditions, accessibility, border crossing limitations, and hours of operation.
GROUND OPERATOR'S PASSAGE CONTRACT: The Ground Operator's Passage Contract shall govern the terms and conditions of such services. You may request a copy of the Ground Operator's Passage Contract, which constitutes the agreement between the Ground Operator and Participant. The Passage Contract provides that the Ground Operator may exercise its rights in a variety of matters. The Tour Operator shall have no liability for a full or partial refund of the tour fare, or for any lodging or transportation expenses, as a result of the Ground Operator's exercise of its contractual rights.
PASSPORTS AND VISAS: International travel requires a passport valid six (6) months beyond the intended return travel date. In many cases, Participant will also need to have multiple consecutive blank visa pages within his or her passport, depending on the countries involved in the itinerary. Many countries also require that visas be obtained prior to travel. Please speak with Tour Operator if unsure about the visa requirements for the travel destination, but Participant is solely responsible for complying with all passport and visa requirements. Citizens of other countries must make their nationalities known to Tour Operator at registration and are responsible for obtaining proper documentation to enter the United States and any other countries involved in the Program.
MEDICAL CERTIFICATION/UNAVAILABILITY AND PASSENGERS REQUIRING SPECIAL ASSISTANCE: By booking the Program, Participant certifies and represents that: (a) Participant is in good general health and physically capable of performing all activities in the Program; (b) Participant is capable of caring for himself/herself during any expedition and will not impede the progress of the trip or enjoyment of other Program participants; (c) Participant understands that any expedition may take him or her far from the nearest viable medical facility and the availability of medical care may be limited, delayed or unavailable; and (d) all expedition members must be self-sufficient; and (e) Participant has not been recently treated for, or is aware of, any physical, mental or other condition or disability, including but not limited to COVID-19 that would create a hazard to himself/herself or other Program Transport may be refused to any Participant whose state of health or physical conditions renders the Participant, in the opinion of the Tour or Ground Operator, unfit.  Participant must notify Tour Operator in writing at the time of booking of any disability or other medical or physical condition that may require special assistance or treatment during the Program. Participant's failure to do so will release Tour Operator from any liability for loss, damages or other compensation arising from or related in any way to such disability or condition. Tour Operator and Ground Operator(s) reserve the right to require that any Participant who is not self-sufficient must travel with a companion who takes responsibility for any assistance needed during the Program and in case of emergency.  Participant understands that if he or she fraudulently represents himself/herself as fit for the Program, Participant may be removed prior to or during the Program at his or her own expense. Participant agrees to indemnify and reimburse Tour Operator and its Ground Operator(s) in the event that these entities by their sole discretion, advance to Participant the cost of emergency medical care, including medical evacuation and/or medical care provided ashore, as well as transportation and/or lodging in connection therewith. Tour Operator shall have no responsibility to advance any such costs.
CHILDREN: Programs are formulated specifically for adults, and any children under the age of 18 must be accepted on a special approval basis in writing. Any approved children must be accompanied and supervised by parents or guardians, who will bear ultimate responsibility for their actions, and are expected to display proper decorum while the group is together, especially at the observation site and on all transport vehicles.
LUGGAGE: Each Participant may bring no more than (2) pieces of luggage on the Program unless specified otherwise in the Program It is recommended that Participants do not bring expensive jewelry or like possessions. Telescopes and observation equipment should be securely packed; insurance protection for high-value items (such as cameras, computers, etc.) is highly recommended. Pets, dangerous or illegal items such as weapons, explosives, combustible substances, non-prescription controlled substances, or illegal drugs may not be brought on the Program. Any such items shall be surrendered to security at embarkation and may be disposed of at the sole discretion of the Ground Operator. Tour Operator assumes no responsibility for checked or carry-on luggage. IF PARTICIPANT CHOOSES TO BRING A TELESCOPE OR ANY UNUSUAL EQUIPMENT, PARTICIPANT MUST PROVIDE A LIST OF SUCH ITEMS TO TOUR OPERATOR. TOUR OPERATOR WILL PROVIDE INSTRUCTIONS RELATED TO CUSTOMS FORMALITIES.
TRANSFERS: When transfers between hotels and airports are included in the Program price, transportation of participants and their baggage is provided only when participant(s) travel with the rest of the group (or language in the tour terms indicates that participant(s) can arrive at any time). If the participant(s) schedule is different from this, private transfers are available at extra cost and must be requested in writing. Carry-on bags must be carried by P Porterage may be included after passing through the customs area upon arrival if so indicated in the inclusions. Porterage is generally not included unless otherwise stated in the individual itinerary inclusions. In some situations, porterage may not be possible or available.
TAXES: The Program price paid includes all taxes Tour Operator has knowledge of for included services such as lodging, transportation, meals, entry fees, permits, and any other services delivered as part of the Any newly enacted taxes imposed by local authorities' unknown to Tour Operator as well as any applicable airport departure taxes will have to be collected from each participant during the Program.
GRATUITIES: There are generally two types of applicable gratuities which are defined as: 1) Gratuity associated with Tour Operator provided services such as group meals; porterage; facilities; etc.; and 2) Gratuity which may be payable to Tour Director(s)/local guide(s) and/or driver(s) at participant' sole discretion.  The Program price paid generally includes type 1 gratuities, while type 2 gratuities are at the participant' expense.  Tour Operator makes every effort to advise participant ahead of time about type 2 gratuities which are customary in many cultures.
MISCELLANEOUS ADDITIONAL COSTS: There are other associated costs that are not included in the Program price including but not limited to: cost of passports or visas, excess luggage, meals and beverages not specified in the itinerary, phone calls, voluntary changes in flights or other methods of transport, laundry, insurance costs, and items or services of a personal nature not specified in the cruise itinerary, and any additional gratuities.
ROOMMATES/CABINMATES: If Participant is traveling alone, but wishes to share occupancy of a room/cabin, Tour Operator will use reasonable efforts to match same-gender roommates, along with smoking/non-smoking preferences.   If Tour Operator cannot find a roommate for any reason, Tour Operator will advise Participant and charge the single supplement fee. Participant may wish to look for a roommate from a local astronomical society, family or friends. Participant's decision to accept a roommate for the Program is at his or her own risk. Tour Operator is not responsible or liable for any and all claims or cause of action arising out of or in connection with Participant's acceptance or selection of a roommate for the Program, including, without limitation, any injury or damage to persons or property which may be caused, directly or indirectly, in whole or in part, from such request or selection.
SMOKING: Smoking is prohibited on Program buses, the astronomical event observation site, and in briefing and lecture rooms as well as in hotel rooms and any other places where the group is congregating.
INFORMATION: The information Tour Operator publishes on the Program Website is believed to be accurate and reliable. Tour Operator makes no representations or warranties regarding such information or any information provided by a third party. Unless expressly stated in writing, the Tour Operator does not endorse products or services offered by any company or person identified in brochures, collateral materials or Websites, nor is the Tour Operator responsible for any content published by a third party.
DISCLAIMER AND LIMITATION OF LIABILITY: In no event will Tour Operator be liable for any injury, loss, claim, damage, or any special, punitive, exemplary, direct, indirect, incidental, or consequential damages of any kind, whether based in contract, tort, strict liability, or otherwise, that arise out of or are in any way connected with the Program even if advised of the possibility of such damages. In no event will Tour Operator's aggregate liability exceed the total Program price set forth in the itinerary for any occurrence including, but not limited to: (1) injury, death or delay of Participant, or loss, damage or delay of or to Participant's luggage or other property, which may be caused, directly or indirectly, in whole or in part, from participation in the Program including, without limitation, Participant's use of or participation in any excursion, on concession or athletic or recreational activity; (2) Participant's request for or selection of a roommate/cabinmate for the Program; (3) emotional distress, mental suffering or anguish or psychological injury of any kind under any circumstances (except when such damages were directly caused by Tour Operator's negligence and resulted from the same Participant sustaining actual physical injury, or having been at risk of actual physical injury, or when such damages are held to have been intentionally inflicted by Tour Operator); (4) any change in scheduled Program events and/or celebrity appearances; (5) the Ground Operators' exercise of its contractual rights; or (6) or (if Participant is entering into this Agreement on behalf of itself and its group, party, or traveling companions) any claim arising out of their assertion that Participant was not authorized to agree on their behalf.  Participant further agrees that Tour Operator shall not be held vicariously liable for the intentional or negligent acts of any persons not employed or engaged by Tour Operator, nor for any intentional or negligent acts of Tour Operator's employees committed while off duty or outside the course and scope of their employment. In the event that a court of competent jurisdiction holds any of the foregoing to be unenforceable, then Tour Operator's liability shall be limited to the maximum extent permitted by law. In addition to the restrictions and exemptions from liability provided in these terms and conditions, Tour Operator shall have the full benefit of any applicable laws providing for limitation and exoneration from liability, and nothing contained herein is intended to operate to limit or deprive Tour Operator of any such statutory limitation of or exoneration from liability.
FORCE MAJEURE: Tour Operator assumes no responsibility for any personal injury, property damage, or other loss, accident, delay, inconvenience, or irregularity which may be occasioned by reason of any matter beyond Tour Operator control including but not limited to a delay or cancellation that causes Participant(s) to miss all or any portion of the Program, acts of God, acts of government, acts by controlling or regulating bodies, war, terrorist acts, riots, disaster, fires, civil disturbance, disease epidemics, public utility failure, restraints or delays affecting carriers or inability in obtaining suppliers or adequate materials, hurricanes, earthquakes, weather extremes, strikes/labor disputes/labor unrest, or any other comparable condition beyond the reasonable control of the Tour Operator. has no special knowledge regarding the financial condition of third-party suppliers, unsafe conditions, health hazards, weather hazards, or climate extremes at locations to which Participant(s) may travel. Participant understands that health care standards, facilities, and services abroad may be different or even inadequate for treating health conditions.  It is the responsibility of each Participant to obtain health and medical certificates, inoculations and vaccinations that may be required.
DISPUTES: Except where prohibited by law, Participant and all members of Participant's party expressly agree that: (1) any and all disputes, claims and causes of action against Tour Operator arising out of or connected with the Program shall be resolved individually, without resort to any form of class action, and exclusively by the appropriate court located in Houston, Texas, U.S.A. to the exclusion of the courts of any other state, territory or country; (2) Participant waives any venue or other objection that Participant may have to any such action or proceeding being brought in any court located in Houston, Texas; (3) any and all claims, judgments and awards shall be limited to actual out-of-pocket costs incurred, including costs associated with the Program, but in no event attorneys' fees; and (4) Participant waives the right to claim any other damages whatsoever, including, but not limited to, punitive, special, consequential, direct or indirect damages. All issues and questions concerning the construction, validity, interpretation and enforceability of these terms and conditions shall be governed by and construed in accordance with the laws of the State of Texas, without giving effect to any choice of law or conflict of law rules which would cause the application of the laws of any jurisdiction other than the State of Texas. Participant agrees to present any claims against Tour Operator within 30 days after the Program ends and to file within one year of the incident, and Participant acknowledges that this expressly limits the applicable statute of limitations to one year. NEITHER PARTY MAY INITIATE OR BE PART OF A CLASS ACTION LAWSUIT OR LEGAL PROCEEDING AGAINST THE OTHER.
INDEMNIFICATION: Participant shall indemnify, defend and hold harmless Tour Operator and its officers, employees, directors, third-party suppliers and agents, in their individual capacities or otherwise, from and against any losses arising out of: (i) Participant's negligence; (ii) Participant's failure to comply with applicable law; or (iii) Participant's failure to comply with this Agreement.
ASSUMPTION OF RISK AND DISCHARGE: Participant acknowledges that he or she has voluntarily applied for the Program. Participant understands that he or she may travel to countries and areas that are inherently risky. Participant agrees to assume all risks associated with the Program including forces of nature, terrorism, civil unrest, war, accidents, and transportation including land vehicles, boats, and aircraft that are not operated and maintained to the standards found in North America, and Participant hereby assumes such risks. Participant also assumes risks associated with altitude, illness, disease, physical exertion, and alcohol consumption, knowing that access to evacuation and/or suitable medical supplies and support may not be available. Participant further assumes full responsibility for personal injury to himself or herself and further releases and discharges Program and its affiliates, managers, agents, representatives and assigns, for injury, loss, delay, or damage, all claims or causes of action related to Participant or Participant's property arising out of Participant's use of or presence upon the facilities arranged by or of any activities arranged by Program whether caused by the negligent or intentional acts or omissions of Participant or other third parties. Participant agrees that in the event he or she shall require medical care or treatment, Participant will be financially responsible for any costs incurred as a result of such care or treatment. Participant acknowledges that all activities associated with the Program, however conducted, including airline flights and ground transportation, are operated by independent contractors and third parties. Tour Operator neither supervises nor controls their actions, nor makes any representation, either expressed or implied, as to their suitability and safety. These services are provided only as a convenience for Participant, and Participant is choosing to use the services.
MISCELLANEOUS: Tour Operator may assign its rights and/or delegate all or a portion of its duties under this Agreement to any third party at any time without the consent or permission of any parties to this Agreement.  If there is a conflict between this Agreement and one or more terms contained in another agreement between Participant and Tour Operator, this Agreement will control. No alteration, cancellation, variation of, or addition to this Agreement shall be of any force or effect unless reduced to writing and signed by Tour Operator. If there is a conflict between any part of this Agreement and any present or future law, the part that is affected shall be curtailed only to the extent necessary to bring it within the requirements of that law.  The Parties agree and intend an electronic or facsimile version of this Agreement shall be considered an original if signed by both Parties via an authorized digitally scanned signature or original signature.