2020 ANNULAR ECLIPSE OF THE SUN IN OMAN
Another small group tour from Ring of Fire Expeditions
June 17 – 22, 2020 
BASIC INFORMATION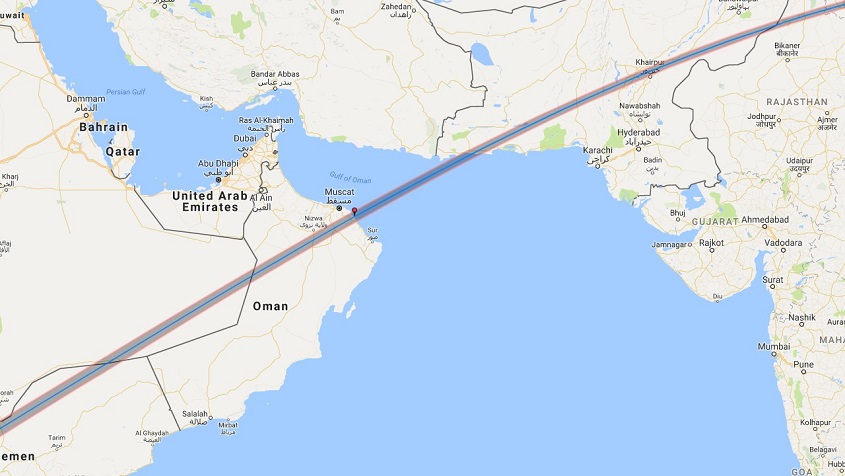 Path of the annular eclipse of June 21, 2020 as it goes over Oman. The path is only 33 km/ 21 miles wide.
This solar eclipse tour is our 50th solar eclipse adventure from RING OF FIRE EXPEDITIONS.  It will feature six days in Oman and will include visits to important sites and the annular (ring) eclipse of the Sun on the morning of June 21, 2020.  The tour will be led by Paul D. Maley of the NASA Johnson Space Center Astronomical Society in Houston, Texas USA and will be his 76th solar eclipse trip.  At night, if the sky is clear, there will be opportunities to observe the stars in the desert sky.  The highlight will be the observation of the "ring eclipse" where the Moon's diameter will appear to fit entirely inside the disc of the Sun for around 50 seconds if at the center line and 21 to 25 seconds from our hotel site at the north edge.  Our goal will be to position ourselves at or near the northern edge of the eclipse path where the Baily's Beads phenomenon will be protracted while annularity will be reduced.  Depending on visibility we may instead target the center of the eclipse path to capture the 'bull's eye effect'.  The Sun will be about 56 degrees above the eastern horizon and weather chances of seeing the eclipse are about quite good based on averaging past satellite data.
Temperatures in Oman can reach 44 deg Celsius/111 deg F or even higher during the summer months. We will be using air conditioned vans for transport.
ITINERARY
Effective March, 2018 but may be changed as circumstances dictate.
Some modifications may occur due to routing and schedule changes in the region prior to the time of the tour. Prices are those in effect as of the date above and may change due to currency fluctuations, fuel surcharges caused by escalating oil prices or increases mandated by ground operators.
RING OF FIRE EXPEDITIONS does its best to keep prices in line as far in advance as possible.   Though the tour starts June 17 in Muscat, Oman, it is even more strongly recommended that all tour members arrive at least one day before in order to minimize the chance of any misconnections with air transport.
Minimum group size 8 persons.  Abbreviations below B=Breakfast, L=Lunch, D=Dinner.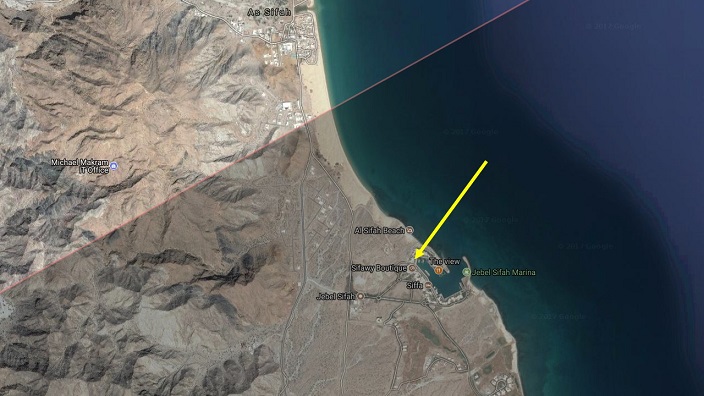 Eclipse observation is possible within the gray shaded area. The north edge of the eclipse path is about 1km from the hotel.  Our hotel site will be near the arrow. Map derived from software courtesy of X. Jubier.
JUNE 17  (Wednesday): ARRIVAL INTO MUSCAT, OMAN 
Meet and transfer to the Park Inn by Radisson – check in starts at 2 PM
Muscat City Tour ½ day
1400 hrs– Proceed to the PDO (Petroleum Development Oman) Planetarium which was constructed in 2000. PDO built Oman's first ever planetarium as an annex to the Oil and Gas Exhibition Center as a gift to the nation to mark the 30th anniversary of the reign of His Majesty Sultan Qaboos bin Said.  The Planetarium is suitable for both children and adults and teaches them about astronomy in an engaging way. It gives children the opportunity to develop their minds and foster an interest in modern science.  If there is time we will plan a stop to look inside.  Following this we will drive to the old Muscat area.  We will walk around Al Alam Palace (photo stop) and visit its surroundings.   The Al Alam Palace is the ceremonial palace of His Majesty the Sultan. The palace is situated in the heart of the Old Muscat and is surrounded by the Al Jalali and Al Mirani forts.  It will soon be facing the upcoming National Museum of Oman. Former Sultans used to live in a house called Bait Al Alam which was demolished in the early 70s to build this new palace in its place which was to be the official residence of the Sultan of Oman.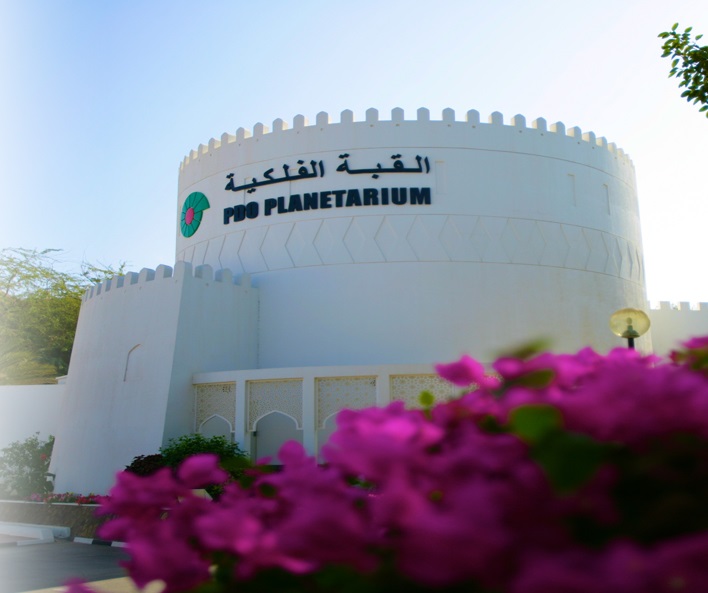 Petroleum Development Oman (PDO) Planetarium building
This evening we will drive along the waterfront and take our first stop at the bustling Muttrah souq (market).  The colorful souq will take you at least a century back in time as it has been functioning during this entire period. After having enjoyed your time at the souq, you have short walk along the Corniche with lots and lots of photo opportunities.  The "Frankincense burner" is a delight to watch in the night with its full illumination.
Dinner at a local restaurant.
Sunrise is at 5.19am, sunset at 6.54pm,  Overnight stay at Park Inn by Radisson.  The Park Inn by Radisson Muscat is located in the centre of Muscat on the main highway linking Muscat International Airport to Ruwi, the central business district. It offers a rooftop pool with sea and mountain views. Free WiFi is available in all areas.  All air-conditioned rooms feature bright, contemporary décor and satellite flat-screen TVs. Each room has a private en suite bathroom, a minibar and a safe. High speed Wi-Fi access is also available.
The roof-top bar Sama Terrazza offers panoramic views of the city, sea and mountains. The Palm Restaurant serves international delicacies, whilst the Red Bar & Grill has a menu based on salads, burgers and steaks. A 24-hour room service is also available.  For guests' relaxation, there is a sauna and massage rooms. Guests can also work out in the well-equipped gym or bask in the sun on the hotel's poolside terrace.  The Park Inn by Radisson is just a 5-minute drive from the Grand Mosque. The beach area and the Shatti Al Qurum diplomatic and commercial district are also 5 minutes' drive away from the hotel. Free private parking is also available.

Rooftop pool at the Park Inn by Radisson
JUNE 18 (Thursday): MUSCAT- JABEL SHAMS- NIZWA   
Breakfast at the hotel.
0830 Hrs: Pickup from hotel and proceed to visit Grand Mosque, the most exquisite Mosque in Oman. The developed part of the site, Grand Mosque including the fully consolidated areas and landscaping, covers 416,000 square meters. The Mosque complex (covering 40,000 square meters) is constructed on a raised podium in keeping with the tradition of Omani mosques that were built elevated from street level. (Ladies to be fully covered and to carry a head scarf and men in trousers) .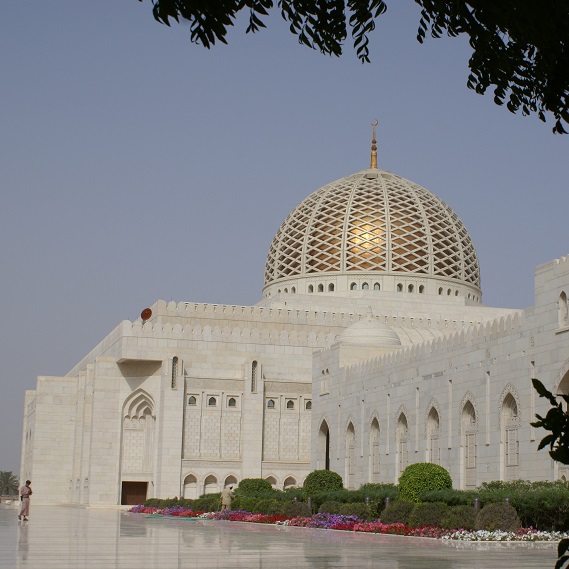 The Grand Mosque of Muscat
Post visit we'll drive to Jabel Shams. Continue your journey to the top of Jebel Shams, "Sun Mountain", Oman's highest peak, 3009 m. The cooler temperatures will surprise you as you reach the top to get a spectacular view of the "Grand Canyon".    Our next stop takes us to Wadi Nakher located in the depth of deepest canyon. Visit Misfah a pretty mountain village with stone dwellings still in existence. While heading for Jebel Shams stop at the terrace farming village of Wadi Ghul.  Oman's highest mountain, Jebel Shams, is best known not for its peak but for the view into the spectacularly deep Wadi Ghul lying alongside it. The straight-sided Wadi Ghul is known locally as the Grand Canyon of Arabia as it fissures abruptly between the flat canyon rims, exposing vertical cliffs of 1000m and more. Until recently, there was nothing between the nervous driver and a plunge into the abyss but now an iron railing at least indicates the most precipitous points along the track and a couple of rough car parks along the rim pick out some of the best viewpoints into the canyon. In the Jebel Akhdar range Jebel Shams, the highest peak, offers a spectacular view. (It is advisable to wear light comfortable clothing and walking shoes).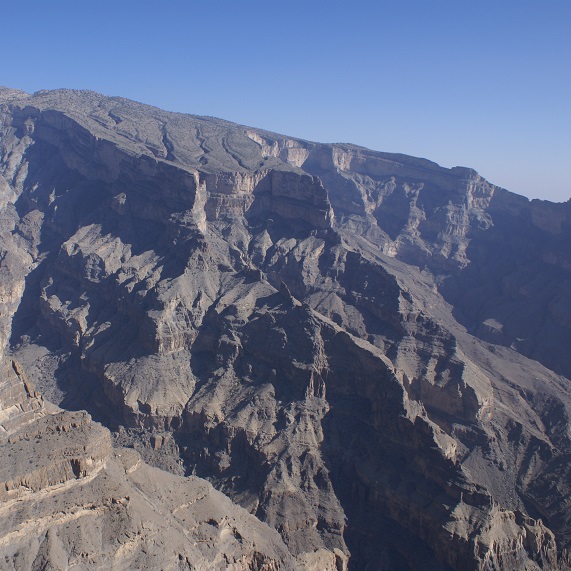 A portion of the canyon
After this proceed to Nizwa.  Upon arrival check-in at the Golden Tulip Nizwa Hotel. Overlooking the Hajar Mountains, this 4-star, deluxe hotel offers spacious accommodation, 24-hour room service and a heated outdoor pool. It also includes 2 indoor bars, a pool bar and a shisha corner. Free WiFi access is available.  With air conditioning, a flat-screen satellite TV and tea and coffee making facilities, all classic-style rooms and suites at this Nizwa hotel come with a work desk. Each private bathroom contains a selection of toiletries, a hairdryer and a bathtub.
Guests receive a free welcome drink on arrival. International cuisine is available daily in Golden Tulip Nizwa's restaurant. There is also a 24-hour lobby café. The poolside bar organises regular barbecues.  The Golden Tulip Nizwa Hotel has a sauna and a fitness centre with cardiovascular equipment.
The Golden Tulip hotel
Overnight stay at Golden Tulip Nizwa (Breakfast/lunch/Dinner).
JUNE 19 (Friday): NIZWA – WADI BANI KHALID-  RAS AL JINZ   
Breakfast at the hotel.
0730 Hrs: We start our day with visiting Friday market (Souq) renowned for its Friday cattle auction, intricately hand-carved "Khanjars" (daggers) & ornamental silver jewelry. We then visit the city's vast 17th century fort, long defending the city's natural wealth and its strategic location.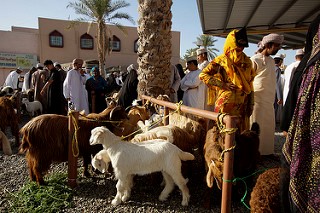 Nizwa souk
We continue our drive to Wahiba and visit the pretty village of Birkat Al Mauz. We'll walk through its oasis and date plantations before continuing to Nizwa. With the 2 sets of ruins, a large banana plantation and the scenic surroundings, the site is also home to the old Falaj irrigation system listed as UNESCO World heritage.
We'll continue our drive to Wadi Bani Khalid one of the most picturesque wadis in Oman where water flows all year round. We will have some time to swim and relax. You can cool down in the green pools or walk up the wadi and see more pools with waterfalls.   Later drive to Ras Al Jinz.
Arrive in the evening at Ras Al Jinz Turtle Reserve.  This hotel has been chosen as we are able to walk directly on to the beach, and not have to drive to visit Turtle Reserve.  Upon arrival check-in at the hotel.  This property is 1 minute walk from the beach. Located in Ras Al Jinz, the nesting site for green turtles, Ras Al jinz Turtle Reserve offers air-conditioned rooms and cottages with a flat-screen satellite TV. It offers a free private beach area.  Oman is a vital area for Green Turtles in the Indian Ocean and the Green Back Turtles are heavily protected by the government of the country. In fact, over 275 of the Sultanate's beaches double-up as nesting grounds for five of the seven recognized species of sea turtles, the most common being the Green Back Turtle.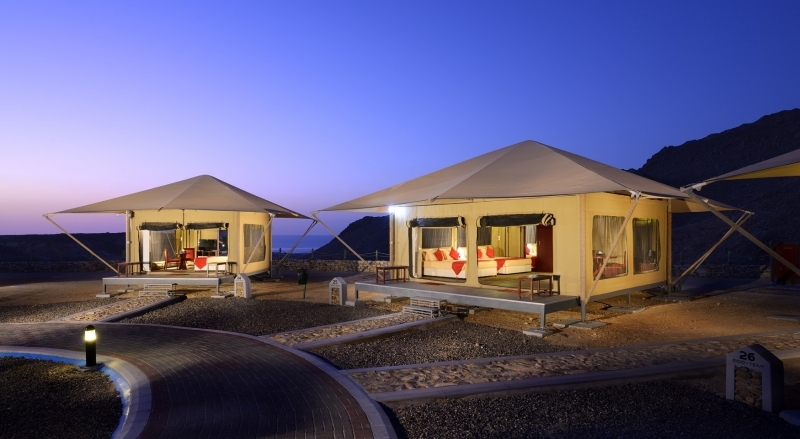 Ras Al Jinz Turtle Reserve Hotel
All accommodation at Ras Al jinz Turtle Reserve features a warm décor. Each cottage is situated on a hillock. The en suite bathroom is fitted with a shower and free toiletries.  There is a restaurant which offers traditional food. A breakfast buffet is served. The 24-hour front desk provides free luggage storage and a safety deposit box.
We are led to the beach by an ecologist to see the female Turtles return to their beach to lay eggs. (Please note that the main nesting season is Jun-Aug, at other times of the year, there may or not be turtles every night).
Our plan is to do some night sky observation as well as watch as the turtles come ashore.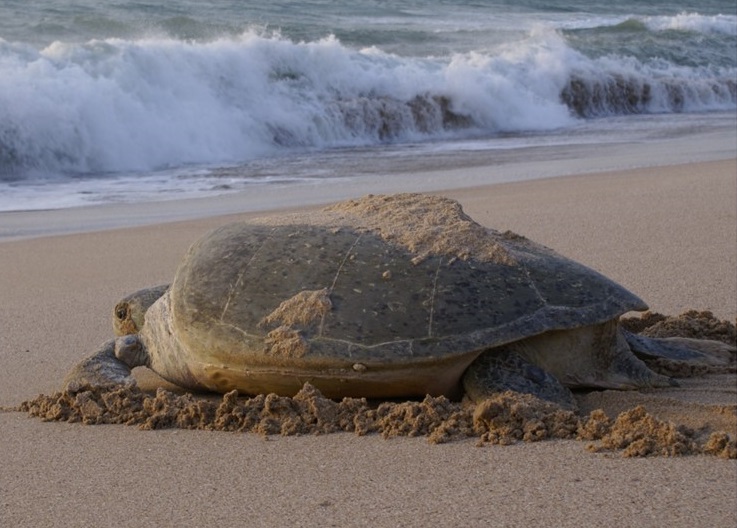 One of the turtles burrowing on the beach
The Ras AI Jinz beach is world renown for the nesting endangered green turtle, Chelonia mydas, probably the most important nesting concentration on the Indian Ocean. This is the only place where the public can watch the nesting process of these amazing sea giants.  Thousands of sea turtles migrate annually from the shores of the Arabian Gulf, the Red Sea and Somalia to lay their eggs on the Sultanate's shores.  The months of  July –October are the peak time for turtle watching in Oman as approximately 20,000 turtles or more lay an estimated 50,000-60,000 eggs each year in the Sultanate, but this is a continuing monthly process.  At night carrying their heavy shells on their backs these turtles drag themselves out of the water to the beach. Strenuously and with great difficulty, they dig a hole in the sand using the tips of their paws so as to bury their eggs and then return to the sea. After about 55 days, the eggs hatch and baby turtles come out to start the most dangerous journey of their lives, trying to avoid hungry foxes, crabs and birds and pushing their way towards the sea where they can find safety in the waters. Watching the turtles' night dash to the sea is among the most popular tourist activities, especially at Ras Al Hadd Turtle Reserve.
Overnight stay at Ras Al Jinz Scientific Research Center. (Breakfast/lunch/Dinner). 
JUNE 20 (Saturday): RAS AL JINZ-MUSCAT
In the early morning you can visit the beach- A further dawn expedition is available for those that wish. This is a good time for photography, as some turtles may be making their way back to the sea after laying their eggs.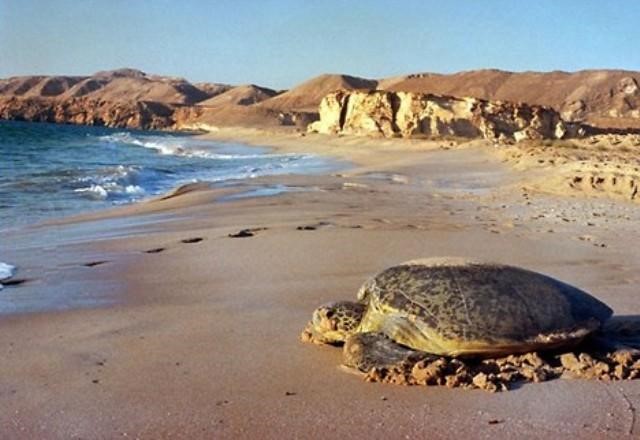 Breakfast at the hotel.
0730 hrs– Check-out from hotel and drive to Muscat via Coastal route.
We'll first stop at Wadi Shab. Take small boats to visit inside. You can walk around with nature or swim.
Wadi Shab Oman is one of the most popular gorges in the Sultanate. The place is a paradise to which access is limited via the river, so hiking and swimming are involved to reach some sections.
In Arabic Wadi Shab means the 'Gorge Between Cliffs',  The wadi rewards even the most reluctant walker with turquoise pools, waterfalls and terraced plantations; kingfishers add glorious splashes of color and all-year-round trusses of pink oleander bloom by the water's edge. While swimming in the lower pools is forbidden (they are a source of drinking water), there is an opportunity for discreet swimming in the upper reaches of the wadi, where you can go into a partially submerged cave.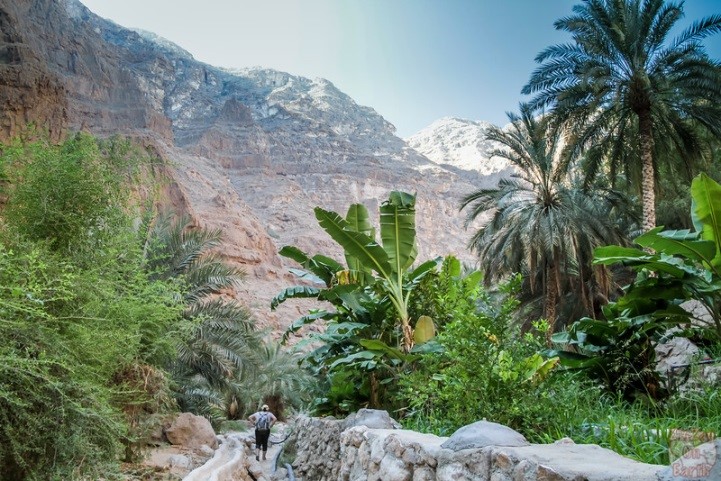 Wadi Shab
Our next stop will be Bimah Sink hole (quick photo stop) before heading to finally Sifawy.  Upon arrival check-in at the Sifaway Boutique Hotel.
Air-conditioned rooms and suites with private balconies are offered by this boutique hotel, located in the newly developed resort town of Jebel Sifah. The hotel features 2 restaurants, a large pool and a fitness center.  A satellite LCD TV and minibar are available in all of Sifawy Boutique's accommodations. Each is decorated in a blue, green or magenta colour scheme and offers a spacious private bathroom. Free wifi and private beach area.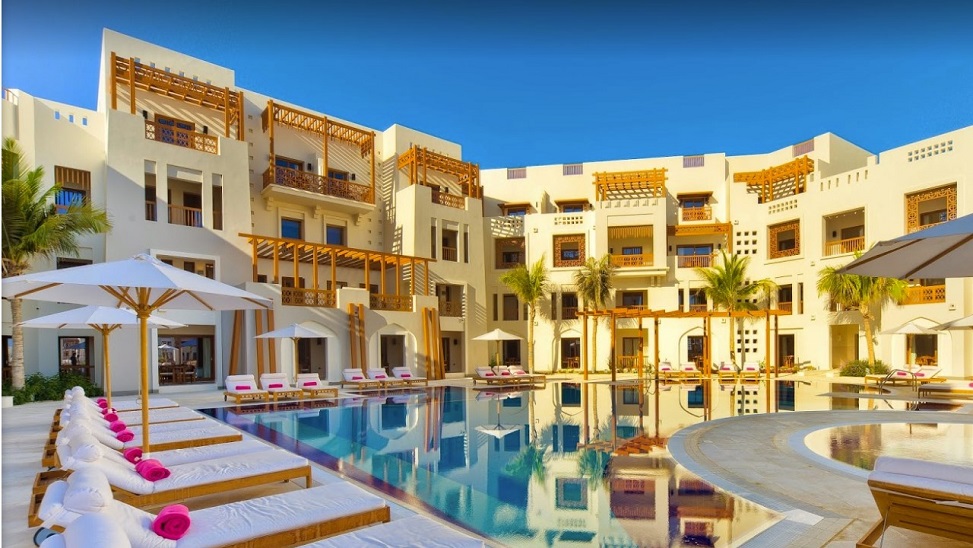 Sifawy Boutique Hotel
Overnight at the Sifawy hotel (Breakfast/Packed lunch/Dinner)
JUNE 21 (Sunday): Solar Eclipse Day  
Breakfast at the hotel.
After breakfast we will move out to locate the best possible viewing site either at the edge of the annular eclipse path or at the center depending upon the weather conditions.  It is possible to see 25 seconds of annularity at our hotel.   The Sun will be located at 56 degrees elevation above azimuth 82 degrees.  The Moon's disc can first be seen at the Sun's edge around 4:15UT (Oman is GMT + 4 hours) or 8:15am local time proceeding toward the center of the disc by 9:39am.  The Moon exits at 11:20am.  Some time after that we will proceed back to our hotel.  Depending upon the weather we may choose to observe from the hotel, near the northern edge of the eclipse path where the Baily's Beads phenomena lasts the longest or at the center where the Bull's Eye Moon effect will be most pronounced.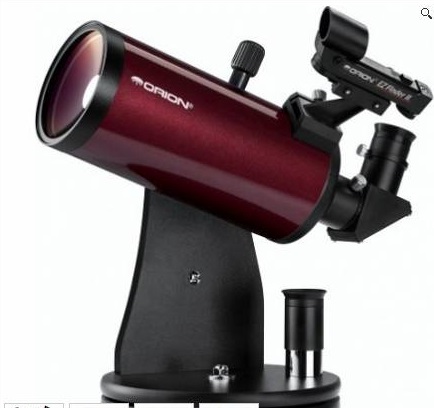 A small table top scope or similar with ND5 filter are recommended for viewing/photographing the annular eclipse. WARNING: ALWAYS USE A NEUTRAL DENSITY 5 SOLAR FILTER IN FRONT OF THE OBJECTIVE LENS when viewing the Sun. In addition cover the objective lens of the finder so that no one can accidentally look through it.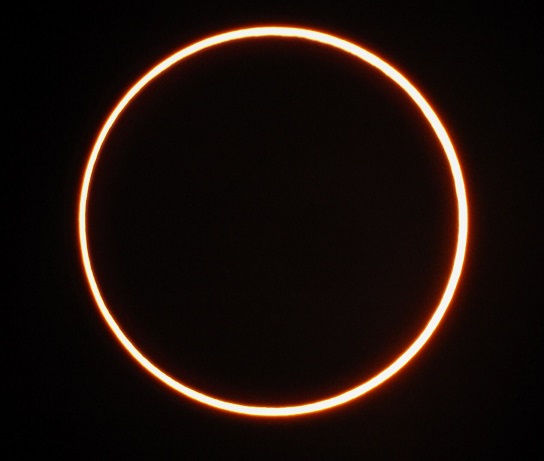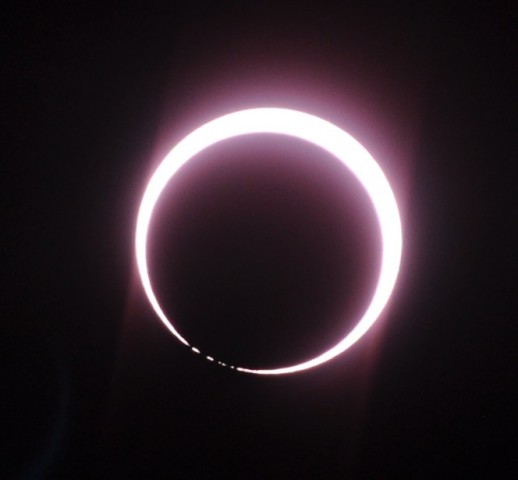 (right) Baily's Beads can be seen at the point where the Moon and Sun seem to touch at the edge of the path of annularity. These points of light are prolonged at the edge, while at the center they last just a few seconds.  This photo was shot in India in 1995 at one of our previous expeditions. For those who want to drive to the edge from the hotel, this is the view we should see.
(left) Annular eclipse with a ring around the Moon can be observed from the center line.  The ring for this eclipse will be much larger than the one in the photo.  At this location about 50 seconds of annularity can be seen. In theory it may even be possible to see the corona in photos.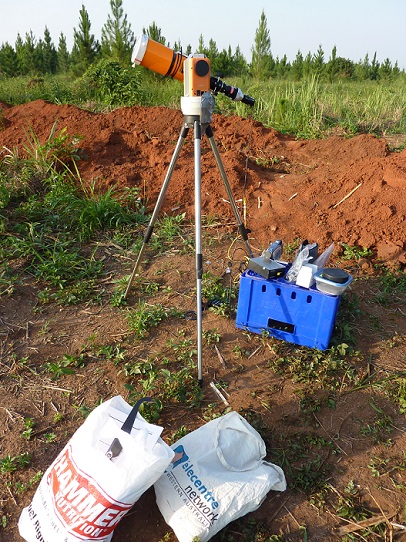 Eclipse site setup in a non-desert environment P. Maley photo from our Ring of Fire Expeditions annular eclipse trip to Uganda in 2010.
The above photo shows a tripod and telescope (IOptron) along with bags of items needed to support the observer at the eclipse site. This can include water, toilet paper, hat, sunscreen, snacks.  The small blue crate is used to support a video camera and GPS receiver, solar filter, right angle eyepiece, finder scope, etc.  Participants who are serious about photography should prepare their equipment at home, test it out and be sure that all components are working and are properly packed before heading for Oman.
It is not necessary to have all of this stuff to watch the eclipse. A pair of binoculars can be used to safely project the Sun's image onto white cardboard, or binoculars outfitted with solar filters on the front ends are often employed to keep track of the eclipse progress.  "Eclipse glasses" provided by ROFE make adequate eclipse progress watching devices though do not yield a highly detailed image. It is highly recommended to bring an optical device that will allow you to view the Sun with magnification.
Lunch following the eclipse and afternoon at leisure.
Overnight at the Sifawy hotel (Breakfast/lunch/Dinner)

Sifah town with hotel in foreground at dusk
JUNE 22 (Monday):
Breakfast at the hotel. 
Check-out and transfer to the airport to board flight for onward journey.  (Breakfast)
PRICE
NOTE: All prices are as of March 2018  and based on a minimum group size of 9 persons.  A 5% Value Added Tax (VAT) will be introduced in 2019 but has already been accounted for in pricing.
USD$2879.(

cash discount price $2742.

) LAND ONLY per person double occupancy; tour starts and ends in Muscat, Oman 
If you want a 
single

room, price is $3466. (

cash discount price $3301.

) if available.
SORRY, NO CHILDREN UNDER 12.
PRICE INCLUDES:
Accommodations as mentioned above or similar hotels
Meals as mentioned in program (set menu meals with water only)/ all the breakfasts and dinners will be at the hotels. Lunch at local restaurants or packed lunch boxes during drives.
Services of Toyota Coaster in Muscat for arrival transfer and city tour/ departure transfer
Services of 4 WD vehicle for outside to Muscat// maximum 4 PAX + 1 chauffeur in one vehicle
Sightseeing/tours as per the program
Services of English speaking guide for entire trip (it may be one of our guide who got professional guiding license and drives as well)
Entrance fees where applicable
2 bottle of drinking water during tours/drives
All taxes
PRICE DOES NOT INCLUDE: 
international airfare or airfare of any kind
soft drinks, beer or alcoholic beverages of any kind
tips to guides and drivers
any other service not mentioned in the PRICE INCLUDES section above.
passport and visa fees
personal expenses such as (but not limited to) laundry, phone, internet, optional tours
porterage
meals not listed
trip cancellation/interruption/medical insurance (HIGHLY RECOMMENDED IN CASE OF MISSED CONNECTION, ILLNESS OR OTHER UNANTICIPATED EVENTS)
PAYMENT SCHEDULE:
$1050 if paid by credit card ($1000 cash discount price) deposit due immediately with registration form
Balance due August 1, 2019
CANCELLATIONS:
$750 penalty until August 1, 2019
100% penalty if canceled after August 1, 2019
Deposits and cancellation penalties are driven by the terms and conditions provided to us by our ground operator(s).
REGISTRATION FORM
Click here to register. One registration form for each person in your party. Then complete payment by one of the two methods shown below.
HOW TO PAY
All prices are quoted in US Dollars and can be paid in the following ways:
PAY BY CREDIT CARD:  Future Travel, Inc. – A Direct Travel Company does accept VISA, Master Card, American Express, and Discover. We will need you to view, complete the Credit Card Authorization form:
https://houstonwebsolutions.formstack.com/forms/ccauth_eclipse
PAY BY ELECTRONIC CHECK (cash discount of 5%): Use our secure electronic payment form. It is faster/safer than going through the regular mail. The web link is: 
https://houstonwebsolutions.formstack.com/forms/ach_auth_eclipse
IF YOU LIVE OUTSIDE THE UNITED STATES you may pay by one of these methods: 1) credit cards, 2) electronic check transfer from a bank in the United States, or 3) wire transfer. A USD$50 fee is charged if a wire transfer is used.  No checks or money orders can be accepted! Please contact mweller@dt.com  to make arrangements.
Eclipse Tour Participant's Agreement
ANY TOUR MEMBER WHO ENGAGES IN EXTREMELY RUDE/OFFENSIVE/REPETETIVE/ILLEGAL BEHAVIOR OR INTERFERES WITH TOUR REPRESENTATIVES ABILITY TO FUNCTION WILL BE EJECTED FROM THE TOUR ON THE SPOT AND WILL BE BANNED FROM PARTICIPATING IN FUTURE TOURS. SUCH BEHAVIOR IS NOT PERMITTED AT ANY TIME.
Your signature on our registration form will signify your agreement with the following terms and conditions. These are the terms and conditions applicable to the land expeditions offered by Future Travel, Inc. a Texas corporation ("we", "us" and "our").  The terms "client" "you" and "your" refer to each person who purchases and/or participates in the Cruise.
1. Eclipse Tour ITINERARY: The itinerary on the Eclipse Tour Website and any other materials is hereby included in this agreement. However, the Tour Operator, reserves the right to make changes to the itinerary as explained in this agreement.  For more information: (281) 480-1988 or (800) 929-9004 or email eclipse@dt.com.
2. Eclipse Tour PRICE: Prices are based on two persons sharing accommodations. There is additional cost for a single accommodation (single supplement) or an extra person in the room if either of these features is available.  Prices may be subject to increase as described in this agreement.
3. DEPOSIT AND FINAL PAYMENT REQUIREMENTS: If you sign up before the dates posted on the Eclipse Tour webpage, a deposit in the amount stated on the webpage is due along with your signed reservation form in order to secure your reservation, which is subject to availability at the time we receive the form and deposit. Dates and deposit amounts vary depending upon the trip. Failure to meet those deposit dates will result in cancellation of your reservation and loss of deposit as defined under the cancellation penalties portion of the webpage. If the Tour is sold out at the time we receive your reservation form and deposit, we will contact you and ask if you wish to be added to a waiting list. We reserve the right to accept or decline any prospective participant for any nondiscriminatory reason in our sole discretion. All reservations must be paid in full by the date specified. Spaces not paid in full by this date are subject to cancellation without refund and will be charged a $250 late-payment fee.
4. Eclipse Tour CANCELLATION BY YOU: We are  making arrangements with travel suppliers that require us to incur very substantial costs of operation. Therefore, if you cancel, we will retain all of your payments as liquidated damages. However, if you find a replacement for yourself or any other members of your traveling party, we will charge a change fee of  $250  as specified on the Eclipse Tour webpage.   We must receive the written (email is sufficient) notice of the change and a signed/scanned reservation form from the new participant. If we receive notice of the change after specified date, we will not provide a refund. There is no refund for unused portions of the Eclipse Tour once it has commenced. You are solely responsible for costs incurred by you due to missed, canceled or delayed transportation. Your decision not to participate on the Eclipse Tour due to State Department/other US or foreign government warnings, fear of travel, illness, or any other reason will be deemed a cancellation.  If a flight or other delay for any reason prevents you from joining the Eclipse Tour on the departure date and time, you will be considered a no-show, and we cannot provide a full or partial refund or credit toward a future Tour, but you may join the Eclipse Tour late at your expense. There are NO exceptions to our cancellation policies.
5. OTHER CHANGES: There will be a change fee of $75.00 per person charged for any change in travel arrangements made after ticketing and at least 30 days prior to departure in addition to charges incurred by our suppliers. No changes will be allowed within 30 days of the departure date.
6. INSURANCE: We strongly recommend that you purchase insurance in case of trip cancellation and medical problems, as well as medical evacuation insurance to cover the cost of a private jet to return home.  We will send you insurance information if you check the box on our reservation form. However, any questions about what travel insurance does or does not cover should be addressed directly to the travel insurance company.  If you decline insurance coverage, you will personally assume full responsibility for any financial loss associated with your travel arrangements, and you could lose your travel investment and/or have to pay more money to correct the situation. For example, you will suffer a loss if:  (i) your flight has been cancelled and your hotel and Tours are nonrefundable; (ii) you need to cancel your trip due to illness; (iii) a hurricane, volcano or earthquake occurs while traveling and you are stranded; (iv) your cruise line, airline, or Tour operator files for bankruptcy, unless you have paid by credit card; (v) a terrorist incident occurs at the destination you planned on visiting; (vi) you have a medical emergency in a foreign country and need medical attention or evacuation; (vii) your bags are lost and your medication is in them, and you need to have an emergency prescription filled; or (viii) your passport and wallet are stolen, and you need emergency cash and a replacement passport.  We offer Travel Guard Travel Insurance to U.S and Canadian residents and will provide costs associated with insuring your trip, both at time of deposit and final payment. If you live in another country, you will have to purchase your own insurance in your home country.
7. Eclipse Tour PRICE INCREASES:  In the event that the cost of any aspect of the Eclipse Tour should incur an unexpected cost increase, Future Travel is obliged to pass on these increases. While rare, they can occur and are beyond the control of Future Travel.  When such increase is known, Future Travel will alert all participants and provide the amount and reason for the increase. It will be required that all Tour members provide payment by the date due per communication from Future Travel.  Prices are also subject to increase for currency fluctuations and the cost of supplier services.
8. Eclipse Tour AIRFARES:  Airline arrangements are usually optional and not included in the tour price unless specifically stated. Airlines and airfares included in your trip are subject to change without notice.  Please check with us for conditions applicable to your airline ticket. Airfares are subject to price increases until you have paid in full. Even after you have paid in full, airfares are subject to supplemental price increases imposed by governments, and you hereby consent to any such price increases. We will not change your requested seat assignments on commercial aircraft without permission.  However, airlines often change seat assignments to satisfy their loyalty members or because of equipment changes (aircraft type). We are not notified of these changes in advance, and often clients are not made aware of these changes until they arrive at the airport.  We are not responsible for seat assignment changes made by the airline. Frequent flyer programs are private agreements between airlines and passengers, and we cannot be held responsible for mileage discrepancies involving airline loyalty reward programs.    
9. Eclipse Tour ECLIPSE (or other astronomical event) VIEWING: We understand that you have decided to participate based on your ability to view the astronomical event advertised as the highlight of the Eclipse Tour . While we will do our best to arrange for the viewing, we cannot guarantee that there will be no cloud cover, that the group will be in the planned position, or that there will not be another reason beyond our control that prevents viewing. Therefore, we will not be liable or responsible for any loss, damage, cost, or expense of any kind in the event that such viewing is not possible for any reason including but not limited to any act of God, war, fire, collision, directions of underwriters, arrest, order or restraint by any government agency or official acting under color of authority, acts of terrorism, labor disturbances or disputes, civil commotion, weather conditions and considerations of the safety of the ground transportation being used, (for which the Ground Operator shall be the sole judge),   breakdowns of or damage to the transport vehicle, requisition of the vehicle by governmental authority, illness, death of a family member or other cause or circumstance beyond our control.
10. Eclipse Tour CHANGES OR CANCELLATION BY GROUND OPERATOR OR US: The Ground Operator in its sole discretion may cancel, advance, or postpone any part of the tour, change the itinerary, and may (but is not obligated to) substitute another transport vehicle, and we will not be liable for any loss whatsoever to passengers by reason of such cancellation, advancement, postponement, or substitution. If the Eclipse Tour is completely canceled by our Ground Operator, we will provide a full refund, or, if the Eclipse Tour is partially canceled, we will provide a partial refund depending on any refund provided to us by the Ground Operator. Under such circumstances, Future Travel shall have no further liability for damages or compensation of any kind. We reserve the right to cancel the Eclipse Tour for inadequate participation, in which case we will provide a full refund of the Eclipse Tour price and shall have no further liability for damages or compensation of any kind. Please note that the availability of any refund for travel insurance and/or other travel products (airfare and hotel), even if purchased in conjunction with the Eclipse Tour, will be determined in accordance with the applicable cancellation policies for such other products or services. Sightseeing is subject to change due to weather conditions, accessibility, border crossing limitations, and hours of operation. Sightseeing will be by motor coach or other transportation as stated in the itinerary.
11. OTHER RIGHTS OF Ground Operators: You may request a copy of the Ground Operator's  Passage Contract, which constitutes your agreement with the Ground Operator. The contract provides that the Ground Operator may exercise its rights in a variety of matters. We have no liability for a full or partial refund of the tour fare, or for any lodging or transportation expenses, as a result of the Ground Operator's exercise of its contractual rights.
12. SAFETY WHILE ON the Eclipse Tour: You assume sole responsibility for your own safety during the Eclipse Tour.  We do not guarantee your safety at any time. You acknowledge that all Excursions /Tours, however conducted, airline flights and ground transportation,  are operated by independent contractors. Future Travel neither supervises nor controls their actions, nor makes any representation, either express or implied, as to their suitability. These services are provided only as a convenience for you, and you are free to use or not use them. You agree that Future Travel assumes no responsibility, does not guarantee performance and in no event shall be liable for any negligent or intentional acts or omissions, loss, damage, injury or delay to you and/or your property in connection with these services.
13. PASSPORTS AND VISAS: International travel requires a passport valid 6 months beyond your intended return travel date. In many cases, you will also need to have multiple consecutive blank visa pages within your passport (the number varies depending on the destination(s)). Many destinations also require that visas be obtained prior to travel. Please speak with us if you are unsure about the visa requirements for your travel destination, but you are solely responsible for complying with passport and visa requirements. Your name, as listed on your travel documents, must exactly match your name as listed on tour or airline documents. Citizens of other countries must make their nationalities known to Future Travel at registration and are responsible for obtaining proper documentation to enter the U.S. and any other countries involved.
14. MEDICAL CERTIFICATION AND PASSENGERS WITH SPECIAL NEEDS: By booking the Solar eclipse tour 2017, you certify that: (a) you are in good general health and capable of performing normal activities on the Eclipse Tour; (b) you are capable of caring for yourself during any expedition and will not impede the progress of the trip or enjoyment of other Eclipse Tour participants; (c) you understand that any expedition may take you far from the nearest viable medical facility; and (d) all expedition members must be self-sufficient; and (e) you have not been recently treated for, nor are aware of, any physical, mental or other condition or disability that would create a hazard to yourself or other Eclipse Tour participants. Any condition that may require attention or treatment must be reported in writing at the time your reservation is made. Transport may be refused to any person whose state of health or physical conditions render them, in the opinion of the Ground Operator, unfit.  Participation in this or any other Eclipse Tour will be denied to any person who will enter her third trimester (twenty-seventh week) of pregnancy by the time of the Eclipse Tour or during the Eclipse Tour and to children under the age specified on the Eclipse Tour Webpage—usually 16. You must notify Future Travel at the time of booking of any disability or other medical or physical condition that may require special assistance during the Eclipse Tour. Your failure to do so will release Future Travel from any liability for loss, damages or other compensation arising from or related in any way to such disability or condition. Future Travel and our Ground Operator(s) reserve the right to require that any passenger who is not self-sufficient must travel with a companion who takes responsibility for any assistance needed during the Eclipse Tour and in case of emergency.  You understand that if you fraudulently represent yourself as fit for this tour, you may be removed prior to or during the Tour at your own expense.
15. CONDITION OR BEHAVIOR: We may exclude you from participating in all or any part of the trip if, in our sole discretion, your condition or behavior renders you unfit for the trip or unfit for continuation once the trip has begun. Unfitness may include, without limitation, any behavior that, regardless of its cause, is inappropriate or offensive or interferes with the delivery of our services, or may constitute a hazard or embarrassment. In such case, our liability shall be strictly limited to a refund of the recoverable cost of any unused portion of the trip.
16. CHILDREN: We normally accept children if they are the age of 16 and older (thought the minimum age may vary by Tour), although some Tours are for adults only and are specified as such. Children must be accompanied and supervised by parents or guardians, who will bear ultimate responsibility for their actions, and are expected to display proper decorum while the group is together, especially at the observation site and on all transport vehicles.
17. LUGGAGE ON BOARD: Each guest may bring onboard a reasonable amount of baggage. It is recommended that participants do not bring expensive jewelry or like possessions with them. Telescopes and observation equipment should be securely packed; insurance on expensive items is highly recommended. All luggage must be stored in the passenger's accommodations. Pets, dangerous or illegal items such as weapons, explosives, combustible substances, non-prescription controlled substances, or illegal drugs may not be brought on the Eclipse Tour. Any such items shall be surrendered to security at embarkation and may be disposed of at the sole discretion of the cruise line. All luggage hand-carried or checked, and your person are subject to security inspections that may involve physical search. Curbside porters are available at the pier during embarkation to take luggage to the vessel. Please be sure each piece of luggage is locked and has a tag listing your name, and contact information. We assume no responsibility for checked or carry-on luggage. Any luggage left anywhere on Tour will be forwarded at the guest's expense if discovered. IF YOU ARE BRINGING A TELESCOPE OR ANY UNUSUAL EQUIPMENT, YOU MUST PROVIDE A LIST OF SUCH ITEMS TO FUTURE TRAVEL SO THAT WE CAN DETERMINE THEY ARE ALLOWABLE. WE WILL PROVIDE INSTRUCTIONS RELATED TO CUSTOMS FORMALITIES.
18. TRANSFERS: When transfers between hotels and airports are included in the  Eclipse Tour price, transportation of participants and their baggage is provided only when participants travel with the rest of the group (or language in the tour terms indicates that you can arrive at any time). If your schedule is different from this, private transfers are available at extra cost and must be requested in writing. Carry-on bags must be carried by Eclipse Tour participants. Porterage may be included AFTER passing through the customs area upon arrival if so indicated in the inclusions. Porterage is generally not included unless otherwise stated in the individual itinerary inclusions. In some situations, porterage may not be possible. Be sure to consult the cruise information to be sure.
19. TAXES AND TIPS: If a land package is involved, tips are not included (unless stated), but taxes for hotel accommodations and airfare are generally included. Departure taxes within foreign countries are NOT included since they vary widely. Each airport departure may require a separate departure tax which will have to be collected from each participant prior to boarding an airline or ship.  Tips are NOT included for guides, or drivers.  Future Travel will provide guidance on tips, when they should be given and how collected.  Although the amounts and timing may differ, this is left to each person's discretion. There will be times when the Tour escort or guide will alert participants as to whom and how much to tip.  These actions are necessary in order to maintain good service and assure that all promised services will occur as scheduled.
20. WHAT ELSE IS NOT INCLUDED ON OUR TOUR: Cost of passports or visas, excess baggage, meals and beverages not specified in the itinerary, phone calls, voluntary changes in  flights or other methods of transport, laundry, insurance costs, and items or services of a personal nature not specified in the cruise itinerary.
21. MEDICAL CARE:  You assume all risks associated with travel and transportation on the Tour. While on the Eclipse Tour or along the way to/from the Eclipse Tour, the availability of medical care may be limited and/or delayed. You acknowledge that all or part of the Eclipse Tour may be in areas where medical care and/or evacuation may not be available. You agree to indemnify and reimburse Future Travel and its ground operators in the event that these entities by their sole discretion, advance to you the cost of emergency medical care, including medical evacuation and/or medical care provided ashore, as well as transportation and/or lodging in connection therewith. Future Travel shall have no responsibility to advance any such costs.
22. ROOMMATES: If you are traveling by yourself but wish to share a room with someone else, we will attempt to match men with male roommates and women with female roommates, along with smoking/non-smoking preferences.   However, the ground operator prohibits all smoking on tour. If we cannot find a roommate for whatever reason we will advise you and have to charge you the single supplement fee. You may wish to look for a roommate from your local astronomical society, family or friends. Your decision to accept a roommate for the tour is at your own risk. Future Travel is not responsible or liable for any and all claims or cause of action arising out of or in connection with your acceptance or selection of a roommate for the tour, including, without limitation, any injury or damage to persons or property which may be caused, directly or indirectly, in whole or in part, from such request or selection.
23. SMOKING: Smoking is prohibited on  our Eclipse Tour buses, the astronomical event observation site, and in briefing and lecture rooms as well as in hotel rooms and any other places where the group is congregating.
24. INFORMATION: Information that we publish in our Eclipse Tour brochures, collateral material and the Eclipse Tour Website is believed to be accurate and reliable. We make no representations or warranties regarding such information or any information provided by a third party. Unless expressly stated in writing, we do not endorse the products or services offered by any company or person identified in our brochures, collateral material or Website, nor are we responsible for any content published by a third party.
25. RESPONSIBILITY: We act only in the capacity of agent for the suppliers of the travel services named in your itinerary or otherwise providing services or goods in connection with the tour (the "suppliers"), such as airlines, hotels and other lodging providers, local hosts, sightseeing tour operators, bus lines, car rental companies, driving services, restaurants, and providers of entertainment. We assume no responsibility for any personal injury, property damage, or other loss, accident, delay, inconvenience, or irregularity which may be occasioned by reason of any act or omission of any of the Suppliers.
26. LIMITATION OF LIABILITY: In no event will we be liable for any injury, loss, claim, damage, or any special, punitive, exemplary, direct, indirect, incidental, or consequential damages of any kind, whether based in contract, tort, strict liability, or otherwise, that arise out of or are in any way connected with the tour even if advised of the possibility of such damages. In no event will our aggregate liability exceed the total tour price set forth in the itinerary for any occurrence including, but not limited to: (1) injury, death or delay of passengers, or loss, damage or delay of or to passengers' baggage or other property, which may be caused, directly or indirectly, in whole or in part, from participation in the Eclipse Tour including, without limitation, passenger's use of or participation in any excursion, on  concession or athletic or recreational activity; (2) your request for or selection of a roommate for the tour; (3) emotional distress, mental suffering or anguish or psychological injury of any kind under any circumstances (except when such damages were caused by Future Travel's negligence and resulted from the same passenger's sustaining actual physical injury, or having been at risk of actual physical injury, or when such damages are held to have been intentionally inflicted by Future Travel); (4) any change in scheduled Eclipse Tour events and/or celebrity appearances; (5) the Tour Operators' exercise of its contractual rights; or (6) or (if you are entering into this agreement on behalf of yourself and your, group, party, or traveling companions) any claim arising out of their assertion that you were not authorized to agree on their behalf.  You further agree that Future Travel shall not be held vicariously liable for the intentional or negligent acts of any persons not employed by Future Travel, nor for any intentional or negligent acts of Future Travel's employees committed while off duty or outside the course and scope of their employment. In the event that a court of competent jurisdiction holds any of the foregoing to be unenforceable, then Future Travel's liability shall be limited to the maximum extent permitted by law. In addition to the restrictions and exemptions from liability provided in these Terms and Conditions, Future Travel shall have the full benefit of any applicable laws providing for limitation and exoneration from liability, and nothing in contained herein is intended to operate to limit or deprive Future Travel of any such statutory limitation of or exoneration from liability.
27. FORCE MAJEURE: We assume no responsibility for any personal injury, property damage, or other loss, accident, delay, inconvenience, or irregularity which may be occasioned by reason of any matter beyond our exclusive control including but not limited to a delay or cancellation that causes you to miss all or any portion of the Eclipse Tour, acts of God, acts of government, war, terrorist acts, riots, disaster, weather extremes, or strikes. We have no special knowledge regarding the financial condition of the suppliers, unsafe conditions, health hazards, weather hazards, or climate extremes at locations to which you may travel. You understand that health care standards, facilities, and services abroad may be different or even inadequate for treating health conditions.  It is the responsibility of each Tour participant to obtain health and medical certificates, inoculations and vaccinations. For information concerning possible dangers at foreign destinations, we recommend contacting the Travel Warnings Section of the U.S. State Department at (202) 647-5225 or www.travel.state.gov, and click on "Travel Warnings." For medical information, we recommend contacting the Centers for Disease Control at (877) FYI-TRIP or www.cdc.gov/travel.
28. DISPUTES: Except where prohibited by law, you (the Lead Passenger and all members of your party) expressly agree that: (1) any and all disputes, claims and causes of action against Future Travel arising out of or connected with the Tour shall be resolved individually, without resort to any form of class action, and exclusively by the appropriate court located in Houston, Texas, U.S.A. to the exclusion of the courts of any other state, territory or country; (2) you waive any venue or other objection that you may have to any such action or proceeding being brought in any court located in Houston, Texas; (3) any and all claims, judgments and awards shall be limited to actual out-of-pocket costs incurred, including costs associated with the Eclipse Tour, but in no event attorneys' fees; and (4) you waive the right to claim any other damages whatsoever, including, but not limited to, punitive, consequential, direct or indirect damages. All issues and questions concerning the construction, validity, interpretation and enforceability of these Terms and Conditions shall be governed by and construed in accordance with the laws of the State of Texas, without giving effect to any choice of law or conflict of law rules which would cause the application of the laws of any jurisdiction other than the State of Texas. You agree to present any claims against us within 30 days after the Eclipse Tour ends and to file within one year of the incident, and you acknowledge that this expressly limits the applicable statute of limitations to one year. NEITHER PARTY MAY INITIATE OR BE PART OF A CLASS ACTION LAWSUIT OR LEGAL PROCEEDING AGAINST THE OTHER.
29. INDEMNIFICATION: You shall indemnify, defend and hold harmless us and our officers, employees, directors, suppliers and agents, in their individual capacities or otherwise, from and against any losses arising out of: (i) your negligence; (ii) your failure to comply with applicable law; or (iii) your failure to comply with these terms conditions.
30. ASSUMPTION OF RISK: You acknowledge that you have voluntarily applied for the Solar eclipse tour 2016. You understand that you may travel to countries and areas that are inherently risky. You are prepared to assume risks associated with the Eclipse Tour including forces of nature, terrorism, civil unrest, war, accidents, and transportation including land vehicles, boats, and aircraft that are not operated and maintained to the standards found in North America, and you hereby assume such risks. You also assume risks associated with altitude, illness, disease, physical exertion, and alcohol consumption, knowing that access to evacuation and/or suitable medical supplies and support may not be available. You agree to take full responsibility for your own actions, safety and welfare. You also understand that you will be a member of a group and will conduct myself in a way that will not endanger the group or yourself.
31. MISCELLANEOUS: We may assign our rights and/or delegate all or a portion of its duties under these Terms and Conditions to any third party at any time without the consent or permission of any parties to these Terms and Conditions.  If there is a conflict between these Terms and Conditions and one or more terms contained in another agreement between you and us, these Terms and Conditions will control. No alteration, cancellation, variation of, or addition to these terms and conditions shall be of any force or effect unless reduced to writing and signed by us. If there is a conflict between any part of these terms and conditions and any present or future law, the part that is affected shall be curtailed only to the extent necessary to bring it within the requirements of that law.You hereby consent to our use of pictures or video of you in our marketing materials without compensation.  Facsimile or scanned transmission of any signed document shall be deemed delivery of an original.  
| | |
| --- | --- |
| I hereby agree to the terms and conditions in the Future Travel Eclipse Participant's Agreement, on behalf of myself and all members of my traveling party. | Check the appropriate box below: |
| Signature: _____________________________ | (1)___I certify that I am 69 years or younger and reside in the US or Canada. (2)___ I am 70 years old and reside in the US  or Canada. IF YOU CHECKED THIS BOX, CHECK 1 OF THE 2 ITEMS BELOW. |
| Name: ________________________________ | ___I choose to purchase insurance from Future Travel. |
__I decline to purchase trip cancellation and medical insurance. I understand the risks I am taking & that there is no reduction in tour price.
Date: _________________________________(3)___ I do not reside in the US or Canada. IF YOU CHECKED THIS BOX, CHECK 1 OF THE 2 ITEMS BELOW.____ I am also signing on behalf of: ________________________________________
___I choose to purchase Future Travel's foreign resident insurance.
 ___I decline to purchase trip cancellation and medical insurance. I understand the risks I am taking & that there is no reduction in tour price.
[/tab] [/tabgroup]