SILVERSEA TOTAL SOLAR ECLIPSE 2016 CRUISE
ABOARD THE Ultra-LUXURIOUS SILVERSEA DISCOVERER  FEBRUARY 27 – MARCH 14, 2016
with GUEST SPEAKER – Astronaut Jerry Ross
The Ultimate 2016 Solar Eclipse Cruise


Join us on the Silversea Discoverer Ultra-Luxury Cruise Ship


with Astronaut Jerry Ross,
Dr. Michael Shara, American Museum of Natural History in New York
Paul D. Maley, NASA Johnson Space Center Astronomical Society, Houston, Texas
****ROOMMATE NEEDED: SINGLE FEMALE LOOKING FOR A ROOMMATE FOR A VIEW SUITE****
Join Solar Eclipse Cruise 2016 presented by Ring of Fire Expeditions as its 44th Solar Eclipse venture—a 17 day ocean voyage on the luxury Silversea expedition ship,Silver Discoverer, as we explore the Solomon Islands, Papua New Guinea, Micronesia and Palau.  This ship will travel to the maximum possible eclipse point on March 9, 2016 where 4 minutes 07 seconds of totality can be viewed!!
Imagine viewing the most amazing Solar Eclipse of the decade aboard this Luxury vessel, the Silversea Discoverer. It's an ultimate Solar Eclipse Chaser, snorkel adventure, Micronesia once in a lifetime experience!
BASIC INFORMATION
For our Solar Eclipse Cruise 2016, we chose Silversea's third expedition ship the SILVER DISCOVERER.  This amazing Luxury Cruise Ship is skillfully engineered to explore the most remote archipelagos in the Pacific. Her small size allows access to rugged coasts that ordinary ships cannot accommodate. Panoramic views and open decks consistently provide passengers with breathtaking views. A fleet of Zodiacs escorts guests around remote landings for an up-close look at nature's marvels. There's also a glass-bottom boat for underwater viewing along with snorkeling equipment and a dive program for advanced divers. The Expedition Team onboard, composed of experts in the culture, history and wild life of the destinations, presents informal talks, guides Zodiac outings and leads small-group explorations ashore.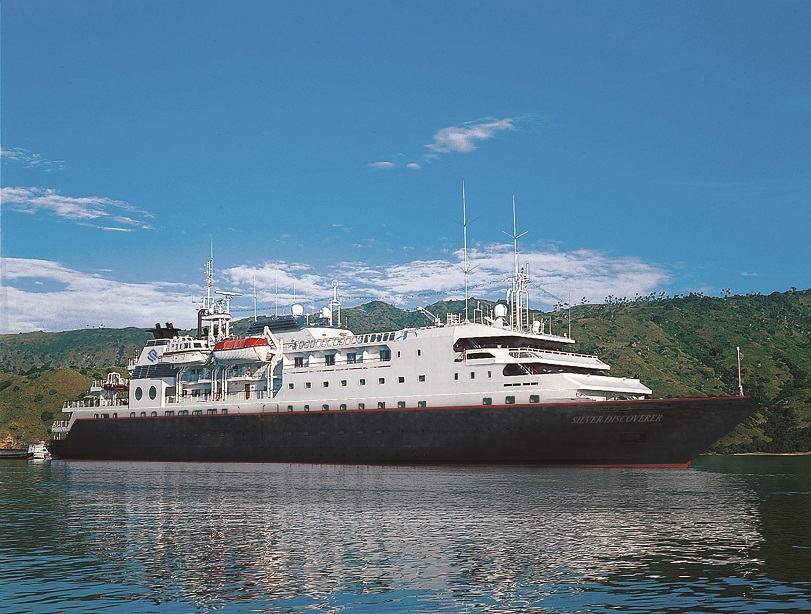 The Silver Discoverer 
The Solar Eclipse 2016 Cruise voyage will feature stops in the following countries: Solomon Islands, Papua New Guinea, Federated States of Micronesia, and Palau.  The voyage departs from the port of Honiara, Solomon Islands and ends at Koror, Palau.    The highlight will be the observation of the total eclipse of the Sun on March 9 featuring about 4 minutes 7 seconds of solar blackout time.  Due to travel time from the USA, a forced overnight is generally required prior to arriving in the Solomon Islands.  If using international air offered by Future Travel, an overnight will likely be required in Brisbane, Australia.  We will advise on any required visas. Situated on the equator, if skies cooperate we should be able to see constellations of both the Northern and Southern Hemispheres.
An example of what by seen during Solar Eclipse Cruise 2016. Here is a total solar eclipse image by Jacques Guertin. This is the kind of view you would get through a telescope or binoculars. 

We hope to view the constellations of the southern sky as well as artificial earth satellites flying over the ship at night.  In the late afternoon we plan to try to observe the Green Flash—Green flashes are real phenomena seen at sunrise and sunset, when some part of the Sun suddenly changes color from red or orange to green or on rare occasion, blue.
Green flash phenomena can be seen at sunrise and sunset under the proper conditons at sea during the Solar Eclipse 2016 Cruise. Photo sequence by John DuBois.
Enjoy free shore excursions, diving and snorkeling are included as are onboard lectures! IMPORTANT NOTE: Dive program – Gratuities are included, usually there is no additional charges, except where we have to use outside operators in places such as Chuuk Lagoon and Koror. Then guests will have to pay around USD$150. for a two tank dive. All other dives, when operated by our staff are free of charge. We do limit the amount of divers to 16 per trip. IT IS ALSO POSSIBLE THAT SOME DIVE SITES MAY HAVE AN ASSOCIATED FEE.
Visit amongst other places, Chuuk Lagoon, the wreck diving capital of the world.  WWII wrecks are scattered across 77 square miles. The wrecks are covered with life. There are over 300 varieties of hard and soft corals. On the outer reef you'll find mountains of coral that stretch as far as the eye can see, and drops off into the abyss. Here it is not unusual to see pelagic sharks.  The water temperature ranges from 82 to 84 degrees F/27 to 29 degrees C. Visibility ranges from 30 ft/9m to 100 ft/30m depending on where you are in the lagoon and there is little current.