RING OF FIRE EXPEDITION #45 TO ARGENTINA TO SEE THE ANNULAR ECLIPSE OF THE SUN FEBRUARY 26, 2017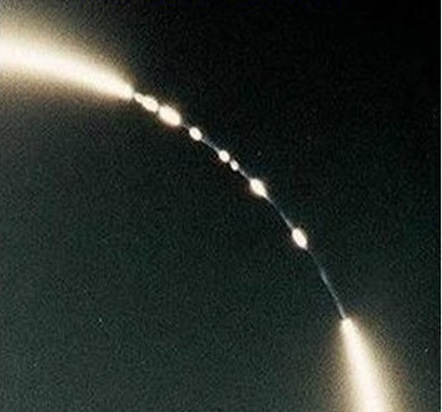 A rare opportunity to watch Baily's Beads can generally be had from the edges of the path of the annular eclipse. Here light from the Sun pokes through lunar valleys for an extended period of time.
The 45th solar eclipse expedition of the NASA Johnson Space Center Astronomical Society will take place in February in South America in conjunction with the annular eclipse of the Sun.  Join Paul D. Maley for this exclusive Ring of Fire Expedition.  The tour begins and ends in Buenos Aires, Argentina and tour members are advised to arrive at least one day before in order to minimize the chance of misconnecting due to a weather or mechanical event.
The eclipse begins at 9:24am local time with annularity beginning at 10:37am.  It will end at local noon.   As seen from the center of the eclipse path in this region about 52 seconds of annularity will be seen.  However, from near the southern limit annularity will be much reduced while the Baily's Beads phenomenon will be extensively prolonged.  The Moon will be about 235,000 miles/378213 km from Earth on this date.
| | |
| --- | --- |
| February 22, 2017 (Wednesday) Day 1 | Buenos Aires |
On arrival at Buenos Aires International airport (airoport code is EZE) you will be met by our local representative who will transfer you to the hotel Sofitel Buenos Aires.
The Sofitel Buenos Aires dates back to the golden age of Argentinean style; this authentic Art Deco monument, the city's first skyscraper, has towered over the historic heart of Buenos Aires since 1929. From the first look inside, though, guests will be convinced it is a modern reproduction, so impeccably has it been maintained. The guest rooms are immaculate, handsome and traditional in soft yellow and black and, even the meeting rooms and the little-seen back corridors of the place sparkle. Rooms take in commanding views of the city and the Rio de la Plata, and the amenities, naturally, are comprehensive, from satellite TV and high-speed internet to smart and elegant bathrooms complete with a phone extension by the tub.
Hotel Sofitel Buenos Aires
This afternoon enjoy exploring the highlights of the "Paris of South America" in a three hour city tour accompanied by one of our ground operator's representatives who will introduce you to the history and culture of this magnificent city.
The Sofitel Buenos Aires dates back to the golden age of Argentinean style; this authentic Art Deco monument, the city's first skyscraper, has towered over the historic heart of Buenos Aires since 1929. From the first look inside, though, guests will be convinced it is a modern reproduction, so impeccably has it been maintained. The guest rooms are immaculate, handsome and traditional in soft yellow and black and, even the meeting rooms and the little-seen back corridors of the place sparkle. Rooms take in commanding views of the city and the Rio de la Plata, and the amenities, naturally, are comprehensive, from satellite TV and high-speed internet to smart and elegant bathrooms complete with a phone extension by the tub.
A view of the broad boulevard in downtown Buenos Aires
This evening enjoy dinner at one of the best Argentine steak restaurants in Buenos Aires: Cabaña Las Lilas.  Why a steak house? Argentian beef is regarded as the best in the world.   The beef's quality is derived from the grass the cattle feed on. Contrary to other countries, the majority of Argentine cows are not fed on grains in feedlots but are raised eating luscious grass, principally in the humid pampas, the biggest beef producing region of the country where open flat plains dominant the landscape.  Grass has less saturated fats than grains and more of the healthy omega three fatty acids. And although production results of free roaming cows are harder to control than in feedlots, most experts agree that natural conditions, in which the cows don't consume antibiotics and growth hormones, are a principal factor in the final quality of the beef.
Overnight Sofitel Hotel – Standard double room.                                                Meals: _ – _ – D
| | |
| --- | --- |
| February 23, 2017 (Thursday) Day 2 |          Buenos Aires – Puerto Madryn |
Breakfast is included at the hotel this morning (if the flight time is after 900am; if before, there will not be time).
This morning transfer from the hotel to the domestic airport (airport code is AEP) for your flight to Comodoro Rivadavia.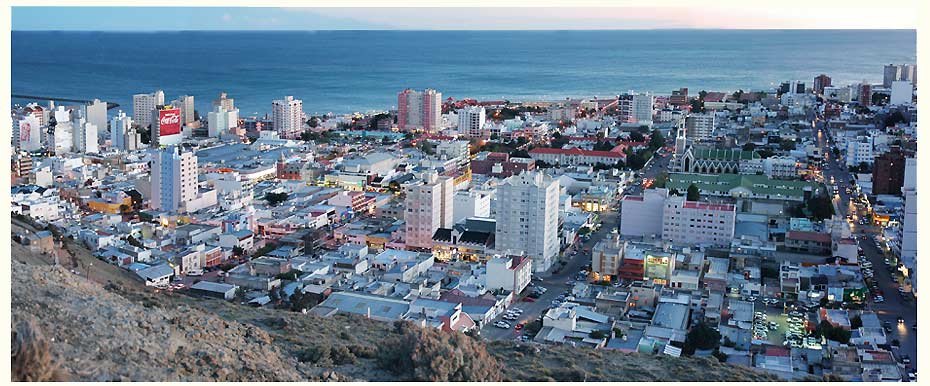 The city of Comodoro Rivadavia lies on the Atlantic coast.
Comodoro Rivadavia, well-known for being the Argentinian oil capital, was founded out of the need to shorten the routes used to transport goods from Colonia Sarmiento. A port was created in the area of Gulf San Jorge and this led to the foundation of Comodoro.
A national decree passed on February 23, 1901 named this settlement Comodoro Rivadavia after a sailor who was statesman Bernardino Rivadavia's grandson. In 1907, almost by accident, oil began to be exploited and this activity kept Comodoro Rivadavia in constant and rapid growth till this date.  Today, Comodoro Rivadavia has approximately 130,000 denizens. The center of the city is located at the foot of 212-meter-high Mount Chenque, which features a full panoramic view of the metropolis and 575-meter-high Peak Salamanca.
Planned flight:  AEP>CRD –  AR1832 – 04:50/07:17 (note, flights are not firm yet; we will know in September)
On arrival at the Comodoro Rivadavia airport (airport code is CRD), meet the local representative and transfer by vehicle to your accommodation at Estancia Los Toldos within viewing distance of Perito Moreno.  Note that once we leave the big city accommodations are quite simple.
From the airport head south along Route 3 which at this point runs next to the coast with magnificent views of the Golfo Nuevo and its sea wild life.  After approximately 1 hours drive you will start heading inland to the deep Patagonia.  This part of Patagonia is well known for the petroleum production, so along the way observe the activity of the oil wells that cover this area. As you venture further into the Patagonia the land becomes less populated and the natural fauna and flora are very abundant. You will probably see herds of Guanaco grazing, Reah, Patagonian hare as well as Flamingos and other animals.
A stop for lunch will be made at Pico Truncado, a typical flat, wind battered town which has grown around the oil production in the area.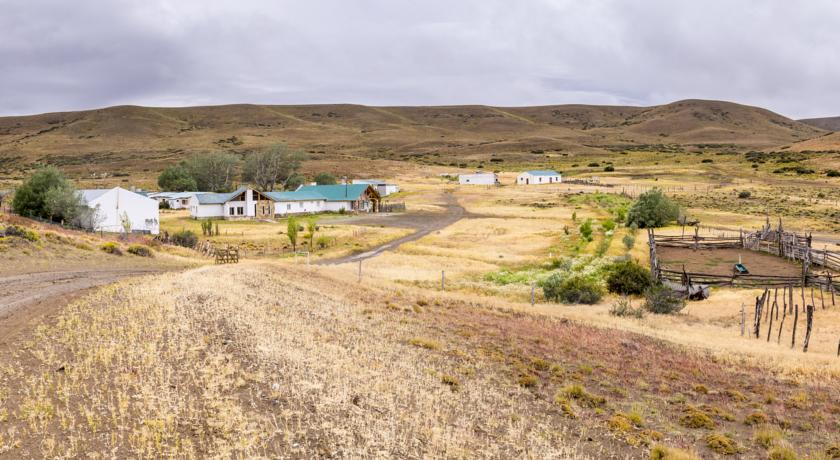 Hotel Estancia Cueva de las Manos out in the middle of nowhere
Distance:  570 kilometers. Time:  Approximately 7 hours
Dinner at the hotel.
Overnight Estancia Los Toldos – Double room.                                                    Meals: _ – L -D
| | |
| --- | --- |
| February 24, 2017 (Friday) Day 3 |                          Perito Moreno > Sarmiento   |
Breakfast is included at the hotel
The Patagonian steppe treasures secrets of the first inhabitants of these lands. One of these locations is the Cueva de las Manos (Cave of Hands) which was declared a World Heritage Site by Unesco.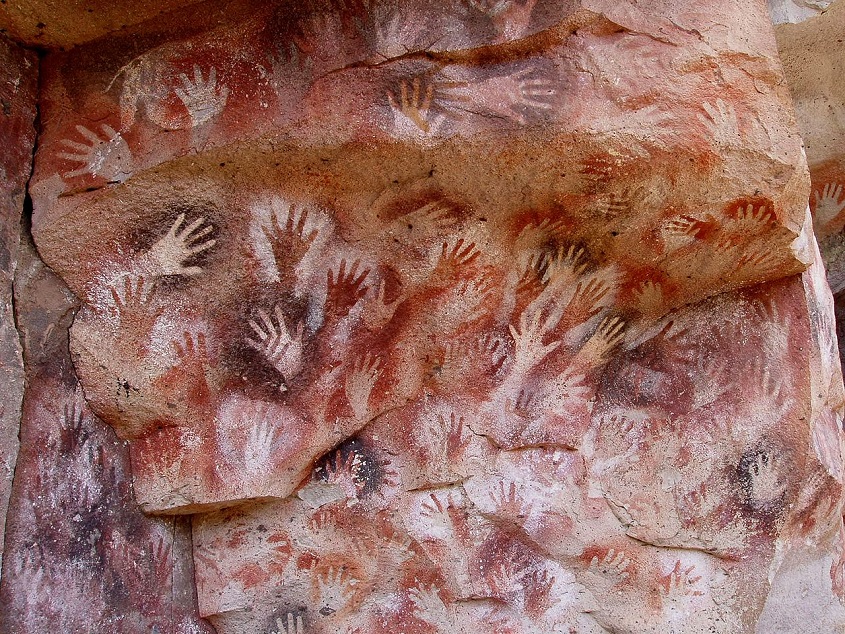 The Cave of the Hands (Cueva de las Manos)
From studies made of the site, it has been determined that the original inhabitants (Tehuelche Indians) depended on hunting and fishing for their survival as besides the paintings of hands. These caves that were eroded into the tall sides of the valley, have been dated back to 7350 BC and some others close by to 10500 BC.
Although the actual significance of these paintings is still a mystery, it is thought that they may be part of a ritual with a magical or mystic component related to the hunting and fishing.
After visiting the caves and enjoying your box lunch with the fantastic view of the Pinturas River canyon start your journey along the famous Route 40 north towards Sarmiento.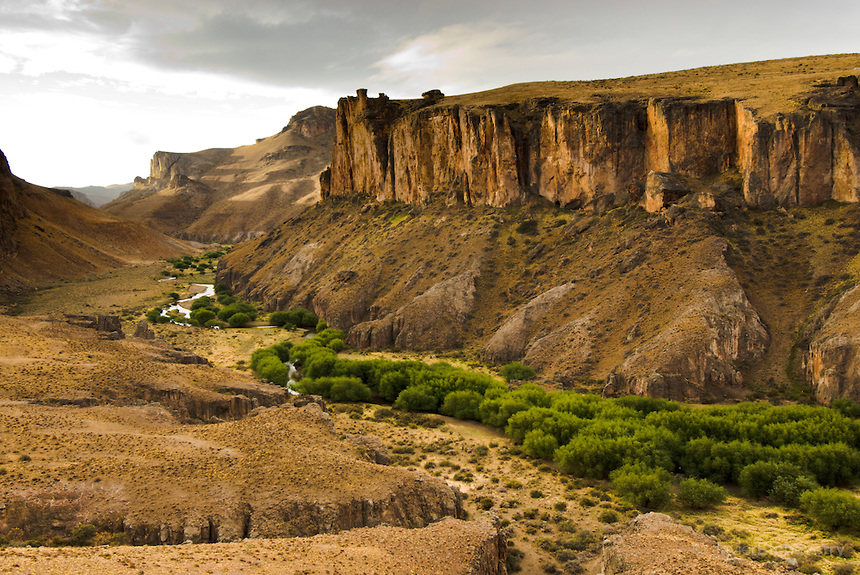 Sunset at Rio Pinturas Canyon, in Patagonia
Distance:  330 kilometers    Time:  Approximately 4 hours
On arrival at Sarmiento check-in to the Hotel Los Lagos.  This is our base for the solar eclipse.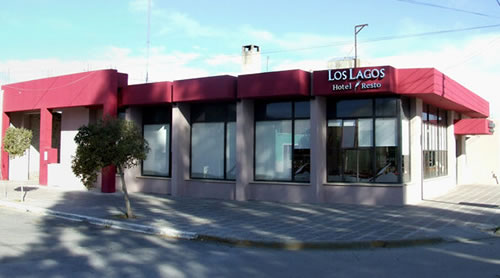 The Los Lagos Hotel is a small one situated in the town of Sarmiento
Sarmiento, currently a town of 8000 people, was established as a colony of immigrants, mainly from Wales. In the early 1900s it also experienced an influx of immigrants from Lithuania.  In 1900, Argentine authority was locally established when the Swedish former sailor Oscar Lundqwist, who had been appointed police commissioner to Sarmiento, set up the first "comisaría" ever in Sarmiento. It was situated next to "Las Tres Casas" where the Jones families from Wales and the Briton Pryce lived.
In 1903, 600 Afrikaner families arrived in Argentina following the loss of the Second Boer War. They settled in the region as it had access to water unlike the coastal city of Comodoro Rivadavia where they first settled. The descendants of these colonists make up a large portion of the population of Sarmiento and still speak Afrikaans and attend the Nederduitse Gereformeerde Kerk ("Dutch Reformed Church") to this day. As recently as the 1960s Afrikaans was the most commonly spoken language however this has changed as the town's Afrikaans population has become more assimilated into Argentinian culture and society.
Dinner at the hotel.
Overnight Hotel Los Lagos – Double room.                                                      Meals: B -BL -D
| | |
| --- | --- |
| February 25, 2017 (Saturday) Day 4 |                                                 Sarmiento |
Breakfast is included at the hotel.
Today enjoy another of the wonders of Patagonia: the Petrified Forest.
Over an area of 24 hectares (59 acres) there are thousands of fossilized trucks of trees that date back 65 million years from a time when it is believed that the Patagonia was a vast forest of conifer trees.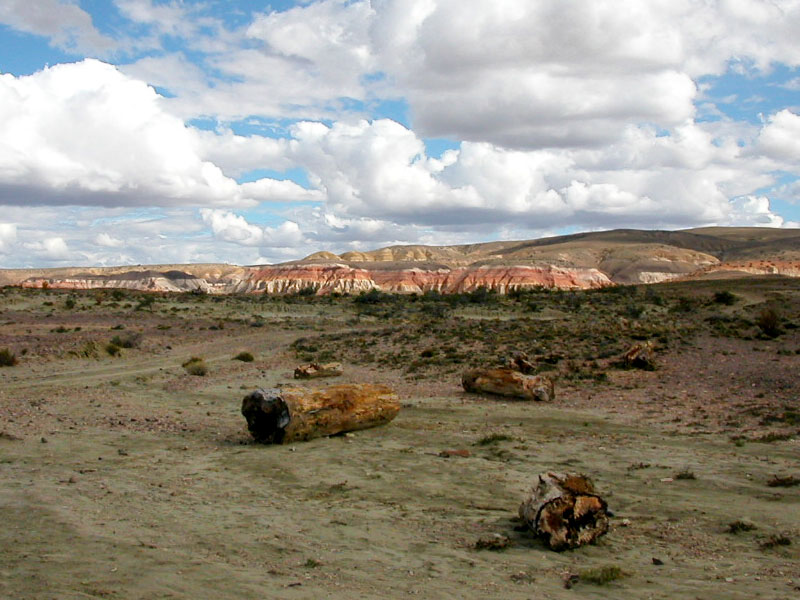 Petrified wood
The nearby petrified forest is located just 30 km away to the south of Sarmiento accessed through a gravel road. This provincial natural monument is a forest from the Cenozoic Era. That means it is approximately 65 million years old.  These petrified trees, witnesses of Prehistory, make up an indescribable beauty given by the hardness of the rock, the color of the different geologic strata and the heavy silence of respect for nature.  Its petrified logs are part of the result of the effect of millions of years on the wood. At the beginning of the Tertiary Era, the Andes Mountain Range rose and thus, prevented the humidity from the Pacific from getting through. At the same time, eruptions were produced and the ash deposits spread around giving way to a slow process of transformation of these logs into stone.  There are plenty of logs in the volcanic sediments of its soil. Some of them have a significant size and it has been established that they were originated in the Lower Tertiary Period (Paleocene).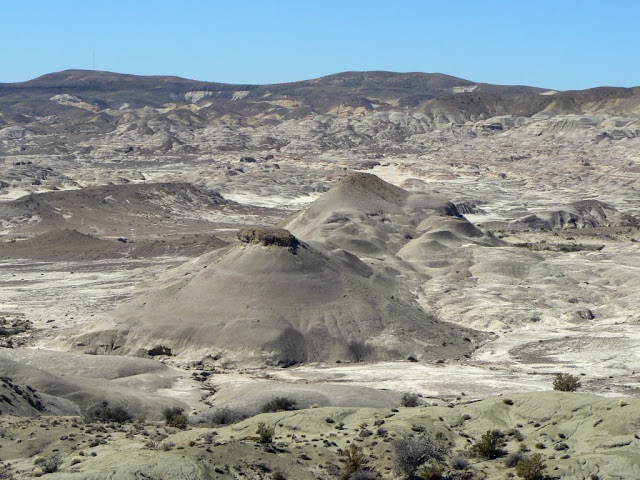 Paleontological Park
Return to Sarmiento for lunch and a relaxing afternoon.
Dinner at the hotel.
Overnight Hotel Los Lagos – Double room.                                                     Meals: B – L -D 
| | |
| --- | --- |
| February 26, 2017 (Sunday) Day 5 |                          Sarmiento > Buenos Aires |
Breakfast is included at the hotel
This morning drive to a predetermined location for an early morning sighting of the eclipse.  It is not far from our hotel to the edge of the path which is a mere 33 miles/54km wide this time.  The elevation and azimuth of the Sun at central eclipse is 34.5 degrees and 64 degrees, respectively. Then 2.7% of the Sun's surface will remain exposed forming a ring of light as seen from the center.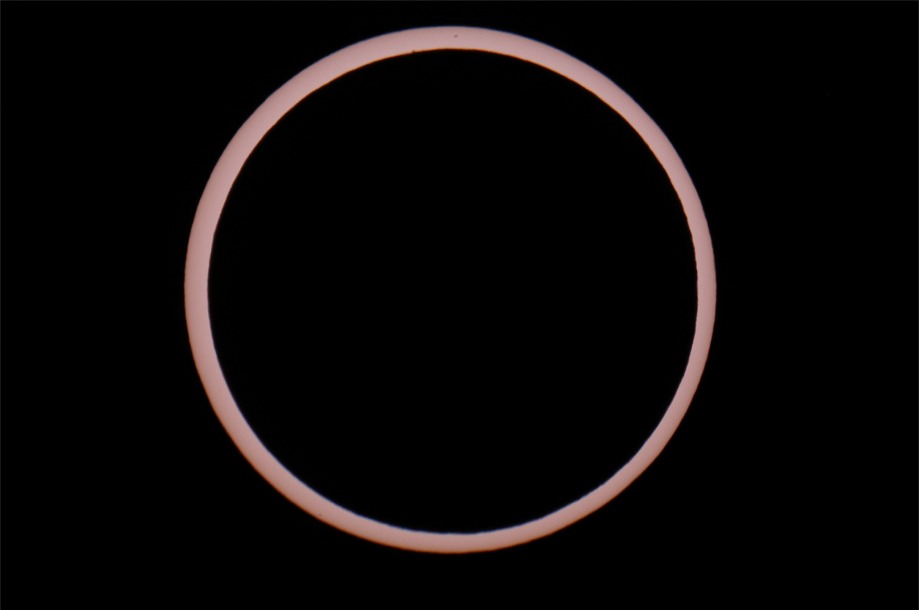 The bull's eye Moon 
Depending upon the weather and local road conditions we will consider to set up at the edge or the center line or possibly both locations depending on the interest of tour participants.  The above view is a view of annularity as seen from the center of the eclipse path caused by the Moon being farther away from the Earth than normal.
Distance:  90 kilometers. Time:  Approximately 1.15 hours
On the way back to Sarmiento visit the Musters Lake and Paleontological Park where you will be able to view and learn about 11 life size replicas of dinosaurs found in the Sarmiento area or close by. This is an ideal opportunity to continue learning about the ancient history of the Patagonia which dates back 169 million years and which links the habitat to its fauna and flora.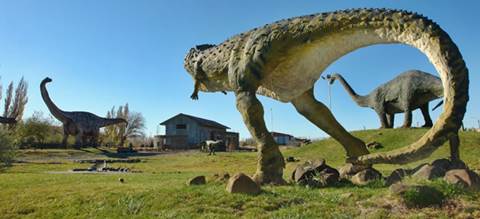 Three of the dinosaur replicas in the paleontological park
Lunch at La Tranquera restaurant
In due time, transfer back to Comodoro Rivadavia for your flight to Buenos Aires.
Distance:  150 kilometers.  Time:  Approximately 2.30 hours 
Plannedd flight:   CRD>AEP   –  AR 1841  –  18:45 / 21:00 (note, flights will not be firm until September)
On arrival in Buenos Aires, your local host will meet you at the airport and transfer you to the hotel.
Overnight  Sofitel Hotel – Double room                                                             Meals: B – L – _
| | |
| --- | --- |
| February 27, 2017 (Monday) Day 6 |                                              Buenos Aires |
Breakfast is included at the hotel.
Free day for optional activities such as a visit to the planetarium or the local amateur observatory at St. Joseph's school.
Galileo Galilei Planetarium in Buenos Aires
Hotel and planetarium locations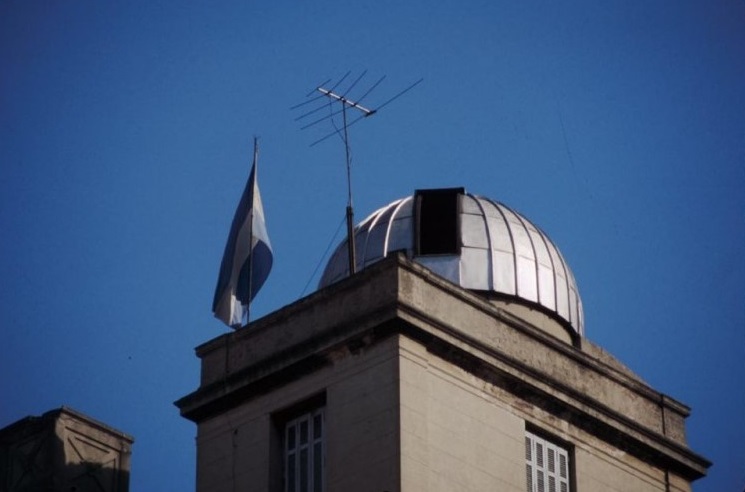 Observatorio San Jose at St. Joseph's school founded in 1913 is the largest amateur observatory in the city.
In due time, transfer from the hotel to the International airport for your flight back to the US.
Meals: B
The program includes:
– 2 night accommodation at the Sofitel Hotel in Buenos Aires
– 1 nights at Estancia Los Toldos in run of the house accommodation
– 2 nights at Hotel Los Lagos in standard accommodation.
– Meals: 5 breakfasts, 3 lunches, 1 box lunch, 4 dinners, as per itinerary. Beverages are not included during meals. Meals in conjunction with flights may be impacted if flight times are changed.
– All the above mentioned activities
– Entrance fees
– Local English guide will accompany the group
– Airfare is based on full economy rates valid for today
– Round trip transfers from Buenos Aires domestic airport from/to hotel
– Round trip transfers from Buenos Aires international airport to/from hotel provided all passengers arrive/depart at the same time
The program does not include:
– International flights
– Alcoholic and non-alcoholic beverages
– Internal flights
– Other activities
– Tips
– Extras
– Passports, visas
– Travel insurance
PRICE
$4493.*(cash discount price is $4279.) per person double occupancy
$5272.* (cash discount price is $5021.) for single occupancy
These prices are based on a minimum of 10 persons traveling together.
*Based on paying by credit card
We highly recommend travel insurance for the following reasons.  There have been unexpected health problems for either participants or family members of participants that has caused some to cancel just before departure.  In addition work related problems, weather and airline mechanical issues that have caused unacceptable flight cancellations and missed days or connections.
DEPOSITS AND CANCELLATIONS
HOW TO PAY
All payments are in US Dollars and can be paid in the following ways:
The fastest and safest is by electronic check instead of using the mail to get a check to Future Travel.  Go to https://houstonwebsolutions.formstack.com/forms/ach_authorization and it can be debited directly from your account IF YOU LIVE IN THE USA.
Alternately the price above is quoted as if you pay by credit card. Hence the cash discount is less as Future Travel is charged 5% more by the card companies. To pay by credit card go to https://houstonwebsolutions.formstack.com/forms/credit_card_authorization_form
The slowest method of payment is by US mail and by physical check. If you must go this route, send to Future Travel, 1085 Hercules, Houston TX 77058.
OUTSIDE THE USA you may pay by wire transfer which costs an additional $50 for the incoming wire fee. We can provide that information to you on request.
PAYMENT SCHEDULE:
$500 deposit prior to July 31, 2016
July 31, 2016: 2nd deposit of $1500
Balance due October 1, 2016
CANCELLATIONS:
$500 penalty until July 31, 2016
$1000 penalty if canceled up to September 30, 2016
100% penalty if canceled after September 30, 2016
Deposits and cancellation penalties are driven by the terms and conditions provided to us by our ground operator(s).
REGISTRATION FORM
To sign up for this tour, first, click HERE to fill out the registration form.  Send a form FOR EACH PERSON in your party.
Then send in payment by one of the methods outlined above under DEPOSITS AND CANCELLATIONS
ROOMMATES
If you need a roommate, we will endeavor to get one for you but it is in your best interest to find a companion or you may/may not have one. If this occurs you would have to pay the single supplement charges. Where we find a potential roommate it will be one of the same gender.
TERMS AND CONDITIONS
Your signature on our reservation form will signify your agreement with the following terms and conditions. These are the terms and conditions applicable to the Land Expeditions offered by Future Travel, Inc. a Texas corporation ("we", "us" and "our").  The terms "client" "you" and "your" refer to each person who purchases and/or participates in the Cruise.
1. Solar eclipse tour 2017 ITINERARY: The itinerary on the Solar eclipse tour 2017 Website and any other materials is hereby included in this agreement. However, the Tour Operator, reserves the right to make changes to the itinerary as explained in this agreement.  For more information: (281) 480-1988 or (800) 929-9004 or email futuretravel@travelleaders.com.
2. Solar eclipse tour 2017 PRICE: Prices are based on two persons sharing accommodations. There is additional cost for a single accommodation (single supplement) or an extra person in the room if either of these features is available.  Prices may be subject to increase as described in this agreement.
3. DEPOSIT AND FINAL PAYMENT REQUIREMENTS: If you sign up before the dates posted on the Solar eclipse tour 2017 webpage, a deposit in the amount stated on the webpage is due along with your signed reservation form in order to secure your reservation, which is subject to availability at the time we receive the form and deposit. Dates and deposit amounts vary depending upon the trip. Failure to meet those deposit dates will result in cancellation of your reservation and loss of deposit as defined under the cancellation penalties portion of the webpage. If the Tour is sold out at the time we receive your reservation form and deposit, we will contact you and ask if you wish to be added to a waiting list. We reserve the right to accept or decline any prospective participant for any nondiscriminatory reason in our sole discretion. All reservations must be paid in full by the date specified. Spaces not paid in full by this date are subject to cancellation without refund and will be charged a $250 late-payment fee.
4. Solar eclipse tour 2017 CANCELLATION BY YOU: We are  making arrangements with travel suppliers that require us to incur very substantial costs of operation. Therefore, if you cancel, we will retain all of your payments as liquidated damages. However, if you find a replacement for yourself or any other members of your traveling party, we will charge a change fee of  $250  as specified on the Solar eclipse tour 2017 webpage.   We must receive the written (email is sufficient) notice of the change and a signed/scanned reservation form from the new participant. If we receive notice of the change after specified date, we will not provide a refund. There is no refund for unused portions of Solar eclipse tour 2016 once it has commenced. You are solely responsible for costs incurred by you due to missed, canceled or delayed transportation. Your decision not to participate on Solar eclipse tour 2016 due to State Department/other US or foreign government warnings, fear of travel, illness, or any other reason will be deemed a cancellation.  If a flight or other delay for any reason prevents you from joining Solar eclipse tour 2017 on the departure date and time, you will be considered a no-show, and we cannot provide a full or partial refund or credit toward a future Tour, but you may join Solar eclipse tour 2017 late at your expense. There are NO exceptions to our cancellation policies.
5. OTHER  CHANGES: There will be a change fee of $75.00 per person charged for any change in travel arrangements made after ticketing and at least 30 days prior to departure in addition to charges incurred by our suppliers. No changes will be allowed within 30 days of the departure date.
6. INSURANCE: We strongly recommend that you purchase insurance in case of trip cancellation and medical problems, as well as medical evacuation insurance to cover the cost of a private jet to return home.  We will send you insurance information if you request it from us. However, any questions about what travel insurance does or does not cover should be addressed directly to the travel insurance company.  If you decline insurance coverage, you will personally assume full responsibility for any financial loss associated with your travel arrangements, and you could lose your travel investment and/or have to pay more money to correct the situation. For example, you will suffer a loss if:  (i) your flight has been cancelled and your hotel and Tours are nonrefundable; (ii) you need to cancel your trip due to illness; (iii) a hurricane, volcano or earthquake occurs while traveling and you are stranded; (iv) your cruise line, airline, or Tour operator files for bankruptcy, unless you have paid by credit card; (v) a terrorist incident occurs at the destination you planned on visiting; (vi) you have a medical emergency in a foreign country and need medical attention or evacuation; (vii) your bags are lost and your medication is in them, and you need to have an emergency prescription filled; or (viii) your passport and wallet are stolen, and you need emergency cash and a replacement passport.  We offer Travel Guard Travel Insurance to residents and will provide costs associated with insuring your trip, both at time of deposit and final payment. If you live in another country, we offer ITI insurance.
7. Solar eclipse tour 2017 PRICE INCREASES:  In the event that the cost of any aspect of Solar eclipse tour 2017 should incur an unexpected cost increase, Future Travel is obliged to pass on these increases. While rare, they can occur and are beyond the control of Future Travel.  When such increase is known, Future Travel will alert all participants and provide the amount and reason for the increase. It will be required that all Tour members provide payment by the date due per communication from Future Travel.  Prices are also subject to increase for currency fluctuations and the cost of supplier services.
8. Solar eclipse tour 2017 AIRFARES:  Airline arrangements are usually optional and not included in the tour price unless specifically stated. Airlines and airfares included in your trip are subject to change without notice.  Please check with us for conditions applicable to your airline ticket. Airfares are subject to price increases until you have paid in full. Even after you have paid in full, airfares are subject to supplemental price increases imposed by governments, and you hereby consent to any such price increases. We will not change your requested seat assignments on commercial aircraft without permission.  However, airlines often change seat assignments to satisfy their loyalty members or because of equipment changes (aircraft type). We are not notified of these changes in advance, and often clients are not made aware of these changes until they arrive at the airport.  We are not responsible for seat assignment changes made by the airline. Frequent flyer programs are private agreements between airlines and passengers, and we cannot be held responsible for mileage discrepancies involving airline loyalty reward programs.    
9. Solar eclipse tour 2017 ECLIPSE (or other astronomical event) VIEWING: We understand that you have decided to participate based on your ability to view the astronomical event advertised as the highlight of Solar eclipse tour 2017. While we will do our best to arrange for the viewing, we cannot guarantee that there will be no cloud cover, that the group will be in the planned position, or that there will not be another reason beyond our control that prevents viewing. Therefore, we will not be liable or responsible for any loss, damage, cost, or expense of any kind in the event that such viewing is not possible for any reason including but not limited to any act of God, war, fire, collision, directions of underwriters, arrest, order or restraint by any government agency or official acting under color of authority, acts of terrorism, labor disturbances or disputes, civil commotion, weather conditions and considerations of the safety of the ground transportation being used, (for which the Ground Operator shall be the sole judge),   breakdowns of or damage to the transport vehicle, requisition of the vehicle by governmental authority, illness, death of a family member or other cause or circumstance beyond our control.
10. Solar eclipse tour 2017 CHANGES OR CANCELLATION BY GROUND OPERATOR OR US: 
The Ground Operator in its sole discretion may cancel, advance, or postpone any part of the tour, change the itinerary, and may (but is not obligated to) substitute another transport vehicle, and we will not be liable for any loss whatsoever to passengers by reason of such cancellation, advancement, postponement, or substitution. If the Solar eclipse tour 2016 is completely canceled by our Ground Operator, we will provide a full refund, or, if the Solar eclipse tour 2017 is partially canceled, we will provide a partial refund depending on any refund provided to us by the Ground Operator. Under such circumstances, Future Travel shall have no further liability for damages or compensation of any kind. We reserve the right to cancel the Tour for inadequate participation, in which case we will provide a full refund of the Solar eclipse tour 2017 price and shall have no further liability for damages or compensation of any kind. Please note that the availability of any refund for travel insurance and/or other travel products (airfare and hotel), even if purchased in conjunction with Solar eclipse tour 2017, will be determined in accordance with the applicable cancellation policies for such other products or services. Sightseeing is subject to change due to weather conditions, accessibility, border crossing limitations, and hours of operation. Sightseeing will be by motor coach or other transportation as stated in the itinerary.
11. OTHER  RIGHTS OF Ground Operators: You may request a copy of the Ground Operator's  Passage Contract, which constitutes your agreement with the Ground Operator. The contract provides that the Ground Operator may exercise its rights in a variety of matters. We have no liability for a full or partial refund of the tour fare, or for any lodging or transportation expenses, as a result of the Ground Operator's exercise of its contractual rights.
12. SAFETY WHILE ON Solar eclipse tour 2017: You assume sole responsibility for your own safety during Solar eclipse tour 2017.  We do not guarantee your safety at any time. You acknowledge that all Excursions /Tours, however conducted, airline flights and ground transportation,  are operated by independent contractors. Future Travel neither supervises nor controls their actions, nor makes any representation, either express or implied, as to their suitability. These services are provided only as a convenience for you, and you are free to use or not use them. You agree that Future Travel assumes no responsibility, does not guarantee performance and in no event shall be liable for any negligent or intentional acts or omissions, loss, damage, injury or delay to you and/or your property in connection with these services.
13. PASSPORTS AND VISAS: International travel requires a passport valid 6 months beyond your intended return travel date. In many cases, you will also need to have multiple consecutive blank visa pages within your passport (the number varies depending on the destination(s)). Many destinations also require that visas be obtained prior to travel. Please speak with us if you are unsure about the visa requirements for your travel destination, but you are solely responsible for complying with passport and visa requirements. Your name, as listed on your travel documents, must exactly match your name as listed on tour or airline documents. Citizens of other countries must make their nationalities known to Future Travel at registration and are responsible for obtaining proper documentation to enter the U.S. and any other countries involved.
14. MEDICAL CERTIFICATION AND PASSENGERS WITH SPECIAL NEEDS: By booking the Solar eclipse tour 2017, you certify that: (a) you are in good general health and capable of performing normal activities on the Solar eclipse tour 2017; (b) you are capable of caring for yourself during any expedition and will not impede the progress of the trip or enjoyment of other Solar eclipse tour 2017 participants; (c) you understand that any expedition may take you far from the nearest viable medical facility; and (d) all expedition members must be self-sufficient; and (e) you have not been recently treated for, nor are aware of, any physical, mental or other condition or disability that would create a hazard to yourself or other Solar eclipse tour 2017 participants. Any condition that may require attention or treatment must be reported in writing at the time your reservation is made. Transport may be refused to any person whose state of health or physical conditions render them, in the opinion of the Ground Operator, unfit.  Participation in this or any other Solar eclipse tour 2017 will be denied to any person who will enter her third trimester (twenty-seventh week) of pregnancy by the time of the Solar eclipse tour 2017 or during the Solar eclipse tour 2017 and to children under the age specified on the Solar eclipse tour 2017 Webpage—usually 16. You must notify Future Travel at the time of booking of any disability or other medical or physical condition that may require special assistance during the Solar eclipse tour 2017. Your failure to do so will release Future Travel from any liability for loss, damages or other compensation arising from or related in any way to such disability or condition. Future Travel and our Ground Operator(s) reserve the right to require that any passenger who is not self-sufficient must travel with a companion who takes responsibility for any assistance needed during the Solar eclipse tour 2017 and in case of emergency.  You understand that if you fraudulently represent yourself as fit for this tour, you may be removed prior to or during the Tour at your own expense.
15. CONDITION OR BEHAVIOR: We may exclude you from participating in all or any part of the trip if, in our sole discretion, your condition or behavior renders you unfit for the trip or unfit for continuation once the trip has begun. Unfitness may include, without limitation, any behavior that, regardless of its cause, is inappropriate or offensive or interferes with the delivery of our services, or may constitute a hazard or embarrassment. In such case, our liability shall be strictly limited to a refund of the recoverable cost of any unused portion of the trip.
16. CHILDREN: We normally accept children if they are the age of 16 and older (thought the minimum age may vary by Tour), although some Tours are for adults only and are specified as such. Children must be accompanied and supervised by parents or guardians, who will bear ultimate responsibility for their actions, and are expected to display proper decorum while the group is together, especially at the observation site and on all transport vehicles.
17. LUGGAGE ON BOARD: Each guest may bring on board a reasonable amount of baggage. It is recommended that participants do not bring expensive jewelry or like possessions with them. Telescopes and observation equipment should be securely packed; insurance on expensive items is highly recommended. All luggage must be stored in the passenger's accommodations. Pets, dangerous or illegal items such as weapons, explosives, combustible substances, non-prescription controlled substances, or illegal drugs may not be brought on Solar eclipse tour 2017. Any such items shall be surrendered to security at embarkation and may be disposed of at the sole discretion of the cruise line. All luggage hand-carried or checked, and your person are subject to security inspections that may involve physical search. Curbside porters are available at the pier during embarkation to take luggage to the vessel. Please be sure each piece of luggage is locked and has a tag listing your name, and contact information. We assume no responsibility for checked or carry-on luggage. Any luggage left anywhere on Tour will be forwarded at the guest's expense if discovered. IF YOU ARE BRINGING A TELESCOPE OR ANY UNUSUAL EQUIPMENT, YOU MUST PROVIDE A LIST OF SUCH ITEMS TO FUTURE TRAVEL SO THAT WE CAN DETERMINE THEY ARE ALLOWABLE. WE WILL PROVIDE INSTRUCTIONS RELATED TO CUSTOMS FORMALITIES.
18. TRANSFERS: When transfers between hotels and airports and the pier are included on the Solar eclipse tour 2017 price, transportation of participants and their baggage is provided only when participants travel with the rest of the group. If your schedule is different from this, private transfers are available at extra cost and must be requested in writing. Carry-on bags must be carried by Solar eclipse tour 2017 participants. Porterage may be included AFTER passing through the customs area upon arrival if so indicated in the inclusions. Porterage is generally not included unless otherwise stated in the individual itinerary inclusions. In some situations, porterage may not be possible. Be sure to consult the cruise information to be sure.
19. TAXES AND TIPS: If a land package is involved, tips are not included (unless stated), but taxes for hotel accommodations and airfare are generally included. Departure taxes within foreign countries are NOT included since they vary widely. Each airport departure may require a separate departure tax which will have to be collected from each participant prior to boarding an airline or ship.  Tips are NOT included for guides, or drivers.  Future Travel will provide guidance on tips, when they should be given and how collected.  Although the amounts and timing may differ, this is left to each person's discretion. There will be times when the Tour escort or guide will alert participants as to whom and how much to tip.  These actions are necessary in order to maintain good service and assure that all promised services will occur as scheduled.
20. WHAT ELSE IS NOT INCLUDED ON OUR TOUR: Cost of passports or visas, excess baggage, meals and beverages not specified in the itinerary, phone calls, voluntary changes in  flights or other methods of transport, laundry, insurance costs, and items or services of a personal nature not specified in the cruise itinerary.
21. MEDICAL CARE:  You assume all risks associated with travel and transportation on the Tour. While on the Solar eclipse tour 2017 or along the way to/from the Solar eclipse tour 2017, the availability of medical care may be limited and/or delayed. You acknowledge that all or part of the Solar eclipse tour 2017 may be in areas where medical care and/or evacuation may not be available. You agree to indemnify and reimburse Future Travel and its ground operators in the event that these entities by their sole discretion, advance to you the cost of emergency medical care, including medical evacuation and/or medical care provided ashore, as well as transportation and/or lodging in connection therewith. Future Travel shall have no responsibility to advance any such costs.
22. ROOMMATES:If you are traveling by yourself but wish to share a room with someone else, we will attempt to match men with male roommates and women with female roommates, along with smoking/non-smoking preferences.   However, the ground operator prohibits all smoking on tour. If we cannot find a roommate for whatever reason we will advise you and have to charge you the single supplement fee. You may wish to look for a roommate from your local astronomical society, family or friends. Your decision to accept a roommate for the tour is at your own risk. Future Travel is not responsible or liable for any and all claims or cause of action arising out of or in connection with your acceptance or selection of a roommate for the tour, including, without limitation, any injury or damage to persons or property which may be caused, directly or indirectly, in whole or in part, from such request or selection.
23. SMOKING: Smoking is prohibited on  our Solar eclipse tour 2017 buses, the astronomical event observation site, and in briefing and lecture rooms as well as in hotel rooms and any other places where the group is congregating.
24. INFORMATION: Information that we publish in our Solar eclipse tour 2017 brochures, collateral material and the Solar eclipse tour 2016 Website is believed to be accurate and reliable. We make no representations or warranties regarding such information or any information provided by a third party. Unless expressly stated in writing, we do not endorse the products or services offered by any company or person identified in our brochures, collateral material or Website, nor are we responsible for any content published by a third party.
25. RESPONSIBILITY: We act only in the capacity of agent for the suppliers of the travel services named in your itinerary or otherwise providing services or goods in connection with the tour (the "suppliers"), such as airlines, hotels and other lodging providers, local hosts, sightseeing tour operators, bus lines, car rental companies, driving services, restaurants, and providers of entertainment. We assume no responsibility for any personal injury, property damage, or other loss, accident, delay, inconvenience, or irregularity which may be occasioned by reason of any act or omission of any of the Suppliers.
26. LIMITATION OF LIABILITY: In no event will we be liable for any injury, loss, claim, damage, or any special, punitive, exemplary, direct, indirect, incidental, or consequential damages of any kind, whether based in contract, tort, strict liability, or otherwise, that arise out of or are in any way connected with the tour even if advised of the possibility of such damages. In no event will our aggregate liability exceed the total tour price set forth in the itinerary for any occurrence including, but not limited to: (1) injury, death or delay of passengers, or loss, damage or delay of or to passengers' baggage or other property, which may be caused, directly or indirectly, in whole or in part, from participation in the Solar eclipse tour 2016 including, without limitation, passenger's use of or participation in any excursion, on  concession or athletic or recreational activity; (2) your request for or selection of a roommate for the tour; (3) emotional distress, mental suffering or anguish or psychological injury of any kind under any circumstances (except when such damages were caused by Future Travel's negligence and resulted from the same passenger's sustaining actual physical injury, or having been at risk of actual physical injury, or when such damages are held to have been intentionally inflicted by Future Travel); (4) any change in scheduled Solar eclipse tour 2016 events and/or celebrity appearances; (5) the Tour Operators' exercise of its contractual rights; or (6) or (if you are entering into this agreement on behalf of yourself and your, group, party, or traveling companions) any claim arising out of their assertion that you were not authorized to agree on their behalf.  You further agree that Future Travel shall not be held vicariously liable for the intentional or negligent acts of any persons not employed by Future Travel, nor for any intentional or negligent acts of Future Travel's employees committed while off duty or outside the course and scope of their employment. In the event that a court of competent jurisdiction holds any of the foregoing to be unenforceable, then Future Travel's liability shall be limited to the maximum extent permitted by law. In addition to the restrictions and exemptions from liability provided in these Terms and Conditions, Future Travel shall have the full benefit of any applicable laws providing for limitation and exoneration from liability, and nothing in contained herein is intended to operate to limit or deprive Future Travel of any such statutory limitation of or exoneration from liability.
27. FORCE MAJEURE: We assume no responsibility for any personal injury, property damage, or other loss, accident, delay, inconvenience, or irregularity which may be occasioned by reason of any matter beyond our exclusive control including but not limited to a delay or cancellation that causes you to miss all or any portion of the Solar eclipse tour 2017, acts of God, acts of government, war, terrorist acts, riots, disaster, weather extremes, or strikes. We have no special knowledge regarding the financial condition of the suppliers, unsafe conditions, health hazards, weather hazards, or climate extremes at locations to which you may travel. You understand that health care standards, facilities, and services abroad may be different or even inadequate for treating health conditions.  It is the responsibility of each Tour participant to obtain health and medical certificates, inoculations and vaccinations. For information concerning possible dangers at foreign destinations, we recommend contacting the Travel Warnings Section of the U.S. State Department at (202) 647-5225 or www.travel.state.gov, and click on "Travel Warnings." For medical information, we recommend contacting the Centers for Disease Control at (877) FYI-TRIP or www.cdc.gov/travel.
28. DISPUTES: Except where prohibited by law, you (the Lead Passenger and all members of your party) expressly agree that: (1) any and all disputes, claims and causes of action against Future Travel arising out of or connected with the Tour shall be resolved individually, without resort to any form of class action, and exclusively by the appropriate court located in Houston, Texas, U.S.A. to the exclusion of the courts of any other state, territory or country; (2) you waive any venue or other objection that you may have to any such action or proceeding being brought in any court located in Houston, Texas; (3) any and all claims, judgments and awards shall be limited to actual out-of-pocket costs incurred, including costs associated with the Solar eclipse tour 2017, but in no event attorneys' fees; and (4) you waive the right to claim any other damages whatsoever, including, but not limited to, punitive, consequential, direct or indirect damages. All issues and questions concerning the construction, validity, interpretation and enforceability of these Terms and Conditions shall be governed by and construed in accordance with the laws of the State of Texas, without giving effect to any choice of law or conflict of law rules which would cause the application of the laws of any jurisdiction other than the State of Texas. You agree to present any claims against us within 30 days after the Solar eclipse tour 2016 ends and to file within one year of the incident, and you acknowledge that this expressly limits the applicable statute of limitations to one year. NEITHER PARTY MAY INITIATE OR BE PART OF A CLASS ACTION LAWSUIT OR LEGAL PROCEEDING AGAINST THE OTHER.
29. INDEMNIFICATION: You shall indemnify, defend and hold harmless us and our officers, employees, directors, suppliers and agents, in their individual capacities or otherwise, from and against any losses arising out of: (i) your negligence; (ii) your failure to comply with applicable law; or (iii) your failure to comply with these terms conditions.
30. ASSUMPTION OF RISK:You acknowledge that you have voluntarily applied for the Solar eclipse tour 2017. You understand that you may travel to countries and areas that are inherently risky. You are prepared to assume risks associated with Solar eclipse tour 2017 including forces of nature, terrorism, civil unrest, war, accidents, and transportation including land vehicles, boats, and aircraft that are not operated and maintained to the standards found in North America, and you hereby assume such risks. You also assume risks associated with altitude, illness, disease, physical exertion, and alcohol consumption, knowing that access to evacuation and/or suitable medical supplies and support may not be available. You agree to take full responsibility for your own actions, safety and welfare. You also understand that you will be a member of a group and will conduct myself in a way that will not endanger the group or yourself.
31. MISCELLANEOUS: We may assign our rights and/or delegate all or a portion of its duties under these Terms and Conditions to any third party at any time without the consent or permission of any parties to these Terms and Conditions.  If there is a conflict between these Terms and Conditions and one or more terms contained in another agreement between you and us, these Terms and Conditions will control. No alteration, cancellation, variation of, or addition to these terms and conditions shall be of any force or effect unless reduced to writing and signed by us. If there is a conflict between any part of these terms and conditions and any present or future law, the part that is affected shall be curtailed only to the extent necessary to bring it within the requirements of that law.You hereby consent to our use of pictures or video of you in our marketing materials without compensation.Facsimile or scanned transmission of any signed document shall be deemed delivery of an original.