2018 PERSEID METEOR SHOWER CRUISE TO ALASKA:

AUGUST 9-16, 2018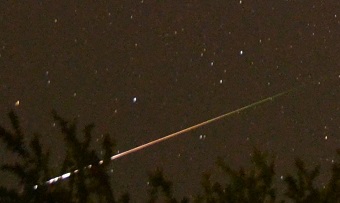 A fast moving Perseid fireball on the horizon captured in August 2016 by Paul D. Maley
ENJOY A ONE WEEK LUXURY CRUISE ABOARD THE

SILVER SHADOW

FROM VANCOUVER, B.C. TO ANCHORAGE, ALASKA FEATURING NAKED EYE VIEWING OF FIREBALLS FROM THE PERSEID METEOR SHOWER!!
The NASA Johnson Space Center Astronomical Society invites you to join Paul D. Maley aboard the SILVER SHADOW (Silversea Voyage 3824) for this 7 day cruise where we hope to have clear skies for observation of enjoyable night sky objects.  Paul has been observing Perseid meteors every year when the Moon is out of the sky; and in 2018 we have these good dark conditions.  He is a veteran of the great Leonid meteor storm of 1966 when meteor rates from that shower reached 150,000 per hour.  However, storms like that are rare.  Annually, between July 17 to August 24, Earth passes through the orbital path of Comet Swift-Tuttle, the parent comet of the famous Perseid meteor shower. It was in 1866 the Italian astronomer Schiaparelli identified this connection.  This is an "old" comet and makes one complete loop around the Sun every 133 years.  Debris from the comet is strewn along the comet's orbital path.  We don't really get into the thick of this debris field until after the first week of August.  When we do, they shoot through the stars over the ship at a rate of 1 or 2 per minute and can appear in any part of the sky; from dark sky sites the rate can be over 100 per hour!  A typical Perseid meteoroid (they are called 'meteoroids' while in space) moves through space at 133,200 miles/hour=214,365 km per hour; then when it hits the atmosphere it is referred to as a ' meteor' and flashes through the sky at 58 km per second = 36 miles per second. Most of the Perseids are tiny— roughly the size of a grain of beach sand and do not generally survive their trip to Earth. Interestingly, they produce more bright fireballs than any other meteor shower probably because of their velocity.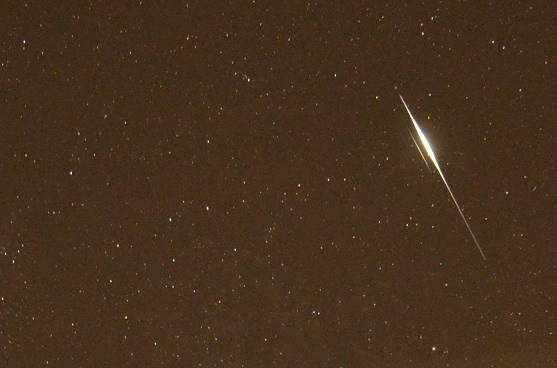 A man-made Iridium satellite reflecting sunlight as  the camera shutter is opened for 20 seconds through an unopened bathroom window.  P. Maley photo 2016.
In addition to a talk on the meteor shower, Paul will present information on eclipses of stars by asteroids, predictions on flyovers of bright spacecraft, and previews of solar eclipse trips that Future Travel is planning beginning in 2019.
If our planet happens to pass through an unusually dense clump of meteoroids we'll see a greater number of meteors. We really never know how many of them can be seen from year to year except to say that the Perseids is the most reliable and consistent meteor shower of all for the northern hemisphere.
In addition we hope to see bright artificial satellite flyovers and the broad carpet of the Milky Way itself since we are sailing during the New Moon period.

A section of the Milky Way. P. Maley photo from South Africa May 2017
Another special sight is the Green Flash which can be seen at times as the Sun rises and sets. We will be making an effort to spot these as well.  While the Green Flash phenomenon has been somewhat mythical, in fact, green flashes are real and can be spotted at sunrise and sunset when either the first bit (at sunrise) or the last bit (sunset) of the Sun suddenly changes color.  The color change at sunset is easier to see as the setting Sun appears yellow, then red, then orange and finally at the last moment changes color either to green or blue before setting completely. The term "flash" is used because the duration of this can be anywhere from one to two seconds or so.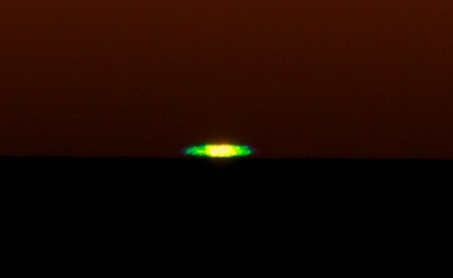 A beautiful green flash photographed by Bob Hulse.
It may also be possible spot elusive sun dogs, sun pillars or even aurora! These are very common features of Alaska but all are weather dependent.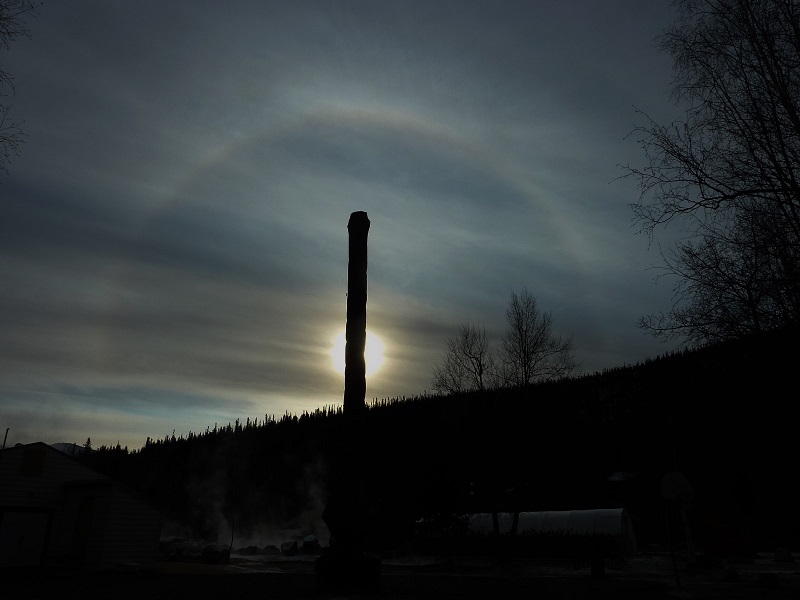 Sun halos caused by ice crystals. P. Maley photo.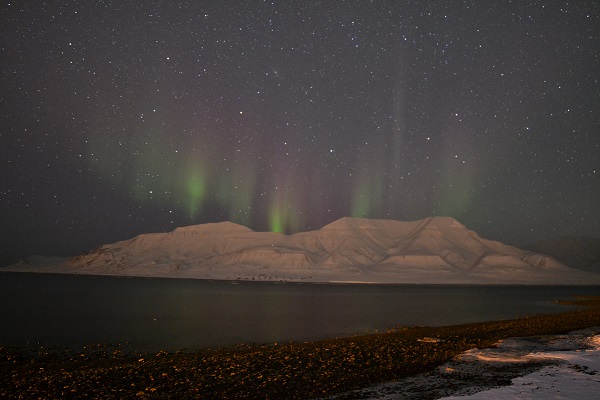 An example of aurora vertical beams. P. Maley photo.
The best reasons why this cruise is the one for you!
o
SPECIAL TIME SENSITIVE OFFER: 
You will get a Future Travel $1000 discount per person on prices starting at $4,050 per person if you book by August 1, 2017 AND PAY IN FULL BEFORE August 31, 2017. Cruise insurance is highly recommended. 
o See the Perseid meteor shower without having to bring any special equipment after midnight on August 13 when there is no Moon interference. Up to 80 meteors per hour expected.
o An Alaska cruise is one of the consistently best cruises you can take
o Its the summer when the weather is the most favorable
o You can see glaciers, wildlife and stop at numerous ports
o There is no terrorism
o Pack and unpack just once
o No need to pay gratuities to the staff
o One hour of free WiFi per day in the lowest suite category but unlimited WiFi at higher level categories
o Butler service in every suite
o Free beverages including champagne and select wines
o Onboard entertainment and enrichment lectures
o Complimentary transportation into town at most ports (however, excursions are optional cost)
ITINERARY AUGUST 9-16, 2018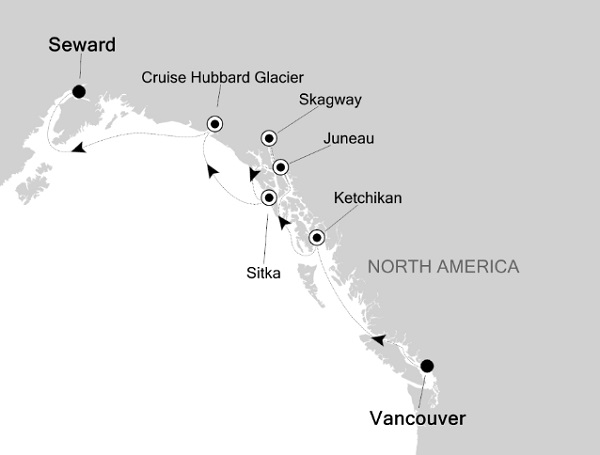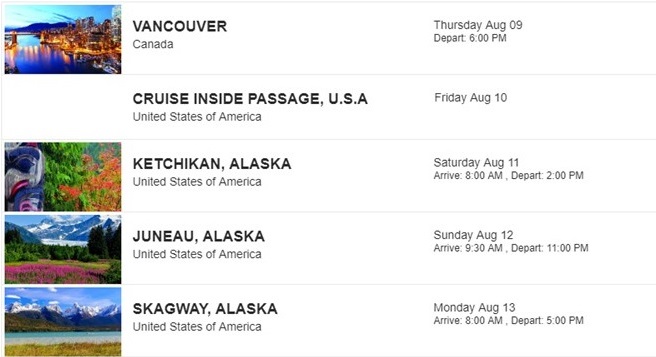 THE SHIP

Silver Shadow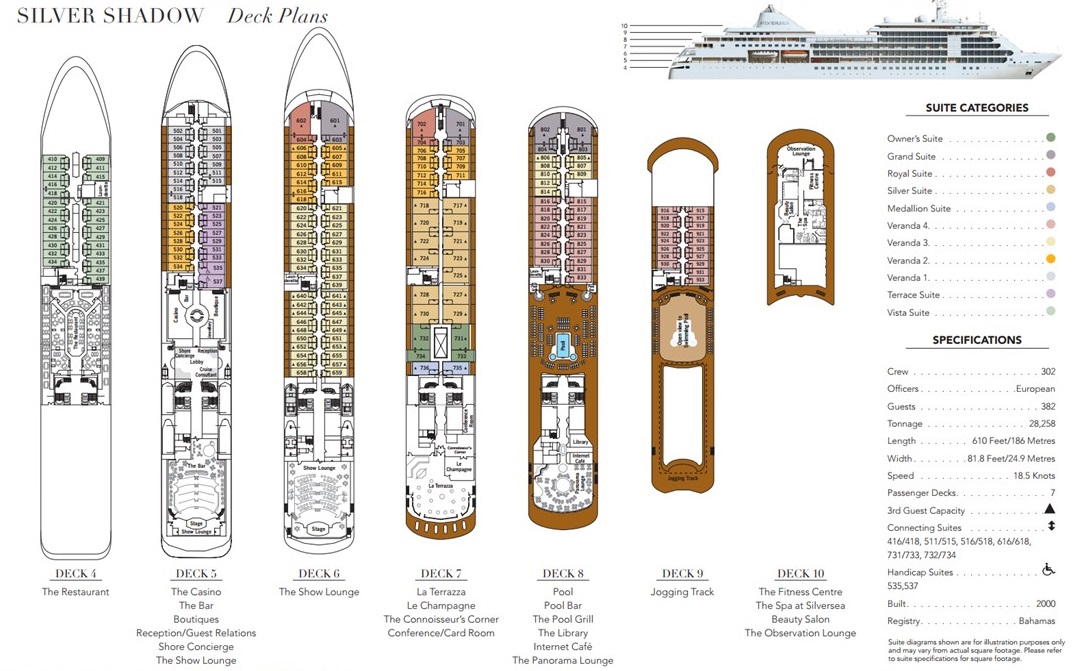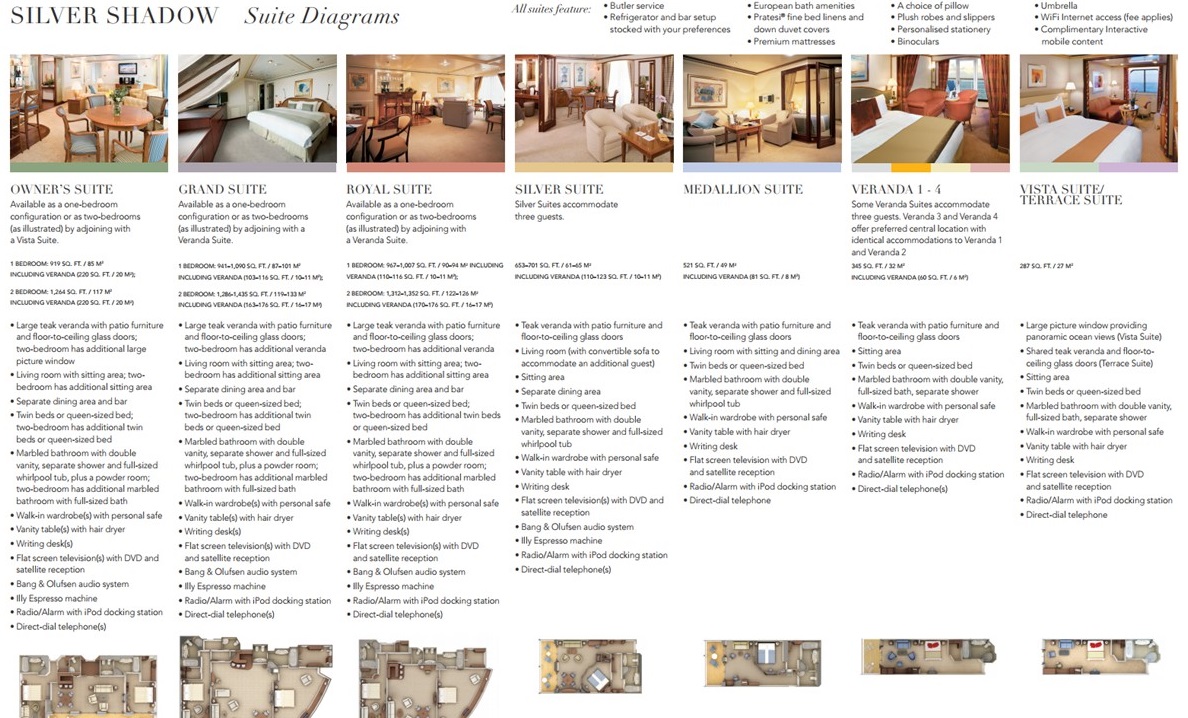 COST OF DIFFERENT CABINS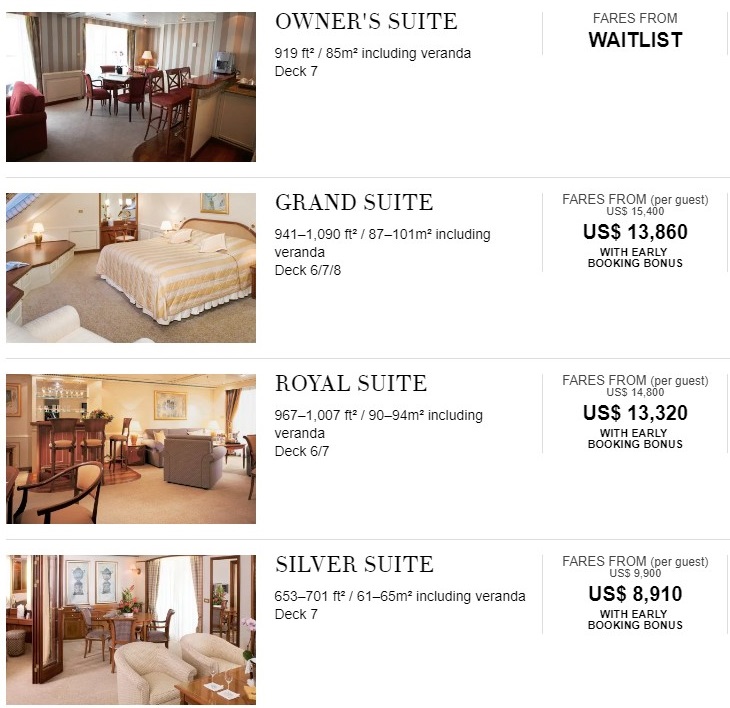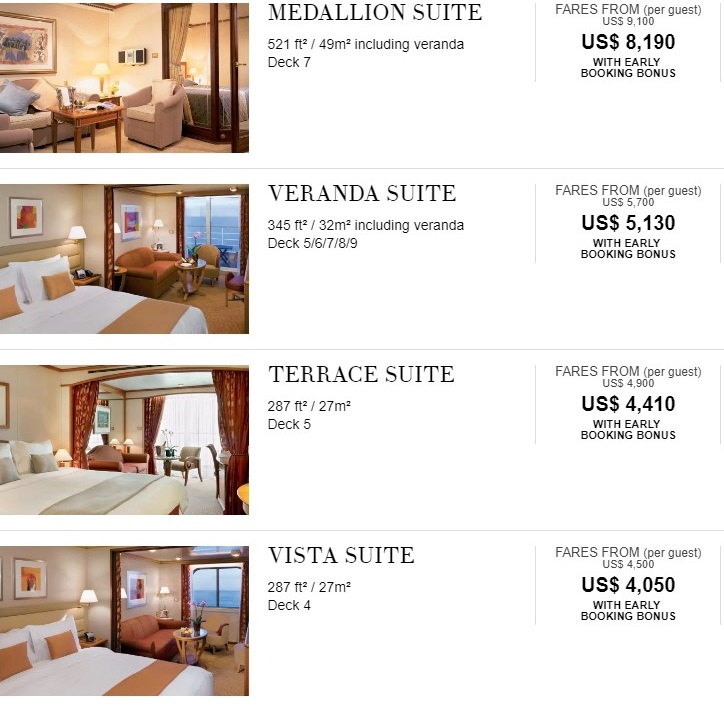 OPTIONAL COST EXCURSIONS
The following gives you an idea of how many excursions you will have to choose from in the various  ports where we stop.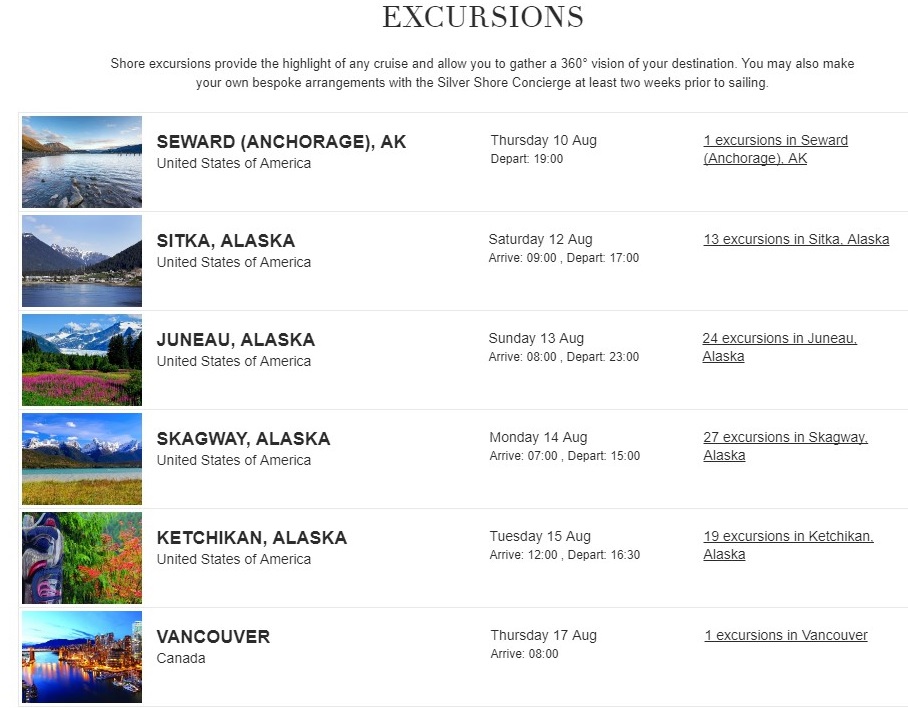 REGISTRATION AND PAYMENT
Take a look at the cabin types and go online if you like to get more detailed views of the size and amenities associated with each one. Then, contact Future Travel to see if a particular cabin/cabin type is available. Contact Judy Shaw at 281.4801988 extension 3122. She handles insurance too.
To sign up for the trip, follow these steps.
1. Read and understand the deposit schedule and significant cancellation penalties.
2. Click on the Terms & Conditions tab. Review prior to starting your registration.
3.   CLICK HERE to open and then complete the registration form.  If you have trouble seeing the form, refresh your page or use a different internet browser. Some versions may not support this form!
PAYMENT AND CANCELLATION
PAYMENTS
At signup: 25% of the advertised price
Final payment due: April 1, 2018
*If you sign up before August 1, 2017 and pay in full you will receive $1,000 after completion of the cruise from Future Travel.
CANCELLATIONS
If you find it necessary to cancel your reservation or any component thereof, you or are required to contact the Silversea Reservations Department by telephone as well as submit your cancellation in writing. If your cancellation request is received more than 120 days prior to your initial sailing date, a $500 non-refundable administrative fee will be charged per booking. This administrative fee may be converted to a future cruise credit valid for travel within 12 months from the date of the cancelled voyage. Cruise cancellation requests received within 120 days of the initial sailing date will be subject to the following charges, regardless of suite resale:
| Days Prior to Departure | Cancellation Charge Per Guest |
| --- | --- |
| 120 – 91 Days | 15% of the total cruise fare per person |
| 90 – 46 Days | 50% of the total cruise fare per person |
| 45 – 31 Days | 75% of the total cruise fare per person |
| 30 – 0 Days | No refund |
TERMS AND CONDITIONS
Cruise Participant's Agreement
Your signature on our  registration form will signify your agreement with the following terms and conditions.
These are the terms and conditions applicable to the  Cruise  (the "Cruise") offered by Future Travel, Inc. a Texas corporation ("we", "us" and "our").  The terms "client" "you" and "your" refer to each person who purchases and/or participates in the Cruise.

1. CRUISE ITINERARY: The itinerary in the  Cruise website is hereby included in this agreement. However, the cruise line, Silversea Cruises, reserves the right to make changes to the itinerary as explained in this agreement. For more information call (281) 480-7992 or (855) 643-5208. In order for us to keep your  Eclipse Cruise  costs down we cannot return phone calls outside of the USA. If you cannot get through, please call back.

2. CRUISE PRICE: Prices are based on two persons sharing one cabin. There is additional cost for a single cabin (single supplement) or an extra person in the cabin if either of these features is available.  Prices may be subject to increase as described in this agreement.

3. DEPOSIT AND FINAL PAYMENT REQUIREMENTS:
See sign up and deposit information at our pricing page.
If the  Cruise is sold out at the time we receive your reservation form and deposit, we will contact you and ask if you wish to be added to a waiting list. We reserve the right to accept or decline any prospective participant for any nondiscriminatory reason in our sole discretion. All reservations must be paid in full by February 1, 2018. Cabins not paid in full by this date are subject to cancellation without refund and will be charged a $250 late-payment fee.

4. CANCELLATION BY YOU: We are chartering a ship and making other arrangements with travel suppliers that require us to incur very substantial costs of operation.  Therefore, if you cancel, we will retain all of your payments as liquidated damages.  There is no refund for unused portions of Cruise  once it has commenced. You are solely responsible for costs incurred by you due to missed, canceled or delayed transportation. Your decision not to participate on the Cruise due to State Department warnings, fear of travel, illness, or any other reason will be deemed a cancellation.  If a flight or other delay for any reason prevents you from joining the Cruise on the departure date and time, you will be considered a no-show, and we cannot provide a full or partial refund or credit toward a future cruise, but you may join the Eclipse Cruise  late at your expense. There are NO exceptions to our cancellation policies.

5. OTHER CHANGES: There will be a change fee of $75.00 per person charged for any change in travel arrangements made after ticketing and at least 30 days prior to departure. No changes will be allowed within 30 days of the departure date.

6. INSURANCE: We strongly recommend that you purchase insurance in case of trip cancellation and medical problems, as well as medical evacuation insurance to cover the cost of a private jet to return home.  We will send you insurance information if you check the box on our reservation form. However, any questions about what travel insurance does or does not cover should be addressed directly to the travel insurance company.  If you decline insurance coverage, you will personally assume full responsibility for any financial loss associated with your travel arrangements, and you could lose your travel investment and/or have to pay more money to correct the situation. For example, you will suffer a loss if:  (i) your flight has been cancelled and your hotel and tours are nonrefundable; (ii) you need to cancel your trip due to illness; (iii) a hurricane, volcano or earthquake occurs while traveling and you are stranded; (iv) your cruise line, airline, or tour operator files for bankruptcy, unless you have paid by credit card; (v) a terrorist incident occurs at the destination you planned on visiting; (vi) you have a medical emergency in a foreign country and need medical attention or evacuation; (vii) your bags are lost and your medication is in them, and you need to have an emergency prescription filled; or (viii) your passport and wallet are stolen, and you need emergency cash and a replacement passport.  We offer Travel Guard Travel Insurance to U.S and Canadian residents and will provide costs associated with insuring your trip, both at time of deposit and final payment. If you live in another country, we strongly urge you to obtain your own travel insurance.

7. FUEL SURCHARGE, PORT TAX INCREASE, AND OTHER INCREASES:  In the event that the cost of fuel or the ship's port taxes increase between now and the time we sail, Silversea Cruises reserves the right to impose a fuel surcharge and to pass through the increase in port taxes. The surcharges will be added to the Cruise  price and must be paid in full by the Cruise date in order to board the ship. All passengers will be notified if such fuel surcharge and/or port tax increase is added to the cost of the Cruise. Prices are also subject to increase for currency fluctuations and the cost of ground services.

8. AIRFARES:  Airline arrangements are optional and not included in the cruise price. Airlines and airfares included in your trip are subject to change without notice.  Please check with us for conditions applicable to your airline ticket. Airfares are subject to price increases until you have paid in full. Even after you have paid in full, airfares are subject to supplemental price increases imposed by governments, and you hereby consent to any such price increases. We will not change your requested seat assignments on commercial aircraft without permission.  However, airlines often change seat assignments to satisfy their loyalty members or because of equipment changes (aircraft type). We are not notified of these changes in advance, and often clients are not made aware of these changes until they arrive at the airport.  We are not responsible for seat assignment changes made by the airline. Frequent flyer programs are private agreements between airlines and passengers, and we cannot be held responsible for mileage discrepancies involving airline loyalty reward programs.    

9. ASTRONOMICAL VIEWING:  While we will do our best to arrange for the viewing, we cannot guarantee that there will be no cloud cover, that the ship will be in position, or that there will not be another reason beyond our control that prevents viewing. Therefore, we will not be liable or responsible for any loss, damage, cost, or expense of any kind in the event that such viewing is not possible for any reason including but not limited to any act of God, war, fire, collision, directions of underwriters, arrest, order or restraint by any government agency or official acting under color of authority, acts of terrorism, labor disturbances or disputes, civil commotion, weather conditions and considerations of the safety of the vessel (for which the ship's captain shall be the sole judge), breakdowns of or damage to the vessel's hull or machinery, requisition of the vessel by governmental authority, illness, death of a family member or other cause or circumstance beyond our control.

10. CHANGES OR CANCELLATION BY SILVERSEA CRUISES OR US: 
Silversea Cruises in its sole discretion may cancel, advance, or postpone any sailing, call at any port, change the itinerary, and may (but is not obligated to) substitute another vessel, and we will not be liable for any loss whatsoever to passengers by reason of such cancellation, advancement, postponement, or substitution.   If the cruise is completely or partially canceled by Silversea, we will provide a refund in proportion to the refund, if any, that we receive from Silversea.   Under such circumstances, Future Travel shall have no further liability for damages or compensation of any kind. We reserve the right to cancel the Eclipse Cruise for inadequate participation, in which case we will provide a full refund of the Eclipse Cruise price and shall have no further liability for damages or compensation of any kind. Please note that the availability of any refund for travel insurance and/or other travel products (airfare and hotel), even if purchased in conjunction with the Eclipse Cruise, will be determined in accordance with the applicable cancellation policies for such other products or services. Sightseeing is subject to change due to weather conditions, accessibility, border crossing limitations, and hours of operation. Sightseeing will be by motorcoach or other transportation as stated in the itinerary.

11. OTHER RIGHTS OF SILVERSEA CRUISES: You will receive a copy of the Silversea Passage Contract, which constitutes your agreement with Silversea Cruises. The contract provides that Silversea may exercise its rights in a variety of matters. We have no liability for a full or partial refund of the Eclipse Cruise fare, or for any lodging or transportation expenses, as a result of Silversea's exercise of its contractual rights.

12. SAFETY WHILE IN PORTS OF CALL AND ONBOARD: You assume sole responsibility for your own safety onboard and in any port of call. We do not guarantee your safety at any time. You acknowledge that all shore excursions and tours, however conducted, airline flights and ground transportation, and any ship physician, nurse and on board concessions (including, without limitation, gift shops, spa, beauty salon, fitness center, golf and art programs, and video/snorkel concession) are operated by independent contractors. Future Travel neither supervises nor controls their actions, nor makes any representation, either express or implied, as to their suitability. These services are provided only as a convenience for you, and you are free to use or not use them. You agree that Future Travel assumes no responsibility, does not guarantee performance and in no event shall be liable for any negligent or intentional acts or omissions, loss, damage, injury or delay to you and/or your property in connection with these services.

13. PASSPORTS AND VISAS: International travel requires a passport valid 6 months beyond your intended return travel date. In many cases, you will also need to have multiple consecutive blank visa pages within your passport (the number varies depending on the destination(s)). Many destinations also require that visas be obtained prior to travel. Please speak with us if you are unsure about the visa requirements for your travel destination, but you are solely responsible for complying with passport and visa requirements. Your name, as listed on your travel documents, must exactly match your name as listed on your Cruise documents. Citizens of other countries must make their nationalities known to Future Travel and are responsible for obtaining proper documentation to enter the U.S. and any other countries where ports or options are involved.

14. MEDICAL CERTIFICATION AND PASSENGERS WITH SPECIAL NEEDS: By booking the Cruise, you certify that: (a) you are in good general health and capable of performing normal activities on Eclipse Cruise; (b) you are capable of caring for yourself during any expedition and will not impede the progress of the trip or enjoyment of other  Cruise participants; (c) you understand that any expedition may take you far from the nearest viable medical facility; and (d) all expedition members must be self-sufficient; and (e) you have not been recently treated for, nor are aware of, any physical, mental or other condition or disability that would create a hazard to yourself or other Cruise participants. Any condition that may require attention or treatment must be reported in writing at the time your reservation is made. Passage may be refused to any person whose state of health or physical conditions render them, in the opinion of the cruise line, unfit.Boarding will be denied to any person who will enter her third trimester (twenty-seventh week) of pregnancy by the time of  Cruise or during Cruise and to infants under four months old. You must notify Future Travel at the time of booking of any disability or other medical or physical condition that may require special assistance during the Eclipse Cruise. Your failure to do so will release Future Travel from any liability for loss, damages or other compensation arising from or related in any way to such disability or condition. Future Travel and Silversea Cruises reserve the right to require that any passenger who is not self-sufficient must travel with a companion who takes responsibility for any assistance needed during the  Cruise  and in case of emergency.You understand that if you fraudulently represent yourself as fit for Eclipse Cruise, you may be removed prior to or during the Cruise at your own expense.

15. CONDITION OR BEHAVIOR: We may exclude you from participating in all or any part of the Cruise if, in our sole discretion, your condition or behavior renders you unfit for the trip or unfit for continuation once the trip has begun. Unfitness may include, without limitation, any behavior that, regardless of its cause, is inappropriate or offensive or interferes with the delivery of our services, or may constitute a hazard or embarrassment. In such case, our liability shall be strictly limited to a refund of the recoverable cost of any unused portion of the trip.

16. CHILDREN: We normally accept children if they are the age of 16 and older (thought the minimum age may vary by cruise), although some cruises are for adults only and are specified as such. Children must be accompanied and supervised by parents or guardians, who will bear ultimate responsibility for their actions, and are expected to display proper decorum while the group is together, especially at the observation site and on buses.

17. LUGGAGE ON BOARD: Each guest may bring onboard a reasonable amount of baggage on the Cruise . It is recommended that cruise participants do not bring expensive jewelry or like possessions with them. Telescopes and observation equipment should be securely packed; insurance on expensive items is highly recommended. All luggage must be stored in the passenger's cabin. Pets, dangerous or illegal items such as weapons, explosives, combustible substances, non-prescription controlled substances, or illegal drugs may not be brought onboard the ship. Any such items shall be surrendered to security at embarkation and may be disposed of at the sole discretion of the cruise line. All luggage hand-carried or checked, and your person are subject to security inspections that may involve physical search. Curbside porters are available at the pier during embarkation to take luggage to the vessel. Please be sure each piece of luggage is locked and has a tag listing your name, ship, and stateroom number. We assume no responsibility for checked or carry-on luggage. Any luggage left at the pier will be forwarded at the guest's expense. Claims for luggage loss or damage must be made in writing to debarkation personnel prior to leaving the pier area. IF YOU ARE BRINGING A TELESCOPE OR ANY UNUSUAL EQUIPMENT, YOU MUST PROVIDE A LIST OF SUCH ITEMS TO FUTURE TRAVEL SO THAT WE CAN DETERMINE THEY ARE ALLOWABLE. WE WILL PROVIDE INSTRUCTIONS RELATED TO CUSTOMS FORMALITIES.

18. TRANSFERS: When transfers between hotels and airports and the pier are included on the Cruise price, transportation of participants and their baggage is provided only when participants travel with the rest of the group. If your schedule is different from this, private transfers are available at extra cost and must be requested in writing. Carry-on bags must be carried by cruise participants. Porterage may be included AFTER passing through the customs area upon arrival if so indicated in the inclusions. Porterage is generally not included unless otherwise stated in the individual itinerary inclusions. In some situations, porterage may not be possible. Be sure to consult the cruise information to be sure.

19. TAXES AND TIPS: If a land package is involved, tips are not included (unless stated), but taxes for hotel accommodations and airfare are generally included. Departure taxes within foreign countries are NOT included since they vary widely. Each airport departure may require a separate departure tax which will have to be collected from each cruise participant prior to boarding.  Tips are NOT included for guides, cruise personnel or drivers who render special services or who have done an outstanding job. This is left to each person's discretion.

20. WHAT ELSE IS NOT INCLUDED ON OUR Cruise: Cost of passports or visas, excess baggage, meals and beverages not specified in the itinerary, phone calls, voluntary changes in cruise-related flights, laundry, insurance costs, and items or services of a personal nature not specified in the Cruise itinerary.

21. MEDICAL CARE:  You assume all risks associated with travel and transportation on the Cruise. While at sea or in port, the availability of medical care may be limited and/or delayed. You acknowledge that all or part of the Cruise may be in areas where medical care and/or evacuation may not be available. You agree to indemnify and reimburse Future Travel and/or Silversea Cruise Line in the event that either party, in its sole discretion, to advance to you the cost of emergency medical care, including medical evacuation and/or medical care provided ashore, as well as transportation and/or lodging in connection therewith. Future Travel shall have no responsibility to advance any such costs.

22. ROOMMATES:If you are traveling by yourself but wish to share a room with someone else, we will attempt to match men with male roommates and women with female roommates, along with smoking/non-smoking preferences.   However, the cruise line may prohibit all smoking aboard ship. If we cannot find a roommate for whatever reason we will advise you and have to charge you the single supplement fee. You may wish to look for a roommate from your local astronomical society. Your decision to accept a roommate for the Cruise is at your own risk. Future Travel is not responsible or liable for any and all claims or cause of action arising out of or in connection with your acceptance or selection of a roommate for the Cruise, including, without limitation, any injury or damage to persons or property which may be caused, directly or indirectly, in whole or in part, from such request or selection.

23. SMOKING: Smoking is prohibited in many areas of the ship, our tour buses, the astronomical event observation site, and in briefing and lecture rooms.

24. INFORMATION: Information that we publish in our brochures, collateral material and its website is believed to be accurate and reliable. We make no representations or warranties regarding such information or any information provided by a third party. Unless expressly stated in writing, we do not endorse the products or services offered by any company or person identified in our brochures, collateral material or website, nor are we responsible for any content published by a third party.

25. RESPONSIBILITY: We act only in the capacity of agent for the suppliers of the travel services named in your itinerary or otherwise providing services or goods in connection with the Cruise (the "Suppliers"), such as airlines, hotels and other lodging providers, local hosts, sightseeing tour operators, bus lines, car rental companies, driving services, restaurants, and providers of entertainment. We assume no responsibility for any personal injury, property damage, or other loss, accident, delay, inconvenience, or irregularity which may be occasioned by reason of any act or omission of any of the Suppliers.

26. LIMITATION OF LIABILITY: In no event will we be liable for any injury, loss, claim, damage, or any special, punitive, exemplary, direct, indirect, incidental, or consequential damages of any kind, whether based in contract, tort, strict liability, or otherwise, that arise out of or are in any way connected with the Eclipse Cruise, even if advised of the possibility of such damages. In no event will our aggregate liability exceed the total tour price set forth in the itinerary for any occurrence including, but not limited to: (1) injury, death or delay of passengers, or loss, damage or delay of or to passengers' baggage or other property, which may be caused, directly or indirectly, in whole or in part, from participation in the Cruise, including, without limitation, passenger's use of or participation in any shore excursion, on board concession or athletic or recreational activity; (2) your request for or selection of a roommate for the Cruise; (3) emotional distress, mental suffering or anguish or psychological injury of any kind under any circumstances (except when such damages were caused by Future Travel's negligence and resulted from the same passenger's sustaining actual physical injury, or having been at risk of actual physical injury, or when such damages are held to have been intentionally inflicted by Future Travel); (4) any change in scheduled the Cruise events and/or celebrity appearances; (5) the cruise line's exercise of its contractual rights; or (6) or (if you are entering into this agreement on behalf of yourself and your, group, party, or traveling companions) any claim arising out of their assertion that you were not authorized to agree on their behalf.You further agree that Future Travel shall not be held vicariously liable for the intentional or negligent acts of any persons not employed by Future Travel, nor for any intentional or negligent acts of Future Travel's employees committed while off duty or outside the course and scope of their employment. In the event that a court of competent jurisdiction holds any of the foregoing to be unenforceable, then Future Travel's liability shall be limited to the maximum extent permitted by law. In addition to the restrictions and exemptions from liability provided in these Terms and Conditions, Future Travel shall have the full benefit of any applicable laws providing for limitation and exoneration from liability, and nothing in contained herein is intended to operate to limit or deprive Future Travel of any such statutory limitation of or exoneration from liability. Without limiting the foregoing, Future Travel claim benefit of all restrictions, exemptions and limitations of the "Convention Relating to the Carriage of Passengers and Their Luggage by Sea" of 1974 as well as the Protocol to the "Convention Relating to the Carriage of Passengers and Their Luggage by Sea" of 1976 ("Athens Convention"), which limits liability for the death of or personal injury to a passenger to no more than the applicable amount of Special Drawing Rights as defined therein, and all other limits on damage or loss to personal property.

27. FORCE MAJEURE: We assume no responsibility for any personal injury, property damage, or other loss, accident, delay, inconvenience, or irregularity which may be occasioned by reason of any matter beyond our exclusive control including but not limited to a delay or cancellation that causes you to miss all or any portion of the tour, acts of God, acts of government, war, terrorist acts, riots, disaster, weather extremes, or strikes. We have no special knowledge regarding the financial condition of the Suppliers, unsafe conditions, health hazards, weather hazards, or climate extremes at locations to which you may travel. You understand that health care standards, facilities, and services abroad may be different or even inadequate for treating health conditions.It is the responsibility of each tour participant to obtain health and medical certificates, inoculations and vaccinations. For information concerning possible dangers at foreign destinations, we recommend contacting the Travel Warnings Section of the U.S. State Department at (202) 647-5225 or www.travel.state.gov, and click on "Travel Warnings." For medical information, we recommend contacting the Centers for Disease Control at (877) FYI-TRIP or www.cdc.gov/travel.

28. DISPUTES: Except where prohibited by law, you (the Lead Passenger and all members of your party) expressly agree that: (1) any and all disputes, claims and causes of action against Future Travel arising out of or connected with the Cruise shall be resolved individually, without resort to any form of class action, and exclusively by the appropriate court located in Houston, Texas, U.S.A. to the exclusion of the courts of any other state, territory or country; (2) you waive any venue or other objection that you may have to any such action or proceeding being brought in any court located in Houston, Texas; (3) any and all claims, judgments and awards shall be limited to actual out-of-pocket costs incurred, including costs associated with the Cruise, but in no event attorneys' fees; and (4) you waive the right to claim any other damages whatsoever, including, but not limited to, punitive, consequential, direct or indirect damages. All issues and questions concerning the construction, validity, interpretation and enforceability of these Terms and Conditions shall be governed by and construed in accordance with the laws of the State of Texas, without giving effect to any choice of law or conflict of law rules which would cause the application of the laws of any jurisdiction other than the State of Texas. You agree to present any claims against us within 30 days after the Cruise ends and to file within one year of the incident, and you acknowledge that this expressly limits the applicable statute of limitations to one year. NEITHER PARTY MAY INITIATE OR BE PART OF A CLASS ACTION LAWSUIT OR LEGAL PROCEEDING AGAINST THE OTHER.

29. INDEMNIFICATION: You shall indemnify, defend and hold harmless us and our officers, employees, directors, suppliers and agents, in their individual capacities or otherwise, from and against any losses arising out of: (i) your negligence; (ii) your failure to comply with applicable law; or (iii) your failure to comply with these terms conditions.

30. ASSUMPTION OF RISK:You acknowledge that you have voluntarily applied for the Cruise. You understand that you may travel to countries and areas that are inherently risky. You are prepared to assume risks associated with this tour including forces of nature, terrorism, civil unrest, war, accidents, and transportation including land vehicles, boats, and aircraft that are not operated and maintained to the standards found in North America, and you hereby assume such risks. You also assume risks associated with altitude, illness, disease, physical exertion, and alcohol consumption, knowing that access to evacuation and/or suitable medical supplies and support may not be available. You agree to take full responsibility for your own actions, safety and welfare. You also understand that you will be a member of a group and will conduct myself in a way that will not endanger the group or yourself.

31. MISCELLANEOUS: We may assign our rights and/or delegate all or a portion of its duties under these Terms and Conditions to any third party at any time without the consent or permission of any parties to these Terms and Conditions.  If there is a conflict between these Terms and Conditions and one or more terms contained in another agreement between you and us, these Terms and Conditions will control. No alteration, cancellation, variation of, or addition to these terms and conditions shall be of any force or effect unless reduced to writing and signed by us. If there is a conflict between any part of these terms and conditions and any present or future law, the part that is affected shall be curtailed only to the extent necessary to bring it within the requirements of that law.You hereby consent to our use of pictures or video of you in our marketing materials without compensation.Facsimile or scanned transmission of any signed document shall be deemed delivery of an original.
| | |
| --- | --- |
| I hereby agree to the terms and conditions in the Future Travel  Participant's Agreement, on behalf of myself and all members of my traveling party. | Check the appropriate boxes below: |
| Signature: _____________________________ | (1)___I certify that I am 69 years or younger and reside in the US or Canada |
| Name: ________________________________ | (2)___ I am 70 years old and reside in the US or Canada. IF YOU CHECKED THIS BOX, CHECK 1 OF THE 2 ITEMS BELOW. |
| Date: _________________________________ | ___I choose to purchase insurance from Future Travel. ___I decline to purchase trip cancellation and medical insurance. I understand the risks I am taking & that there is no reduction in tour price. |
| ___ I am also signing on behalf of: ______________________________________________ |  (3)___ I do not reside in the US or Canada. IF YOU CHECKED THIS BOX, CHECK 1 OF THE 2 ITEMS BELOW. |
___I choose to purchase Future Travel's foreign resident insurance.
 ___I decline to purchase trip cancellation and medical insurance. I understand the risks I am taking & that there is no reduction in tour price.